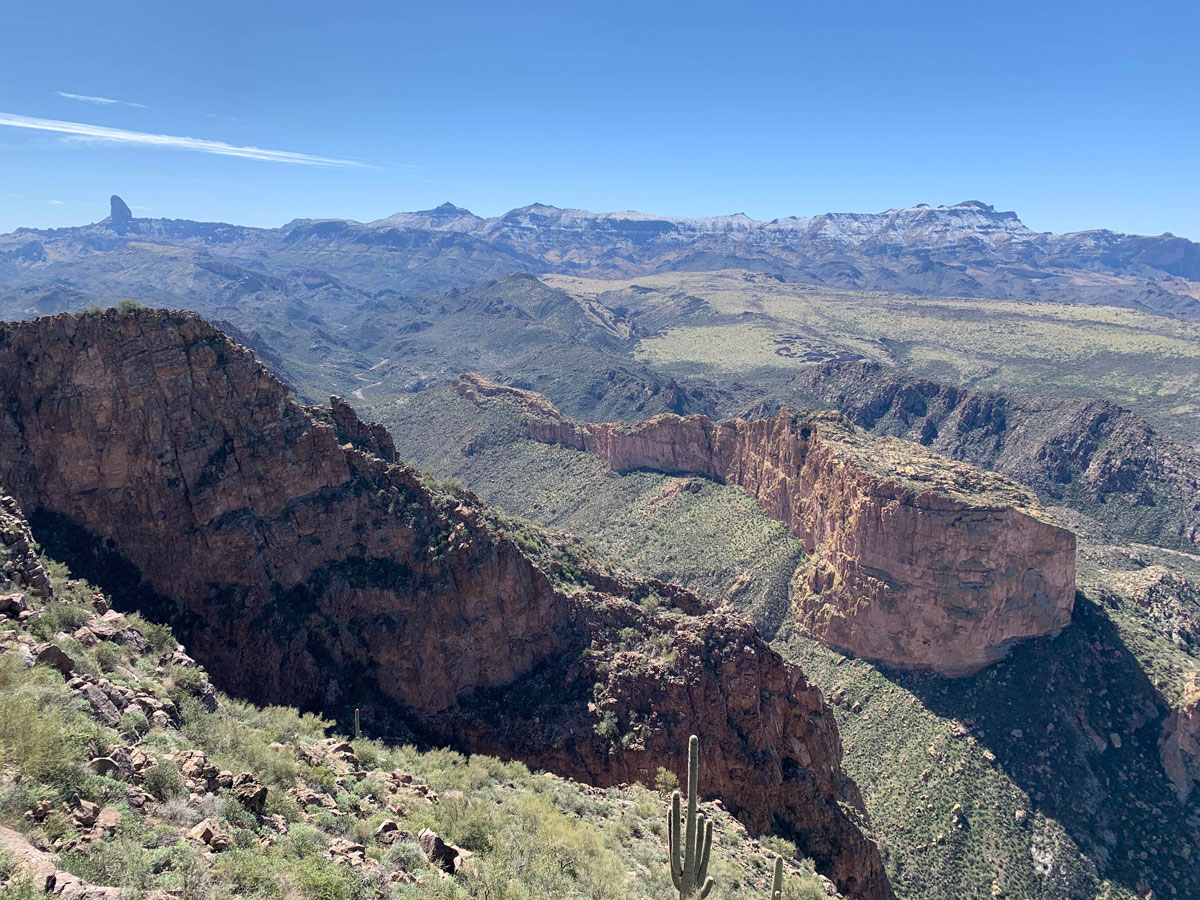 TRAIL STATS
Mileage: 4.6
Elevation gain: 2382 feet
Time to complete: 3-4 hours
Stars: ★★★
Moderate incline, good trail
From atop Geronimo Head, you can see Weaver's Needle, Battleship Mountain, and the Superstition Ridgeline in one breathtaking panorama. If you love beautiful vistas of the Superstition Wilderness, this hike will deliver.
---
Trail Description
It rained a couple days ago, and the first thing I thought was, "Wildflowers!" Little did I know that the storm would also coat my beloved Superstition Mountains in a beautiful blanket of snow! I honestly didn't notice it too much on the drive there. To get there, you take Highway 88 from Apache Junction to the tourist trap of Tortilla Flat. We arrived in the morning, so there were only a few motorcycles there by then. Just beyond town is a small dirt road on the right that leads to a parking area. At the end of the parking area is a closed gate, and the trail starts just beyond it. It's somewhat confusing, since there are several places that look like a trail, but try to keep to the farthest left one, and hopefully it's marked by a cairn.
I can't tell you what the hike up from there is like because the route I had downloaded was a bushwhack and unnecessary climb up to a pinnacle formation (don't do it!). We ended up on a rocky area and had to make a precarious climb down. Fortunately for you, I found the trail on the way back and was able to follow it to the parking lot and thus amend my GPS route to follow it. You're welcome!
Once you reach the saddle, you'll see a lot of beautiful rocky formations, along with some pretty perfect saguaro cacti. It's beautiful country back there.
The stunning scenery on the way to Geronimo Head
The Summit
Geronimo Head will be ahead on your right. When you cross a wash, which is probably dry, look for a faint trail and cairns for the path to the top. Once you're on top, the trail seems to fade away, and you can easily explore where you want to because there are not many bushes up there. You'll want to make your way toward the right to where Geronimo Head drops steeply into Boulder Canyon for some really awesome views of the inner Superstition Wilderness. It's so rare to have the Superstition Ridgeline covered in snow, but there it is!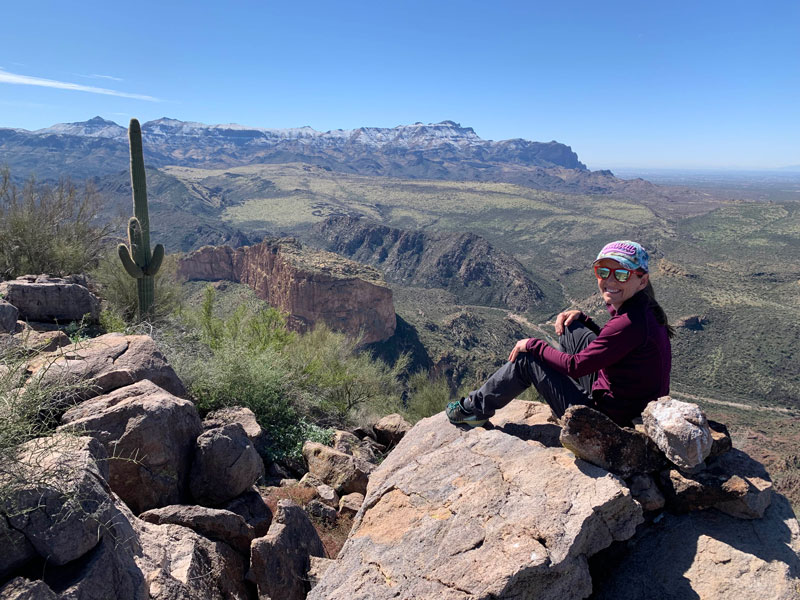 Farther down, you can get an even better view. Weaver's Needle, Battleship Mountain, and Superstition Ridgeline all in one shot? YES, PLEASE!
Despite the snow, there were signs of spring.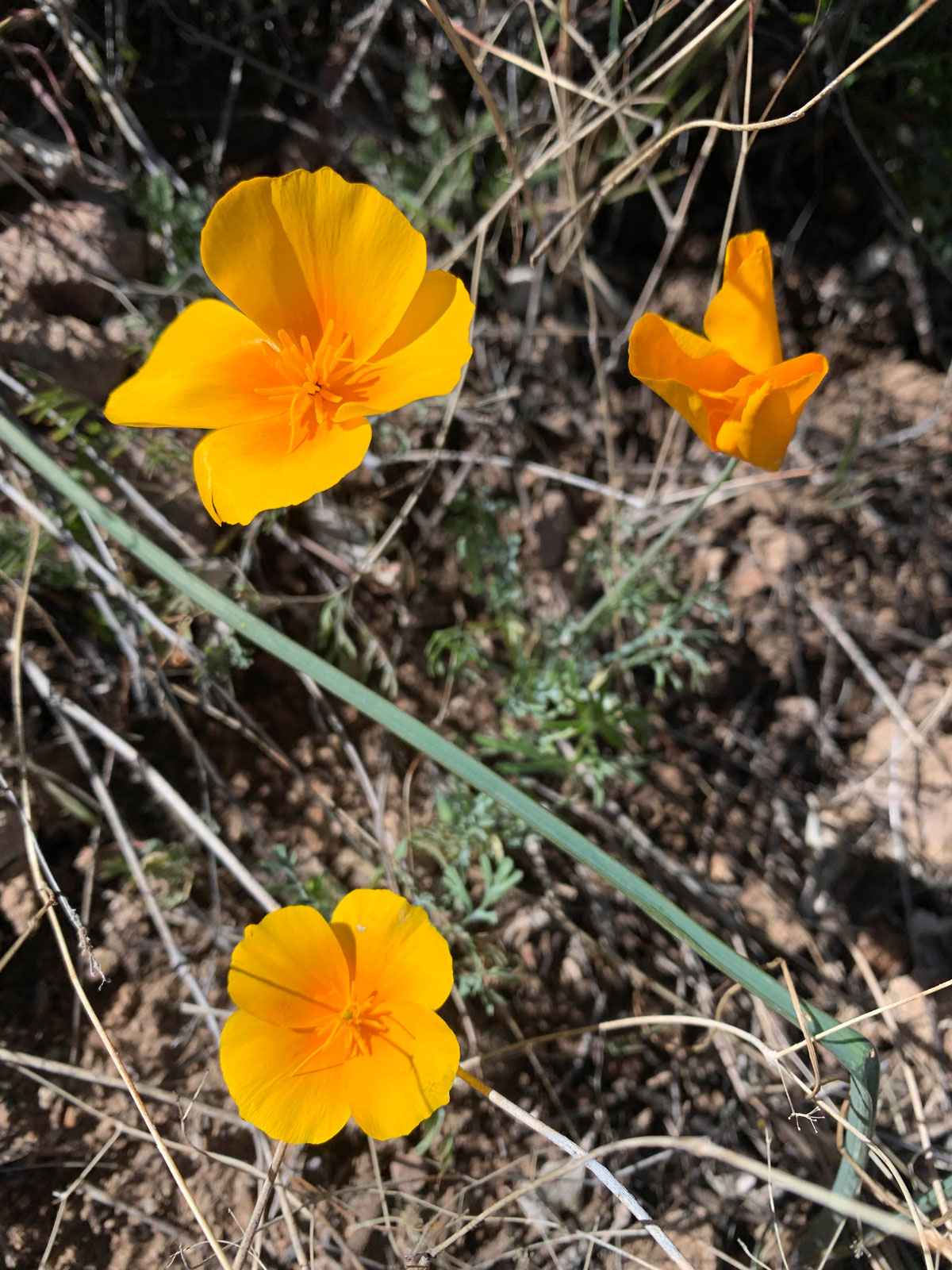 California Poppies in spring
Tortilla Flat is a popular tourist destination in the winter, and by the time we got back, the entire lot was full and had a person directing traffic! We noticed most of the license plates were from out of state, and I couldn't help feeling sorry that none of them had just enjoyed the views that we did. It's good to be a local.
---
Map & Directions
Location Superstition Wilderness, Tonto National Forest, Tortilla Flat, Arizona
From the US60, take the exit for Idaho Road. Go north on Idaho Road to State Route 88 and turn right. Follow that road to Tortilla Flat. Just past the town, but before you cross the creek, there is a dirt parking lot on the right.
Trailhead Facilities No restrooms or water. Tortilla Flat is close by and has a restaurant.
---