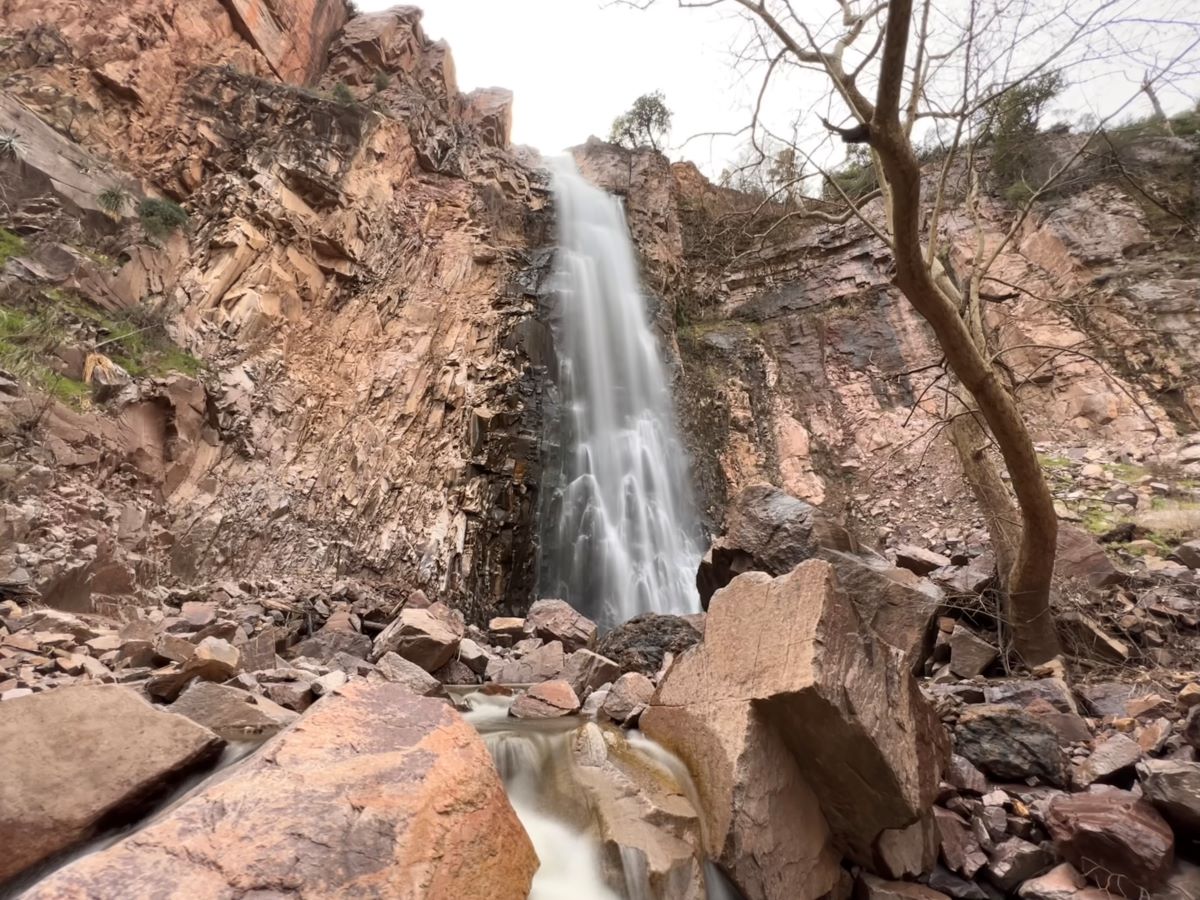 TRAIL STATS
Mileage: 13.1
Elevation gain: 3406 feet
Time to complete: 8-10 hours
Stars: ★★★★★
Faint trail, steep sections, and some serious scrambling (be ready to climb over boulders)
Reavis Falls might be one of the most exquisite waterfalls you'll see in Arizona. However, timing is everything with this one. It only flows after days of continuously hard rain or the very rare big snow storm in the Eastern Superstitions. Add to that the remote nature of its location, as well as the brutally long and hard hike to get to it, and this hike becomes an ultimate and epic adventure. Make sure you have a capable high clearance vehicle, you have your navigation dialed in, you are a pro at water-avoidance if you want to stay dry, and your endurance level is on point for this one.
---
Trail Description
Reavis Ranch Trailhead
Reaching this trailhead is an adventure all by itself. Lots of highway time followed by lots of dirt roads, some in better condition than others. A high clearance vehicle will be your bestie for the drive, though we didn't need 4-wheel drive. The trailhead had plenty of parking—we were the only ones there.
Reavis Ranch Trail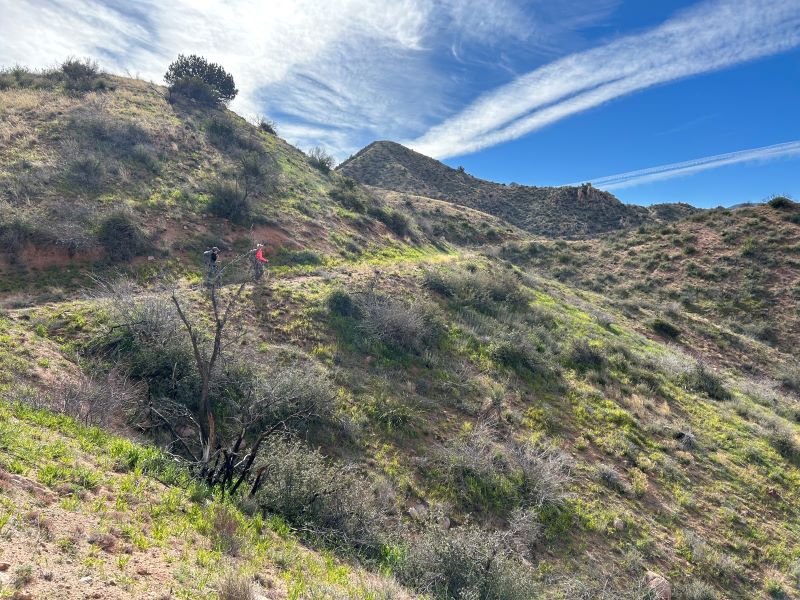 The Reavis Ranch Trail winds through the Superstition Mountains with a lovely, gradual incline the whole way. Nothing too steep. The trail is well-marked and maintained. As you look in the distance, you can see the trail for miles in front of you, and there are just layers of mountains and valleys surrounding you. It is gorgeous scenery and easy hiking. Soak it up. Take it in. Because the ease is about to abruptly end. And that's the kindest way to say it.
Reavis Falls Trail
At just around 3.4 miles, be looking off to your left for the spur trail to Reavis Falls. Even if you're looking closely, there's still a 99.9% chance you'll walk right past it, notice on your navigation, and turn around to search for it. Only then will you see the cairn that you can't see going the other way. The trail when we went was extremely faint, overgrown, and difficult to follow—this is not a well-trodden path. Also, it was immediately and unrelentingly straight up to the saddle. Once at the saddle, you can see down into this massive, deep canyon, and then you can begin to surmise how in the world you're going to get down there. And then back out. Without dying. Honestly, you might die a little. Fair warning.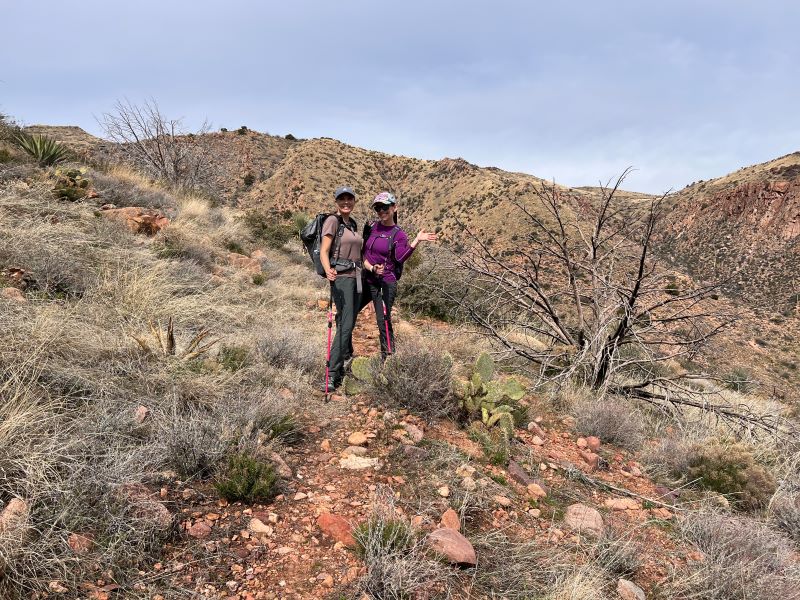 Getting to the Waterfall
This "trail" doesn't mess around. You just head straight on down. And down. And then more down until you hit Reavis Creek. Good luck staying on any kind of trail. Have an excellent GPS track, and know how to use it! Once at the water, (if there's no water, then…yikes. You might be hiking to a dry fall), you'll take a sharp right, pack your poles and your GPS away, and start scrambling, climbing, hopping, and jumping your way upstream toward the waterfall, always looking for the path of least resistance or least water. It's only about .7 miles each way of rock hopping, but plan for a minimum of 2 hours just for this section. The going is slow and can be mildly treacherous. But it is really ruggedly beautiful with tons of small waterfalls as you go.
---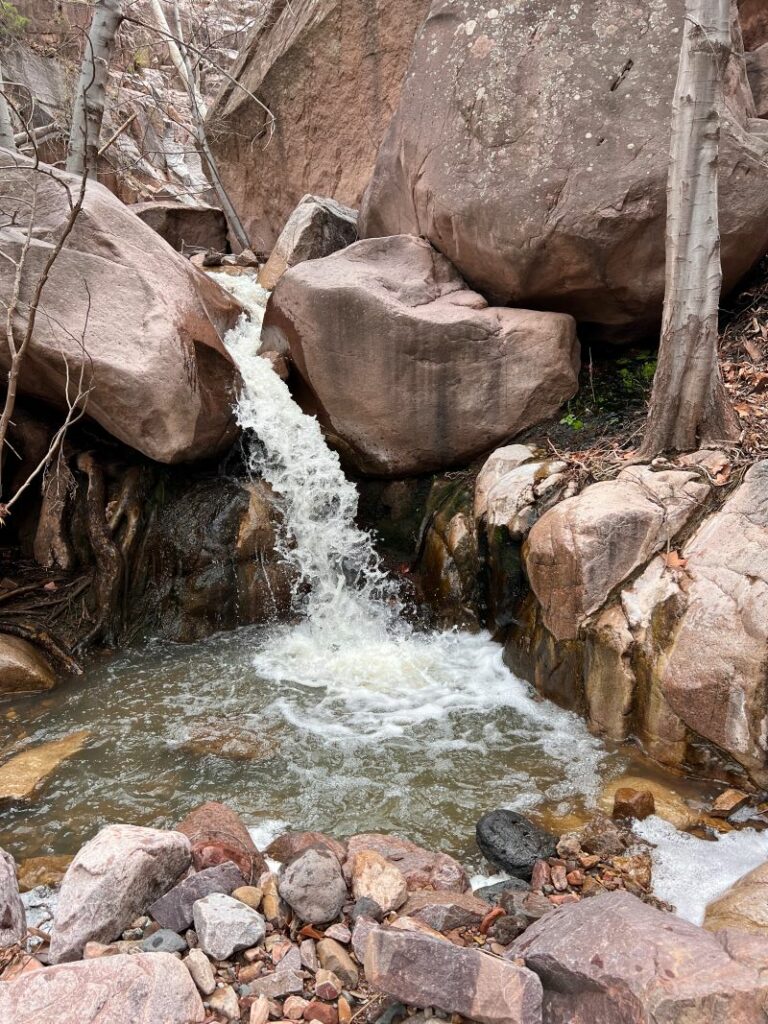 The Waterfall
Reavis Falls is just a tad under 200 feet, and depending on recent rains, it can be dry or absolutely roaring. We caught it at a great time where it was flowing great, but we could still see the contours of the cliffs it was pouring down. The falls are breathtaking. The spray off the falls mixed with the shade cooled us right off as we sat and blissfully ate lunch at its base.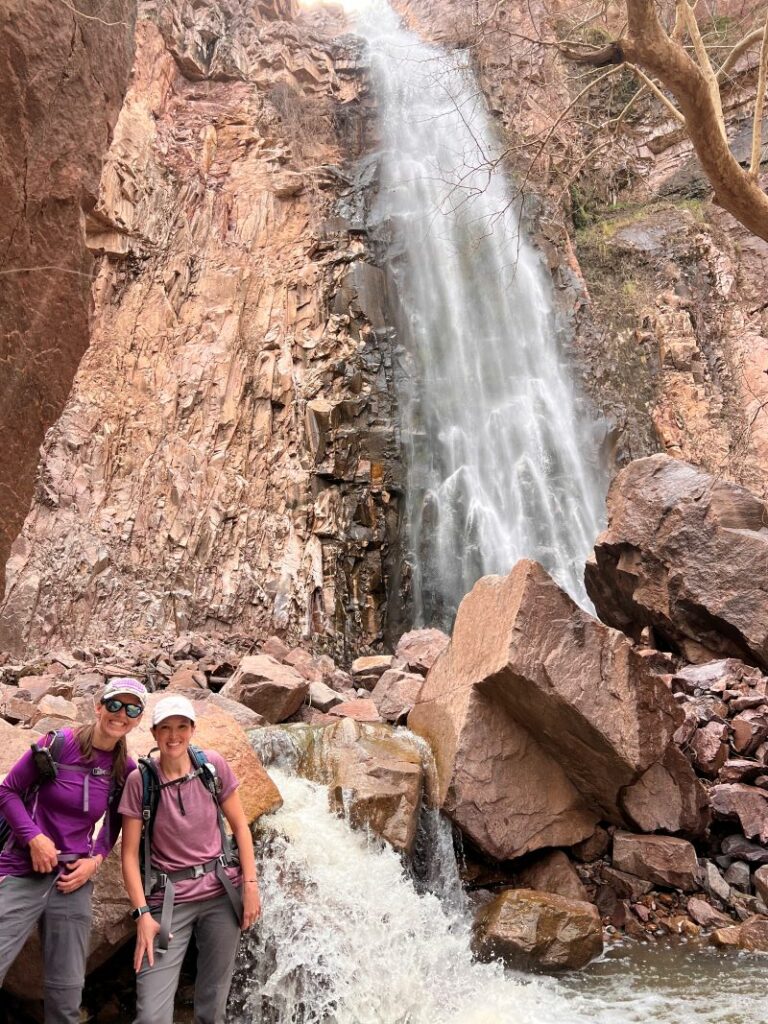 Getting Out
This is one of those Grand Canyon-esque types of hikes where you do all the easy and fun stuff first… and then after you're completely spent, you have to do all the hard work of the hike. It starts with the rock-hopping scramble back out of Reavis Creek and then the looong climb out. It's only a little over 2 miles and 1,700 feet of elevation gain, but it is unrelentingly steep, rocky, overgrown, and hard to follow. No gentle Grand Canyon switchbacks to be found here.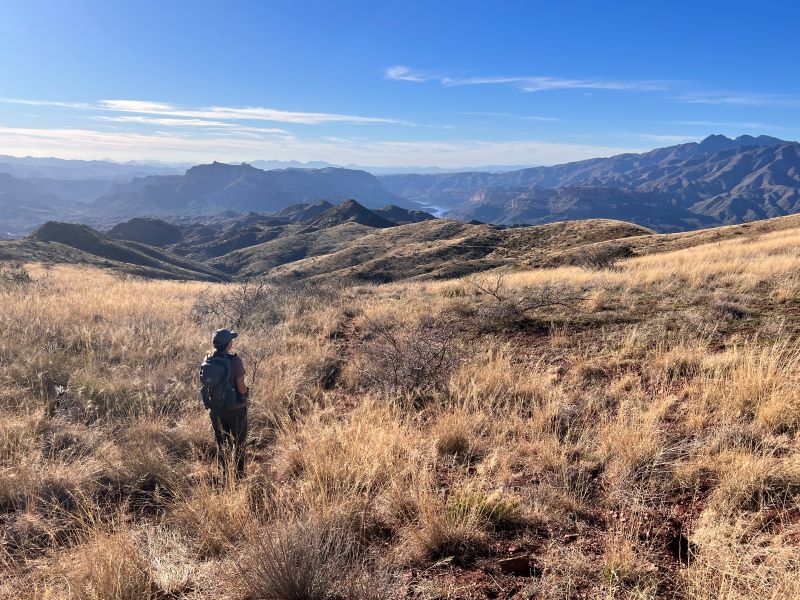 Once you get back to that saddle overlooking the gentle Reavis Ranch Trail, you might need to fight the urge to fall to your knees in thanksgiving. I did. Everything else will seem like a gentle stroll in the park all the way back to your car. If you're exceedingly lucky, you might be graced with one of those glorious AZ sunsets as you make your way back down the dirt road to home.
Map & Directions
Location Eastern Superstition Wilderness, Globe, Arizona
From Phoenix, Take Hwy 60 east to Globe. Go north on Hwy 188 for 29 miles to AZ-88/Apache Trail (graded dirt road). Go west 14 miles and turn left onto Reavis Ranch Trailhead Road (less maintained one-lane dirt road.) High clearance recommended.
Fees/Passes No passes or fees required
Trailhead Facilities None
Preview this Hike
---
Recommendations for you
Share this