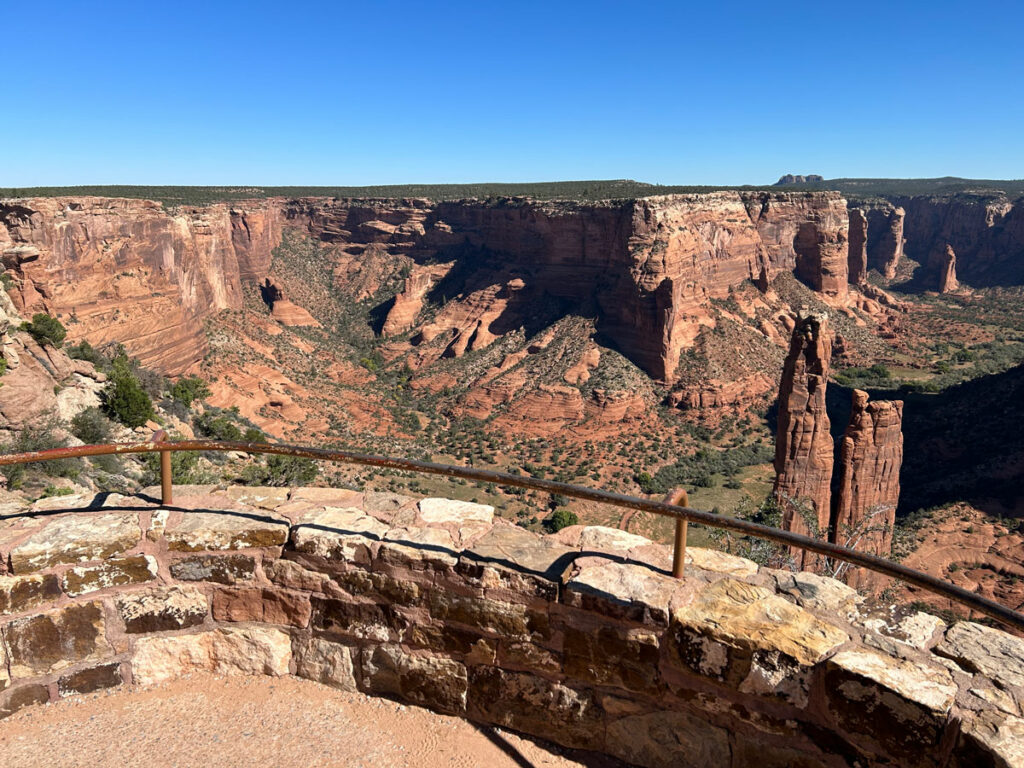 The Best of Canyon de Chelly
Canyon de Chelly (pronounced de-SHAY) gives you a glimpse into the rich history of Native American peoples who have occupied the land for thousands of years. Though access to the canyon floor is limited to guided tours, anyone can get a look at the beautiful scenery, farm life in the canyon today, and the ancient history by visiting the rim's many overlooks.
Ask about tours at the welcome center.
Which rim road is the best?
There are two main park roads in Canyon de Chelly National Monument, and the road that's best for you depends on what you hope to see.
South Rim is best if you:
are in a wheelchair
have binoculars or a telephoto lens
want expansive views of the canyon floor and Navajo farmlands
North Rim (my favorite) is best if you:
are short on time
don't have binoculars
are mostly interested in the ruins
South Rim Drive Overlooks
South Rim Drive follows Canyon de Chelly and provides excellent views of the arms of the canyon and the farmland below. You can see ruins from the overlooks on South Rim Drive, but they are far away and difficult to see without binoculars. Those who want the best views of the canyon and have binoculars or don't care so much about seeing ruins should choose this road.
Tunnel Overlook
Tsegi Overlook
Junction Overlook
White House Overlook (closed as of publication)
Sliding House Overlook
Face Rock Overlook
Spider Rock Overlook
Note: White House Overlook was closed due to security concerns when we visited, so we were unable to visit it or take the 2.5 mile hike into the canyon to see the ruins. Therefore, it's not included in this guide, but if it's open when you go, be sure to visit!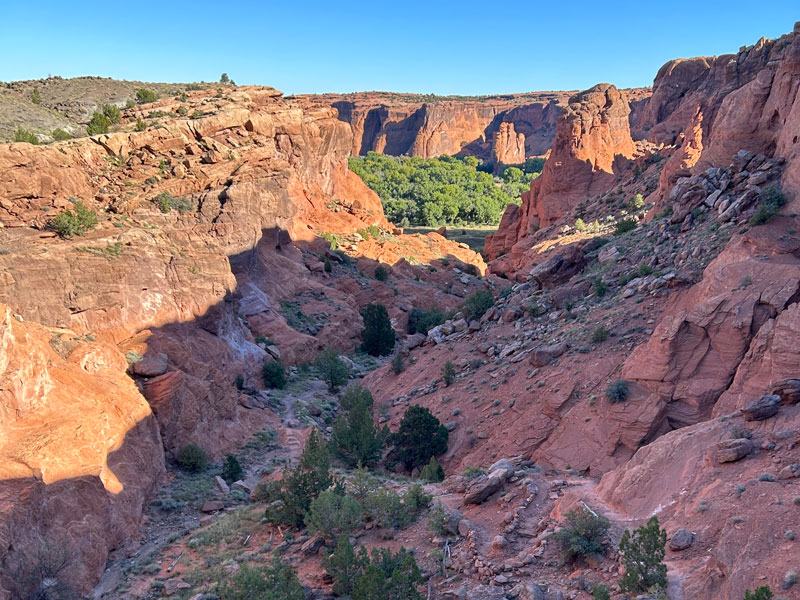 Tunnel Overlook – roadside
Convenient access and many Native American vendors
This is the first overlook you come to on the south rim and probably the least impressive. There may be a lot of Native American vendors trying to sell goods at this location. An unpaved trail leads into the canyon, but you can only go a very short distance before you get to a sign indicating you need a guide to venture farther. Please respect the tribe and refrain from going beyond this point.
Pros easy to get to, wheelchair accessible since it is roadside
Cons least impressive view, multiple vendors trying to rope you into a sales pitch (unless you like that kind of thing)
Pro tip join a guided tour if you want to hike down into this canyon
Tsegi Overlook – roadside
Great view of the Navajo farmland
Tsegi (pronounced SAY-ih) means home in Navajo, and this overlook provides a glimpse into modern life in the canyon. The large expanse of farmland below you impresses as you imagine what it's like to live among the towering canyon walls.
Pros farmland views, wheelchair accessible since it is roadside
Cons no ruins visible from here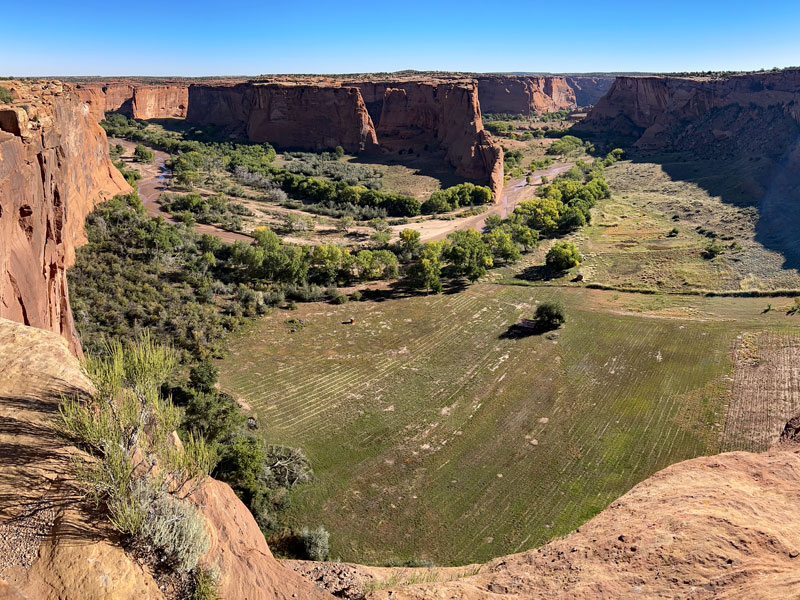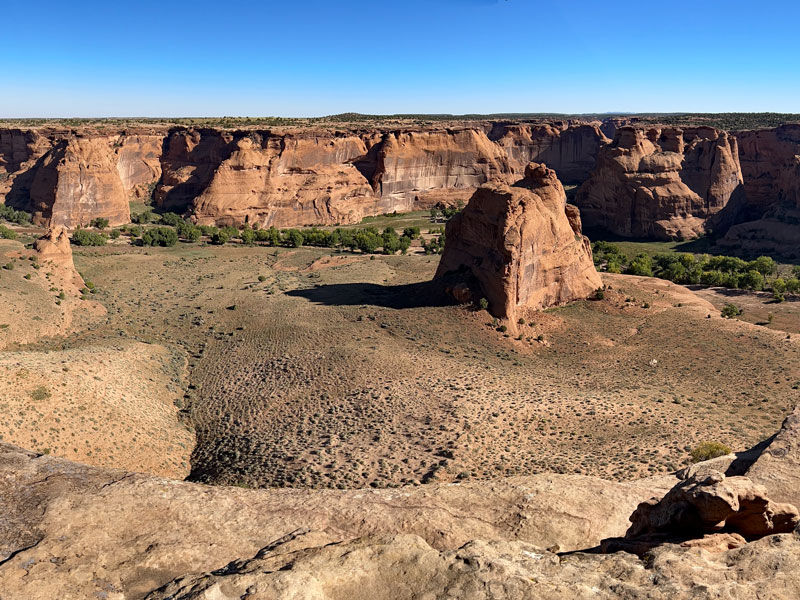 Junction Overlook – 100 feet, paved
Expansive views at the junction of two canyons
From this viewpoint, you can see Canyon del Muerto coming in from the north to join with Canyon de Chelly. There are at least three ruins you can see from this point, but they are very hard to see without binoculars, so you'll probably miss them if you don't know they're there. The friendly Navajo vendors at this stop were happy to point them out to me.
Pros three sets of ruins, biggest views, wheelchair accessible
Cons ruins are difficult to see
Sliding House Overlook – 200 feet, unpaved
Overlook of a distant set of ruins
About now, you'll really be wishing you brought the binoculars and the telephoto lens. I had neither. Directly across from the overlook, you can find Sliding House Ruins in the concave area of the wall. Look just below the black water stains. They were so far away that we couldn't decide if they were ruins or not until we zoomed in.
Pros a great set of ruins, no vendors (at least when we went)
Cons ruins are difficult to see, the unpaved path to the overlook is hard to follow and not accessible for wheelchairs (look for stairs and footprints carved into the slickrock)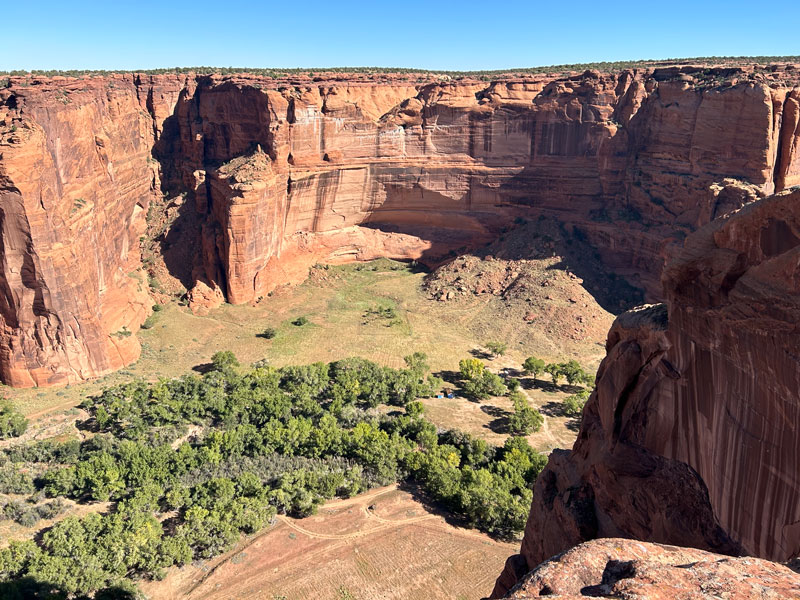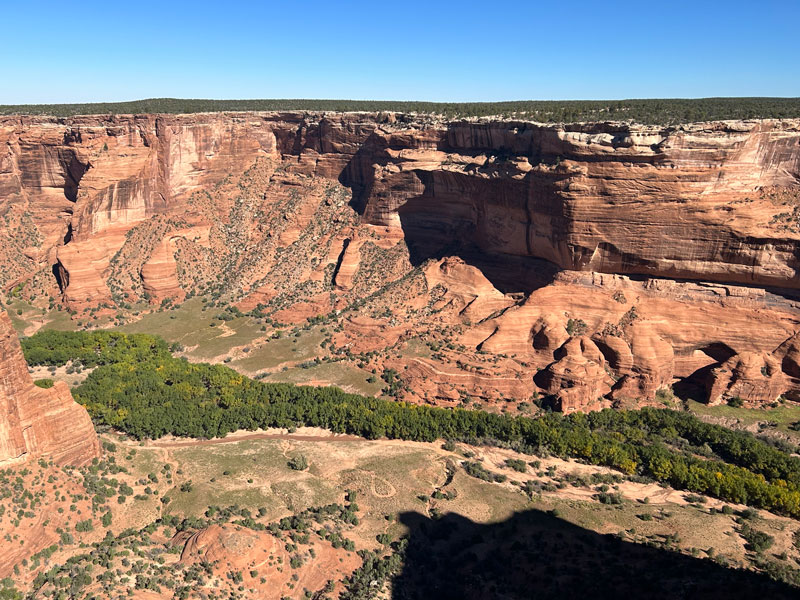 Face Rock Overlook – 100 feet, paved
Overlook of a distant set of ruins
Another distant set of ruins. Look in the crack about halfway down the wall on the right of this photo. The ruins are very small from this vantage point and tucked into the shady protected area of this canyon wall.
Pros a great set of ruins, a viewfinder to help you spot them
Cons ruins are difficult to see
Spider Rock Overlook – 600-1000 feet, paved
Overlook of an 800-foot spire rising from the canyon floor
This might have been my favorite overlook of the south rim. The roughly paved path is suitable for wheelchairs only to the first viewpoint, but others can continue on to a second viewpoint.
Pros very cool rock spire, a viewfinder helps you spot ruins
Cons only the first viewpoint is wheelchair accessible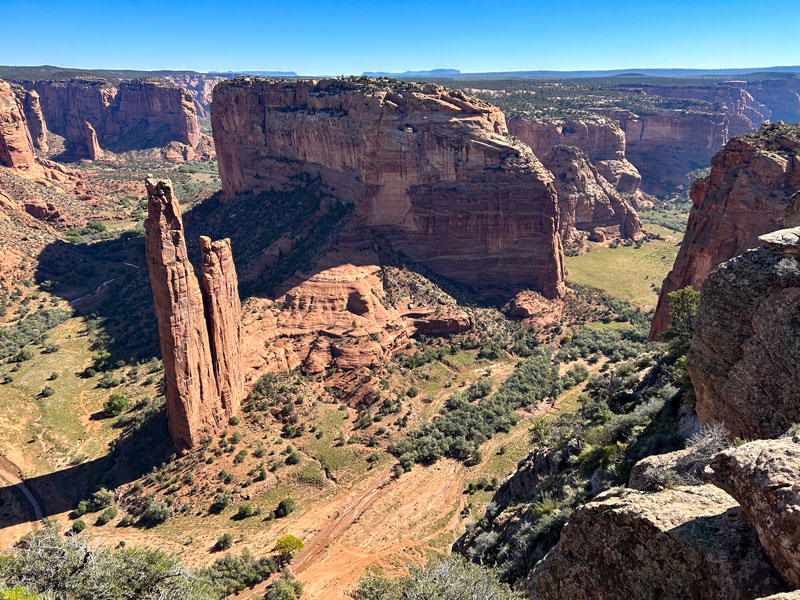 North Rim Drive Overlooks
North Rim Drive follows Canyon del Muerto and only has three overlooks, but the ruins you can see from these overlooks are much closer and easier to see with the naked eye. Those without binoculars or who mainly want to see ruins should choose this road. However, only the Massacre Cave overlook is accessible to wheelchairs, and it only goes to the two less interesting viewpoints.
Antelope House Overlook
Mummy Cave Overlook
Massacre Cave Overlook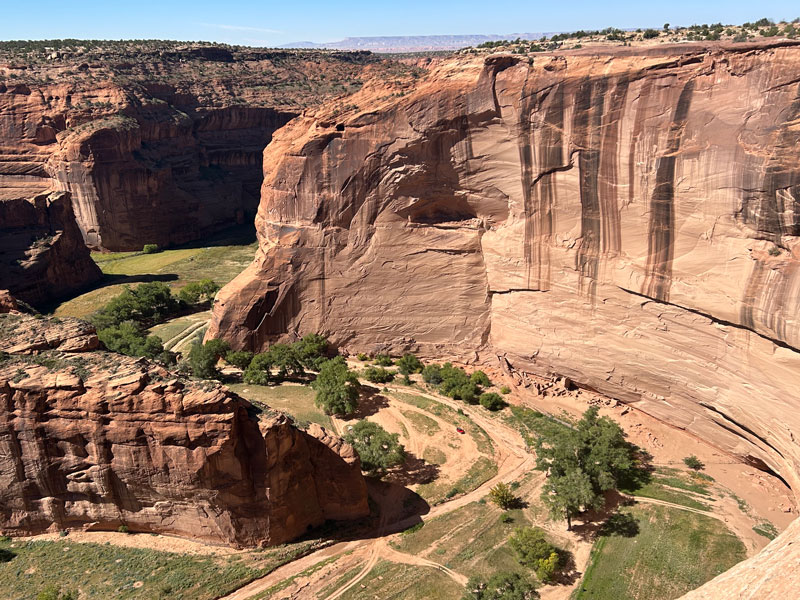 Antelope House Overlook – 800 feet to 1/4 mile, unpaved
See a much closer set of ruins
This ruin is easily distinguishable from the rim and is so named for antelope drawings attributed to a Navajo named Dibe Yazhi who lived there in the 1800s.* Though the illustrations can't be seen from here, you can see the various rooms of the ruin. There are two viewpoints here, so be sure to visit both. The view of the ruin is to the right, and the view up the canyon is to the left.
Pros easily visible multi-room ruin, beautiful view up canyon
Cons longest trail of all the overlooks requires hiking at least a 1/4 mile on uneven slickrock to visit both viewpoints, vendors in the parking lot
Mummy Cave Overlook – 100 feet, unpaved
Best ruins you can see with the naked eye
Spectacular set of ruins both inside and outside the caves across from the overlook. Although these caves are across the canyon, the canyon is narrow enough at this point that you'll be able to get a fairly good look at them. One of the largest set of ancestral Pueblo ruins in the canyon, Mummy Cave initially only had ceremonial and living spaces in the caves. Later, people who migrated from Mesa Verde built the complex you see outside the caves in the middle.*
Pros best ruins, easily visible
Cons not wheelchair accessible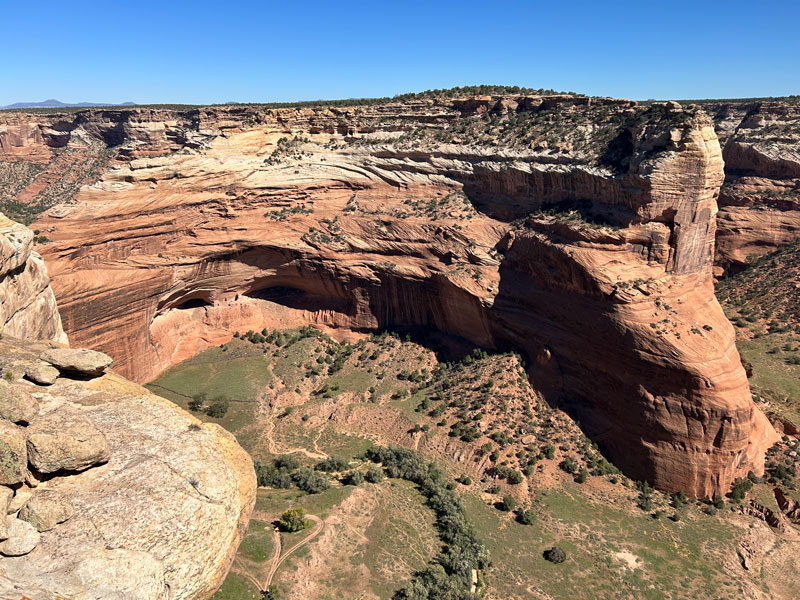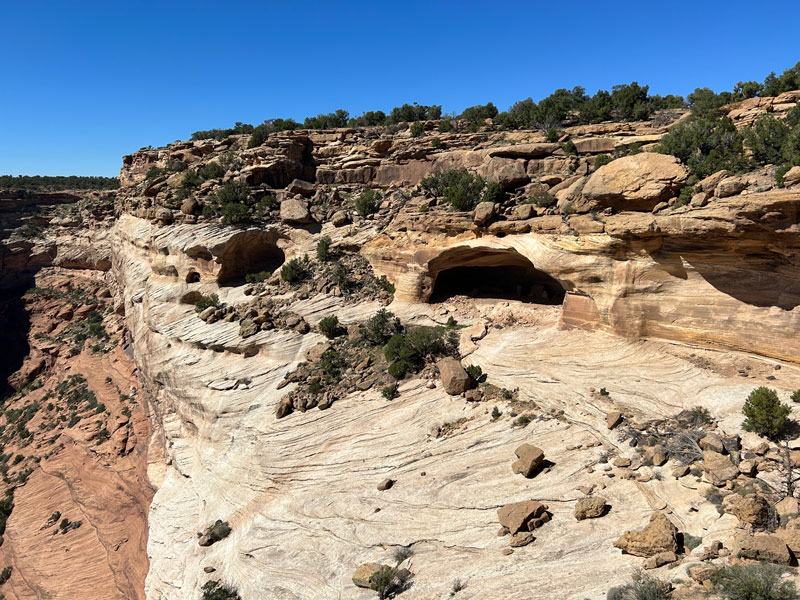 Massacre Cave Overlook – 400-900 feet, paved
Easily visible ruins, great views down canyon
The first viewpoint overlooks Massacre Cave, a protected ledge where about 115 Navajo people were shot and killed from the rim by the Spanish military in the winter of 1805.* The second viewpoint gives you nice views up and down the canyon. The third viewpoint gives you relatively close views of the Yucca ruin and is the best view at this overlook.
Pros easily visible ruins, interesting history
Cons only wheelchair accessible to the first two viewpoints
*Source: National Park Service pamphlet
Preview this Hike