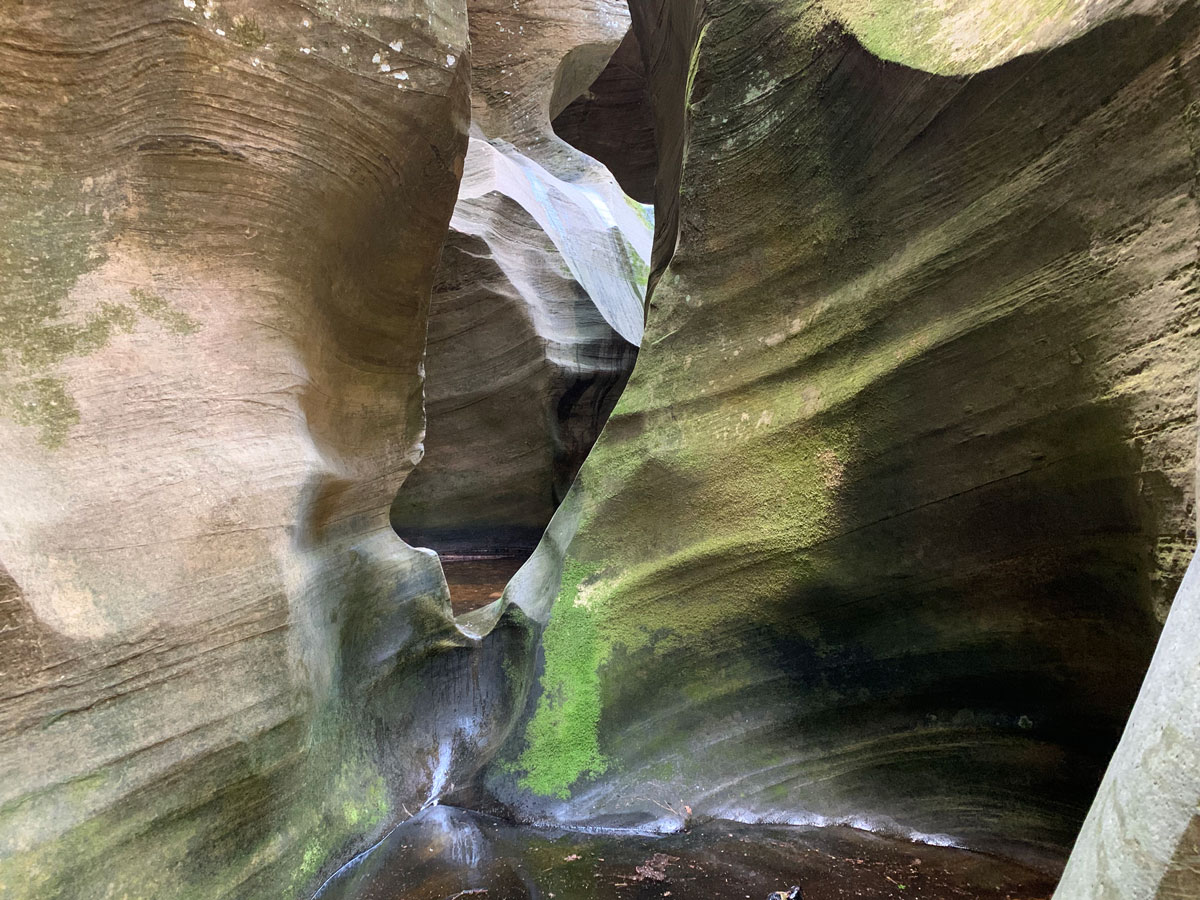 TRAIL STATS
Mileage: 2.9
Elevation gain: 906 feet
Time to complete: 2-4 hours
Stars: ★★★★½
Off-trail, boulders and logs
Bear Canyon on West Clear Creek is where you go when you're a newbie canyoneer or you just need a quick, incredible technical canyon because you have to be home by six. Even though this is considered an easy canyoneering route, the beauty of the canyon is unreal with sculpted narrows, hanging gardens, cold pools, and maybe a rotting carcass if you're lucky.
🪢 This is a technical canyon with two rappels up to 20 feet, the first of which could be downclimbed. You will need one 50-foot rope, plus all the required safety equipment for rappelling and knowledge how to use it. This guide is not intended to provide instruction on how to descend a technical canyon safely.
---
Trail Description
I know, I know, the roads into West Clear Creek are terrible. Usually. But I promise this one is not that bad. We saw sedans down there, so you should be able to make it in just about any car as long as the roads are dry.
Parking
There are two parking options for Bear Canyon. You can drive to the end of forest road 142E so that you'll be at the car right when you pop out of West Clear Creek, or you can park about a quarter mile back and hoof it to your car at the end. Personally, I'd rather hike the road first and then arrive at my car just as soon as I get out of the canyon, but if your little sedan has you white-knuckling it the whole drive, maybe parking earlier is for you.
The Approach
If you parked at the end like we did, you have to put in your time now and hike the road back. Soon you'll see a road branching off to the right. Take that for a short distance and then follow whatever use trails you can down into the canyon. If you don't have to hop any logs or slide down any loose, steep spots, you didn't get the full experience.
The route along the bottom of Bear Canyon is longer than you'd want, and you'll encounter nasty pools that you will either have to walk through or find a high trail around. I found it easier to go through, but some of us are tougher than others. Okay, I wasn't tough at all that day. You'll see what I mean later.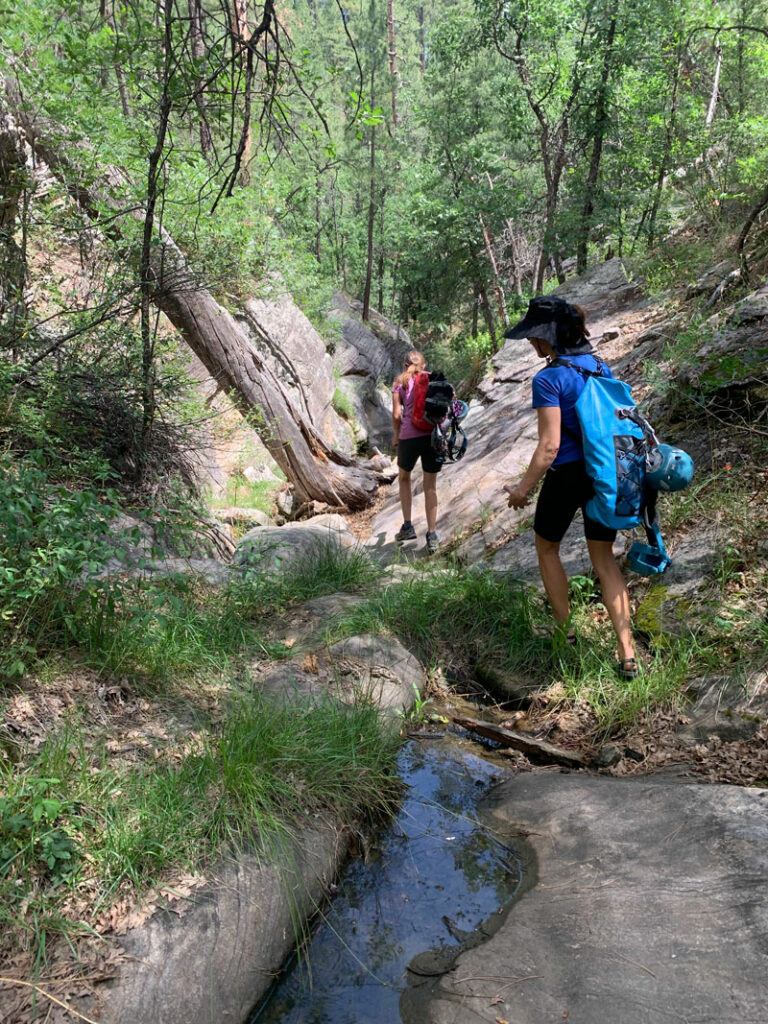 The Technical Section
Rappel 1
Just when you start wondering if this is actually a technical canyon, there it is: Rappel 1. Channel your Alice in Wonderland because you're going down a rabbit hole. This rappel can probably be downclimbed, or, more accurately, downslid, but watch for the slick rock at the end. We ALL went down on that.
The narrows that follow are some of the most breathtaking in Arizona. Ferns, moss, cool rock formations, and deep, cold pools. It's almost like you've been transported to some exotic location. You're in for a treat!
Except first, you have to swim through a deep, cold pool, and it just might have a stinky, rotting carcass floating in it (see the video for an example). We've been on multiple occasions, and it seems the odds are in your favor. Take a deep breath, block out all your instincts to panic, or do like I did and just freak out the whole way. See, I'm a wimp.
Rappel 2
This rappel is right on the other side of the deep swim, and you can find the anchors around the corner to the right. It's also a short one, but it's in one of the most stunning chambers of the canyon.
All right, who snapped this photo? Kristi? The sunlight kinda ruined it.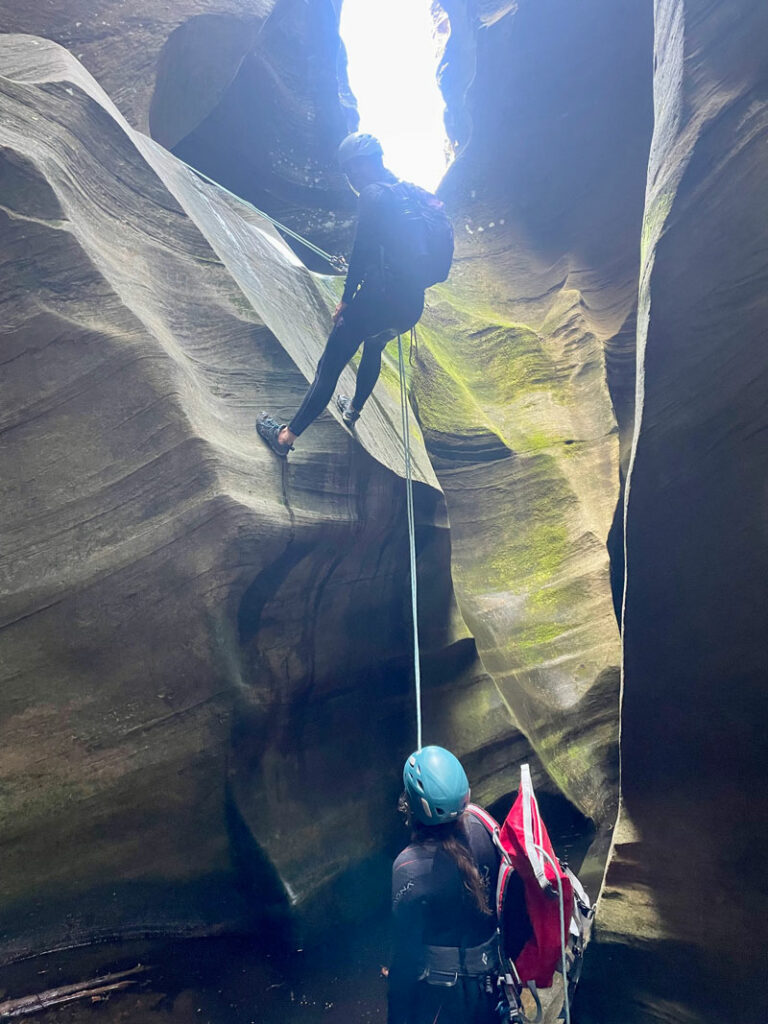 Don't you worry, I annoyed the heck out of Heather by stopping to take my phone out of the dry bag over and over to try to get some great pictures of this stunning canyon.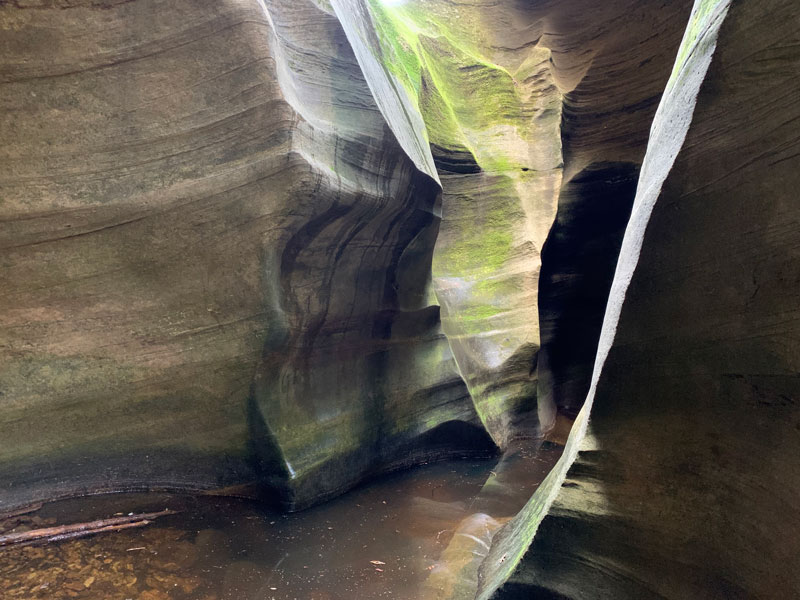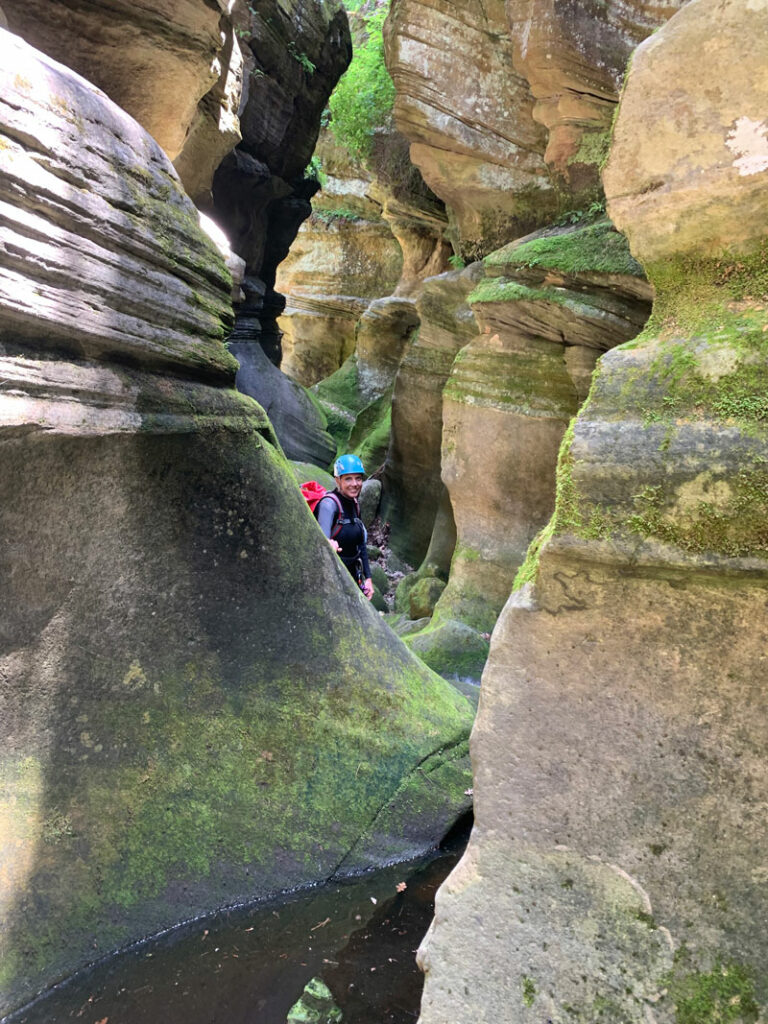 Log Slide
There are a couple logs to traverse. One you can walk across and the other you can slide down. I mean, if you reeeallly want to get in the water instead, maybe you can jump? But it's the color of black coffee, and who knows what's down there. Slide, baby, slide.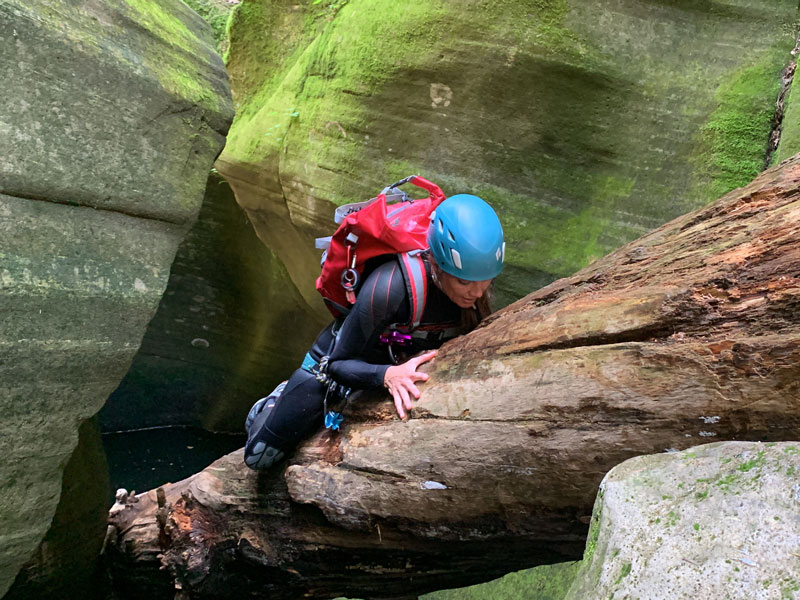 The Secret Garden
Soon after, you'll find yourself at a slightly more open area that is kind of like a secret garden hidden deep in the narrows of Bear Canyon. Hillary calls it the Fern Room.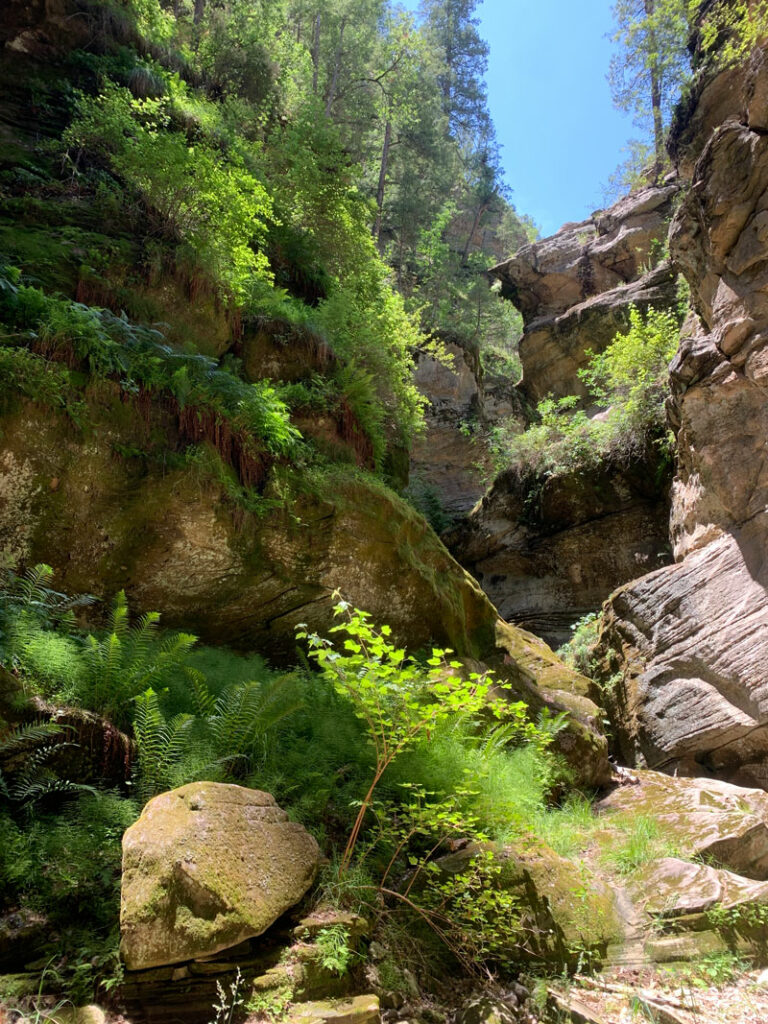 One more short narrows section and a few more pools before the canyon begins to widen.
Yeah, it's unbelievable right?
But here's the thing: poison ivy (I think?), spiders, water skippers, moss and algae, frogs, and maybe even a dead carcass. Got it? Not for the weak of stomach, as you can see when Heather almost vomits in the video.
If you can't block out the creepies, then I guess canyoneering might not be the sport for you. Just trust in that wetsuit to keep stuff from touching you and go!
West Clear Creek
You'll have a lot of boulders to hop on the way out of the canyon, and a couple downclimbs and log jams, too. Eventually you'll start to see more water and hear the refreshing sound of West Clear Creek.
The beauty of West Clear Creek is undeniable, and the water is warmer, so take a moment and soak it all in. This is a little slice of paradise. Take a right and go a short distance to the next place that looks like you can exit the canyon.
The Exit
The exit is steep, no doubt, but it's also fairly short and has a decently worn trail. If you don't find yourself on a trail, look around for it. There are boulders and fallen logs to negotiate (sound familiar?), but it's far from the worst exit hike in the canyoneering world.
Keep pushing, you're almost there!
---
Map & Directions
Location West Clear Creek, Coconino National Forest
From Payson, head north on Highway 87 until the intersection with Highway 260 and turn left. Turn right on forest road 149, going left at the fork to stay on forest road 149. Turn right onto forest road 142 and then take a left onto forest road 142E and follow it to the end. Or just use Google maps to navigate to West Clear Creek Trailhead.
Fees/Passes None
Trailhead Facilities None
Preview this Hike
---