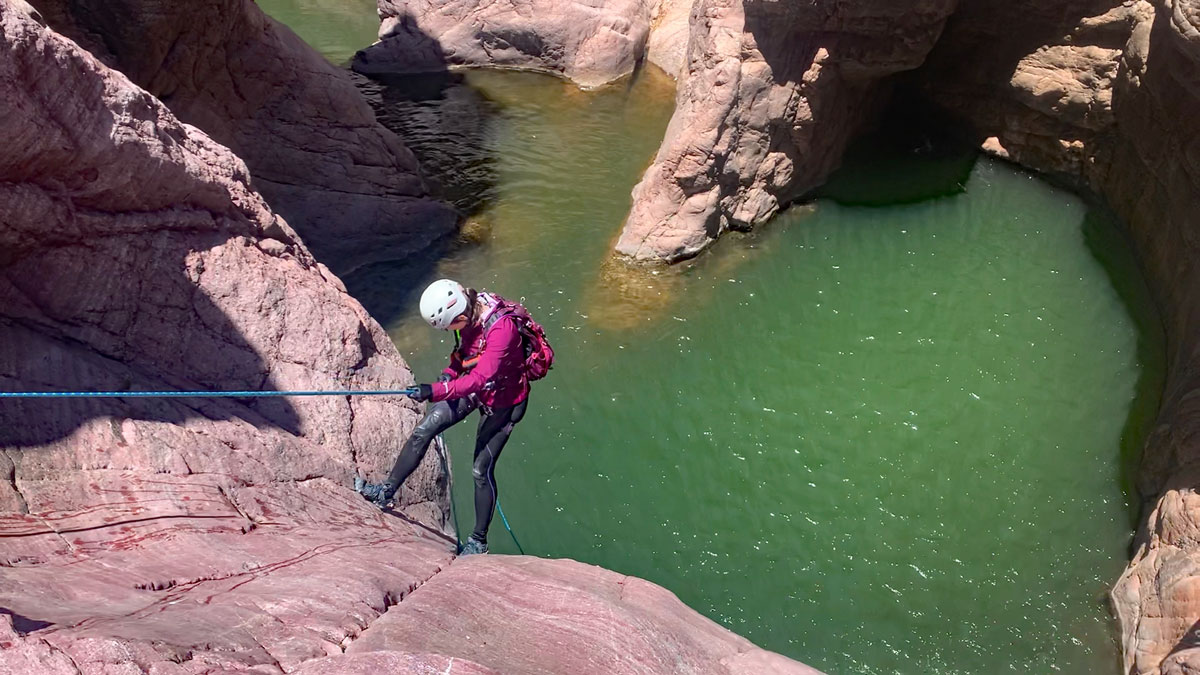 TRAIL STATS
Mileage: 2.1
Elevation gain: 899 feet
Time to complete: 3-4 hours
Stars: ★★★★★
Swift water, swims
Christopher Creek Gorge is a fun but not too challenging swift water canyon, which makes it perfect for those who are new to canyoneering or class C canyons. With three rappels and two jumps (that can be rappelled), the fun factor keeps even the seasoned canyoneers coming back for more.
🪢 This is a technical canyon with three rappels up to 50 feet and two jumps that can be rappelled, if desired (or to check water depth). You will need one 100-foot rope, plus all the required safety equipment for rappelling and knowledge how to use it. This guide is not intended to provide instruction on how to descend a technical canyon safely.
---
Trail Description
Back when we were first getting started in canyoneering, this was one of the first canyons we tried out. We had one harness to share, one descender, half a climbing rope, and no helmets. Aye, aye, aye! But DANG it was so much fun! At the end of the year when I was reflecting on all that we had done, this memory rose to the top of the list. Such good times.
We used to park on the highway to start the hike, but that plan's been nixed by a guard rail. Now you have to park at a turn off before the trail starts and walk east on Highway 260 for about a quarter mile. (Take full advantage of the safety that guard rail provides from the traffic zooming past you). If you can get a truck to honk at you, it's two points.
Approach Trail
After you pass the canyon to your right, it becomes a bluff and you'll see a fairly well-defined trail heading up to the right. Once you get up top, the trails seem to crisscross in every direction. If you generally keep going straight and maybe just a tad right, you'll eventually get to a clear trail that leads to a fence. Don't try to squeeze between the wires because you're gonna look like a fool when the next person opens the gate and walks right through. Or, if you're Heather, you'll trip on your way through the gate and look like a fool anyway.
Keep following that trail as it eventually drops you into the beautiful oasis that is Christopher Creek Gorge. Unless, of course, the party crew has just been there and left pieces of styrofoam ice chests and plastic bottles. Ugh. Or, the party crew might still be there, as it's not uncommon for us to see people at the drop in point for this canyon down enjoying the water. Of course, you'll don your wetsuits and savor the look on their faces as you get in the water and start heading down the slides and waterfalls.
The Technical Section
Rappel 1
There will be a few little slides and waterfalls to negotiate before you reach the first rappel, which is a waterfall. We've also seen webbing down canyon right. I'm assuming that's for very high flow situations because why wouldn't you want to rap the waterfall?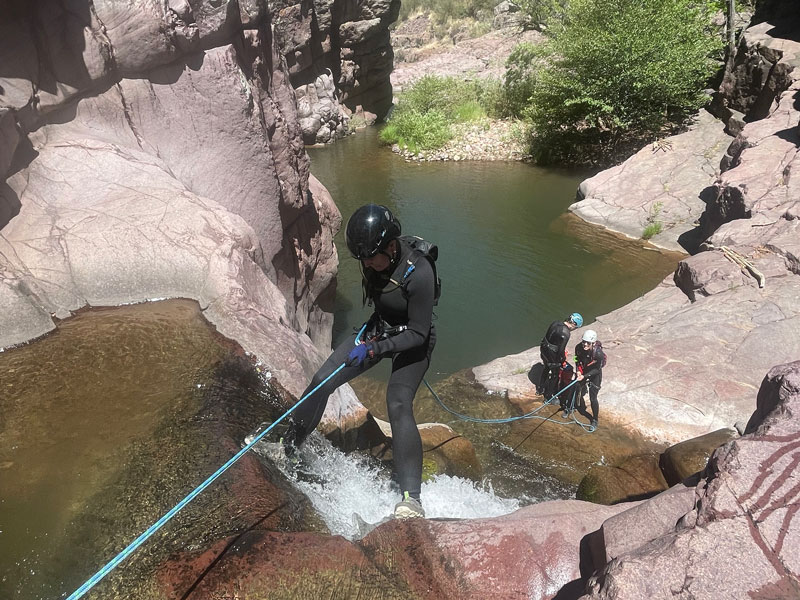 Rappel 2
There will be some more swims and a slide after rappel 1 before you get to rappel 2. There was webbing just above the water course, but we have always walked up the ramp on canyon left and rappelled from the chains up there. I mean, they seemed fine. It's a pretty epic rap and the longest one in the canyon (you're not jumping it, are you?).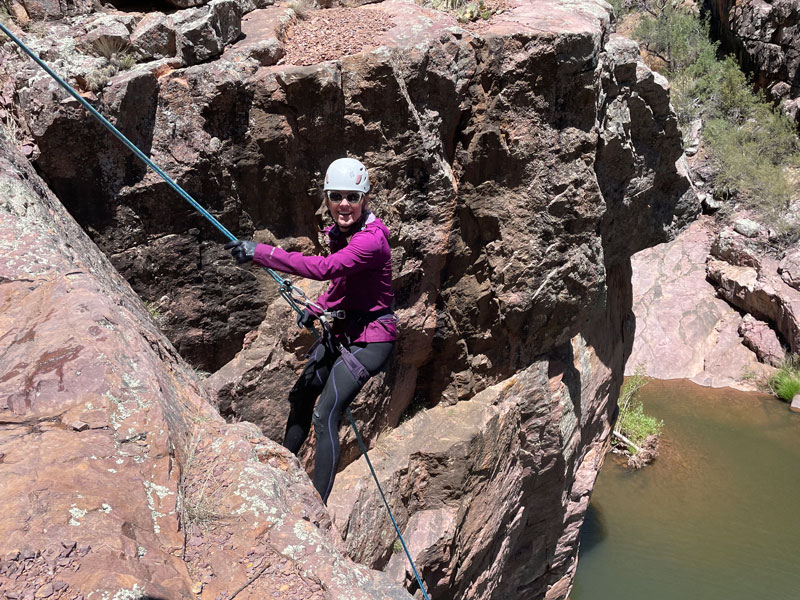 There is nowhere to stand at the bottom, so hopefully you're a little buoyant with your wetsuit and a bit of air in your pack somewhere. Be extra super careful not to lose your descender here. I don't know how many must be at the bottom of that pool!
Jump 1 (optional rappel 3)
We've been in this canyon when the water looked like chocolate milk, and it was impossible to judge depth. To be on the safe side, there's a single bolt on top of the rock you can rappel from. If the water flow isn't too high, you can also carefully downclimb the waterfall, which is what my friends did before giving me the all clear to jump. Note that the water toward the left side down canyon tends to be deeper, so plan your jump accordingly.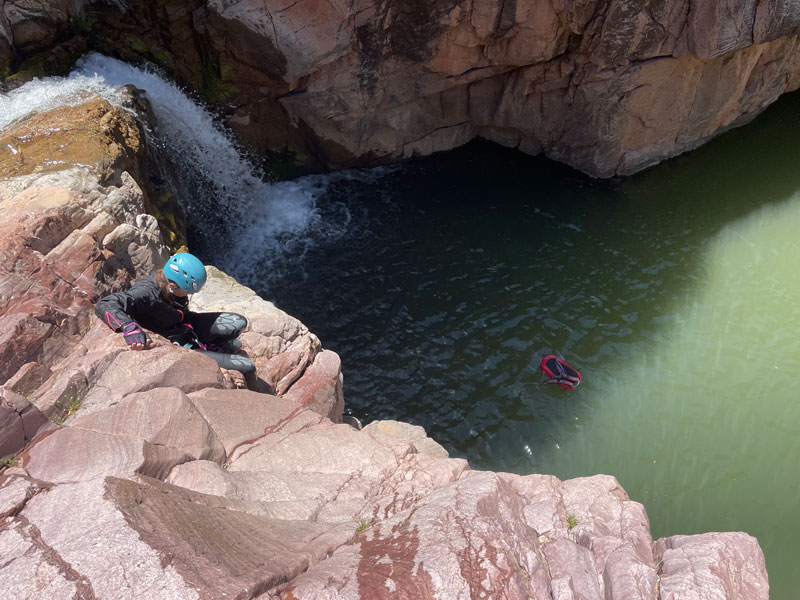 Rappel 4
There was webbing in the water course on this one, too, but we went up to do our regular rappel canyon left. I don't understand why there's only one bolt here, but I've heard beggars can't be choosers. Once you make your way to the end of the chute, there's a lip. I remember the first time we did this canyon, it was also my first time with an overhanging rappel, and I was freaked out. But I gathered up my courage and jumped while letting out extra rope, just as my friend told me to. These days I'm less dramatic, but it's still fun.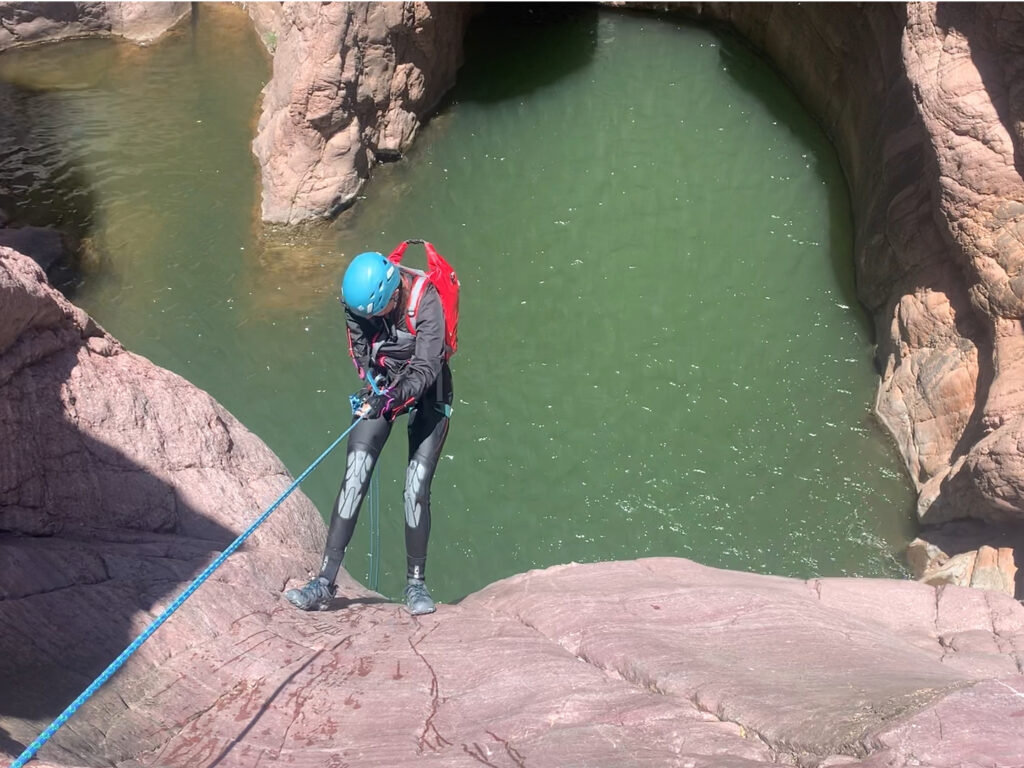 I think this is the most beautiful spot in the canyon, too. Don't forget to take pictures!
Jump 2 (optional rappel 5)
The approach to the edge of the cliff here is a bit sketchy. Nobody looked confident as they tried to keep as much body surface area on the rock while sliding down into place for the jump. I thought a slightly different spot looked easier (toward the right in the photo below), but my shoes are worthless. Have I mentioned that before? S'mores Canyon near death experience? Merrell, you officially suck. So I eventually decided to take my shoes off and go barefoot. That made approaching the edge and jumping off a piece of cake. See you at the bottom!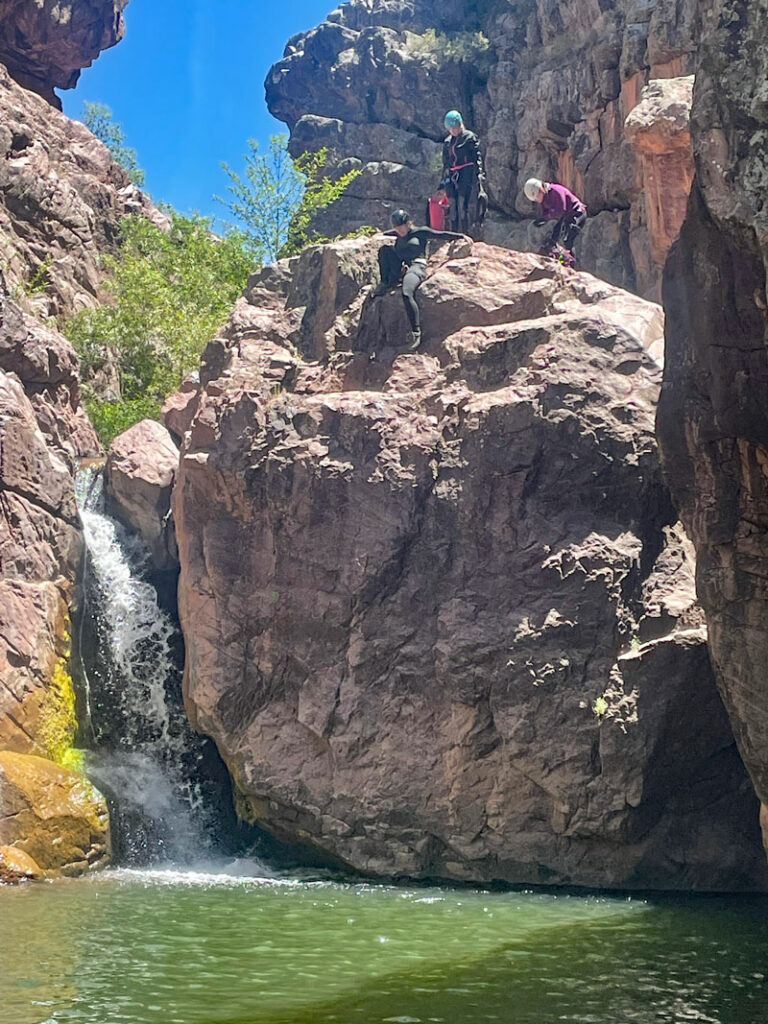 The Exit
Generally, you are going to keep going down canyon until you see a break in the cliff where you can go up to the higher level. There will be use trails going every which way, trying to get you to veer steeply up to the right, but you should exercise patience and keep going straight, parallel with the creek, until you get to a drainage. I got a little cranky when the leader of our group headed off on a random use trail instead of following the map, but we all ended up safe and sound back at the car just the same. Your skill at patience and following directions will determine how much manzanita you'll have to push through. May the bushwhacking gods ever be in your favor.
And may Alfonso's still be open when you get to Payson.
---
Map & Directions
Location Tonto National Forest, Payson, Arizona
From Payson, take Highway 260 east for about 18 miles. There's a road on the right side that has a gate, which is sometimes open but usually closed. Park outside this gate along the road and walk along Highway 260 to the approach trail.
Trailhead Facilities None
Preview this Hike
---