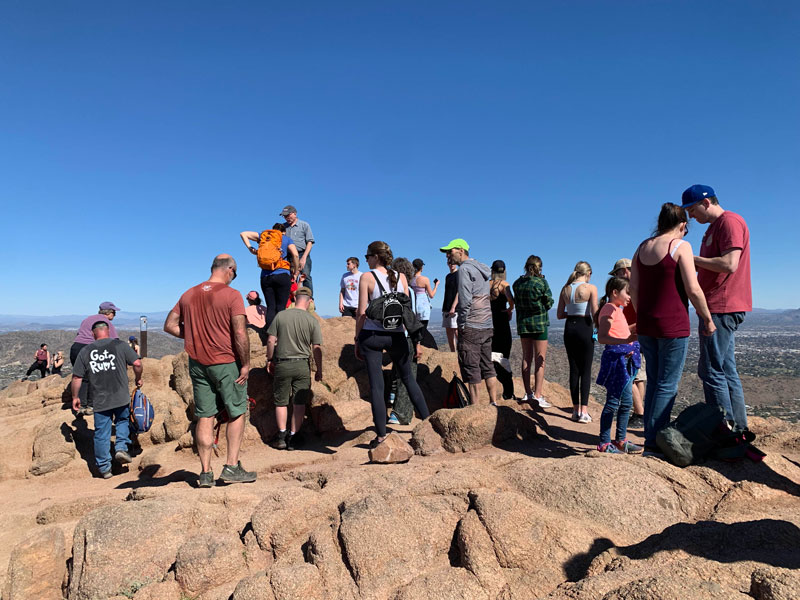 Camelback Mountain: The Most Overrated Hike in Arizona
If you've ever been hiking in Arizona, chances are you know about Camelback Mountain. And chances are also good you've even hiked it. Know why? Because everybody does. Everyone. All the people.
Honestly, I liked it the first time I went. The railings made it kind of interesting, and the rock formations are cool. So why do I find it the most overrated hike in Arizona now?
Reason 1: Parking problems
When you're approaching the roundabout for the turn into the parking lot, you cross your fingers that you'll be one of the lucky ones who doesn't see the dreaded "Lot Full" sign out front. If it's Saturday or a holiday, chances are good you're going to lose that lottery. Facts. Even after they added a bunch of spaces below the main lot, it's STILL always full, and you can't help but feel sorry for the poor souls you'll see walking in who had to hoof it for a half mile BEFORE getting in the mile-long line to the top. Because, you know, this is the ritzy part of town, and the neighborhoods nearby don't want cars parked there.
Reason 2: Crowds
Recently, I made the mistake of going during spring break. Actually, it wasn't even spring break for my kids, but it had to be spring break somewhere, or a whole lot of somewheres. It was, no joke, a solid line of humans walking up and down the mountain. You think Disneyland is bad? I'm not sure they have any lines that are a MILE LONG. And here's the thing: there's no fun ride at the top. No, it's just more crowds. Not going on spring break? Doesn't matter. Weekends and holidays are always absolute madness (unless it's scorching hot outside), though weekdays do give a little relief. A little.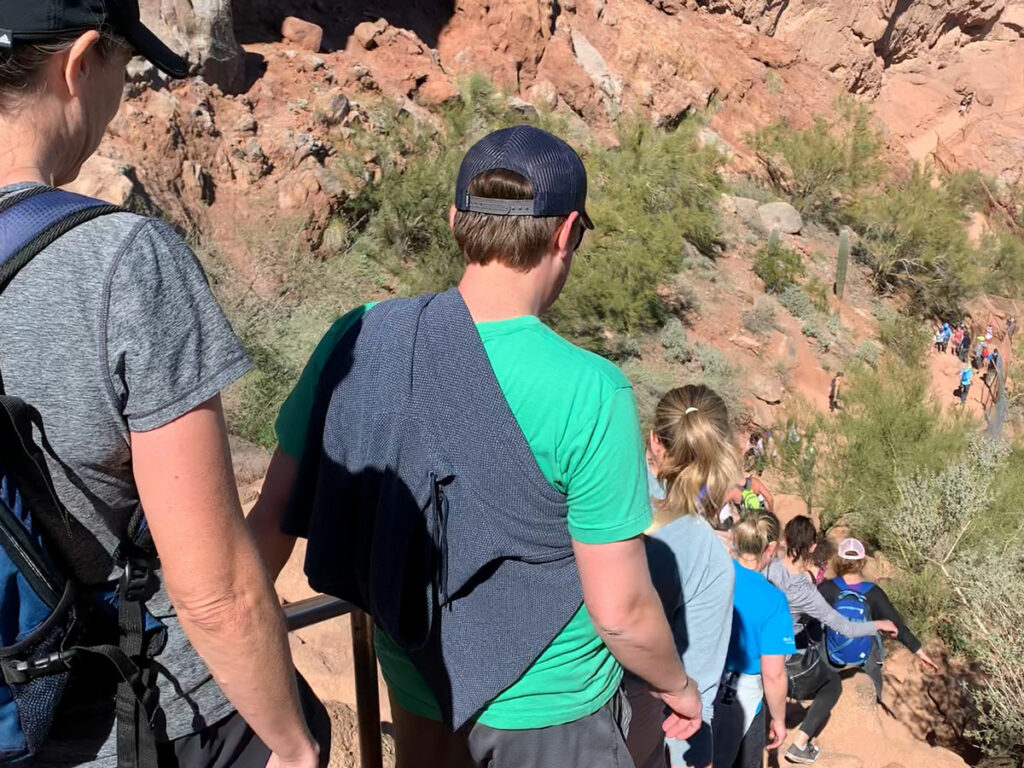 Reason 3: Lack of trail etiquette
When there's a sign reminding hikers to limit music to headphones, you know there's a problem here with trail etiquette. This trail attracts all kinds, including people who don't ever hike (which is, like, the worst idea because this is a strenuous hike). It's clear that many haven't learned that stepping aside for faster hikers and giving the right-of-way to uphill hikers is a basic part of being polite on the trail.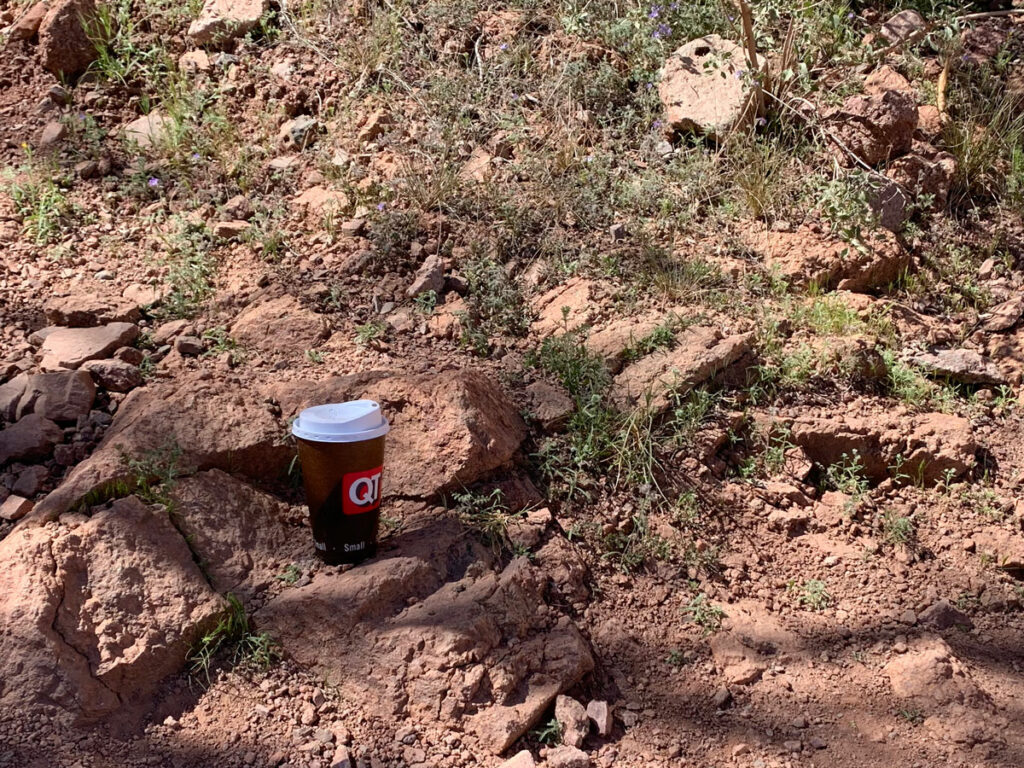 Reason 4: Litter
At some point in history, it was widely taught that throwing "biodegradable" garbage on a trail is perfectly reasonable. And while it may not be a big deal out in the remote wilderness where no one will ever see it (although we are staunch advocates of LEAVE NO TRACE of any kind anywhere), there are literally hundreds of people on this mountain every day. If it takes two years for a banana peel to decompose, multiply that by a crap ton of people, and that gives you somewhere around a zillion banana peels littering the ground. Know why you don't see a zillion banana peels? Because people like me pick them up. No, you're not welcome. Haul it out.
Biodegradable food items aren't the only trash you'll find along this trail. It's like the QT and Starbuck's employees must be telling all their customers about this hike. Do they also remind them to throw their cups in the trash?
Oh wow, I'm going full soap box now.
Reason 5: Ill-prepared hikers
You've seen them. It's their first time to the desert, and they didn't even bring any water to get them through a hot, steep hike with little shade. There's a giant sign at the beginning of the hike warning of the dangers of heat and the need for water, yet we have multiple rescues per year (and a lady recently died). They say, "We heard there is a nice view of the city at the top." Well, yes there is, but this isn't a casual stroll up to a viewpoint. Those Converse you're wearing are gonna suck.
The people have spoken
I recently posted on the Hiking Arizona Facebook page to ask which Arizona hikes people think are overrated, and Camelback Mountain came out on top by far. It's official: Camelback Mountain is the most overrated hike in Arizona.
Which hikes do you think are overrated? Drop us a comment below.
Other Recommended Hikes
Want a hike that doesn't suck? Check out top picks from WildPathsAZ. But dang it, use trail etiquette, bring water, dress appropriately, and leave no trace. Our readers are cool like that.