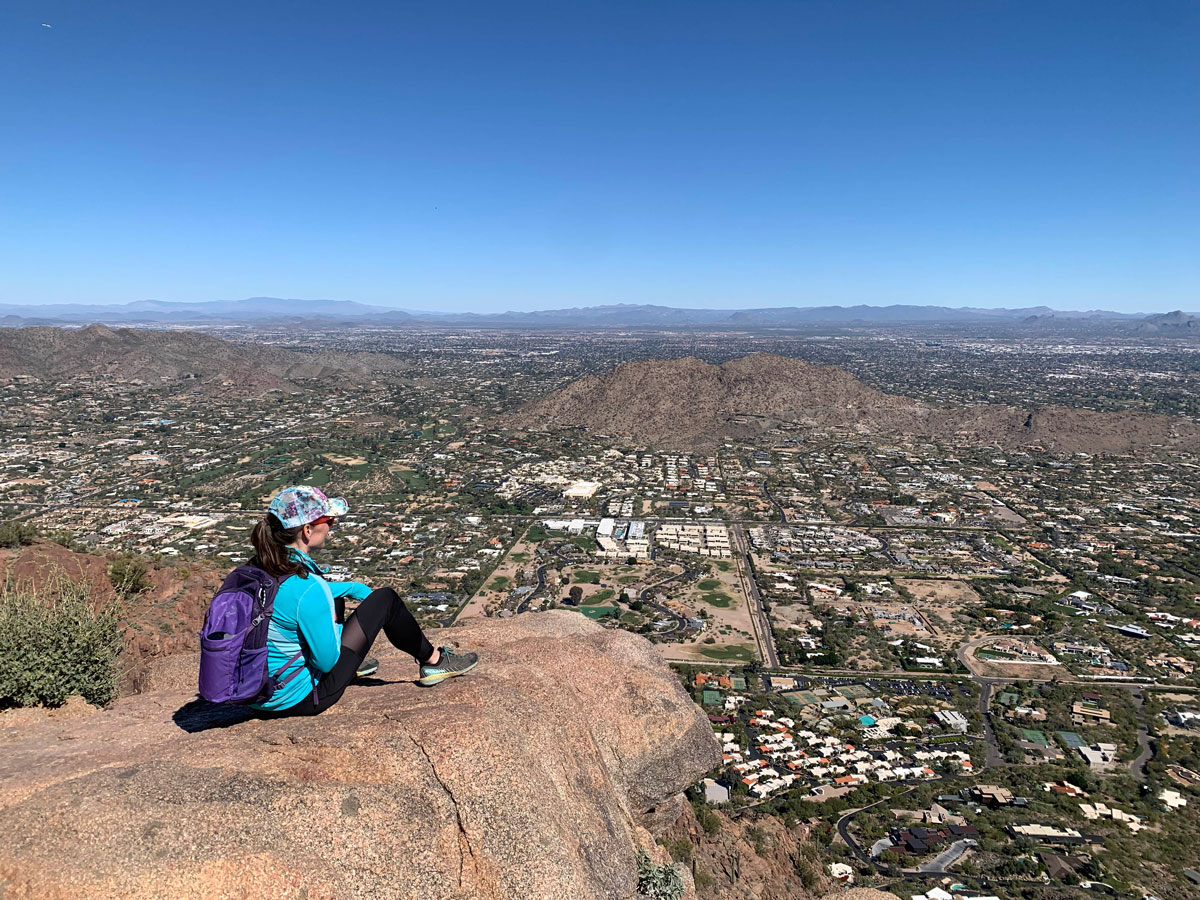 TRAIL STATS
Mileage: 3.0
Elevation gain: 1440 feet
Time to complete: 2-3 hours
Stars: ★★★
Strenuous, rough trail
Camelback Mountain is a Phoenix classic hike with great views of the city that everyone has to do at least once. With a carefully observant eye, you can also visit a hidden cave that you'll probably have to yourself. If you are prepared for a challenge and don't mind sharing the trail with a lot of other people, you will be rewarded.
---
Trail Description
I didn't want to do it, but Heather needed to go to the Arizona Hiking Shack, so I agreed to go because any hike is better than no hike, right? Before this hike, I would have said, "Yes!" but now I'm not so sure. Fortunately, we happened to arrive when they were letting more cars in, so we found a parking spot right away. As we approached the trailhead, we could plainly see that this was no ordinary Friday on Camelback Mountain–it was Spring Break Friday, which is basically your worst nightmare. The place was crawling with people, and the trail up the mountain was a solid line of humans. I had to take a full star off the rating just for crowds.
Echo Canyon Trail
The first half a mile or so of the trail is not as steep or rocky as what you will encounter later on, and there's even some places with benches to rest. If this part has you wondering if this hike was a good idea, stop now and maybe enjoy Bobby's Rock Trail or some relaxation at a ramada. It's a beautiful place to spend time, whether at the summit or not.
We continued on, testing our patience behind the hordes of folks making their way up in what looked like a zigzagging line for Pirates of the Caribbean. Soon we were on the stairs made of railroad ties and then the steep rock face with a railing to help people with their footing. I have to admit that my first time up there, this seemed really cool, and I tried sliding on my stomach on my way down (not highly recommended–the thought is better than the reality). Shoes with good traction are really helpful here, but any sturdy shoes will do because, well, there's a railing!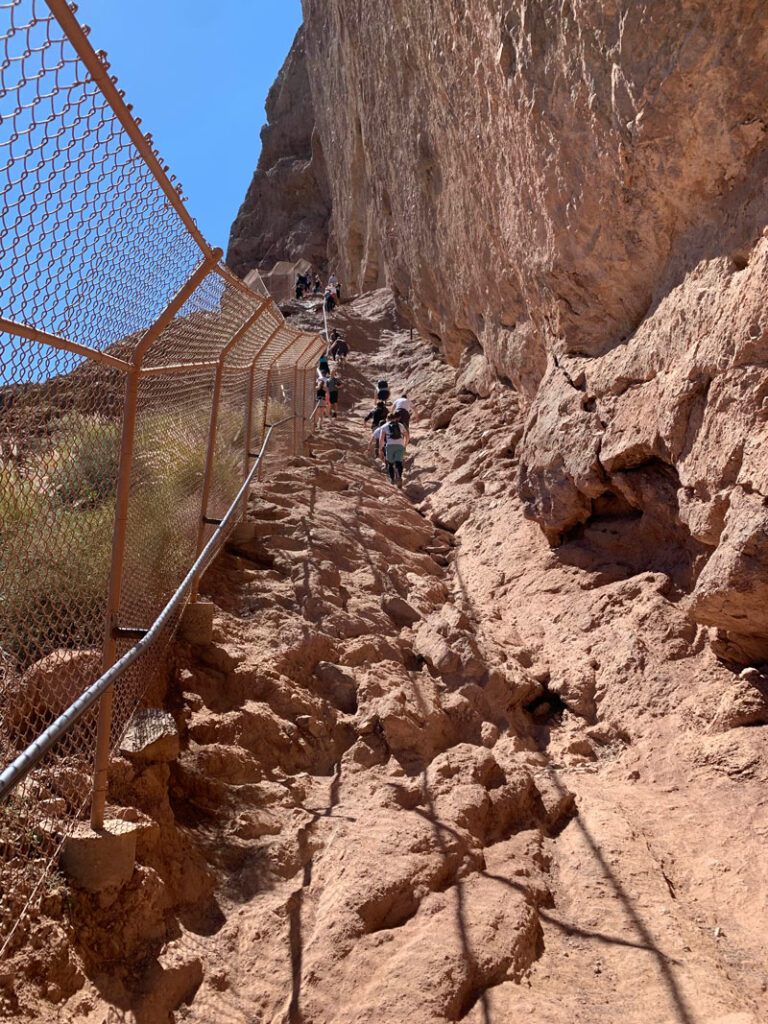 Once you finish that, you'll be thinking you're pretty awesome, but I have to warn you that my least favorite part of the hike is ahead, so get off your high horse because you're not done yet. You're about to climb straight up some boulders for maybe a quarter mile or so, and it's pretty unrelenting, so rest when you need to. Sorry about the huffing and puffing in the video; I couldn't help it. This part is a workout!
Camelback Mountain Summit
Beyond that section, you can start to feel like maybe you'll actually make it! SInce it was Heather's first time, I tried my best to discourage her and exaggerate the false summit, but she hung in there and stayed happy the whole time. I don't get it. There was so much to be grumpy about: crowds, feeling like barfing, trash on the trail. At least it was a beautiful day. That was enough to push me to the summit. We were NOT alone.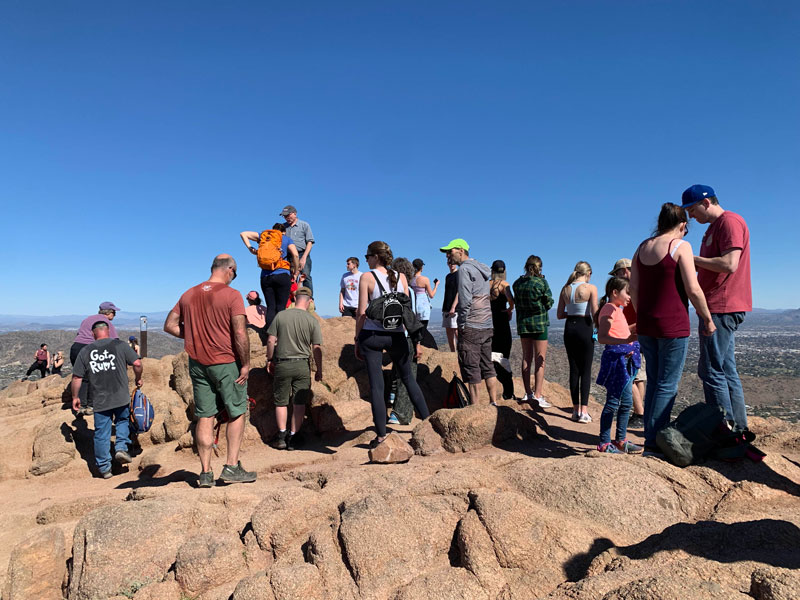 We were finally able to sit down to enjoy the view, only to look down and see a fresh banana peel. WHAT THE HECK? By the time Heather found a fourth banana peel, she lost it and made a public service announcement in front of everyone at the summit. It was a hilariously satisfying pleasure to watch. Banana peels, orange peels, egg shells, nut shells–it's trash, and while it may be biodegradable, it's ugly while it's waiting years to biodegrade, so do everyone a favor and haul it out so others who follow you don't have to. There are way too many people up there for that to be a reasonable way of disposing of your trash. Rant over.
The Cave
On the way down, we visited our secret cave. Despite all those people up there, we had the secret cave to ourselves, and in order to preserve its special character, I'll let you discover it on your own if you're so inclined. You probably won't see me there, though, because just like when I went to Disneyland on Spring Break years ago, it ruined me for at least seven years.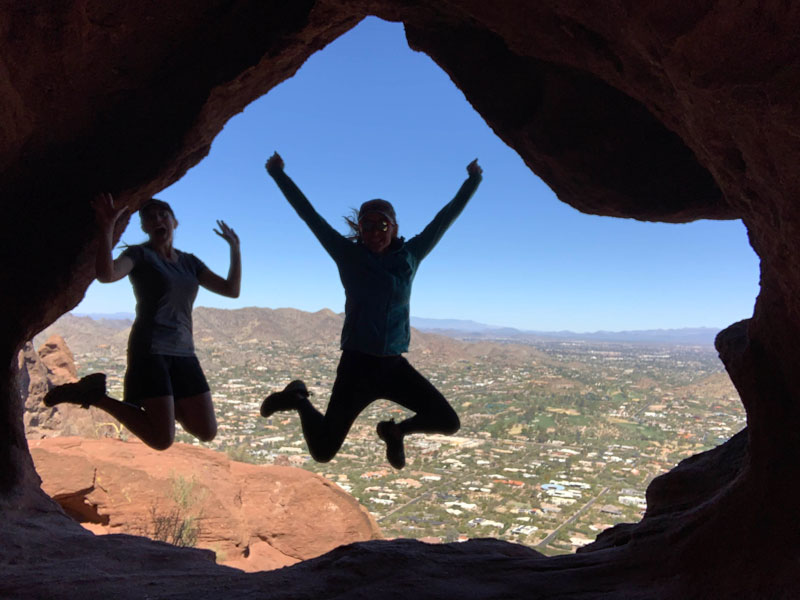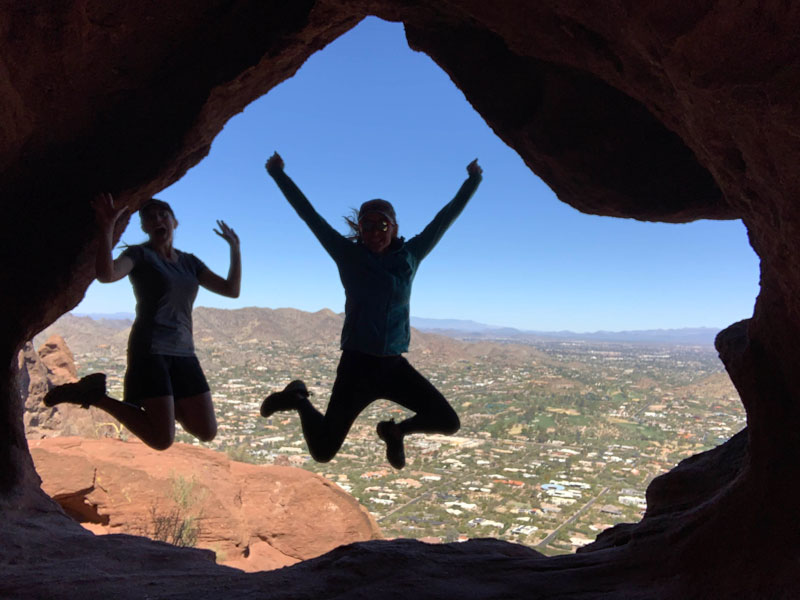 But I think I can say this anyway–have fun and be safe!
Special Considerations
Safety First and foremost, it's not just a casual trail up to a nice view. It seems like every concierge in the city must be recommending Camelback Mountain to visitors, and as a result, we have people hiking in Converse, sipping coffee as a trail beverage (and leaving the cups behind), and struggling because they're out of shape. Let me be clear: it's steep, rocky, slippery at times, and will require your hands to help you climb. And it's a desert climate, so bringing water is a must. A crap ton of rescues happen here each year, and I'm being dead serious when I say this because I've seen rescue operations underway maybe half of the time I'm hiking there, and I don't even hike there that often. Please be sure you have the necessary fitness and supplies to attempt this hike (read: WATER!).
Crowds Okay, if that didn't deter you (you promise you'll be prepared, right?), then the next thing I will warn you about is the crowds. This hike is extremely popular, probably the most popular hike in Phoenix, so you may be sharing the trail with hundreds of other people, and it may be difficult to find parking on weekends, holidays, and spring break (as we found out). You are not allowed to park in the nearby neighborhoods, so if there's a sign saying the lot is full, you will need to drive around for a while and come back to check again or park like half a mile away in a legal location and walk. Ew.
---
Map & Directions
Location Phoenix, Arizona
From the 101, go west on McDonald Drive. After five miles, turn left at the roundabout into the Echo Canyon Trailhead parking lot. Or, from the north 202, go north on 44th St (you may need to exit onto 40th St and go right on McDowell to reach 44th St if coming from the west) and follow it about 5 miles until it turns into McDonald. At the roundabout, turn right into the Echo Canyon Trailhead parking lot.
Trailhead Facilities Restrooms and drinking fountains are at the trailhead.
Preview this Hike
---
Recommendations for you
Share this