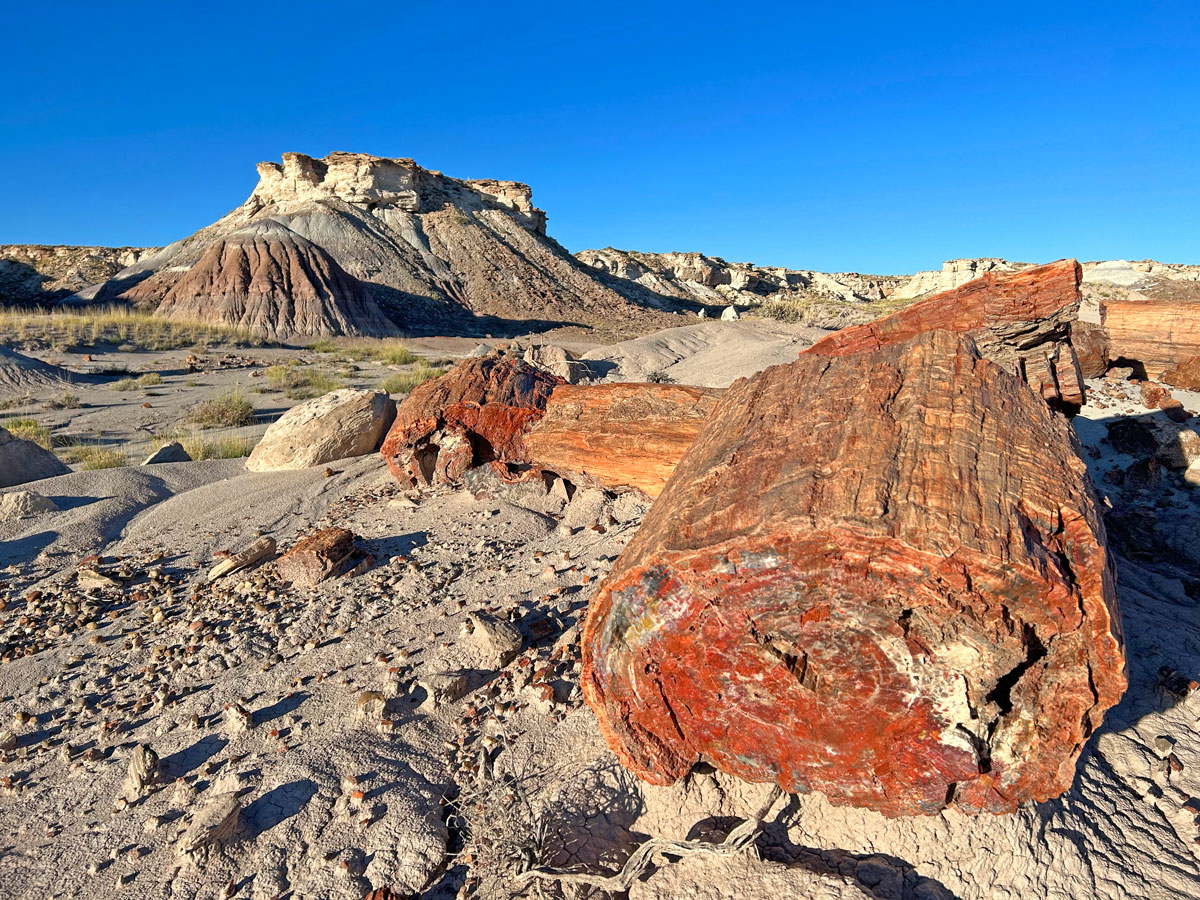 TRAIL STATS
Mileage: 2.4
Elevation gain: 225 feet
Time to complete: 1-2 hours
Stars: ★★★★
Navigational challenges
If you came here to see petrified wood, Jasper Forest delivers in a big way. This trail leaves the beaten path and travels below the Jasper Forest Overlook for an up close view at thousands upon thousands of pieces of petrified wood. In some places, you can see pieces beginning to emerge from the ground as erosive forces reveal them from the places they've been hiding for millennia. Even if you can only hike a short portion of this trail, you'll still get to see plenty of the petrified wood it's famous for, so it's worth the effort. The trail is hard to follow—bring GPS!
---
Trail Description
This trail begins to the right of the Jasper Forest Overlook. At first, it crosses a grassy area with a few scattered logs, but don't lose hope! Very soon it descends below the overlook and leads past more petrified wood than you've probably ever seen in one place.
So much wood! (I mean, rock.) Pretty much every rock you can see is petrified wood.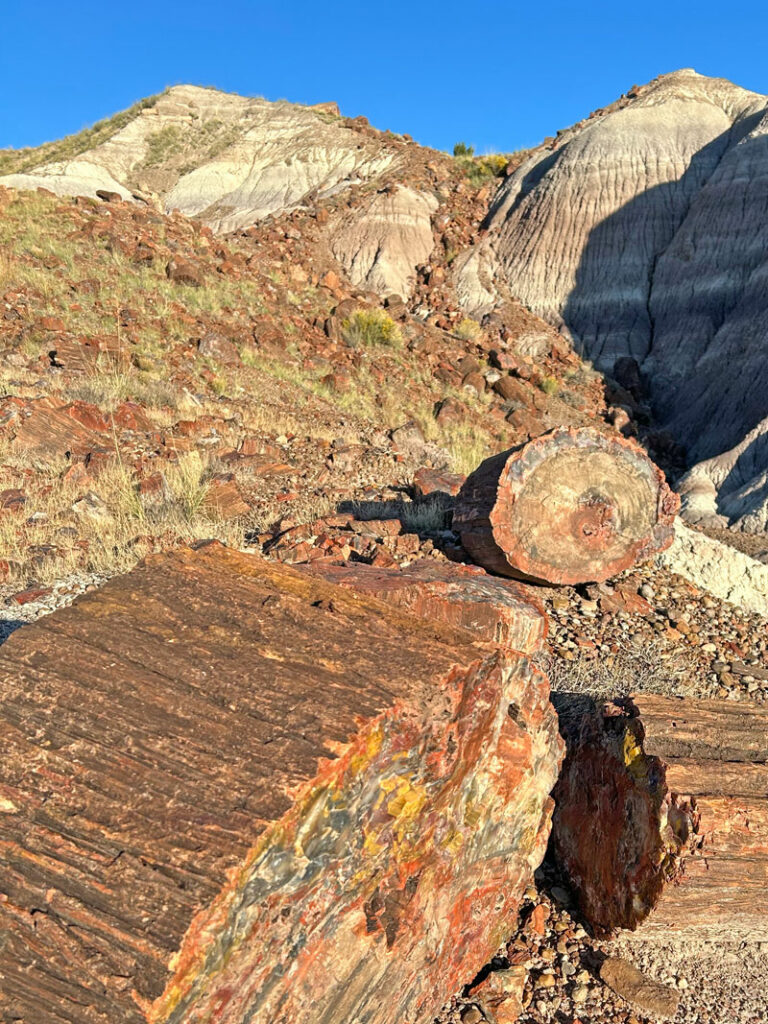 The trail is faint, but the main idea is to stay right of the wash that will undoubtedly have footprints of people who got off course. You'll see evidence in places that this was once a forest road, such as culverts for diverting water.
As you marvel at the huge piles of petrified wood everywhere you look, it's easy to become fixated on the immensity of this primeval forest, but it would be a mistake not to look at a few of these pieces up close to appreciate the intricate colors.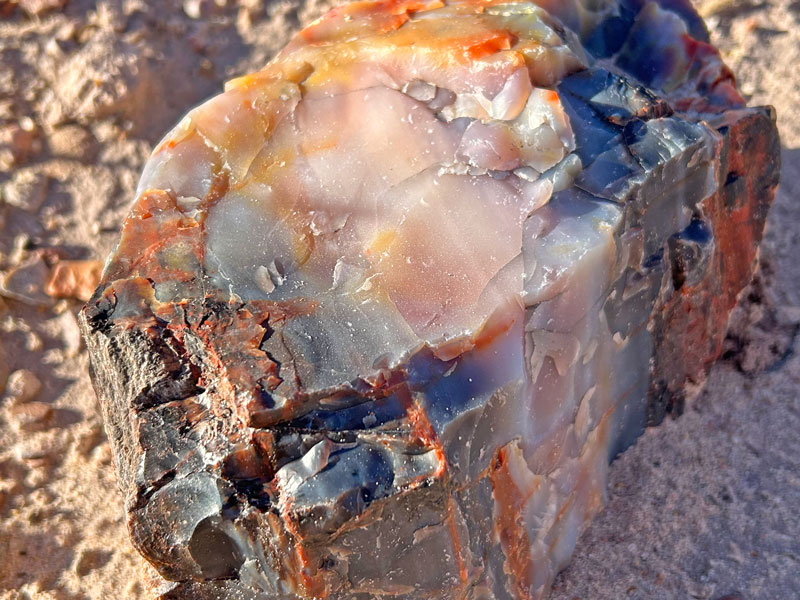 The trail eventually bends around to the right, but don't get in a hurry to make it to the end because there is no "end" destination. This hike is all about the journey.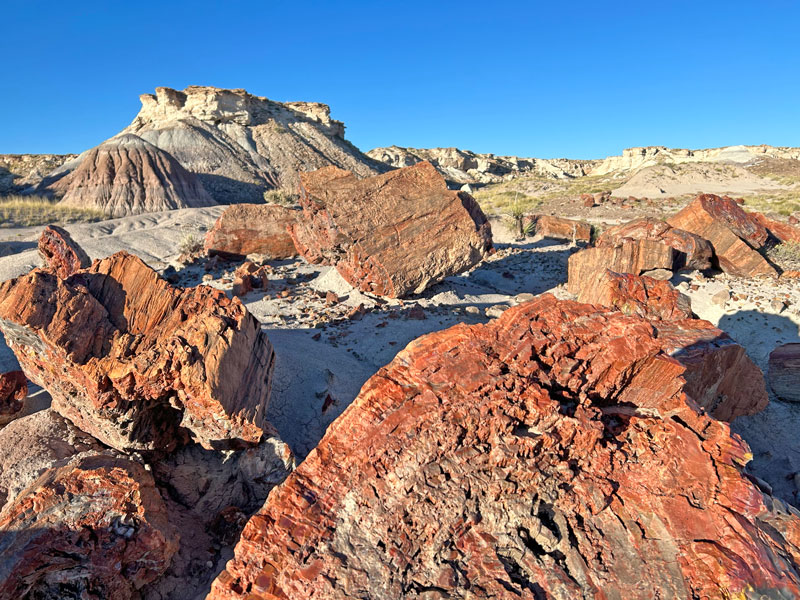 Loop around the small butte and make your way back the way you came.
---
Map & Directions
Location Petrified Forest National Park, Holbrook, Arizona
The park can be entered on the north end or the south end, depending on your direction of travel, though the south end is closer to this trail.
South Entrance From Holbrook, take Highway 180 east to the park entrance on the left, and follow the park road to the turn for Jasper Forest Overlook. Turn left and park in the overlook parking lot.
North Entrance From Holbrook, take I-40 east to the exit for Petrified Forest National Park. Follow the park road to the turn for Jasper Forest. Turn right and park in the overlook parking lot.
Fees/Passes There is a fee to enter Petrified Forest National Park, or you can use your America the Beautiful pass.
Trailhead Facilities None, but you can find restrooms and water at the visitor center.
---