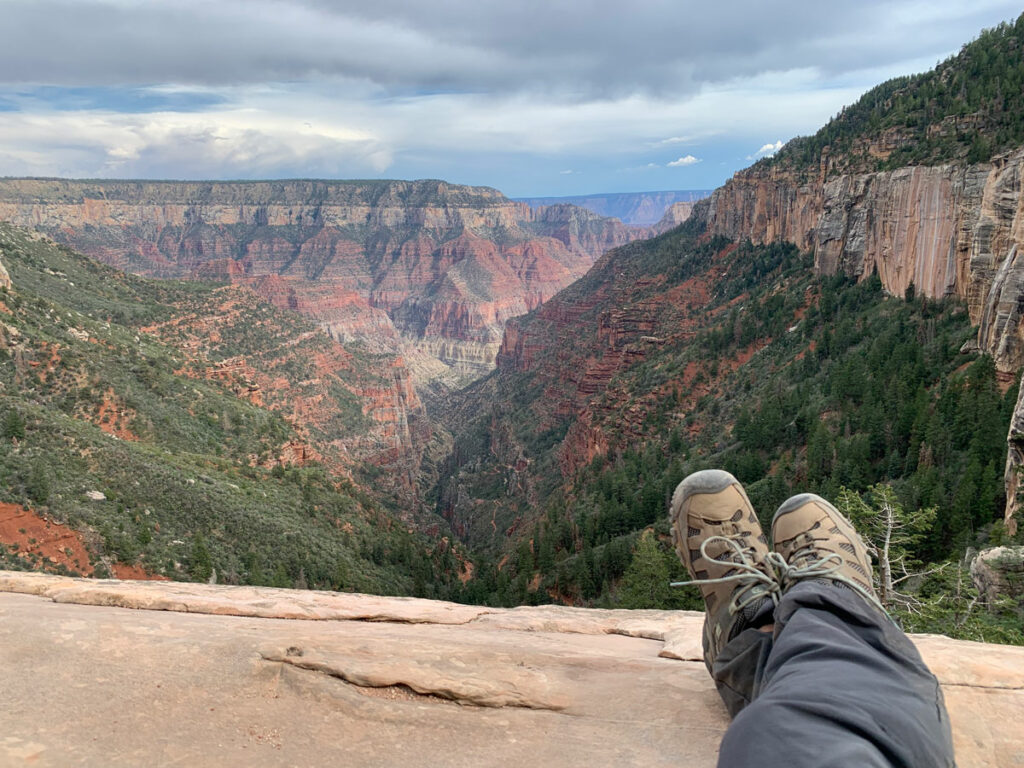 Best Overlooks on Grand Canyon's North Rim
When it comes to epic views, nowhere has more than the Grand Canyon. If you've visited the south rim and were turned off by the crowds and noise, I have good news for you. The north rim has a lot fewer facilities, and as such, remains mostly unspoiled from the commercialism that has become the south rim.
Oh, but the views! They're just as incredible, and you might actually get a precious moment alone. All of this set in a lush forest of evergreens and aspens, punctuated with meadows full of wildflowers. North rim, I'm in love!
Overview of the North Rim Overlooks
There are two major roads on the north rim with overlooks.
Main Park Road
Bright Angel Point
Coconino Overlook
Cape Royal Road
Cape Royal and Angel's Window
Cape Final
Point Imperial
Walhalla Overlook
Roosevelt Point
Vista Encantada
Each overlook offers its own unique characteristics that make it suitable for specific needs.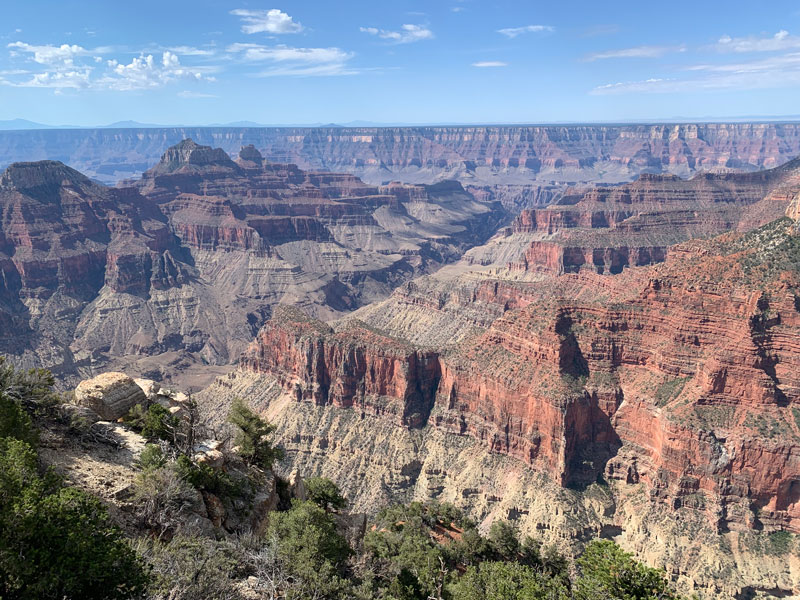 Bright Angel Point – .5 miles
Best for convenient access and top notch views
The trail for Bright Angel Point begins by the lodge, which means it just might be the most popular viewpoint on the north rim. The trail is paved, but steep, so it's not good for wheelchairs. It follows a very skinny ridge jutting out into the canyon (with fences for safety) for unforgettable views of Bright Angel Creek, Roaring Springs, and the south rim in the distance.
Pros easy to get to, one of the best views
Cons crowded, really loud guy asking if Roaring Springs is the Colorado River
Pro tip get yourself on top of the white rock for the very best view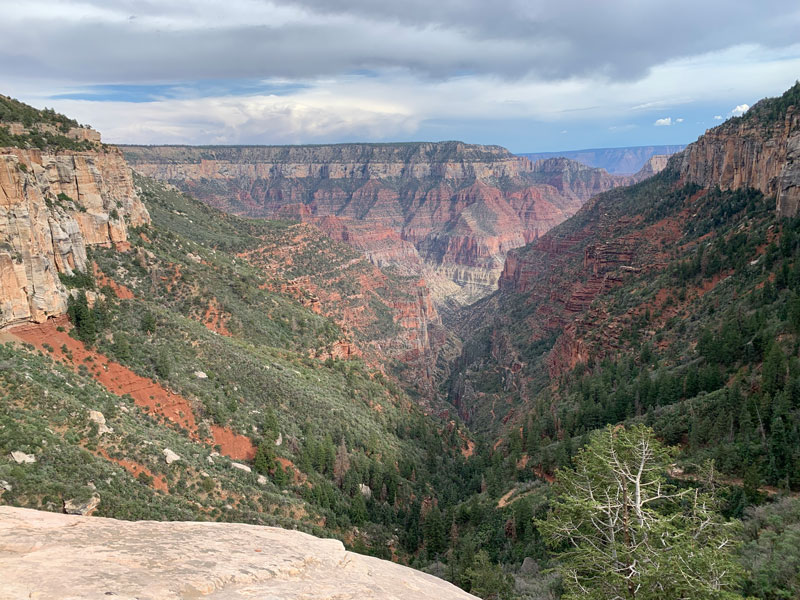 Coconino Overlook – 1.3 miles
Best for those looking to get under the rim
If you're craving a small taste of the canyon below the rim, Coconino Overlook is the choice for you. You'll descend about 500 feet below the rim to the top of the Coconino sandstone layer (the light colored layer near the top with near vertical faces). This hike uses the North Kaibab Trail, which is the rim-to-rim superhighway, so you might run into backpackers or day hikers who are just starting or finishing their trek. Be warned, once you descend below the rim, you might get a bad case of canyon fever and find yourself longing to do the whole thing. Give in to the feeling and plan that trip! Just don't think you're going to the Colorado River today unprepared because it's about 14 miles away.
Pros you're more likely to find solitude
Cons the view isn't as good as other overlooks, the trail is stinky because of the mules that use it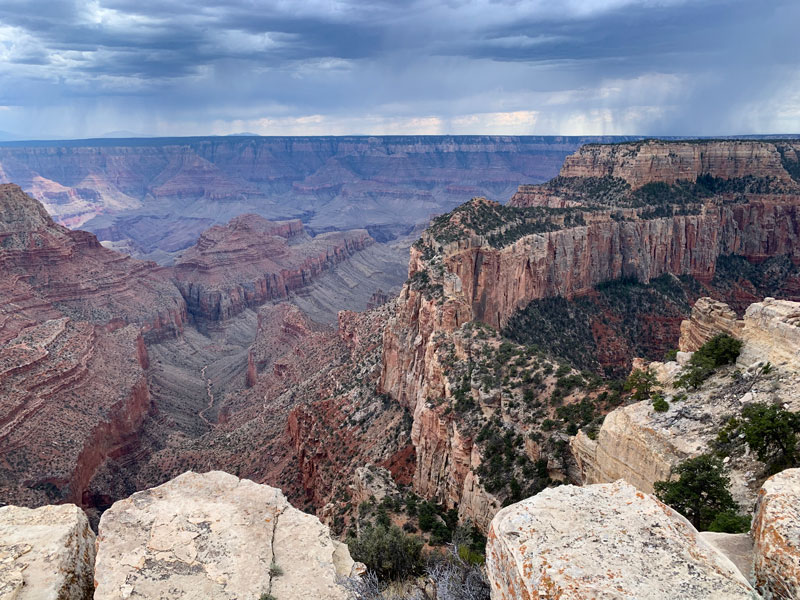 Cape Royal and Angel's Window – 1 mile
Best wheelchair accessible view
This overlook is a must-do for everyone. In addition to an easy, paved trail to Cape Royal that gives even those in a wheelchair or stroller the opportunity to experience its awesome view, there is also a cool formation called Angel's Window you can see along the way. A unique, unpaved (and uneven) trail goes over the top of Angel's Window, but the views from there aren't as good. If you prefer the view without the fence, there's another point to the left side of Cape Royal with a short unpaved path leading to it.
Pros an overlook for everyone, cool "temple" formation called Wotan's Throne
Cons crowds, lots of pavement and fences, long drive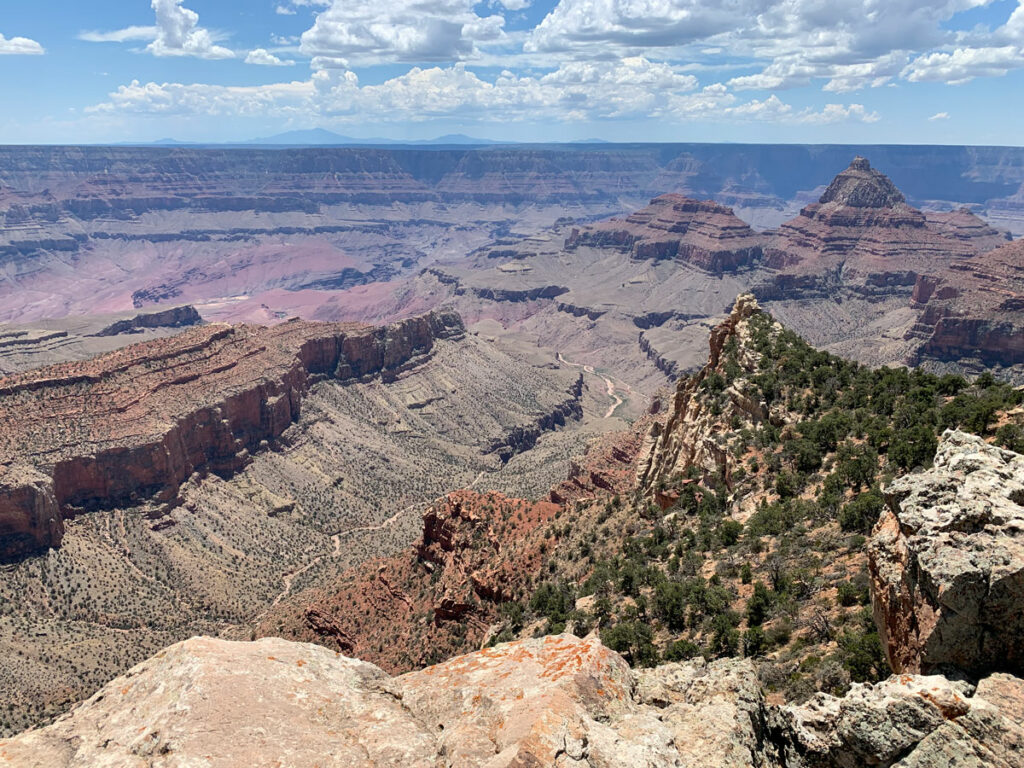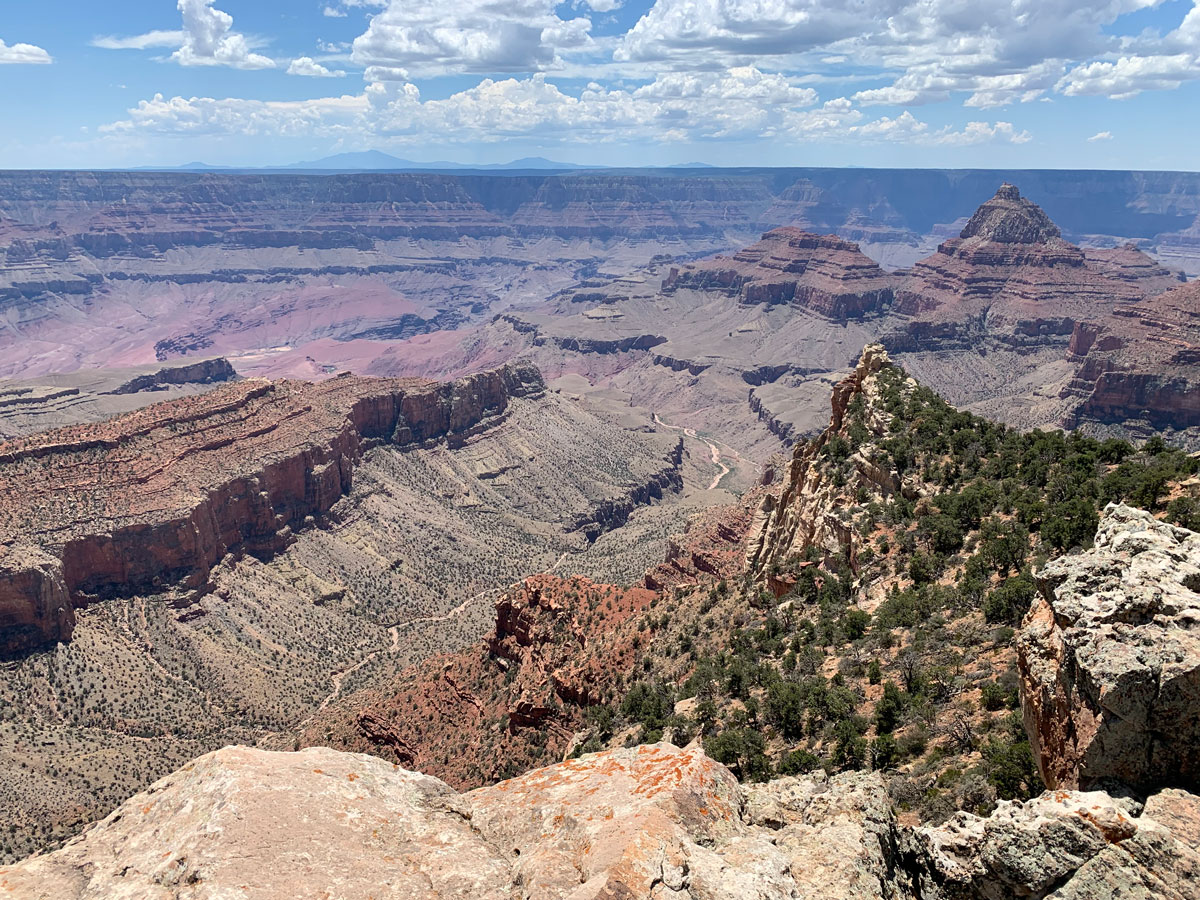 Cape Final – 4.2 miles
Best overall experience
If you want the best of all worlds, you want Cape Final. Though you will have to hike just over 4 miles roundtrip to get to it, the payoff is that you might have it all to yourself, and even if you don't, there are other nearby overlooks to enjoy alone. There is no pavement here and no fences. It's natural, it's off the beaten path, and it was my absolute favorite view of the whole day. The trail is wide, not too steep, and has plenty of shade along the way, so almost anyone with reasonable physical ability can do it, even kids. Get out there and hike!
Pros uncrowded, epic views, nice hike
Cons none, actually, other than not being accessible for wheelchairs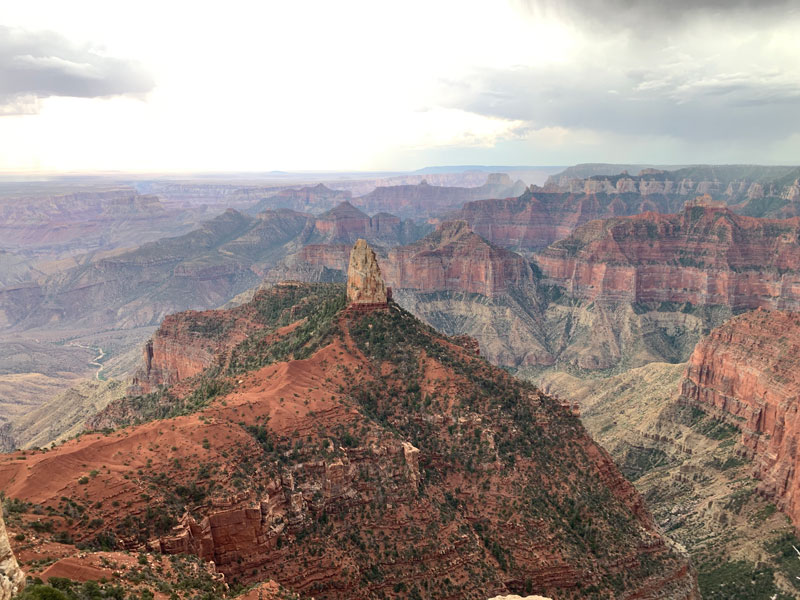 Point Imperial – 500 feet
Best for sunrise
Point Imperial is the highest point on the north rim, so you'll get the highest, deepest (and possibly windiest) view from there. I almost lost my hat, so hang on to your things! The trail has stairs, so it's not accessible, but it is very short and easy, so definitely take the kids. Plus, you get a cool view of Mount Hayden, that point sticking up in the middle of the photograph.
Pros easy trail, highest and deepest view of the canyon
Cons windy, not accessible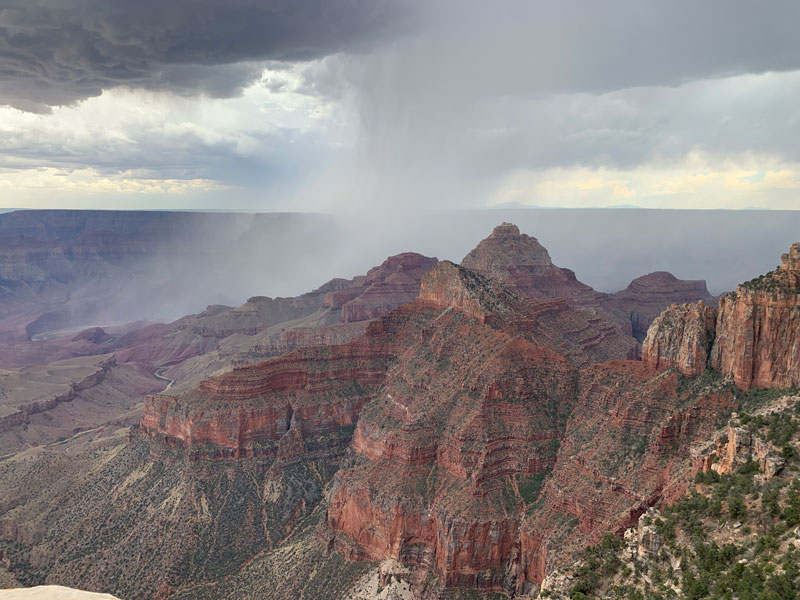 Walhalla Overlook – 700 feet
Best for historical significance
As you look down into the canyon below, you can see the area where ancestral Pueblo farmers people spent most of the year growing crops in the canyon. Behind you are the ruins of their summer home on the rim. It's really quite incredible to imagine these people making a life in this extreme environment. The view here happened to be excellent since I was there while a storm was rolling in, but it's definitely not the best view on the list. Visit to learn the history.
Pros historical significance, roadside so anyone can visit
Cons not the best view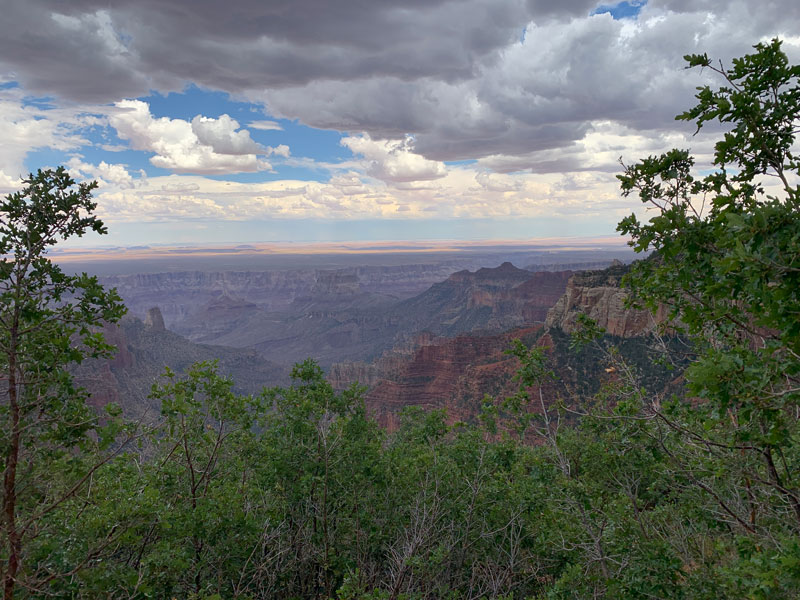 Roosevelt Point, roadside
Best for people who love Theodore Roosevelt
President Theodore Roosevelt is well-known for being a champion of the national parks in the United States. A plaque here quotes him as saying, "Leave it as it is. You cannot improve on it. The ages have been at work on it, and man can only mar it. What you can do is keep it for your children, your children's children, and for all those who come after you, as the one great sight which every American. . . should see." Although I agree wholeheartedly with his statement, the viewpoint is blocked by a lot of trees and isn't worth a visit unless you want to pay tribute to the president it's named after.
Pros honors a hero for America's natural resources, roadside
Cons everything else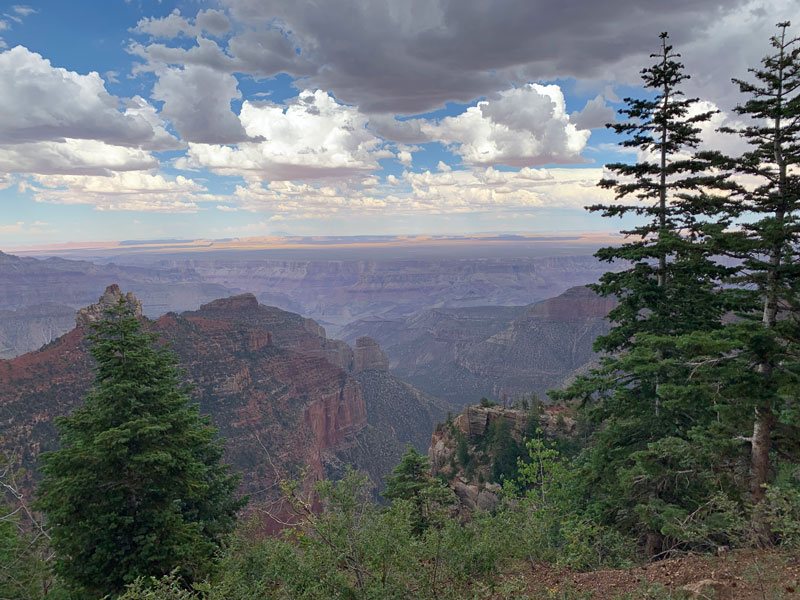 Vista Encantada, roadside
Best for picnics
If you're looking for a place to eat your lunch and enjoy views at the same time, Vista Encantada is that place. Though the view is not particularly remarkable, it is its own kind of beautiful because of the trees surrounding it.
Pros picnic area, shade, roadside
Cons not the best view
Overlooks beyond
Though I only had time to visit the closest, most popular viewpoints on the north rim, there are many more to be discovered. Backpacking trips to Tiyo Point and Point Sublime or a 4×4 trip to Toroweap (Tuweap) are just a few that are on my list. If you go to one of those or some other amazing overlook, drop me a line and let me know how it went!
Map of the Overlooks
Preview the overlooks
Share this