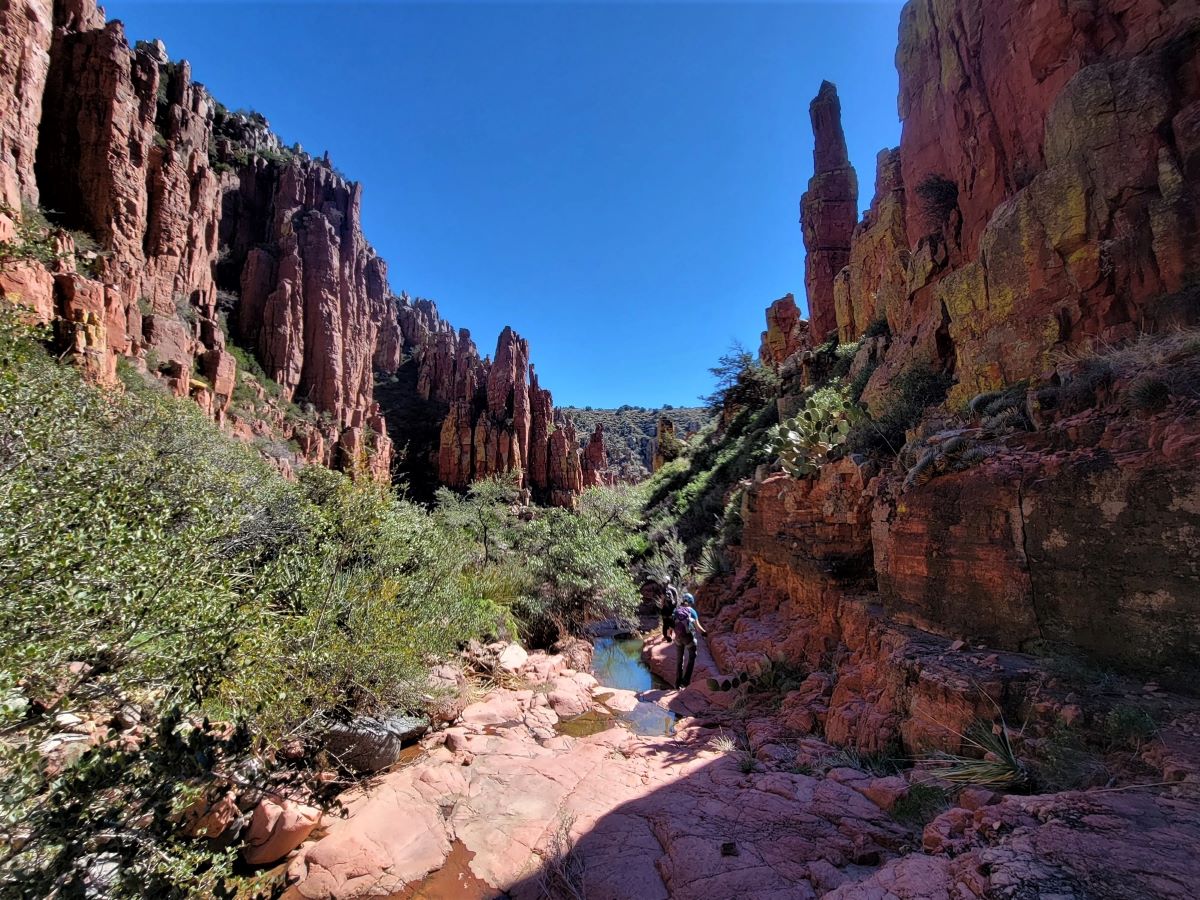 TRAIL STATS
Mileage: 1.2
Elevation gain: 715 feet
Time to complete: 2-3 hours
Stars: ★
Route-finding, dangerous exit
Phog Canyon is a short Sierra Anchas canyon with one epic rappel, some beautiful scenery, and an exit hike that will make you question every life choice you've ever made.
🪢 This is a technical canyon with two rappels up to 130 feet. You will need two 200 foot ropes or one 200 foot rope and one 200 foot pull cord, plus all the required safety equipment for rappelling and knowledge how to use it. This guide is not intended to provide instruction on how to descend a technical canyon safely.
---
Trail Description
We were up from the valley to show Hog Canyon off to a few friends who had never been before, and since Hog is so short and sweet, we (and I will take full responsibility for this) decided to check out Phog Canyon right next door to Hog. It looked to be about the same distance and time commitment as Hog, with one pretty epic 130-foot rap.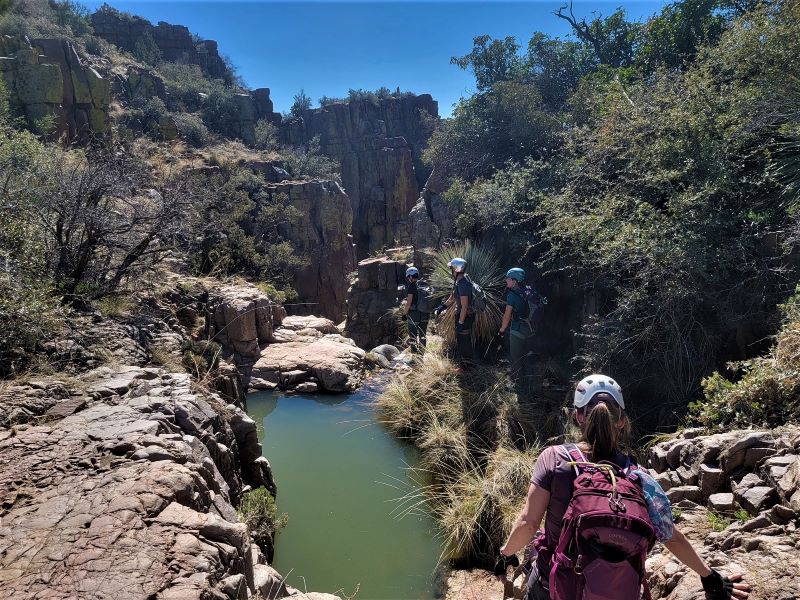 Finding the entrance was pretty easy. The drainage is pretty wide open until you are just on top of that first big rappel. Easy. It took us maybe10 minutes to get there. We had a 200-foot rope, and 200-foot pull cord, and that was more than sufficient.
The Technical Section
Rappel 1
There was a pretty big, beautiful tree down canyon left that we anchored off of. This rappel was a blast! There was a tiny bit of flowing water, but not enough to soak us. It was pretty straightforward, with the last half or so free-hanging. We all loved the descent into this scenic canyon!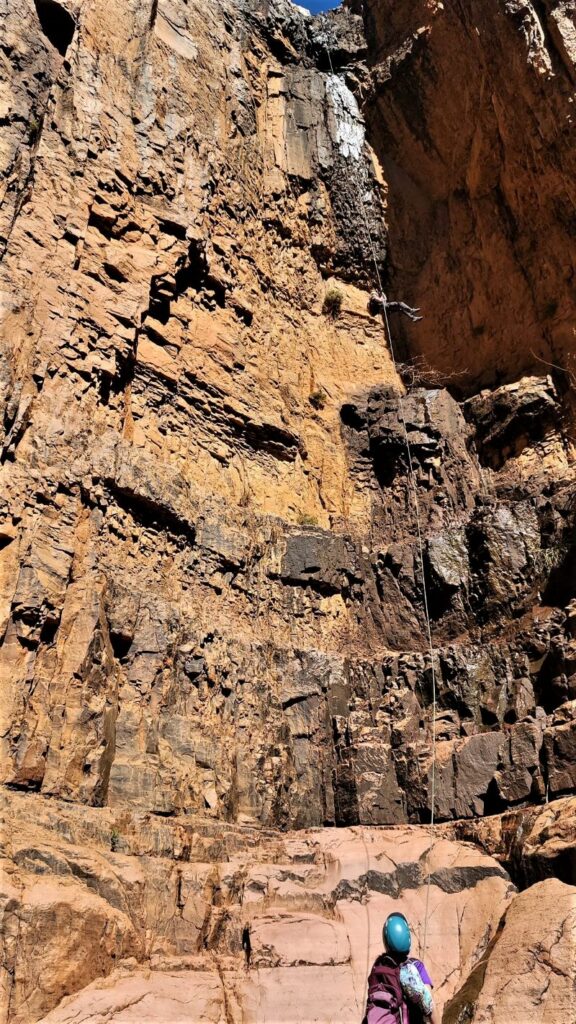 After the first rap, we worked our way down this beautiful canyon, enjoying the views, the downclimbs, and the adventure.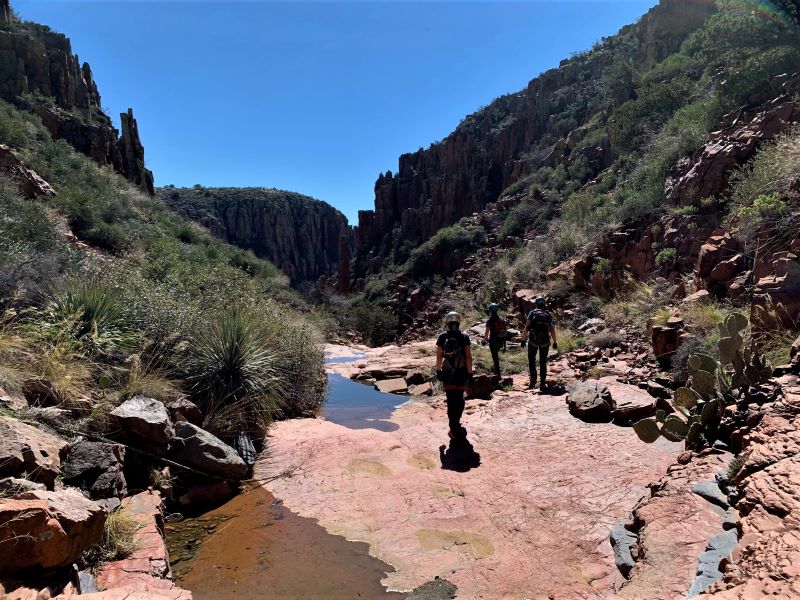 Rappel 2
Rappel 2 was 70 feet, with a bit of a tricky start that could put you in a cactus, but we all managed to stay fairly cactus-free.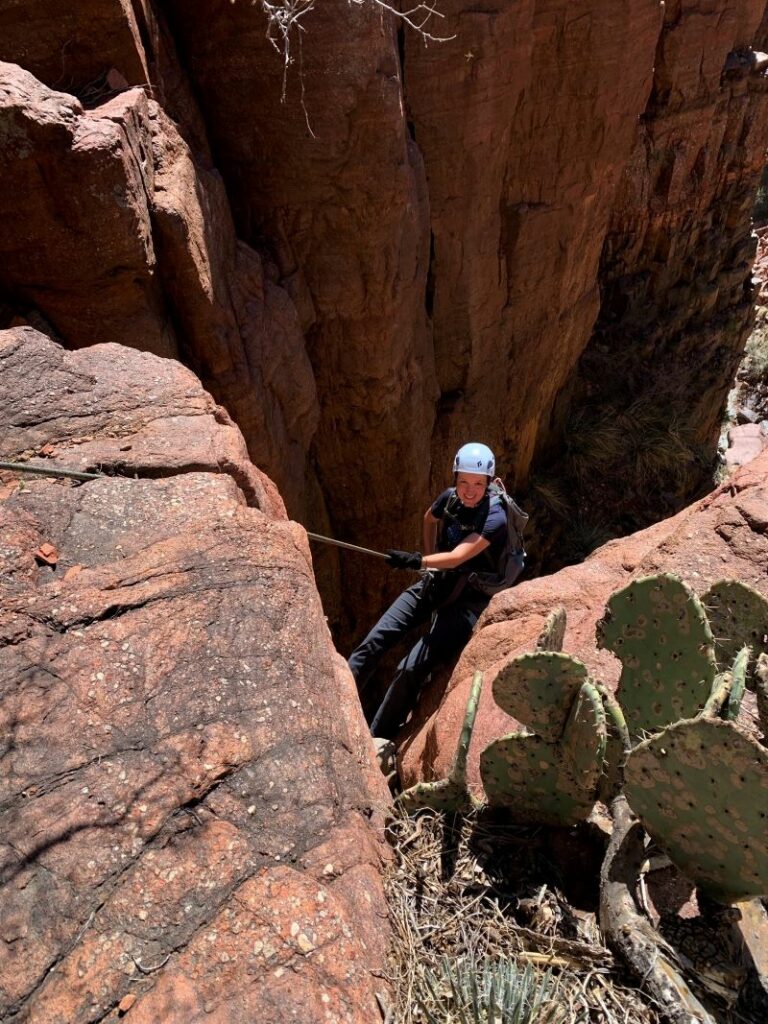 This is the end of the technical work (and the fun) for this canyon.
The Exit
The beta that we had mentions that the canyon starts to open up, and as it does, you'll find your exit to the left via a steep drainage. This is where this canyon went from fun and interesting to… well, straight up hell. Steep drainage hardly describes the next level steep of this exit. And not only was it steep. but the slope was primarily an extremely loose boulder/scree slope. With every step up, you and a pile of rocks slid right back down in the direction of the person behind you. It became a spread out, every person for themselves, pick your own terrible path sufferfest. If you stepped off the scree slope for more stable ground, you were in a thick mess of manzanita/catclaw/agave. In addition to this, we were hiking next to canyon walls that crumbled away at the slightest touch. And this went on seemingly endlessly. Every movement felt unstable and dangerous through the entire climb out. It was hard work, both physically and mentally.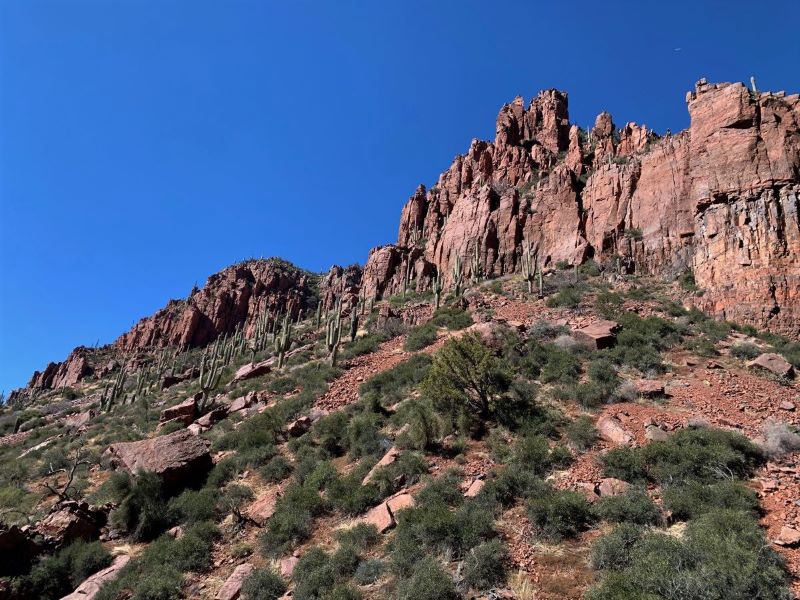 In the end, there is no love lost between myself and Phog. We checked it off, but decided in the end that a revisit to that one epic rappel probably wasn't worth the price of admission that was that exit climb out. Goodbye, Phog. Forever.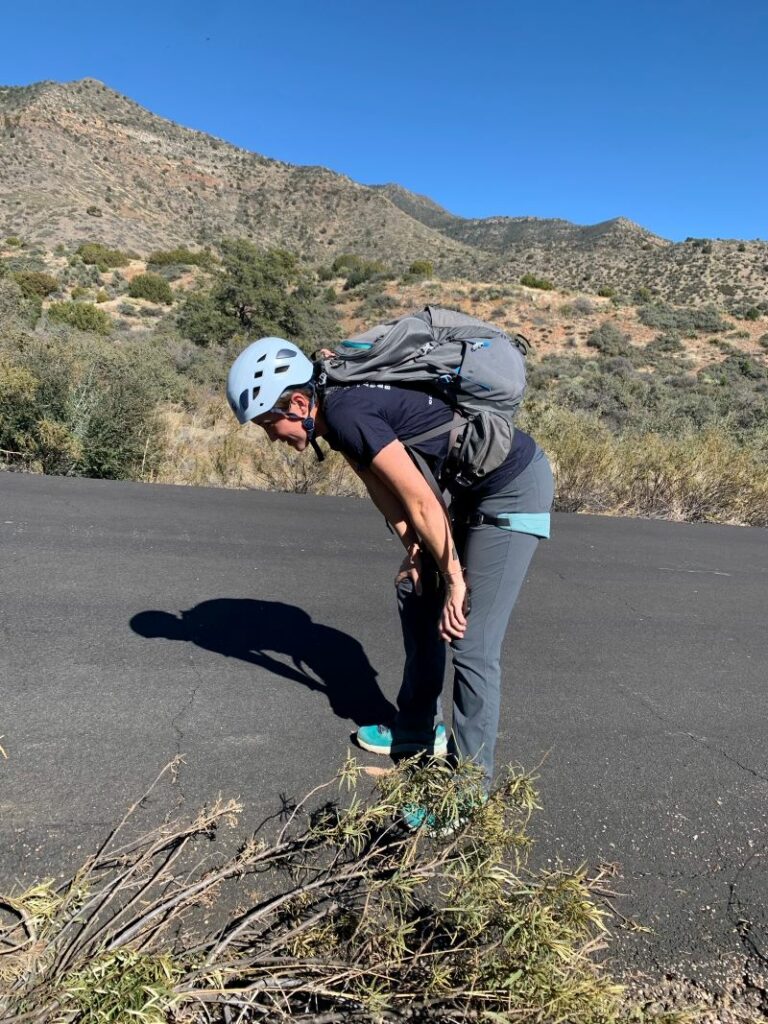 ---
Map & Directions
Location Sierra Ancha Mountains, Tonto National Forest, Globe, Arizona
Take US 60 East to Hwy 188, Turn Right on Hwy 288 to a few small pullouts on your left just after mile marker 275. Pick one and park there.
Preview this Hike
---