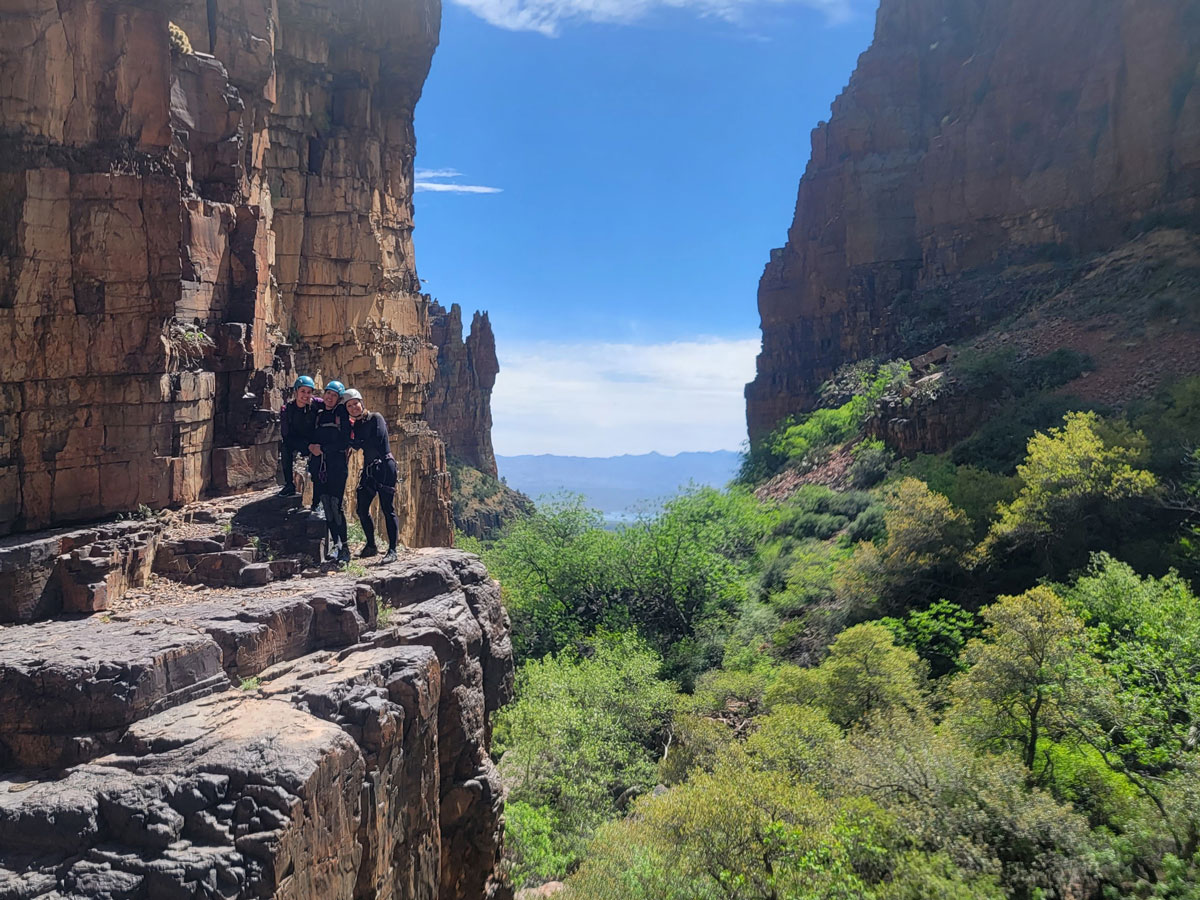 TRAIL STATS
Mileage: 4.4
Elevation gain: 1336 feet
Time to complete: 4-6 hours
Stars: ★★★★½
Rappels, slides, off-trail
Parker Canyon is big on fun with five waterfall rappels, a few waterslides, and numerous pools. You're going to get wet! Just remember that the water can be cold, so plan accordingly. And don't forget that awesome photo op at rappel 5!
🪢 This is a technical canyon with five rappels up to 80 feet. You will need a 200-foot rope, plus all the required safety equipment for rappelling and knowledge how to use it. This guide is not intended to provide instruction on how to descend a technical canyon safely.
---
Trail Description
A couple of us have PTSD from the first time we descended Parker Canyon on a cold, cloudy, windy day in April when it snowed in Young that morning. We didn't have any warm layers besides a 3mm wetsuit, and the moment we put our feet in the water and felt its icy sting, we knew we were in for some misery. Oh, it was. The last few times we've gone, though, it's been warm and sunny outside, and though I still prefer a full wetsuit, some may go with a shorty or none at all.
Parker Creek is a beautiful area with water flowing year round, big trees, and a nice campsite at the turnoff. If you have 4×4 and high clearance, you're in luck! You can cut off about a mile and a half of total hiking distance by driving the road in to the 4×4 parking area. Otherwise, if you're like us and in a nice Lincoln Navigator with leather seats, you're going to want to find a parking spot somewhere close to the bridge after you turn off the highway.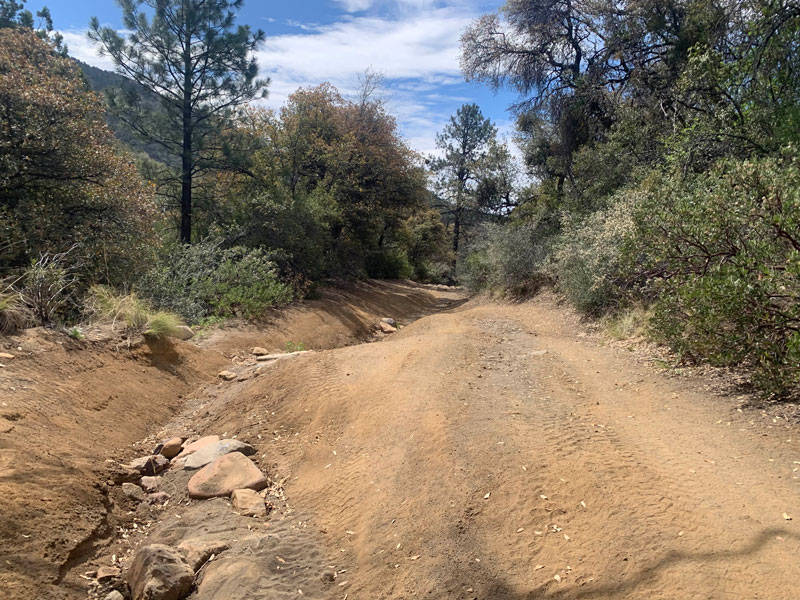 After you've walked (or driven) down the road about three-quarters of a mile, you'll follow a drainage to the left to where it meets with Parker Creek. Find a way down to the creek and begin following it downstream. It won't be long before you'll start encountering more and more pools of water, so don't bother trying to stay dry for too long. It's not worth the effort.
The Technical Section
Rappel 1
At the top of rappel one is a good place to put on your wetsuit, if you have one. The anchor is a bolt canyon left, and from there it's a short rappel into a shallow pool.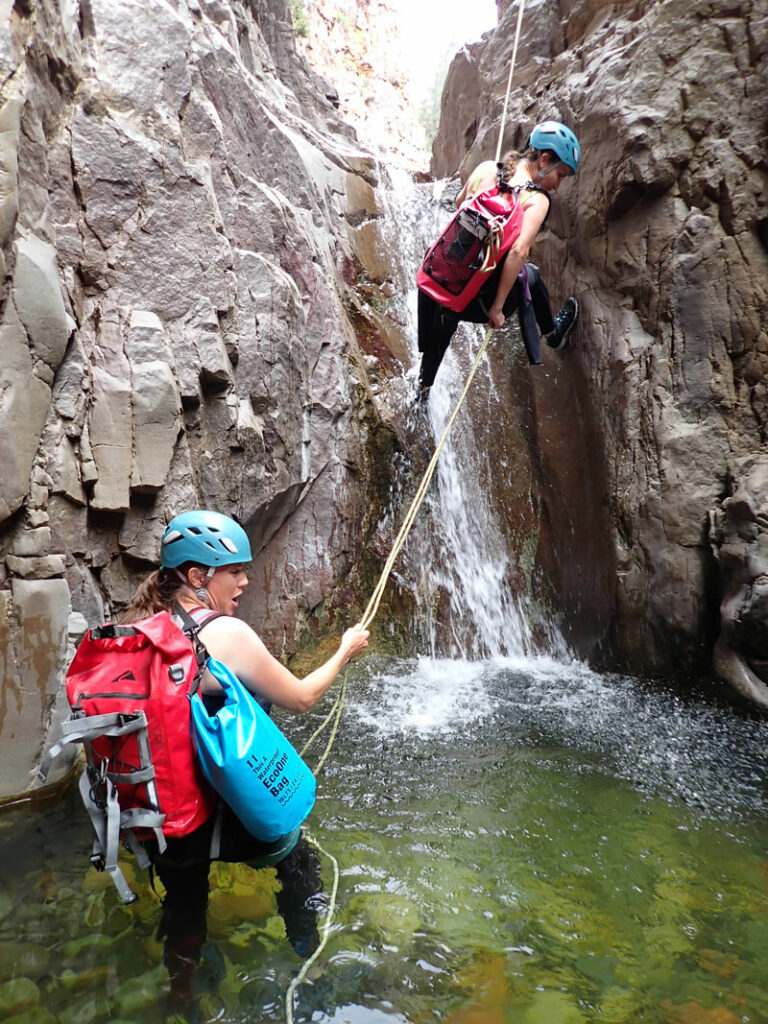 If that seemed fun, just you wait! The next section of canyon has a series of waterslides that are loads of fun at the right flow, but for some reason April, our trapeze ninja friend, chickened and controlled her descent. Way to be a square! Word to the cool people of the world: slide!
Rappel 2
Soon after is a short rappel about 20 feet that can easily be accomplished by rapping down the left canyon wall. Or, you can make it really awkward by trying to keep your feet on both walls, doing the splits, and ultimately falling like April did. Our entire video is basically a blooper reel of April showing you what NOT to do. Always try to get out of belaying "that" friend.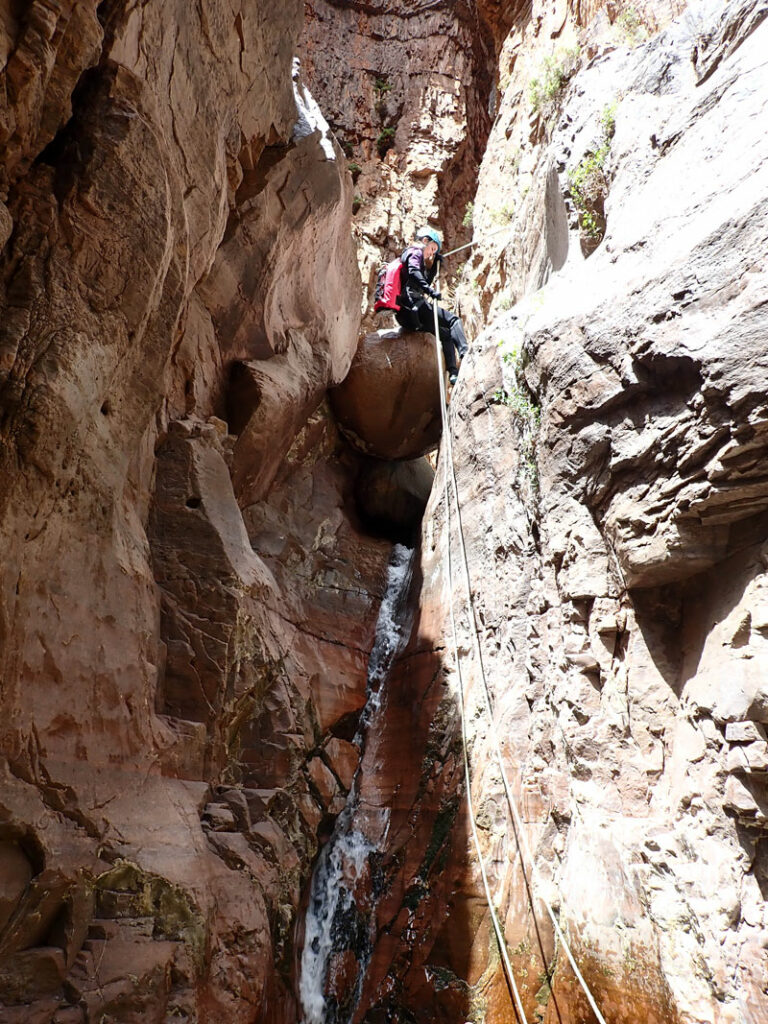 Rappel 3
Some say it's 30 feet, but it doesn't look that tall to me. This rappel is where we learned not to throw the whole rope down a waterfall. Remember that cold, windy day when we were newbies? It gets worse when you're shivering your butt off while the guy on rope is trying to undo a monster knot while being pummeled by the waterfall. The anchor for this rap can be found canyon left, back about 20 feet, around a rock pinch point. If you're going to replace webbing here, it's going to take a fair chunk. Must be why there was only a single strand there.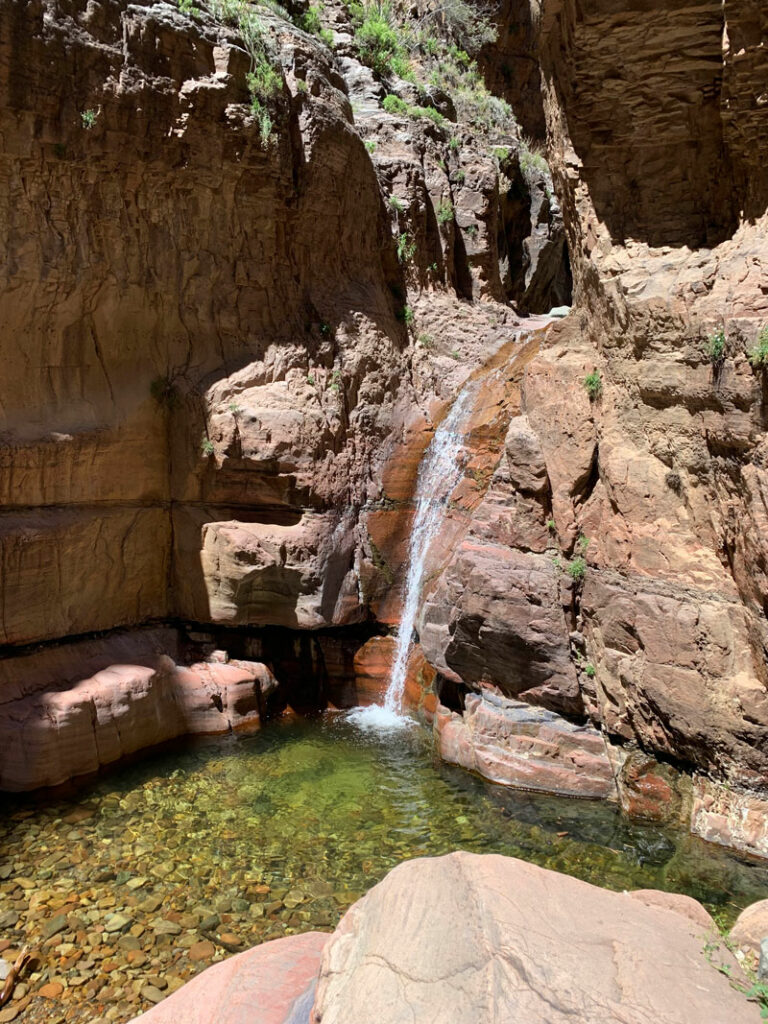 The bottom of this rappel has a nice rock shelf next to the waterfall that is a perfect, usually sunny, place to eat lunch (and take pictures). From here, the canyon widens and you'll walk for a while down an incredibly scenic section. Don't forget to look up!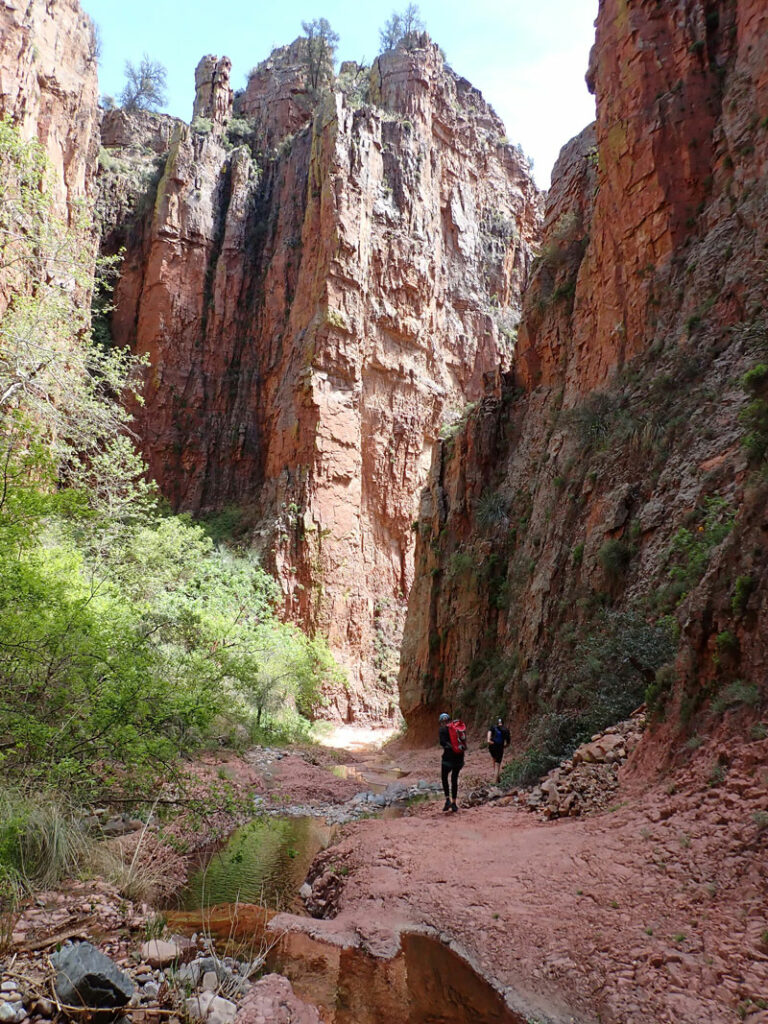 Rappel 4
We've done this 50-foot rappel a couple of ways. On the freezing day, for whatever stupid reason, we went straight down the fast-flowing falls. And you know what? The adrenalin from rapping an epic waterfall made us forget all about the cold. For a minute. Other days, we've done an awkward overhanging start to avoid the water, but truthfully, you can avoid most of the waterfall even when rappelling down the watercourse by stepping to the right after you get over the edge. Or, if you're April, you'll somehow end up in it anyway.
Okay, sorry, but we have to flashback to that freezing day with higher flow because it felt pretty rad, so here you go. Sorry about the low quality video still.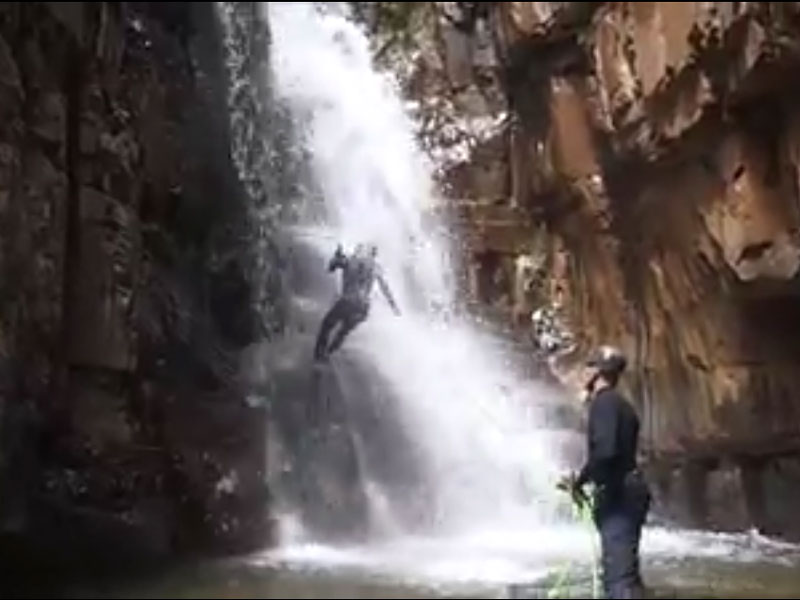 Rappel 5
The grand finale! The anchor is at the giant boulder set back from the edge. There's a pothole just before the lip, and you might want to take bets on who's going for a swim before they start the rappel because the rope can be a little pushy. You're betting April, right? Nope. Me and Heather! And it kinda sucks at that point because you've had a lot of time to dry off and get warm.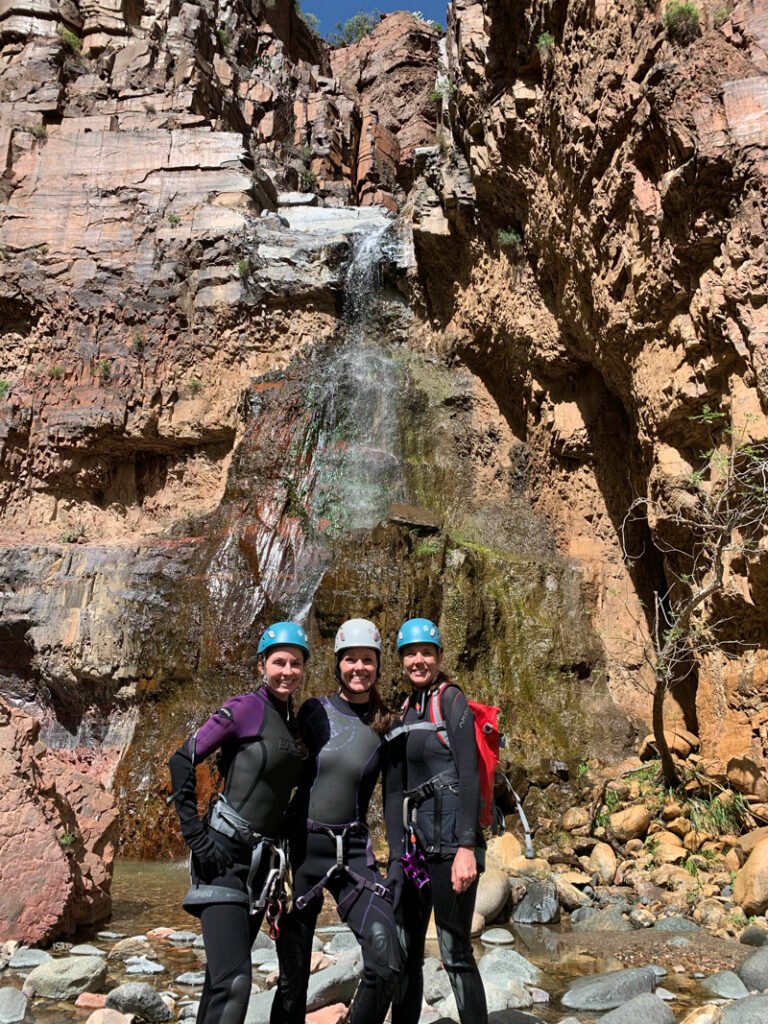 The Exit
At this point, you can take off the wetsuits because the exit trail begins immediately after the last rappel canyon right. A use trail is beginning to form, but you'll still have to pick your way up to the top. We generally stayed to the left, and it wasn't bad with just a few big rocks we had to climb up and no real bushwhacking. Let's say I've had worse. Lots worse.
At the rim, head to the right a bit and you'll eventually intersect with a road that will take you back to the car.
---
Map & Directions
Location Sierra Ancha Mountains, Tonto National Forest, Globe, Arizona
From Globe, head up Highway 188 toward Roosevelt Lake. After 15 miles, turn right onto Highway 288 and keep your eyes out for a crested saguaro on the right side of the road! After about 15 more miles, you'll reach Forest Road 488 on the left. Turn in and find a place to park, or if you have 4×4 and high clearance, drive in about three quarters of a mile and park on the right.
Trailhead Facilities No restrooms or water.
Preview this Hike
---