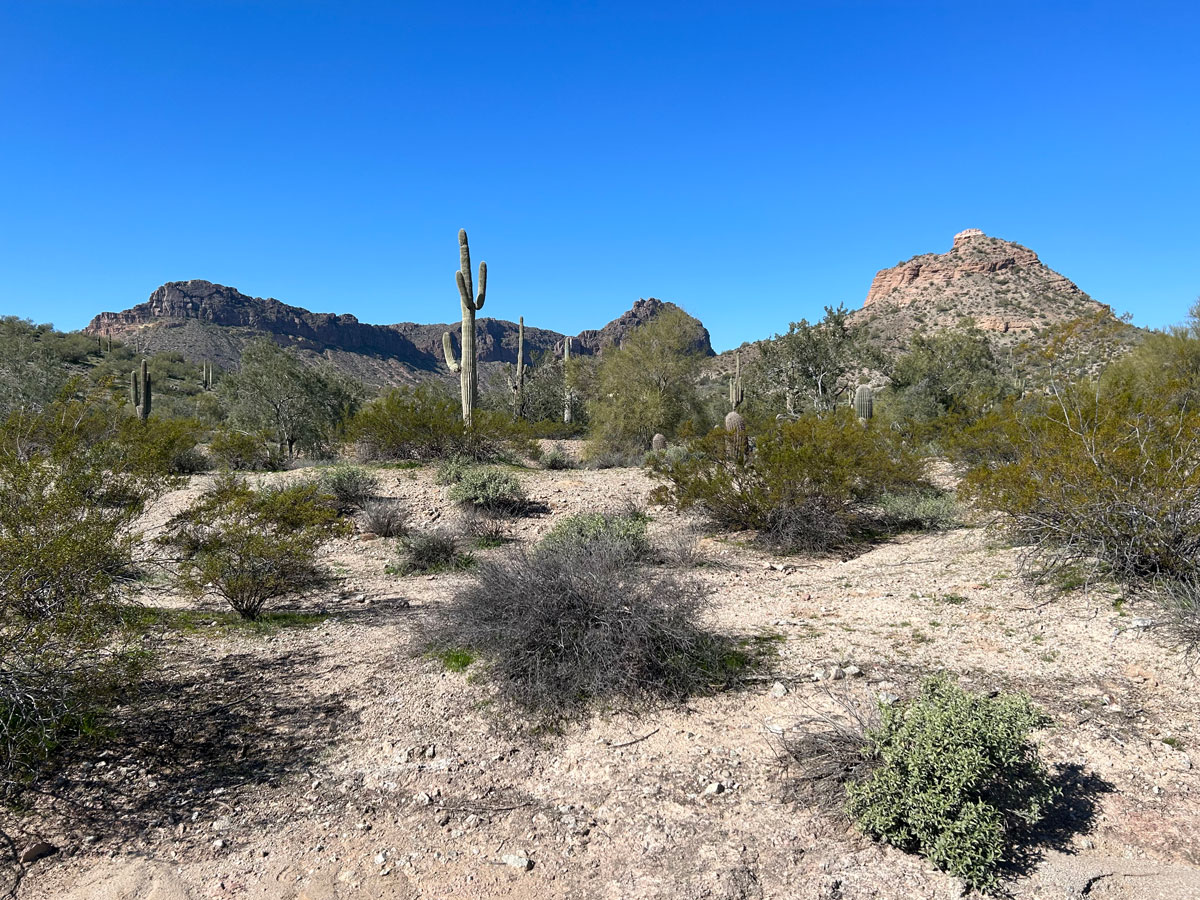 TRAIL STATS
Mileage: 5.4
Elevation gain: 545 feet
Time to complete: 3-4 hours
Stars: ★★★
Smooth trail with little elevation gain
The best views in San Tan Regional Park and a really cool "hang loose" crested saguaro can be found on the Rock Peak Hedgehog Loop. This easy hike meanders through somewhat monotonous desert, but the Malpais Hills and Rock Peak near the southern end of the park are surprisingly scenic, and the view at the high point on Hedgehog Trail is nice. You'll share the trail with bicycles, which can be a minor annoyance.
---
Trail Description
We swore there would never be a San Tan Regional Park hike on our website. No, we'd never waste our time when we could be at the Superstitions instead. All we can say is, the crested saguaro made us do it.
This hike begins at the Rock Peak Wash Trailhead, which we didn't even know existed until now. We also didn't know the San Tan Park had pretty mountains nearby with rocky peaks jutting from the top like mini Superstitions. Oh what you learn when you let go of what you thought you knew and explore new things.
Rock Peak Wash Trail
This trail is basically just a connector that gets you from the parking area to the main trails in the park. It's a slog through a sandy wash with houses nearby that take away any hope of a wilderness feel. Luckily, it's less than a mile long.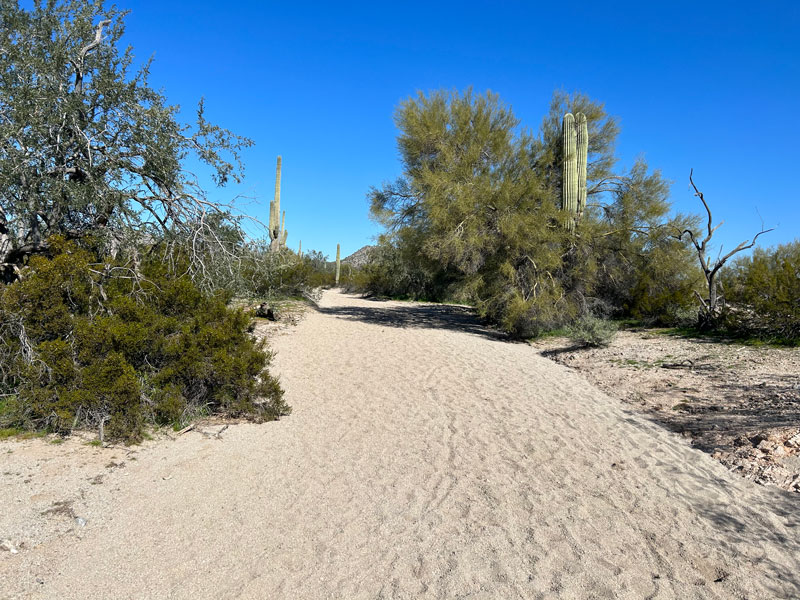 San Tan Trail
At the junction with the San Tan Trail, you can go either direction, but if you want to make a beeline for the cool "crestie," go left. Just a few bumps farther along the trail, you'll see it a little past the bench on the right.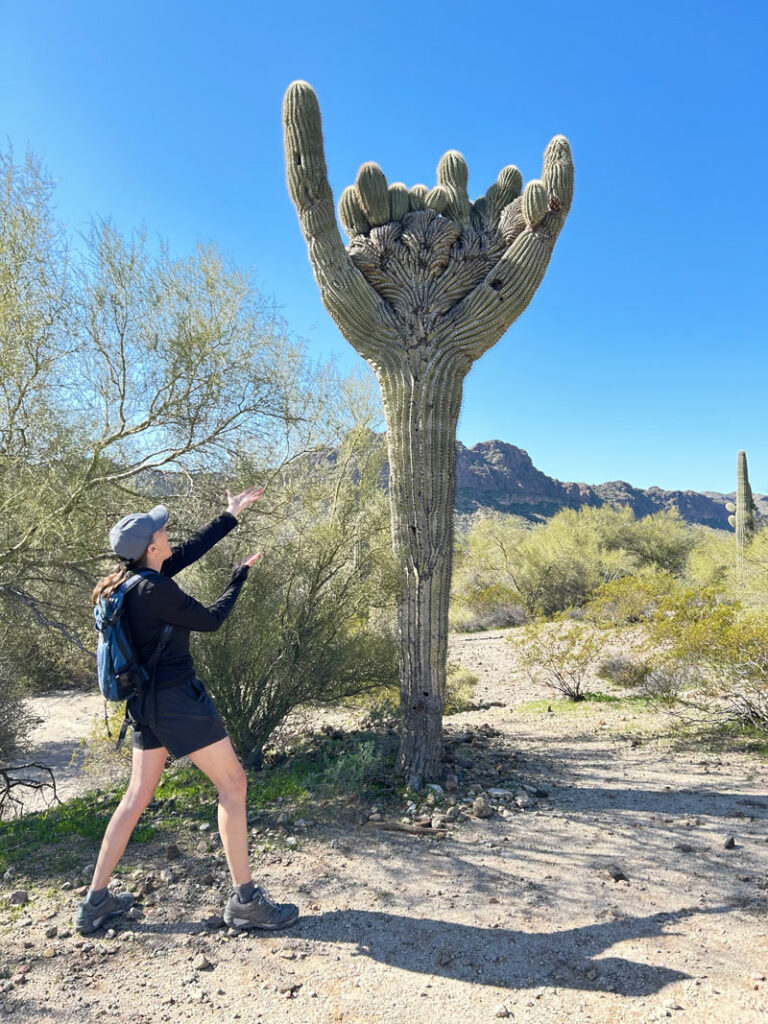 We pointed it out to a fellow hiker coming from the other direction who would have missed it otherwise, so if you do the loop counter-clockwise, you'll have to keep a sharp eye out.
This trail is easy and wanders through fairly flat terrain along a smooth trail. It tends to have a lot of bicycles, so it's probably best not to wear earbuds to avoid being run over.
"The Gap"
The official map for San Tan Regional Park has something marked as "The Gap." Ever the curious ones, we left the San Tan Trail and hiked some extra distance along the Malpais Trail to find out what this was.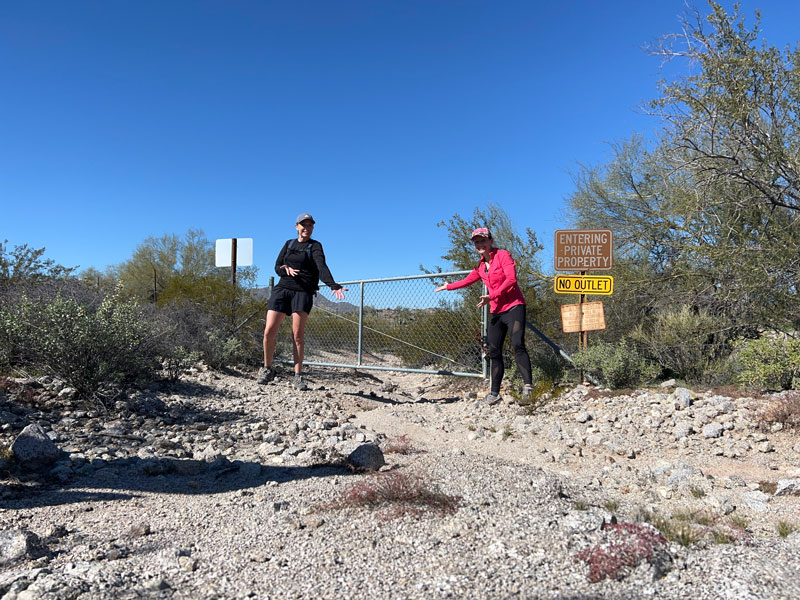 What a let down! We hiked it so you don't have to. You're welcome. I think the park should rename it "The Gate." I know, I know, the icon on the map kind of looks like a gate.
Hedgehog Trall
This trail cuts through the San Tan Trail loop to make it shorter. The park brochure says, "Observe the marvelous array of hedgehog cacti scattered along the trail." We saw plenty of saguaro and cholla, but we could not find any "marvelous array." Just this one cute little guy.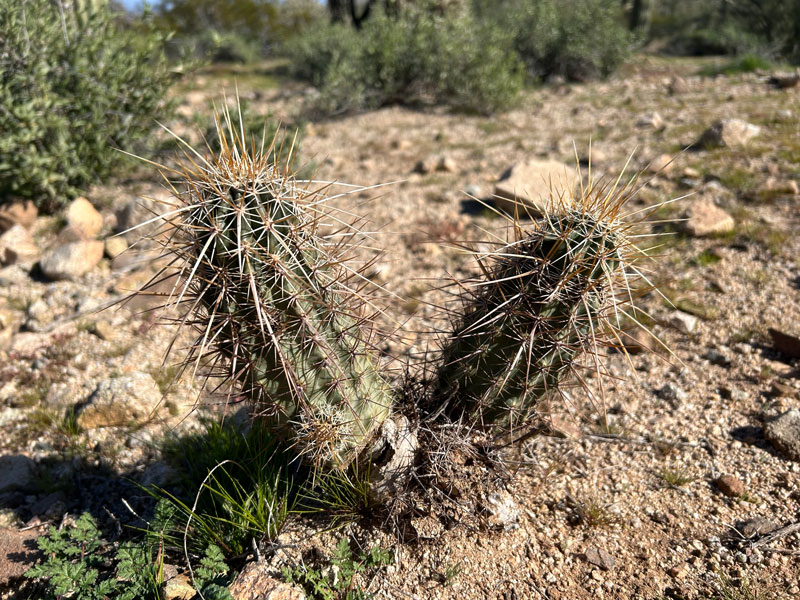 There is some elevation to gain along this trail, but the good thing about it is that you'll get to a decent (read: not super amazing, but okay) viewpoint with a bench.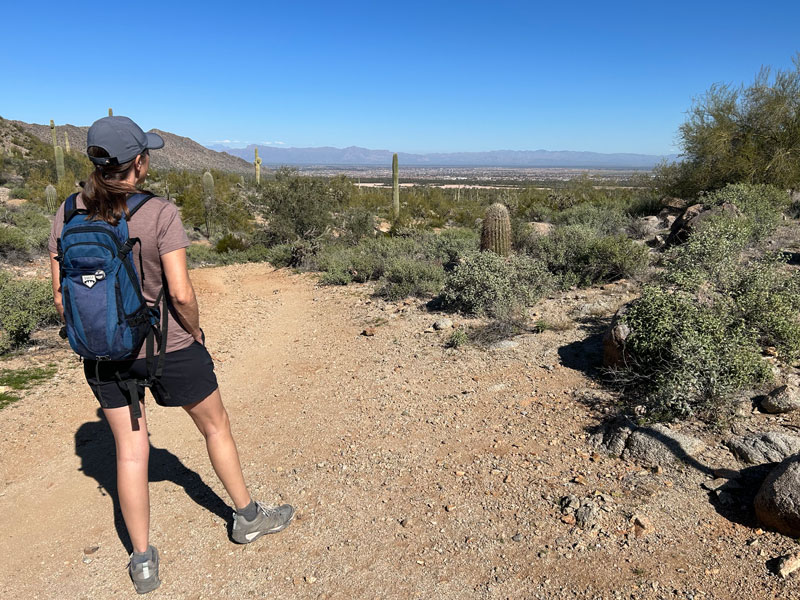 When you reach the end of the Hedgehog Trail, turn right back onto the San Tan Trail and loop back around to Rock Peak Wash.
---
Map & Directions
Location San Tan Regional Park, San Tan Valley, Arizona
From Queen Creek, take Ellsworth Road south and continue on Hunt Highway. Turn right on Thompson Road, which turns into Brenner Pass Road. Keep following it until you see the trailhead off to your right.
Fees/Passes There is a daily per car or per person fee that can be paid at the trailhead, or you can use a Maricopa County Parks pass.
Trailhead Facilities None
---