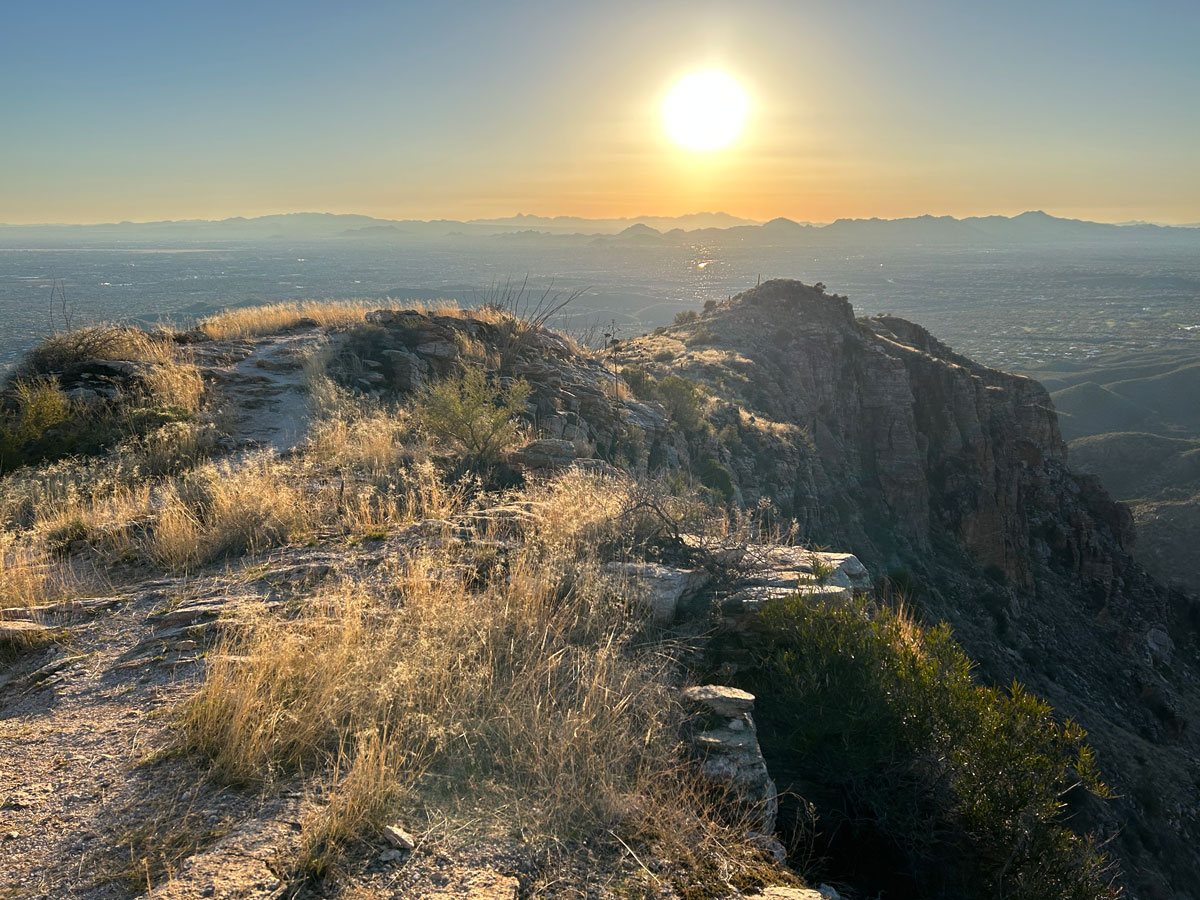 TRAIL STATS
Mileage: 5.7
Elevation gain: 1908 feet
Time to complete: 3-5 hours
Stars: ★★★★½
Steep switchbacks
Sandwiched between Sabino Canyon and Bear Canyon stands the imposing Blackett's Ridge. You'll climb up a long series of switchbacks to gain the ridge and then follow the more moderate ridgeline to the finish. The views are incredible from start to finish as you climb high above the city and then enjoy expansive views of Sabino Canyon and the surrounding Pusch Ridge Wilderness.
---
Trail Description
I'm a sucker for ridgelines. I love feeling like I'm on top of the world while enjoying massive views in all directions, and Blackett's Ridge definitely delivered. It's a great hike for those looking for a more challenging hike in the Sabino Canyon Recreation Area.
Bear Canyon Trail
It's a little bit complicated to get to the Blackett's Ridge Trail, so your best bet is to bring GPS or pick up a map at the visitor center. The basic idea is to find the wide dirt path that heads along the southern boundary of the recreation area toward Bear Canyon. This is easy walking, and you'll likely have plenty of company. At a junction with the road, take the road to the Phoneline Trail.
Phoneline Trail
Once on the Phoneline Trail, you'll head up a moderate trail through pretty desert toward Sabino Canyon.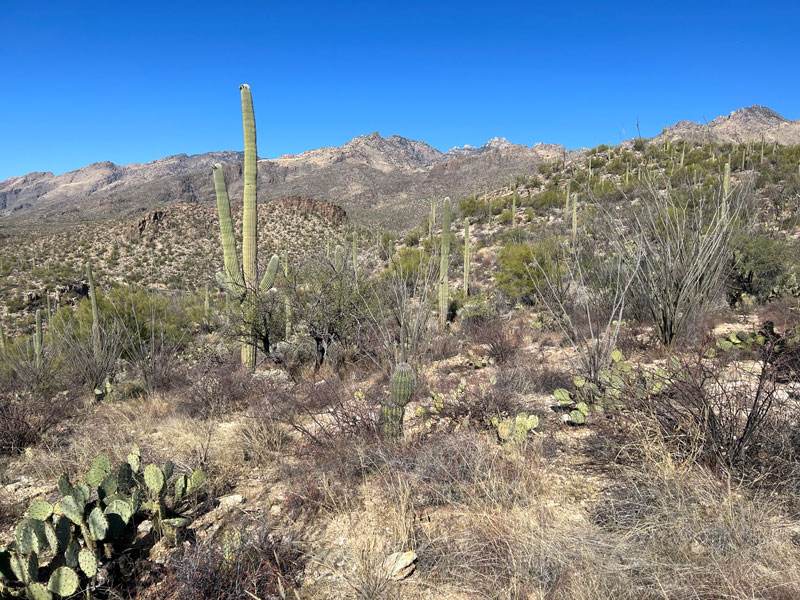 Keep your eye out for the Blackett's Ridge Trail coming in from the right.
Blackett's Ridge Trail
Blackett's Ridge Trail does not mess around. You'll immediately begin heading up switchbacks that will take you up to the top of the ridge.
The views of the city dropping below you start almost immediately, so don't forget to stop and take them in.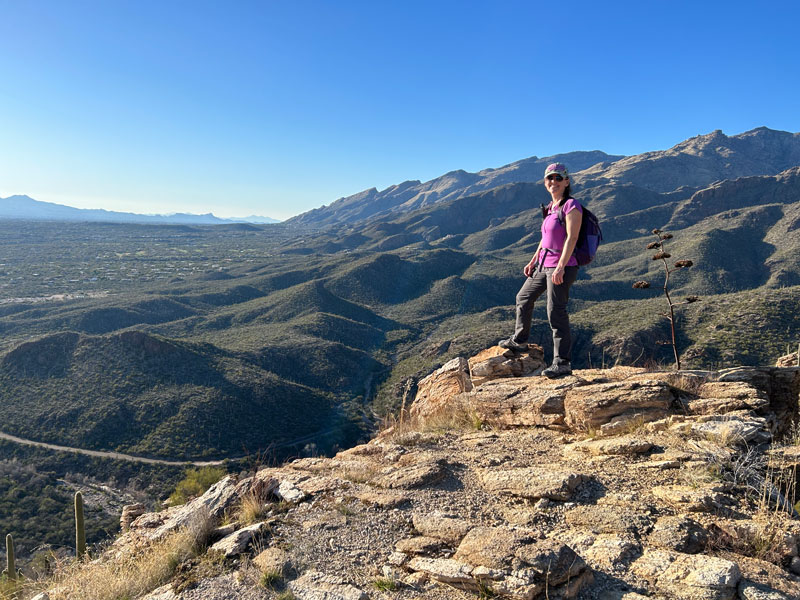 I know, that was kind of hard, and you're ready for those two peak-looking formations ahead to be the top. So sorry, friend.
And once you get around those, you'll see another promising high point that is also not the end. Just thought I should mentally prepare you.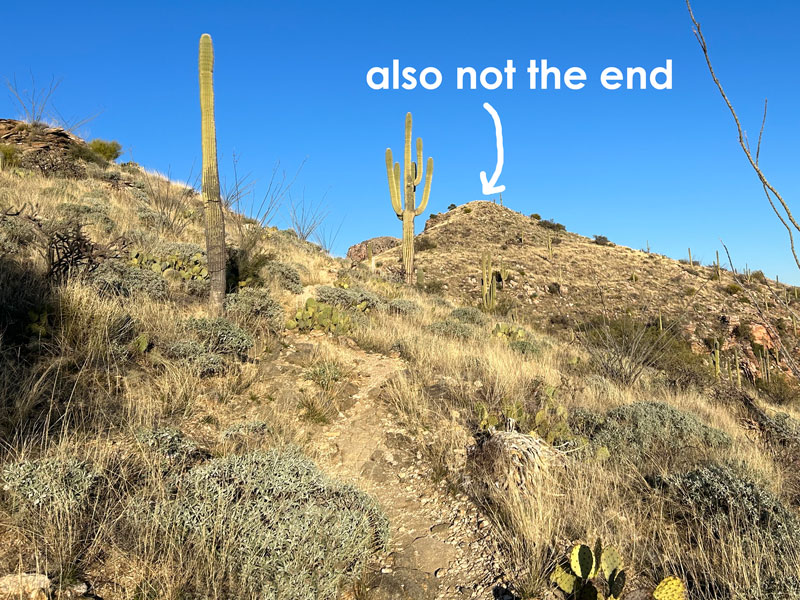 But you are close, and the views along this section are fantastic, so enjoy the journey.
When you get to a raised rocky area, you'll see a sign for the end of the trail, although you can continue beyond this point a little way if you want. Enjoy a well-deserved view!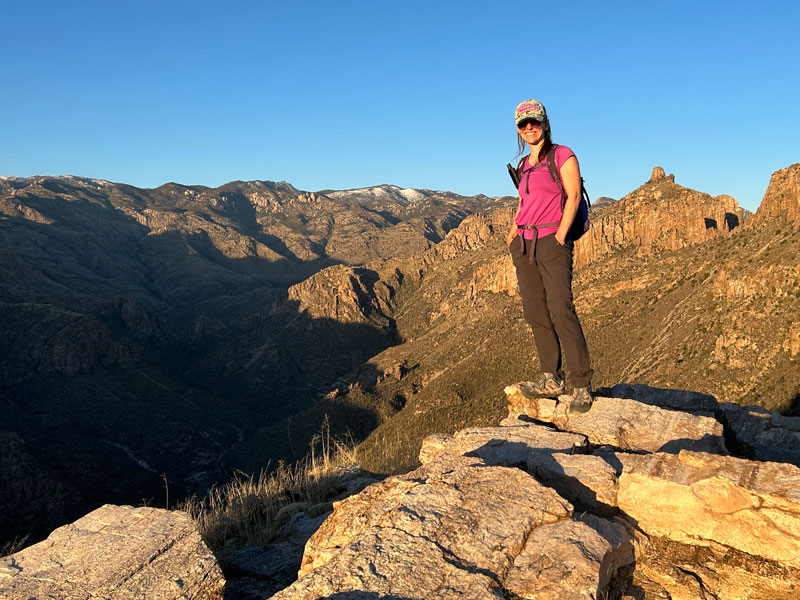 Normally, I don't say much about the return trip, but if you do happen to go late in the day, you could catch a nice sunset on the way down and the twinkling lights of Tucson.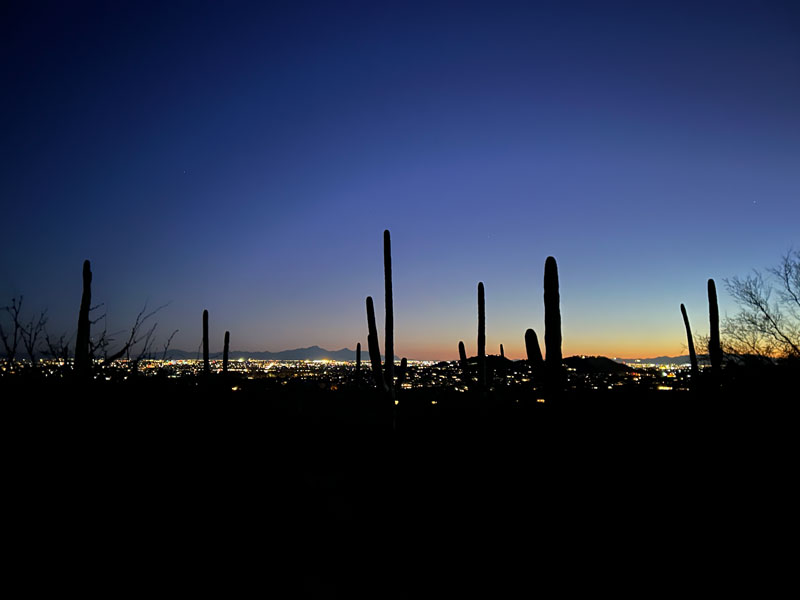 I just had to find a way to sneak this photo in because I love it so much. It was worth all the creepy coyote howls on the way out.
---
Map & Directions
Location Sabino Canyon Recreation Area, Tucson, Arizona
From the I-10, take Orange Grove Road east. Turn right on Skyline Drive and continue as it turns into Sunrise Drive. Turn left on Sabino Canyon Road and then turn right into the parking lot. If you're using Google Maps, search for Sabino Canyon Visitor Center or Google might tell you it can't find a way there.
Fees/Passes You must buy a parking pass or use your America the Beautiful Pass.
Trailhead Facilities Flushing toilets, drinking water, vending machines, and gift shop
---
Recommendations for you
Share this