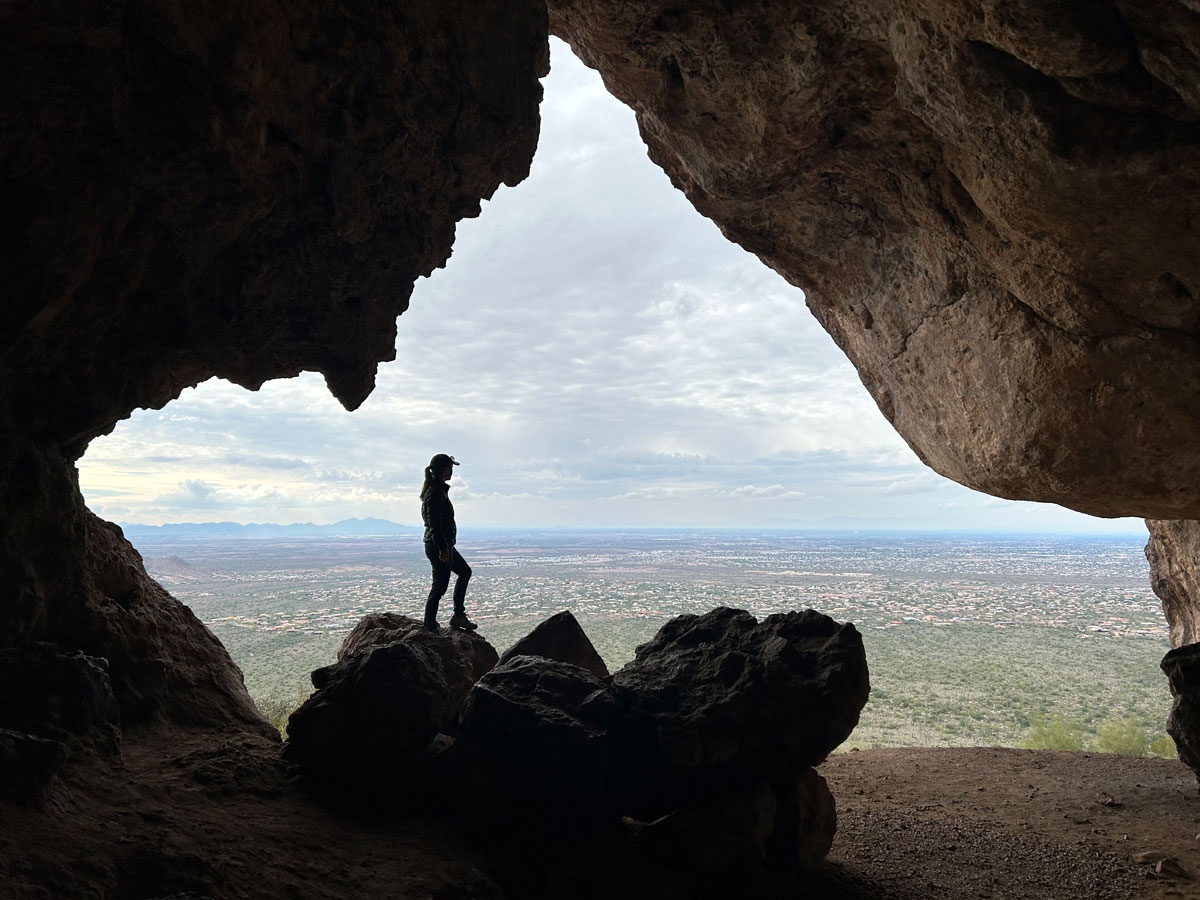 TRAIL STATS
Mileage: 3.8
Elevation gain: 960 feet feet
Time to complete: 2-3 hours
Stars: ★★★★
Steep at the end, rocky
Broadway Cave is one of the closest and easiest hikes in the Superstition Mountains. The views of the Superstition Mountains even from the parking lot are beautiful, and the garden of saguaro cactuses on the way to the cave is unparalleled anywhere I've been. The trail is very rocky, and there are spur trails from previous lost hikers that can get you off course, but your reward will be a nice view of the city from the cave and a great photo op.
---
Trail Description
Jacob's Crosscut Trail
Jacob's Crosscut Trail starts just west of the Broadway Trailhead parking and immediately heads to the east on a wide trail, littered with rocks just waiting to help you twist your ankle. Don't let them!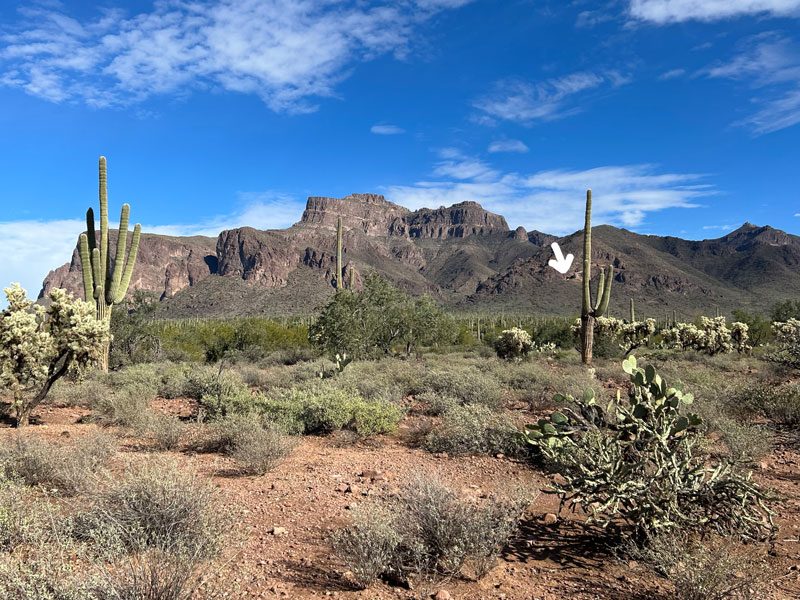 At the well-signed fork, take a left to stay on on Jacob's Crosscut Trail. You'll start heading toward the mountain, and the Broadway Cave up on the mountain ahead of you will become more and more easily visible.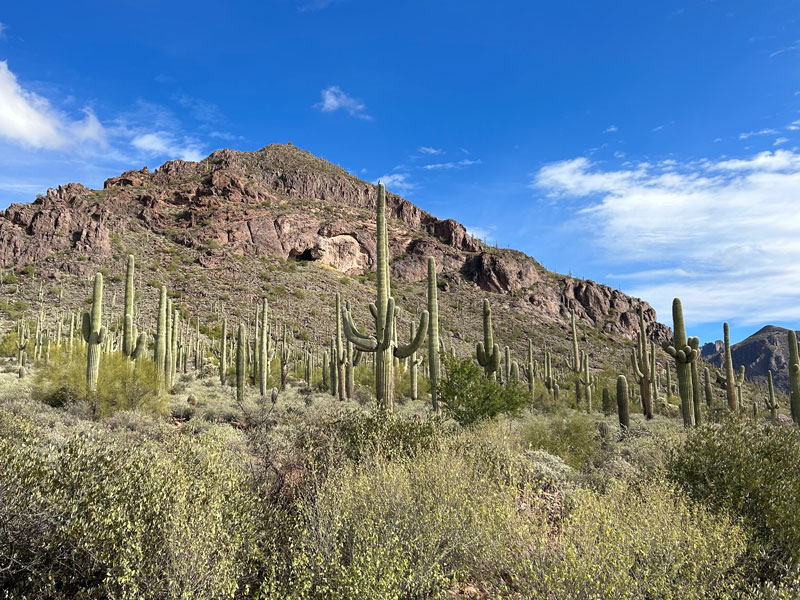 Hike up this trail until you reach the hugest, most embarrassingly conspicuous cairn you've even seen and head right on the Broadway Cave Trail. Add a rock to it while you're there? Why not? Everyone else did, and heaven knows there are plenty of rocks around there.
Broadway Cave Trail
This is the part where a lot of people get off trail because there are so many footpaths from people getting off trail before. In fact, we saw several people waaaay off trail the day we went. Don't be one of them. Watch your map.
The cave is large, smelly, and covered in graffiti, but the photo op is Instagram-worthy (I'm about to post mine in a minute. . . don't forget to follow us @wildpathsaz).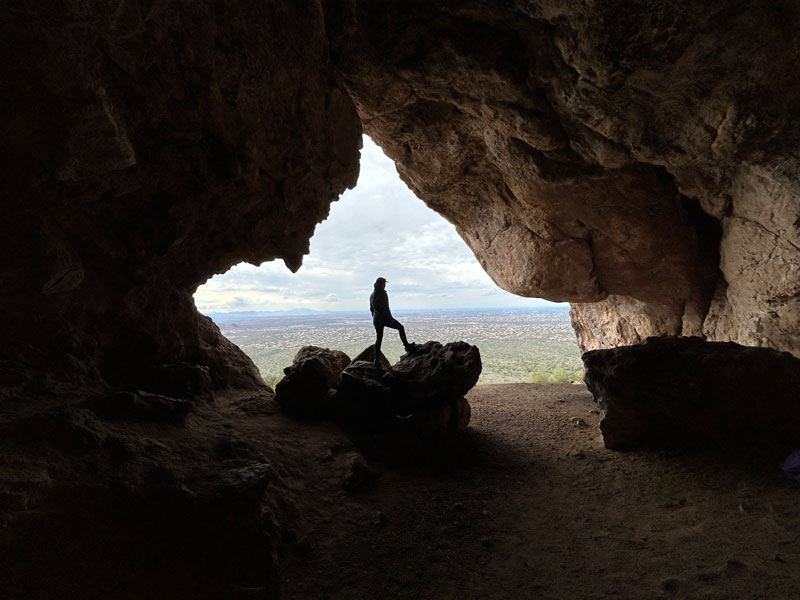 On the way back, be sure to savor the incredible saguaro cactus garden you find yourself in.
---
Map & Directions
Location Superstition Wilderness, Tonto National Forest, Apache Junction, Arizona
From the US60, head north on Mountain View Road. Turn right on Broadway Avenue (it's easy to miss, so watch for the sign) and follow it to the trailhead. Parking for about 10 cars.
Fees/Passes None
Trailhead Facilities None
---