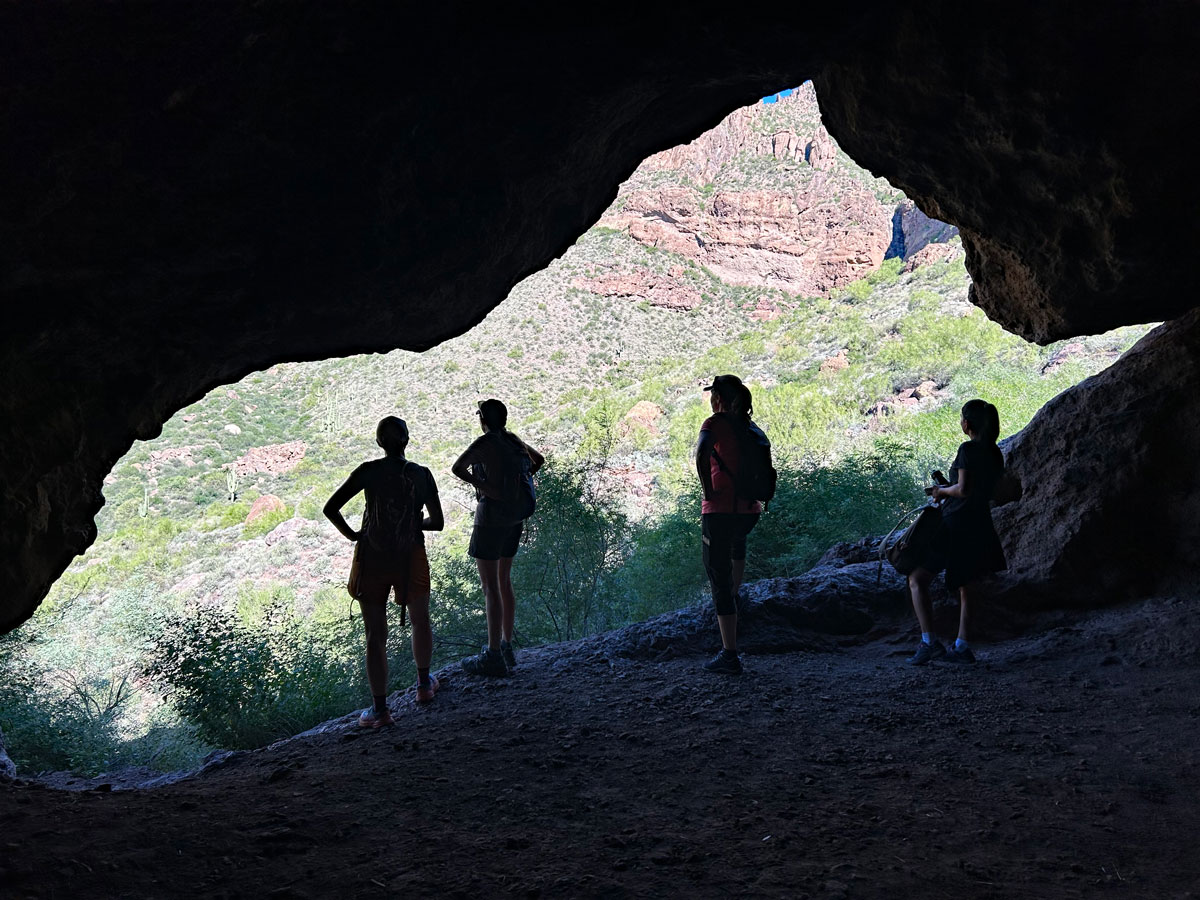 Shaka Cave (and a Mineshaft)
TRAIL STATS
Mileage: 2.4
Elevation gain: 459 feet
Time to complete: 1.5-3 hours
Stars: ★★★½
Loose terrain, moderate incline
Shaka Cave provides a far less crowded alternative to the Wave Cave, although we admit the photo op isn't quite as cool. That's okay, you can make up for it with a side trip to the Dacite Cliffs Mine or make it a triple header and hit the Wave Cave, too! The trails are well-defined, but it's hard to know which junctions to take, so bring navigation.
Although Dacite Cliffs Mine may have an opening large enough to allow entry, going into an abandoned mine could be dangerous and disturb the bats living there.
---
Trail Description
This guide starts at the same parking lot as the Wave Cave, which often becomes overcrowded on weekends and holidays. You can also start from the Lost Goldmine Trailhead and take a leisurely hike along the base of the mountain to join up with the Carney Springs Trail.
Carney Springs Trail
From the Carney Springs parking area, head down the very wide and well-used trail. At the junction with Wave Cave Trail, fork right to stay on Carney Springs Trail. Continue for a short time and then fork right again to go to Shaka Cave.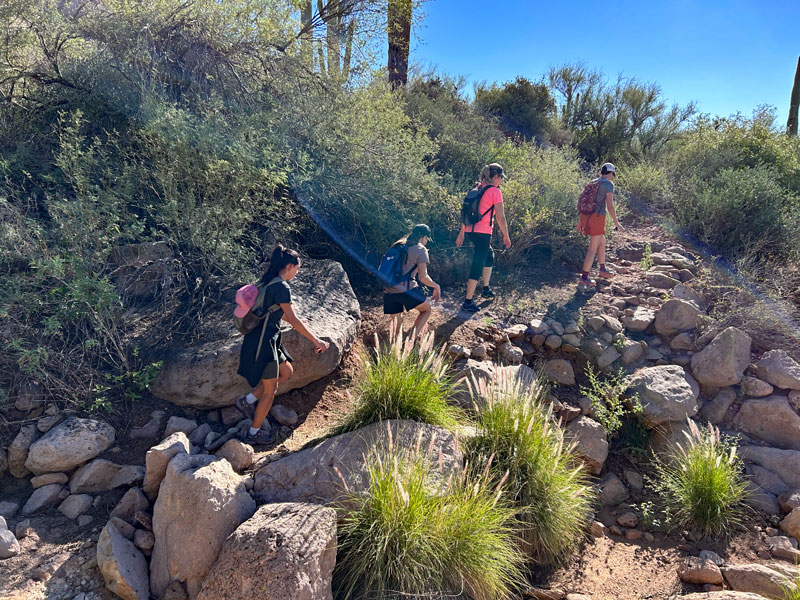 The trail is well-defined, but there are some other trails going in different directions, so it's best to bring navigation to keep you on the correct path. Soon you'll see Shaka Cave hiding behind the bushes.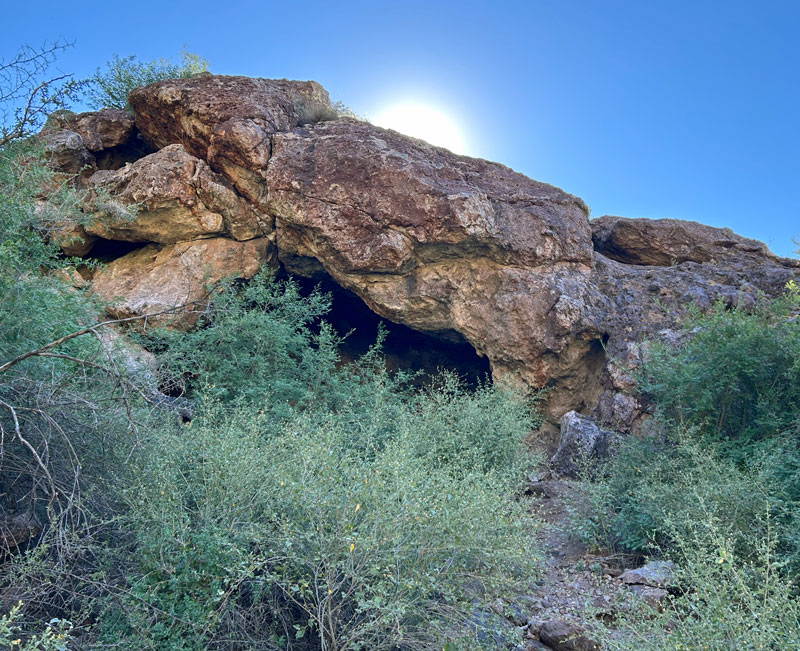 It's not much to look at from the outside, but it makes a fun shadow photo.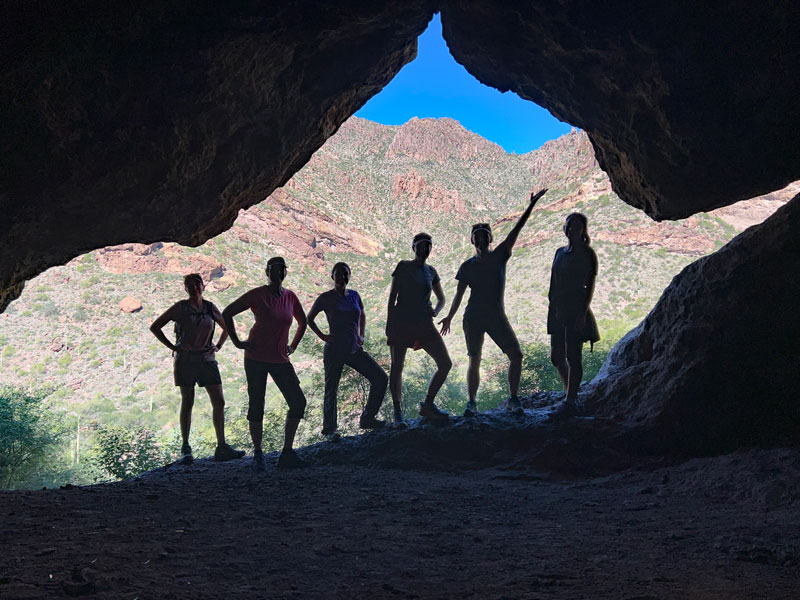 From here, you can take the optional side trip to the Dacite Cliffs Mine
Dacite Cliffs Mine
This side trip adds 1.3 miles and 260 feet of elevation gain. Return to the Carney Springs Trail and go back down until you pass through the fence marking the wilderness boundary. Then turn left to follow the Lost Goldmine Trail.
Eventually, the trail to the mine will break off to the left. Follow it up to the cliff face, and then turn right along the base of the cliffs to find the opening to the mineshaft.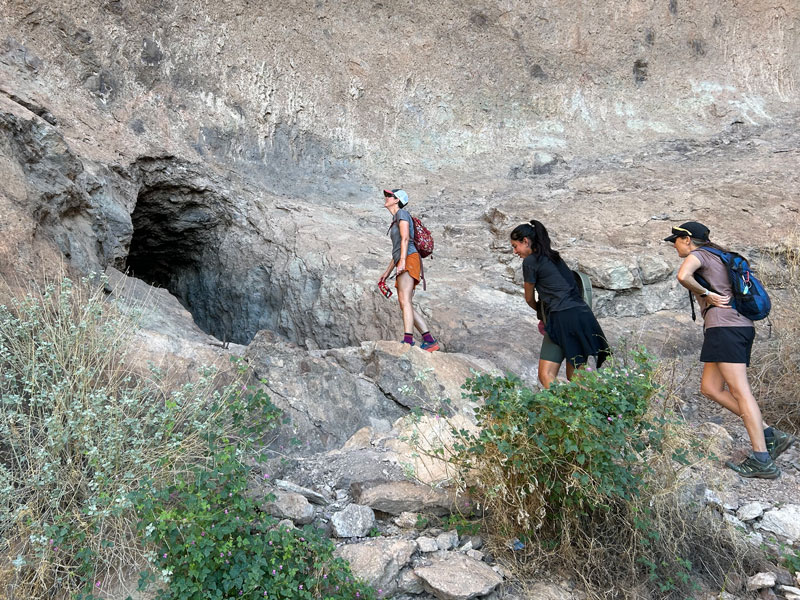 Peer through the gate to get an idea just how long this mineshaft is. It's best to enjoy the mine from the outside so you can stay safe and avoid disturbing wildlife.
---
Map & Directions
Location Superstition Wilderness, Tonto National Forest, Mesa, Arizona
To get to the Carney Springs Trailhead, take US60 to Peralta Road and go north. Fork left, and then find the Carney Springs Trailhead on the left side before you reach Peralta Trailhead.
Fees/Passes A recreational permit is required from the Arizona State Land Department to park at the Carney Springs Trailhead. No pass needed to park at Lost Goldmine Trailhead.
Trailhead Facilities None
---