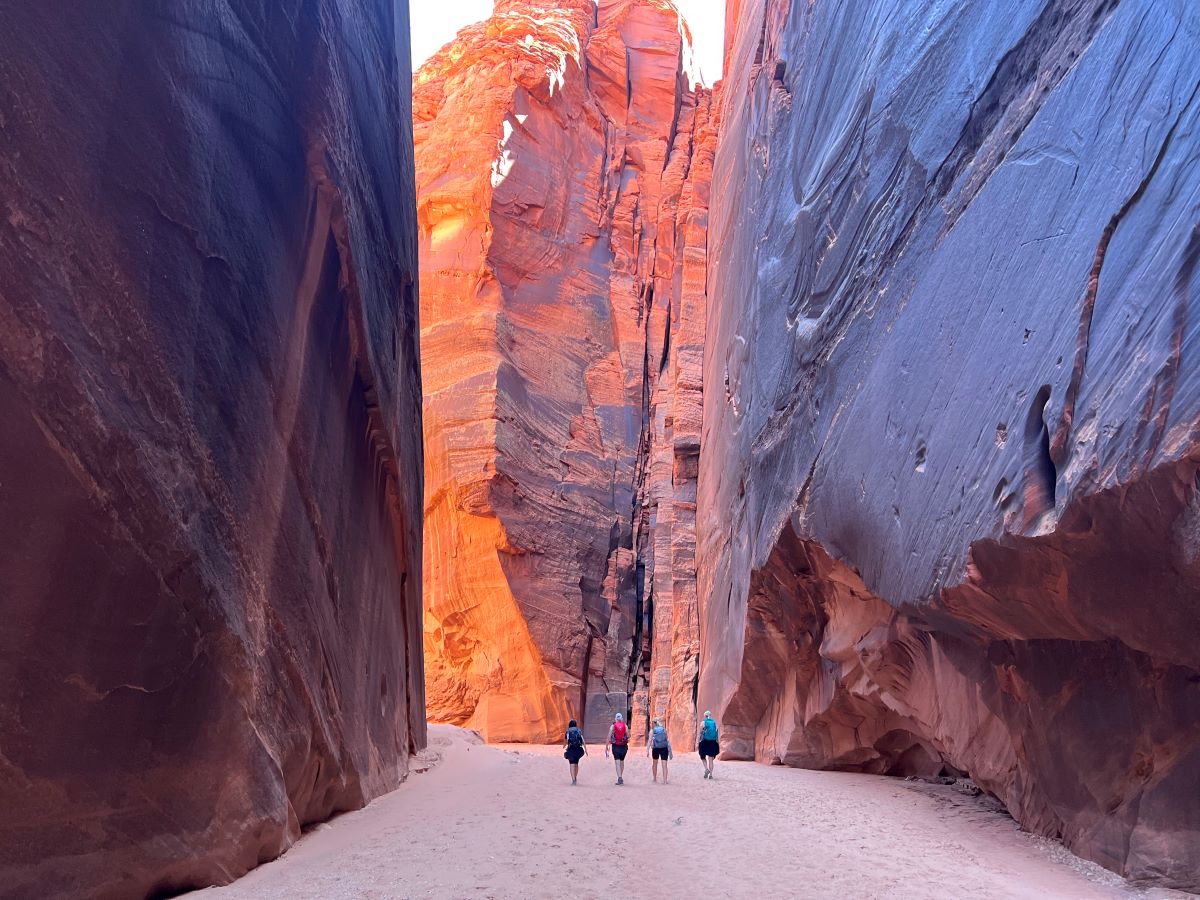 TRAIL STATS
Mileage: 21
Elevation gain: -584 feet
Time to complete: 10-12 hours
Stars: ★★★★★
Long hike, unpredictable conditions, lots of possible water crossings
Buckskin Gulch, right at the border of Southern Utah and Northern Arizona, is perhaps the longest and deepest slot canyon in the world. Day hiking it in it's entirety offers unparalleled views and an experience of a lifetime. It is an extremely long day, but with the right preparation, it will be a wild and extraordinary adventure!
---
Passes and Permits
Buckskin Gulch is part of the Paria Canyon-Vermilion Cliffs Wilderness. There is a $6 per person or pet day use pass that you must obtain through Recreation.gov. If you are interested in backpacking Buckskin Gulch, (which would also be a strongly recommended adventure), research the tough-to-obtain backpacking permits or either Recreation.gov or read our post on Paria Canyon. This post will be strictly about day hiking it, which you need no permit for other than the day use pass.
Weather Warning
**It is ABSOLUTELY IMPERATIVE that you check the weather conditions in and around the area of Buckskin before attempting this hike! If there is ANY chance of rain within a 100 mile radius, do not enter this slot canyon! It is routinely named one of the World's most dangerous hikes, because there is zero chance of escape in the event of a flash flood!**
Trail Description
Wire Pass
The hike begins at the Wire Pass Trailhead on House Rock Valley Road and heads 1.7 miles immediately east to Wire Pass and the confluence with Buckskin Gulch. The trail follows a (most likely dry) wash before turning into the narrow Wire Pass. Here, you will for sure be bringing out your cameras and taking a few pics of this gorgeous little slot canyon. But it's only because you don't know what's coming!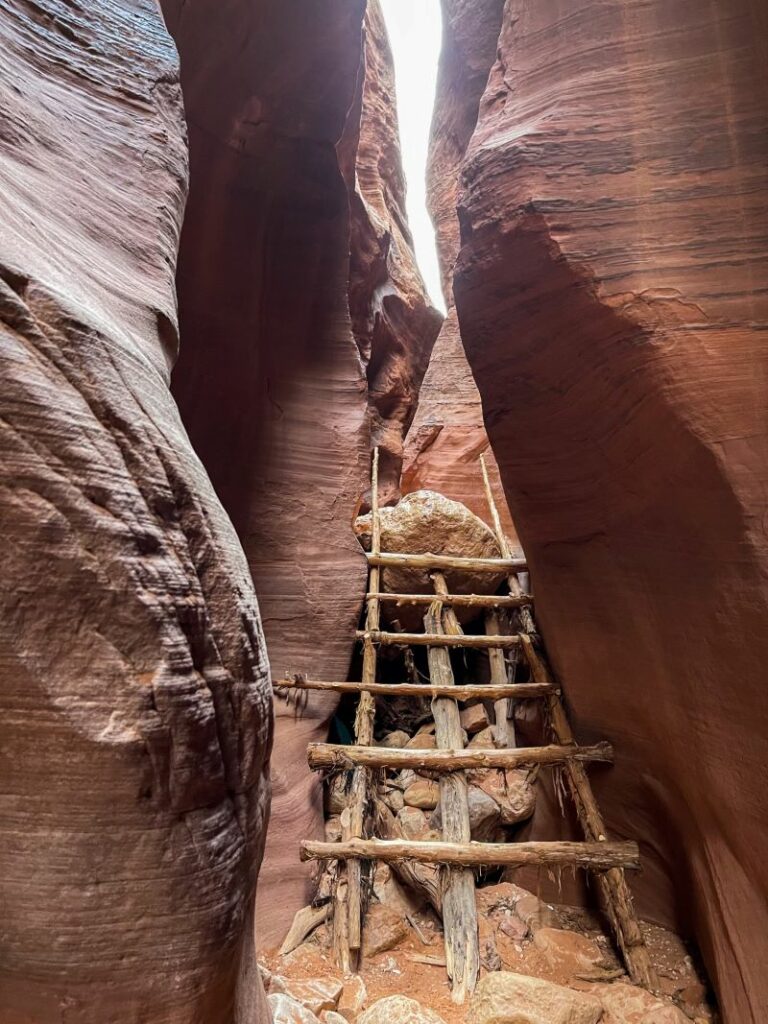 There is (usually) a cool juniper-fashioned ladder to help navigate down an 8 foot drop. But that ladder occasionally washes away in flash floods. (You'll see a previous version high up the walls later in the hike.) In the case that the ladder is missing, navigate the drop with your capable peeps, or hike back out of Wire Pass and take the connector trail that veers off to the right before the slot canyon to access Buckskin. (There has been a ladder every time we've been.)
Buckskin Gulch
At the Confluence, Buckskin is still pretty wide open, though the walls are already extremely high. As you turn right into Buckskin Gulch, keep an eye on the cliff face on your right, and look low. There's some pretty impressive petroglyphs here!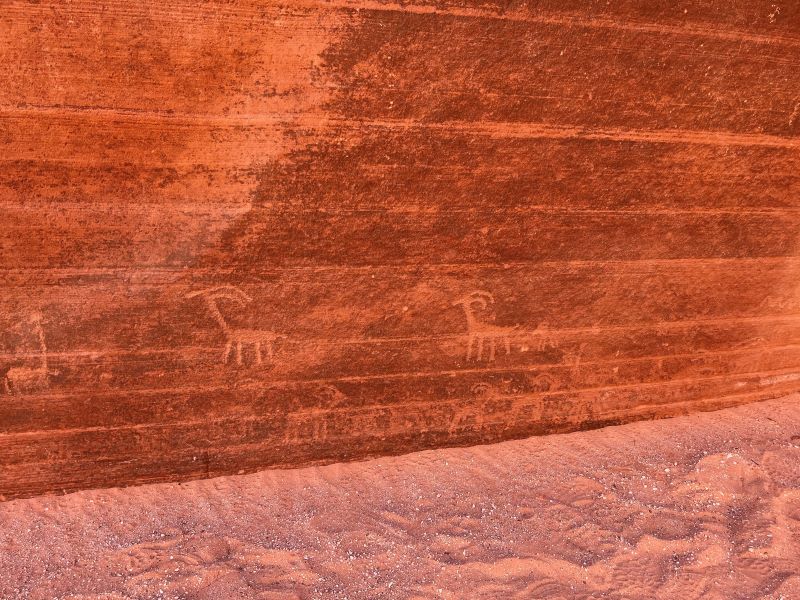 Now is the time to get your cameras/GoPros/what-have-you's out, because it's about to get rad. And it's going to stay rad for the next several miles. While there might be a few people hanging out around Wire Pass and the Confluence, the further in you go, the less people you'll see. Pretty soon, you'll be entirely alone for miles and miles. And you'll be seeing all the good stuff that those short-haul hikers didn't quite make time for.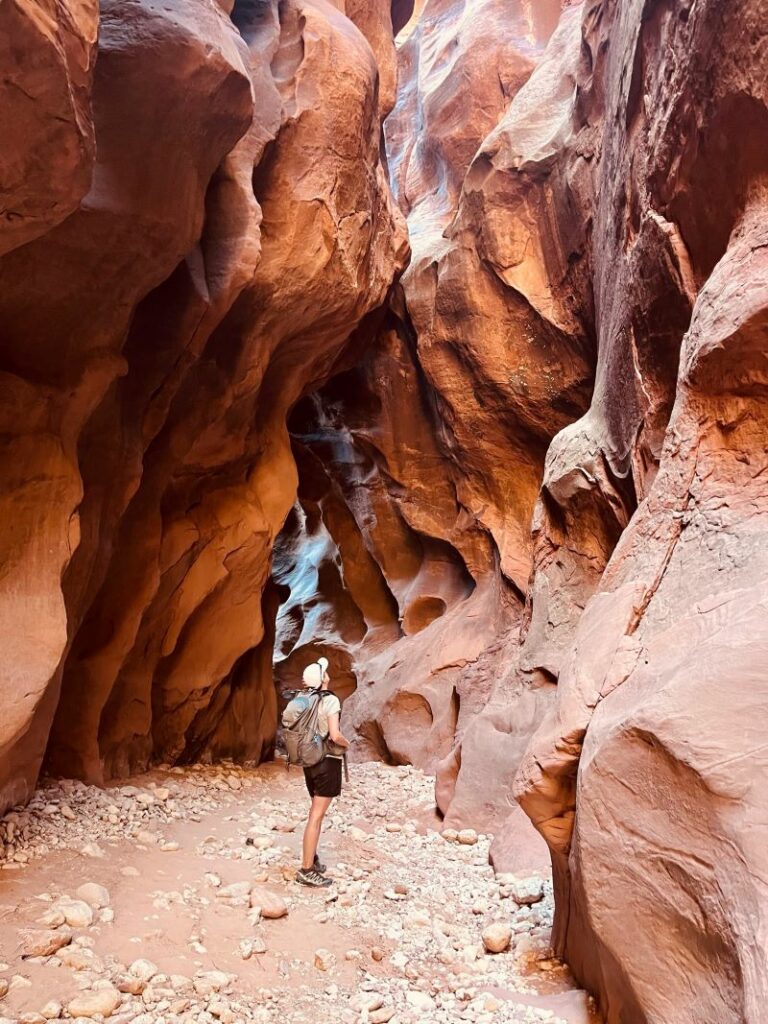 Buckskin Gulch is always at least 300-500 feet deep (it gets deeper the further in you go), and sometimes as narrow as 5 feet wide. And it stays like this for the next approximately 12 miles. It is like nowhere else I've ever been. The sandstone walls are gorgeous deep reds and browns with all of the iconic stripes and swirls that are so prevalent in Southwest slot canyons.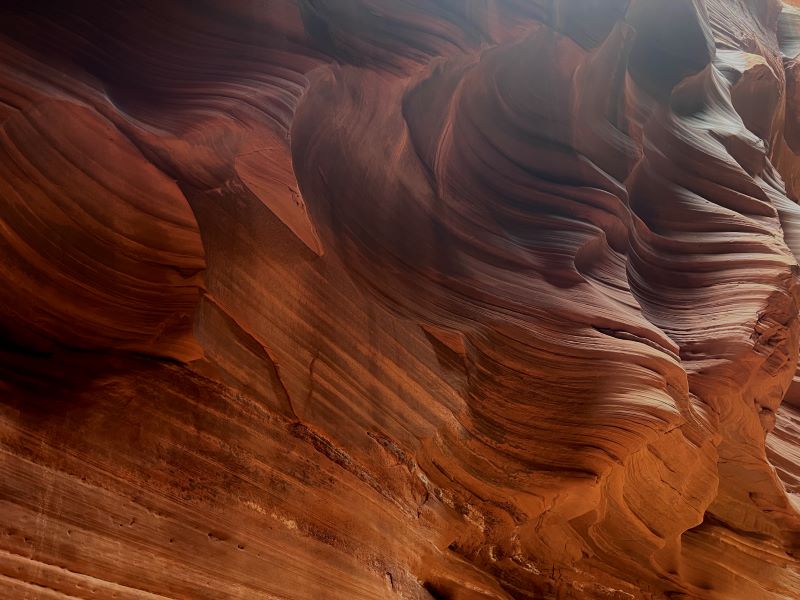 Every once in a while, the canyon opens up a bit, and you'll find pockets of green trees and shrubs growing from the canyon floor, adding different views and perspectives as you go. The "trail" is sandy for long stretches, and then rocky for others. Oddly, there is very little variance on the altitude—it's pretty flat the entire way with a few spots of bigger boulders to make your way around.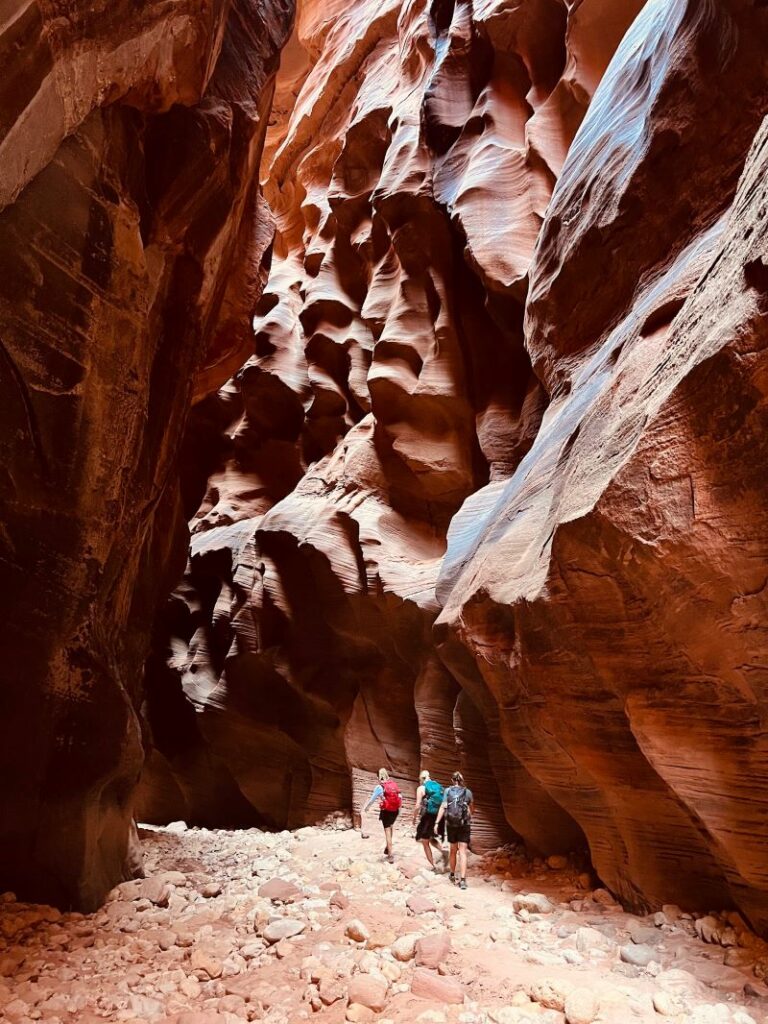 Rock Obstacle
As you get about 1.5 miles from the confluence with the Paria River, you'll come across the one and only somewhat challenging rock obstacle. It's a pile of massive, house-sized boulders that you have to find your way down. There has always been a decent rope handline here to assist people down, but don't rely on it! Bring a short (30 foot) rope or webbing to assist as needed.
Water Preparedness
The closer you get to the confluence, the more likely you are to run into water and mud. The times that we have been, it has never been more than shin deep at any point on the hike, but some years are way wetter than others, and you can see where this canyon can hold a good amount of (probably very freezing) water. You can contact the Kanab Field Office and ask about current conditions. They can give you a general idea of what to expect.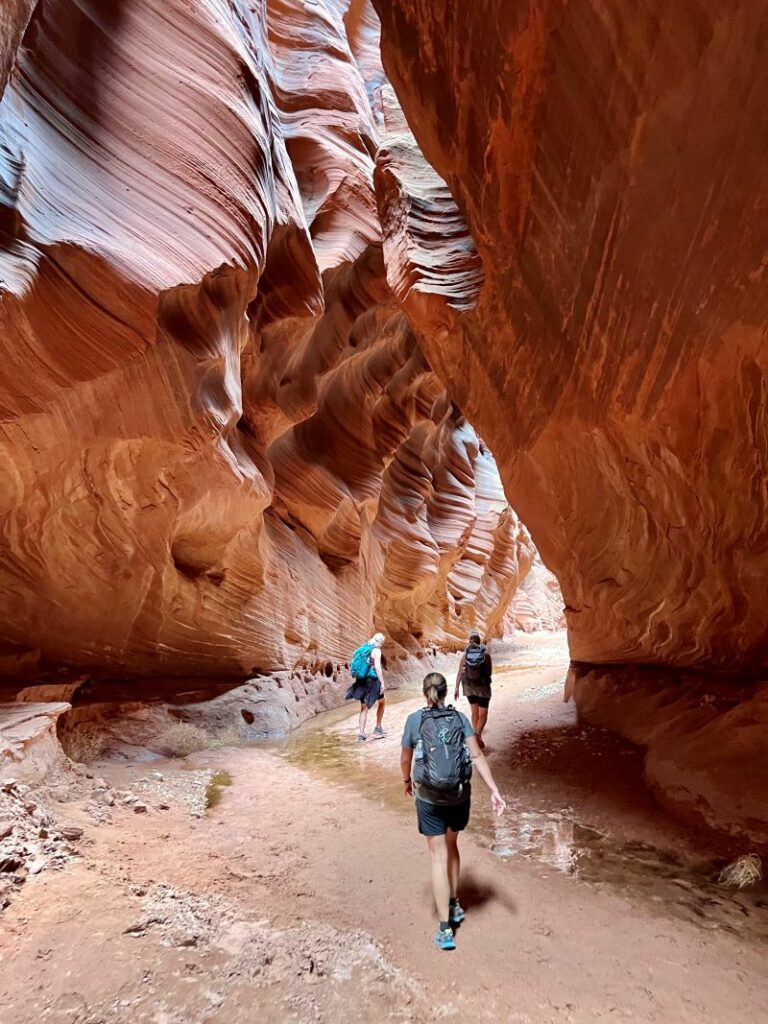 If there isn't going to be a significant amount of water and the weather is warm, you should be fine in old hiking shoes and good wool socks. If there is going to be significant water or the weather is going to be on the cool side, consider neoprene socks and/or leggings. If any water is going to be much higher than waist deep, I'd possibly rethink the trip. The conditions might be too challenging to make it through there in a day.
Above all: Be prepared for the wild. This canyon is so remote, so long and deep, and the conditions are unpredictable. Being unprepared for the conditions can and recently has led to harrowing rescues and death!
Paria Canyon
As you reach the confluence of Buckskin Gulch and Paria Canyon, you will hang a solid left and start heading upstream on the Paria River.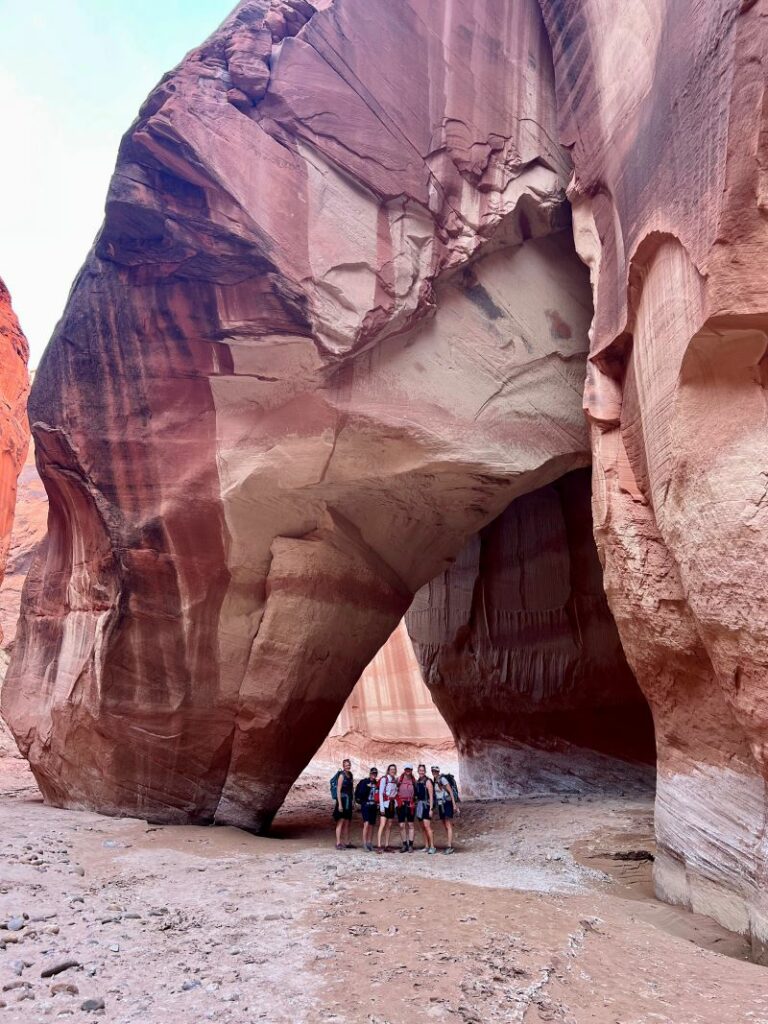 The canyon opens up more and more as you move upstream, and the slot canyon views are over. This portion of Paria Canyon is very beautiful, but having just come from Buckskin Gulch, it can seem really underwhelming and long. There are a few really cool features along the way though, so chin up! Take it all in!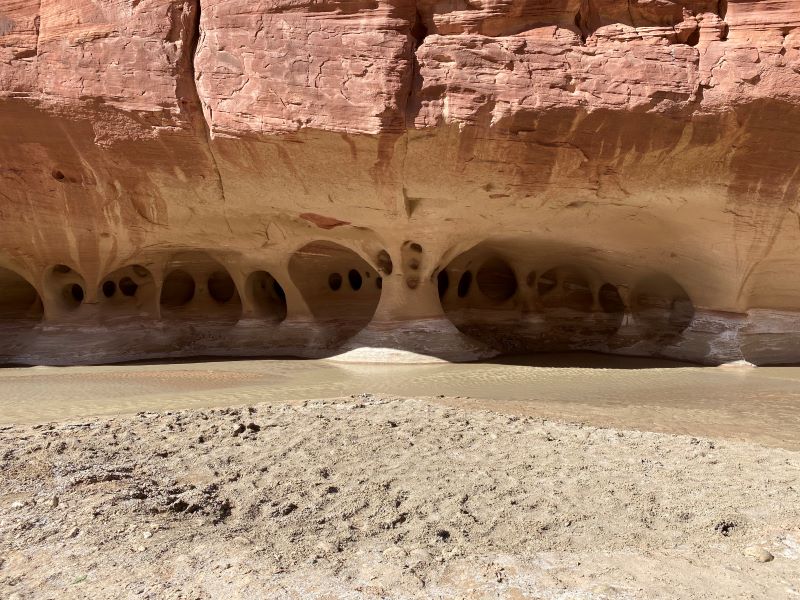 The "river" may not be flowing at all or it might have a small amount of water flowing. Or it might START flowing right in the middle of your hike, as happened to us one time! Again, be prepared for it all. Be prepared to walk in deep, deep sand and/or ankle-deep water for many miles, and take proper blister prevention precautions. I'll recommend just slathering your feet with an unholy amount of Trail Toes. That stuff is like a gift from the gods when it comes to preventing blisters on wet and sandy feet.
It is about 7 long miles from the Confluence to where you hopefully have a shuttle car waiting for you at the Whitehouse Trailhead. The trailhead is hard to spot until you veer to the right, away from the river, and up a small sandy knoll. I know. Mildly cruel that the only uphill of the entire hike is the last 1/4 mile. Hang in. Finish strong. Fist bump. Get chicken in Page. You earned it!
---
Map & Directions
Location Vermillion Cliffs National Monument, Page, Arizona
Wire Pass Trailhead
From Page, take US-89 36 miles west, and turn left onto House Rock Valley Road. Wire Pass is 8.4 miles down this dirt road on your right. This road is fine for passenger cars in dry conditions, but impassable by all but the most sturdy 4×4 cars in wet conditions.
Fees/Passes $6 person on Recreation.gov
Trailhead Facilities Pit Potties, no water
White House Trailhead
From Page, take Us-89 31 miles west to White House Road. The trailhead is 2 miles in. This is also a pretty nice campground. It is first come, first serve, and $12/night, visit blm.gov for more info.
Fees/Passes No fee unless you want to camp
Trailhead Facilities Pit potties, no water
**This hike requires a shuttle** There are a few companies in Page and Kanab that offer shuttle services from White House to House Rock Valley Road for around $100, or you can bring two cars and leave one at the exit.
---