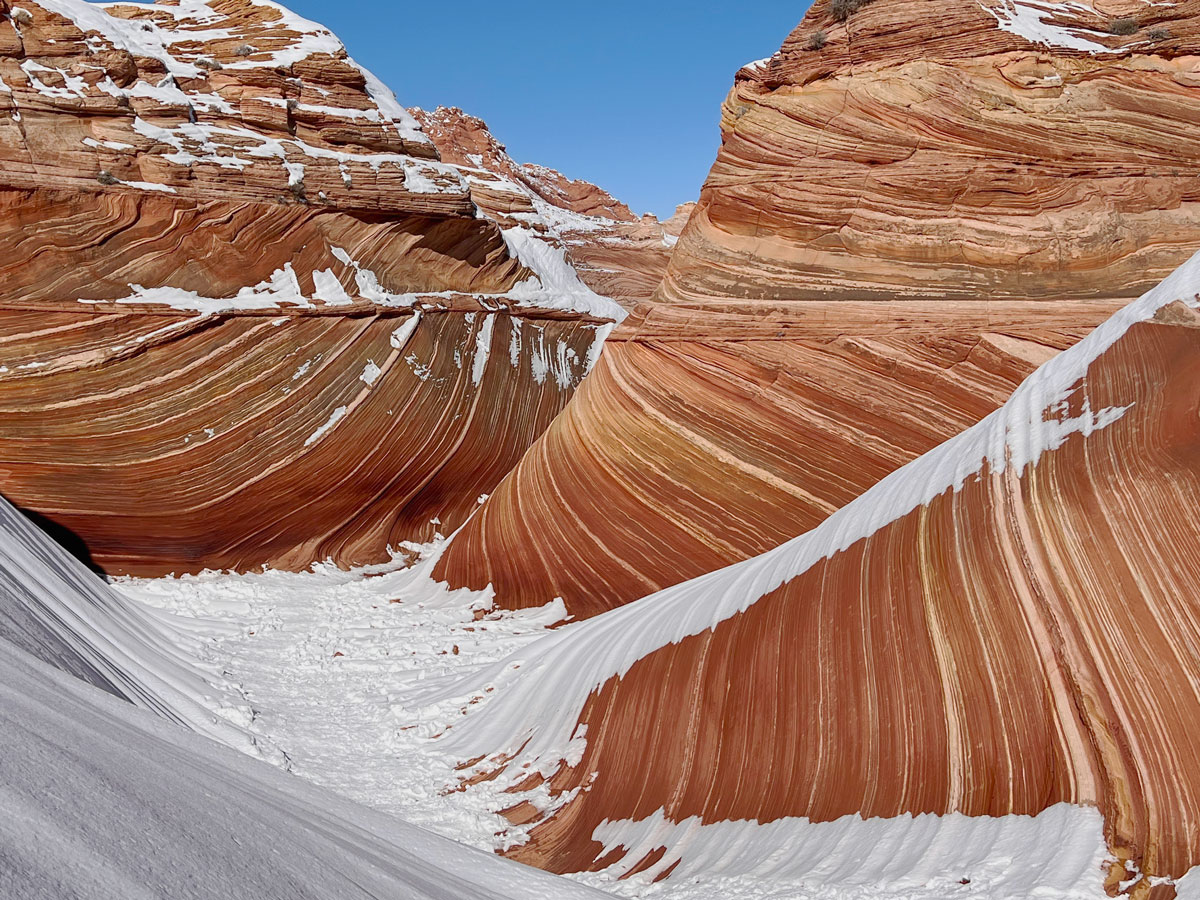 TRAIL STATS
Mileage: 5.6
Elevation gain: 1167 feet
Time to complete: 4-7 hours
Stars: ★★★★★
Navigation skills required
Perhaps the most exclusive hike in Arizona, the Wave is a captivating showcase of swirling sandstone within the Vermilion Cliffs National Monument. The striped layers bend and flow in astonishing ways that invite you to explore, marvel, and spend time in quiet contemplation. Don't hurry. Visit the nearby formations, such as the Second Wave and Melody Arch, if you're able. The permits are difficult to obtain, and if you should be so lucky to snag one, you should make the most of your time in this special place.
---
Trail Description
There are no official trails within Coyote Buttes North, but when you get your permit, you'll be provided with a detailed photo guide to help you get to The Wave. If you don't have good navigation, do not attempt. This area can become a maze because of the lack of trails.
Wire Pass Trailhead
From the Wire Pass Trailhead, cross House Rock Valley Road and follow the wash for about half a mile. If it's been raining or snowing, there could be water in the wash. Except for a couple mandatory crossings, we were able to stay on the side most of the time.
Keep your eye out for a trail forking off to the right about half a mile in. There is a sign indicating the Coyote Buttes North area is half a mile ahead. The trail goes from sand to sloping rock as you make your way over a saddle, and if there's snow on the ground, this can be a little treacherous. Micro traction is definitely recommended to avoid falling on your butt a bunch of times like we did.
Coyote Buttes North
Another small sign marks the boundary of Coyote Buttes North, and you'll pass through a gate. The views from this point are incredible! Take time to look around.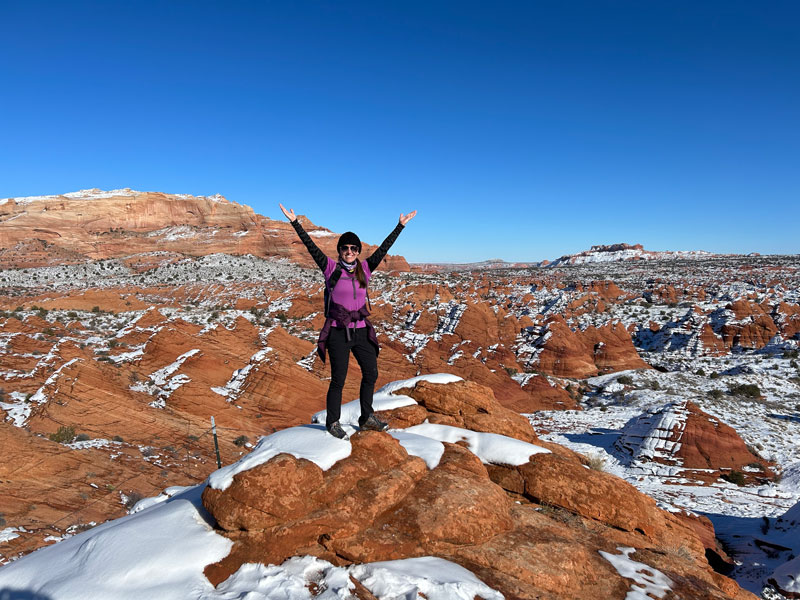 As you continue, a large sandstone ridge will be on your right. Continue parallel to that ridge, staying higher on the slope.
The trail will flatten out as you make your way south over the Utah-Arizona state line. In the distance, you'll be able to see a crevice that leads to the wave on the large rock formation ahead. Cross Sand Cove Wash and head up the hill to enter this swirling sandstone wonderland.
The Wave
You can feel it when you're about to arrive. Before you get to the iconic view of The Wave, there are some narrow corridors that are fun to explore and have some killer photo ops.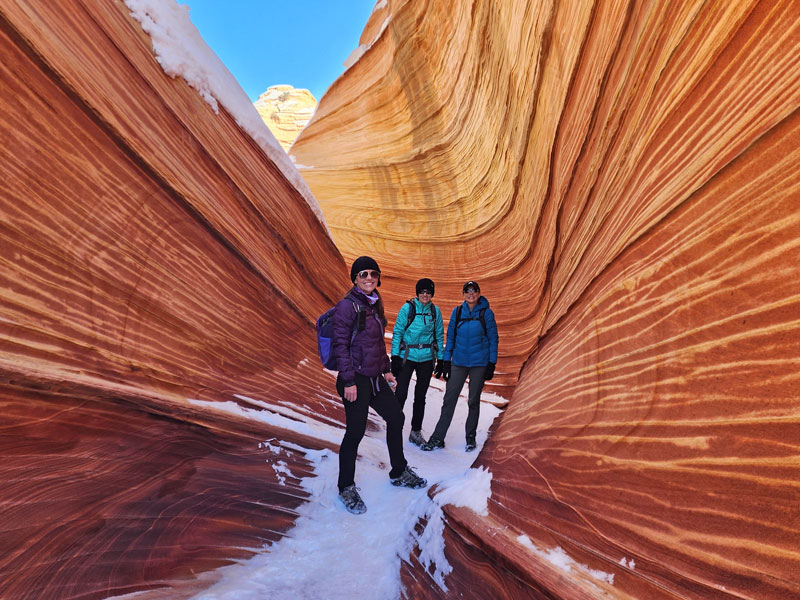 We arrived around 10 in the morning in January, and the lighting was PERFECT. I can't say the same about the light when we were on our way back, so get your pictures in the morning.
Just beyond the wave, up above on the right are these cool toadstools.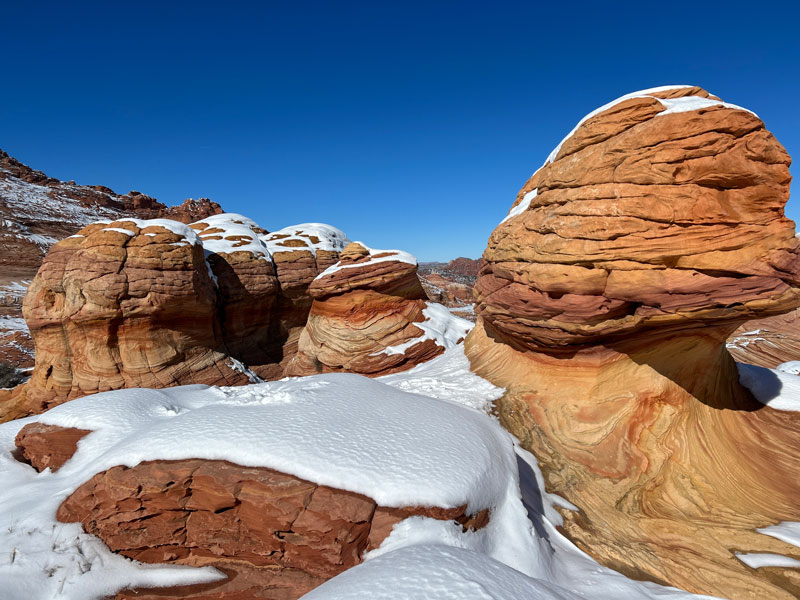 Second Wave
The Second Wave isn't much farther beyond the wave, and it's safe enough to go there even if there is snow on the ground. So glad someone was here before us and made a little path we could use!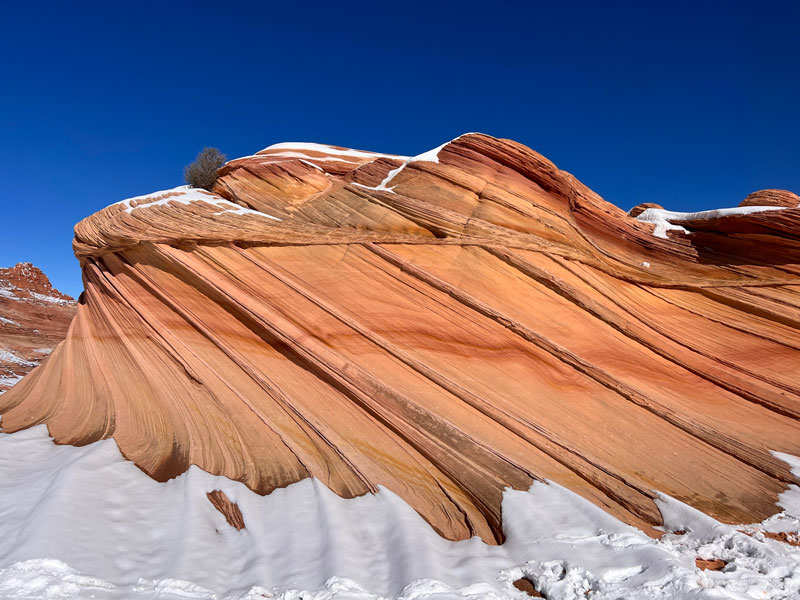 Just a little farther ahead in the same direction is a nice viewpoint.
Melody Arch, Top Rock Arch, and More
A series of arches can be reached by going on the ridge above The Wave. Unfortunately for us, the snow presented hazardous conditions that prevented us from seeing these attractions. They are marked on topographical maps, so make sure to bring your GPS!
House Rock Valley Road
In Dry Conditions
Under normal, dry conditions, House Rock Valley Road is passable by a passenger vehicle. Hillary's minivan did it on an earlier trip to Buckskin Gulch without issue.
However, if it hasn't been maintained in a while, there may be deep ruts from the last rain or snow storm that will require high clearance. If you have a passenger car or 2WD, it's best to inquire with a ranger about current conditions.
In Wet Conditions
If the road is wet, it becomes a major mud bog, and a sign at the beginning warns that it can become impassable to all vehicles when wet.
When we went, there had been a major snow storm a few days prior, and there were several inches of snow on the ground. In the morning on the drive in, the ground was frozen and the road in was rough but not too bad. We came across a crazy guy from Texas who was attempting it in his minivan and some ladies in a Chevy Equinox! However, after the hike when the sun had begun melting the snow, the road had turned into a huge mess with deep mud. We met a couple who informed us their 2WD Hyundai Tucson was stuck in the mud about a mile up and they were waitng for a tow. We feared for the minivan and the Equinox.
Do not attempt this road in wet conditions without an extremely capable 4WD and high clearance vehicle with good all terrain tires. Even if you get in on frozen ground in the winter, a return trip in the afternoon could be impossible. Be prepared to dig yourself out, stay the night (which is not allowed at the trailhead), or get stuck and call a tow truck.
Hiring a Guide
If you have any question about whether you can make it safely to The Wave, HIRE A GUIDE! I guarantee it's cheaper than the tow, and the guide won't count against your permit quota. One guide allowed per group. Find a list of authorized guides here.
Getting a Permit
There are two ways to get a permit: advanced lottery or daily lottery.
Advanced Lottery
Every month, an advanced lottery is held for visits four months ahead (so, for example, in January you can apply for a permit in May). You will only be able to select three dates, which is a bummer because most of us would probably just be happy with any available date. The maximum group size for a permit is six. Permits for 48 people or 12 groups, whichever comes first, are awarded this way.
Daily Lottery
If you happen to be within the geofence for the daily lottery, which includes Page and Kanab, you can enter the daily lottery using a mobile device on a browser or the Recreation.gov app. Applications must be submitted two days in advance between 6am and 6pm UTAH TIME. Note that Arizona does not follow daylight savings time, so during the summer, Utah is an hour ahead. The maximum group size for a permit is six. Permits for 16 people or 4 groups, whichever comes first, are awarded this way.
If you win, the next day you will go to one of the field offices at 8:30am local time (don't forget that Kanab and Page are not on the same time zone in the summer ) to pick up your permit and attend a safety briefing. Your hike to The Wave will be the day after you pick up the permit.
Tips for Winning a Permit for The Wave
There is a limit of one permit application per individual, but each person who is planning on going on the trip can apply for a permit to increase your chances.
Choose the winter and summer off seasons when fewer people are applying.
Try the daily lottery if you can.
Most of all, be patient! Good things come to those who wait.
---
Map & Directions
Location Coyote Buttes North, Vermilion Cliffs National Monument, Arizona
From Page, Arizona, take Highway 89 toward Kanab. After Big Water, make a left just past a guard rail onto House Rock Valley Road. Follow the road for a little over 8 miles to the Wire Pass Trailhead on your right. Cell phone service is spotty at the trailhead, but we were able to send a photo on Verizon.
Fees/Passes Permit required (see above)
Trailhead Facilities Pit toilets available
Preview this Hike
---