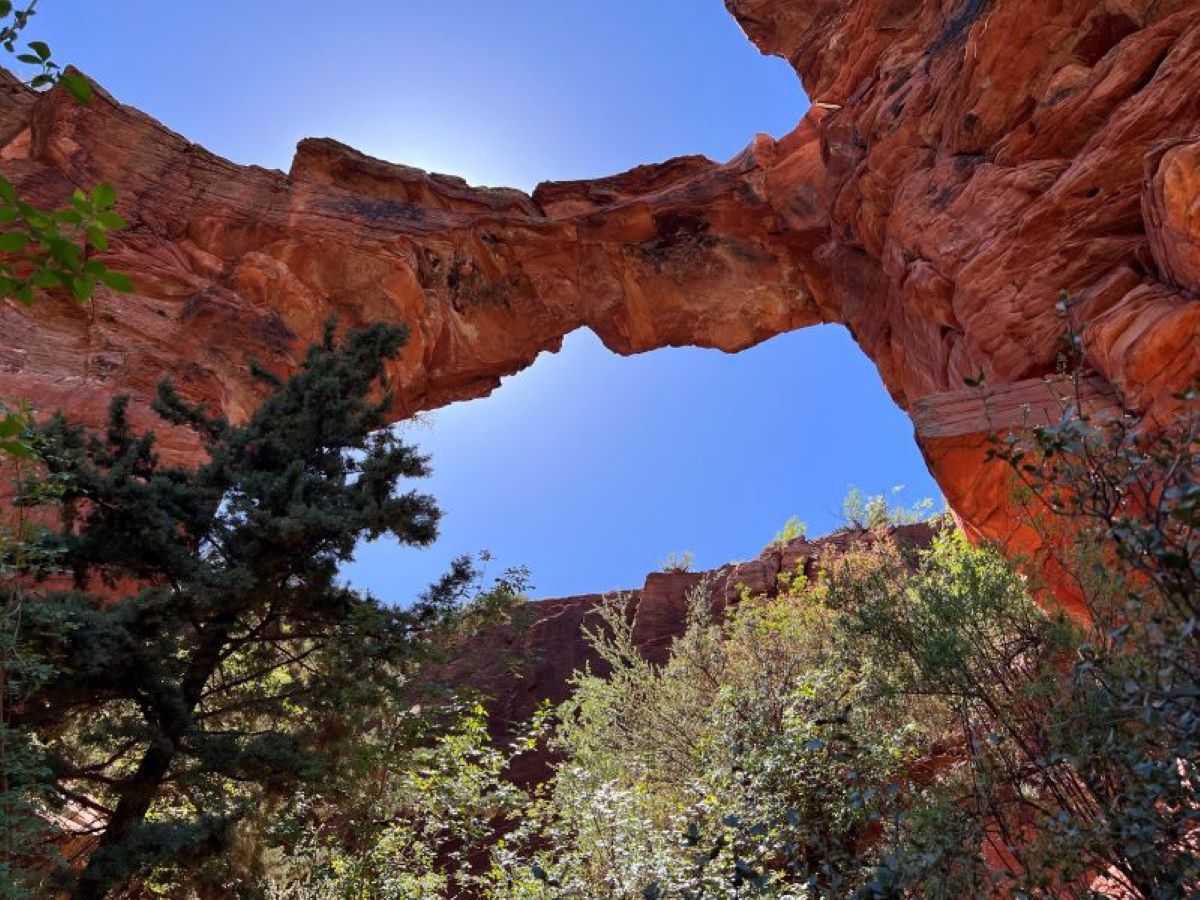 TRAIL STATS
Mileage: 5.7
Elevation gain: 728 feet
Time to complete: 3-4 hours
Stars: ★★½
Light scrambling, people and Jeep dodging
Devil's Bridge is an iconic Sedona hike with breathtaking views and an amazing arch within the Red Rock-Secret Mountain Wilderness. If you can catch it with no people, (which is now next to impossible), it is a spectacular, and relatively easy journey.
---
Trail Description
Ah, Devil's Bridge. What once I loved, I now kind of disdain. I have been on this hike a handful of times, and each time has been increasingly crowded. So I guess. . . the secret is out about this little beauty.
My most recent visit was Good Friday, 2022. A holiday weekend. I knew it would be mass insanity, and the reality was actually so much worse. Everyone in my family had been before except Jackson, and we were headed down this road anyway for a backpacking trip, so we decided to swing in really quickly so we could all say that we had been there, and now we never, ever have to go back.
Chuckwagon Trail (recommended route)
The trailhead to Devils Bridge is actually a bit over 1 mile down Dry Creek Road. If you have a capable car (truly high-clearance, 4WD), just go ahead a drive past the hoards of people straight to the trailhead. This makes the roundtrip hike less than 2 miles. If you don't have a car that will get you there, I will strongly recommend hiking the Chuckwagon Trail (same trailhead as the road) to the Devils Bridge Trailhead. It will add a little bit of mileage but a lot of enjoyment to your hike. The road is boring, crowded, fully sun-exposed, and you will be eating the dust of all the Jeeps the entire hike in and out. The Chuckwagon Trail, while it loosely skirts the road, is far more scenic and far less crowded and dusty. Worth it. Walking the road is 3.9 miles roundtrip, hiking Chuckwagon is 5.7 miles roundtrip.
Note The Forest Service website also recommends the Mescal Trailhead on Long Canyon Road as an alternative for passenger cars, but that route is not covered in this guide.
Devil's Bridge Trail
The hike itself is a super gradual incline until just before reaching the bridge. The last 1/2 mile or so is a pretty decent climb up, lots of stair steps, sometimes requiring the use of hands. It isn't anything too dangerous or scary though. The hardest part is waitng for traffic to come come up or move down so you can proceed. The going is slow if there's crowds. And there will be crowds.
On my first trip to Devil's Bridge 6 years ago or so, Ben and I had the place to ourselves. We saw almost no one on the hike or at the bridge. A few years later, I did it in February on a really cold morning. Also no one there. I did it with my daughters 2 years ago, and we had to share with a few dozen others and one really annoying dog. Contrast that to my last visit. There must've been 80-90 people at the top, in line, all waiting to get their picture out on the bridge. And there was a constant stream of traffic up and down the entire trail. Hoards of people. With hoards of people come things like graffiti carved with rocks and rock stacks with decorative rocks on top.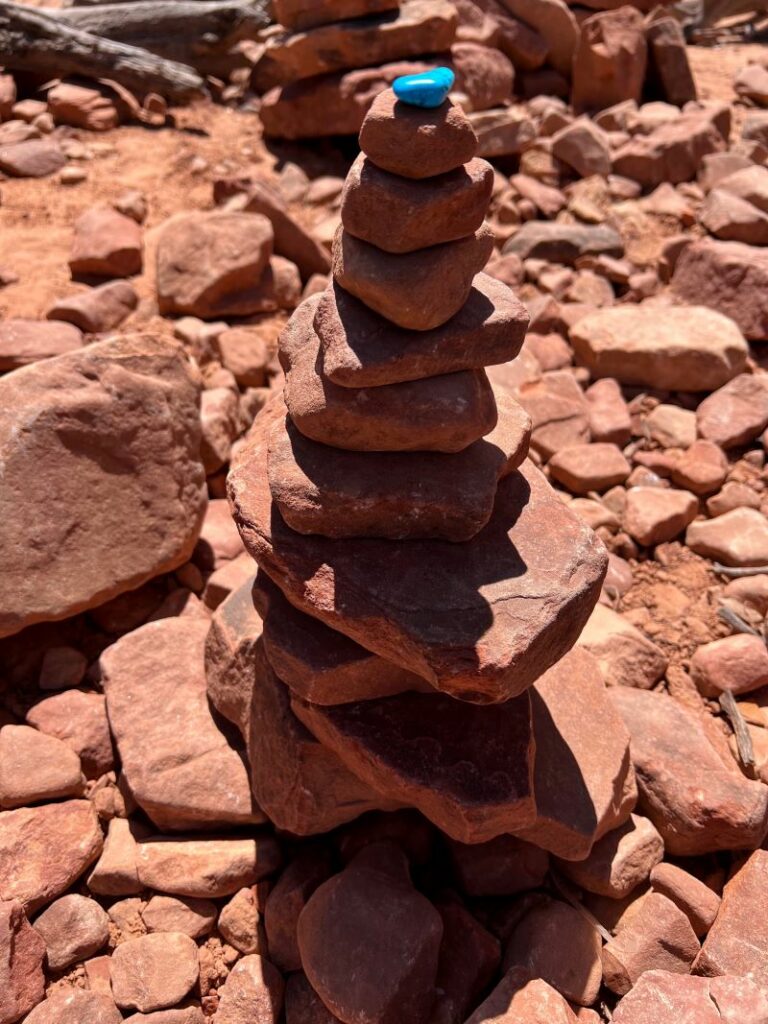 We weren't about to wait in the crazy line for a pic on the bridge, so the fam hopped in front of the bridge, I snapped a quick pic, and we bounced out in quick fashion. In my wildest imaginings, I didn't think I'd ever see a hiking trail with so many people. It was complete madness (see video below).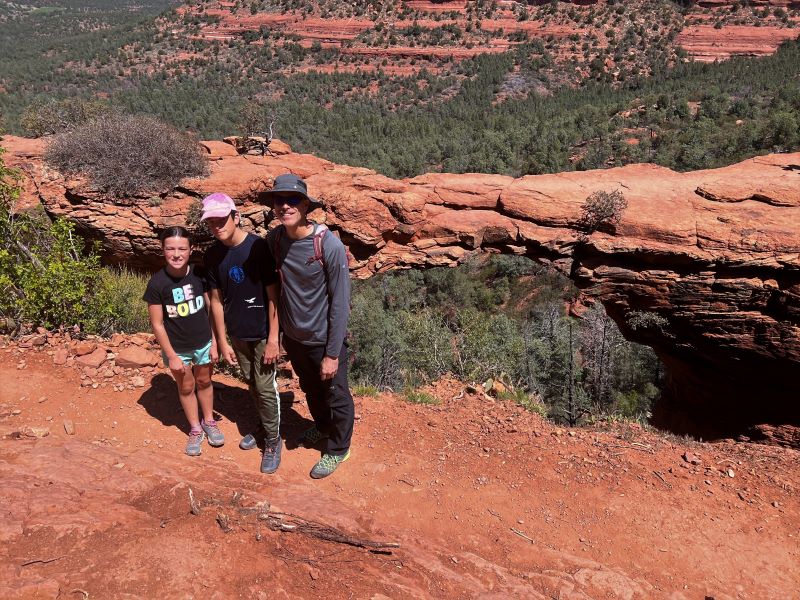 Under the Bridge
Here's a little pro tip: on your way back down, look for a little off-shoot trail on your right. This short little trail takes you to a view directly under the arch that most people don't see. I think the view is just as spectacular, but you will probably have it all to yourself. Enjoy the relative solitude before you get back in the conga line.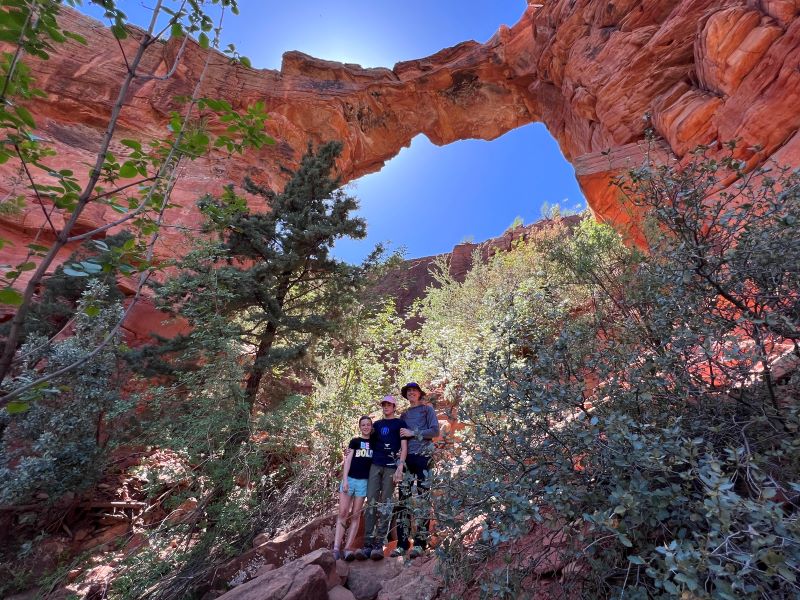 I'll just say, if you haven't done this one, it's worth doing. I'll also say, DON'T go on a holiday weekend. Or on a weekend at all. Or in the Spring or Fall. Go in the middle of the week, in February, at first light, when it's freezing outside, maybe a light dusting of snow falling, or in a wind storm. Otherwise, it's Jersey Shore, folks. You've been warned.
---
Map & Directions
Location Red Rock-Secret Mountain Wilderness, Sedona, Arizona
In Sedona, take Hwy 89A to Dry Creek Road. Turn North on Dry Creek Road for 2 miles. Turn right into the parking lot. (Or park on the street if the lot is full.)
Alternatively, to avoid the crazy traffic and messy parking situation, you can ride the new and FREE Sedona Shuttle to the trailhead from 2 different shuttle locations in Sedona. For more information, check out Sedonashuttle.com.
Preview this Hike
---
Share this