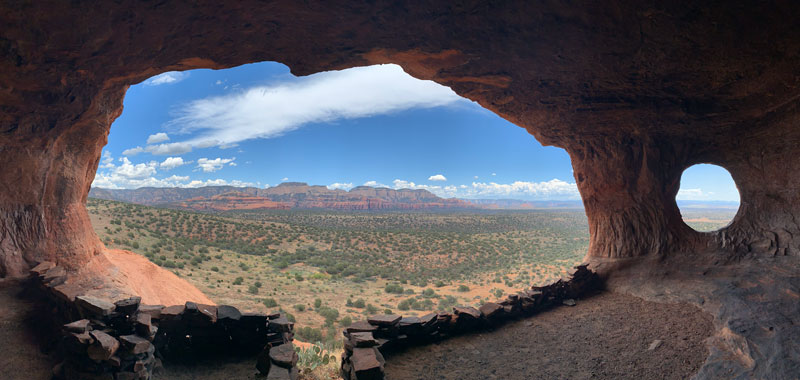 TRAIL STATS
Mileage: 0.8
Elevation gain: 253 feet
Time to complete: 1-2 hours
Stars: ★★★★
Short trail with one sketchy spot
Robbers Roost in Sedona, also known as Hide Out Cave or Shaman's Cave, is a large cave on a mountainside that offers an epic view of the famous red rocks of Sedona with more solitude than most of the cave hikes in the area. If you have high clearance and 4WD, it'll be a short hike with a fantastic reward. There is one slightly unnerving spot in the trail, but careful footing a cool head will get you there just fine.
This hike is not to be confused with Robber's Roost in the Superstition Mountains, one of my favorite little hiking gems out there.
---
Trail Description
The road to the trailhead is about 11 miles of dirt, and the first 10 are bumpy but probably passable in a low clearance vehicle. The last mile gets really rocky and rough and should only be attempted by those with high clearance and 4WD. If you do make it in your Prius or something, send me a pic because I won't believe it! There's a large area to park about a mile before the trailhead if you do have low clearance. But hey, maybe you'll be lucky and be able to jump in someone's truck bed on the way up.
From the 4WD parking area, the trail is directly to your right (east), perpendicular to the road, and hopefully marked with some cairns. You should be able to see it going up to a small saddle before it turns to go around the front of the formation that houses the cave. It's right there if you look for it. Don't miss it!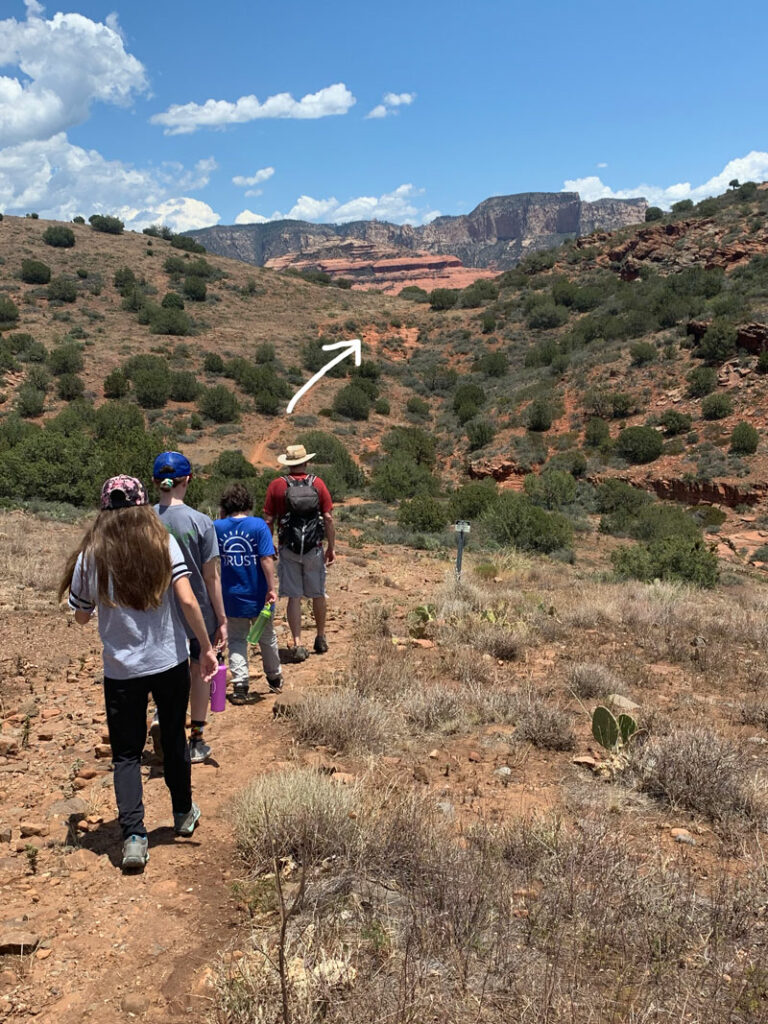 This trail is super short, but we did meet a couple who wandered around the right side of the formation and ended up on the flats below the cave where they couldn't see the cave above them. The trick is to get up on the small saddle and then turn right and follow one of the many trails up the hill a little way and then around to the left on this sketchy little path.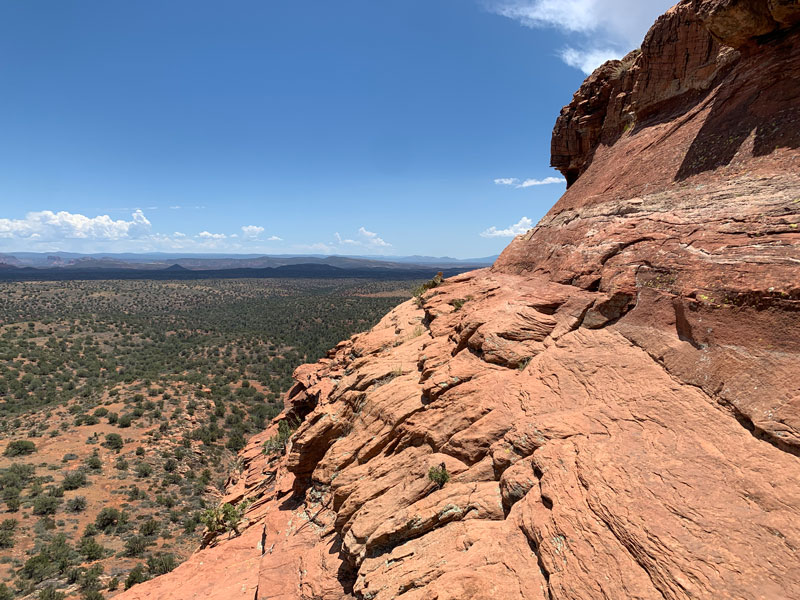 Does this make your heart skip a beat? Or maybe a few beats? Did it stop all together? Should I have set the difficulty rating to 2? Or 5? It's not as bad as it looks, I promise, but it does get the heart pumping a little. You can do it! Take it slow! You aren't wearing your Converse, right?
Robbers Roost or Shaman's Cave or Hide Out Cave
Which is it? Well, I thought it was Robbers Roost, but Google Maps had it marked as Hide Out Cave, and then when I posted it on Facebook, someone called it Shaman's Cave. What?!? Who's right? The forest service map calls it Robbers Roost, so I'm going with that, but you can call it what you want.
No matter what you call it, you'll call the views divine.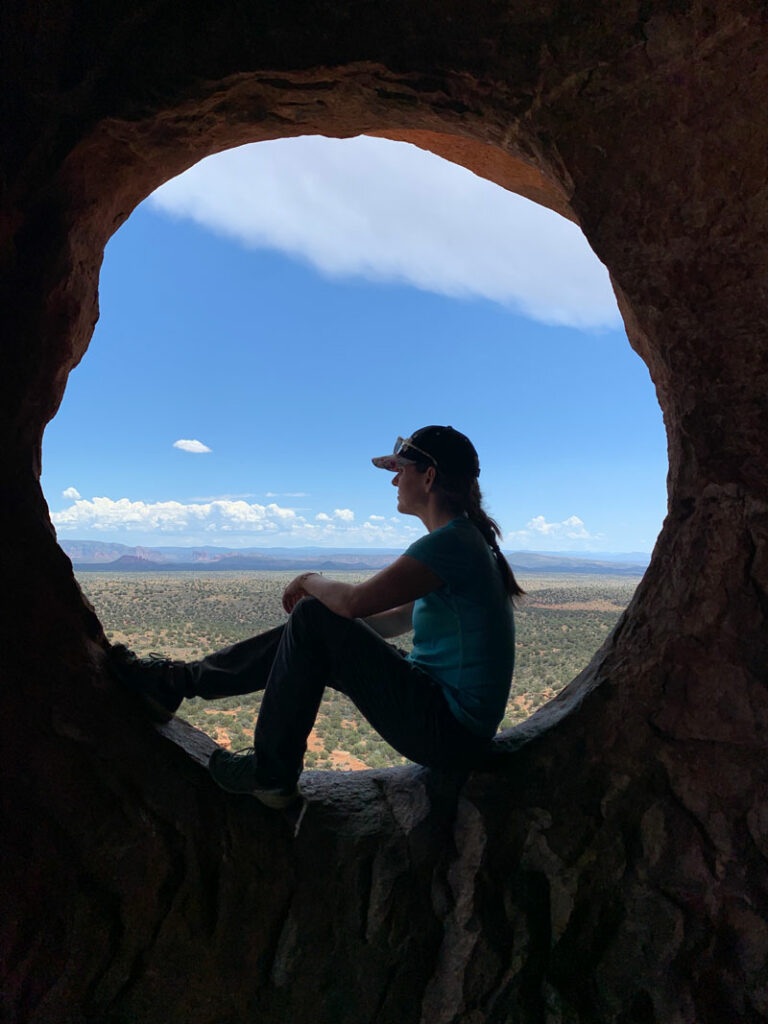 We only saw that one other couple the whole time we were there on a beautiful Friday afternoon, so hopefully you can get some peace and quiet in your little hide out. . . er, I mean, roost.
---
Map & Directions
Location Coconino National Forest, Sedona, Arizona
From Sedona, head west on Highway 89A and turn right (north) on Forest Road 525. At the fork with 525C, go left (it should be marked). Stay on 525C until the low clearance parking area marked on the map and then fork right onto forest road 9530. Or, just navigate to "Hide Out Cave" on Google Maps (yo Google, it's Robbers Roost, but whatever).
Fees/Passes None
Trailhead Facilities None
---