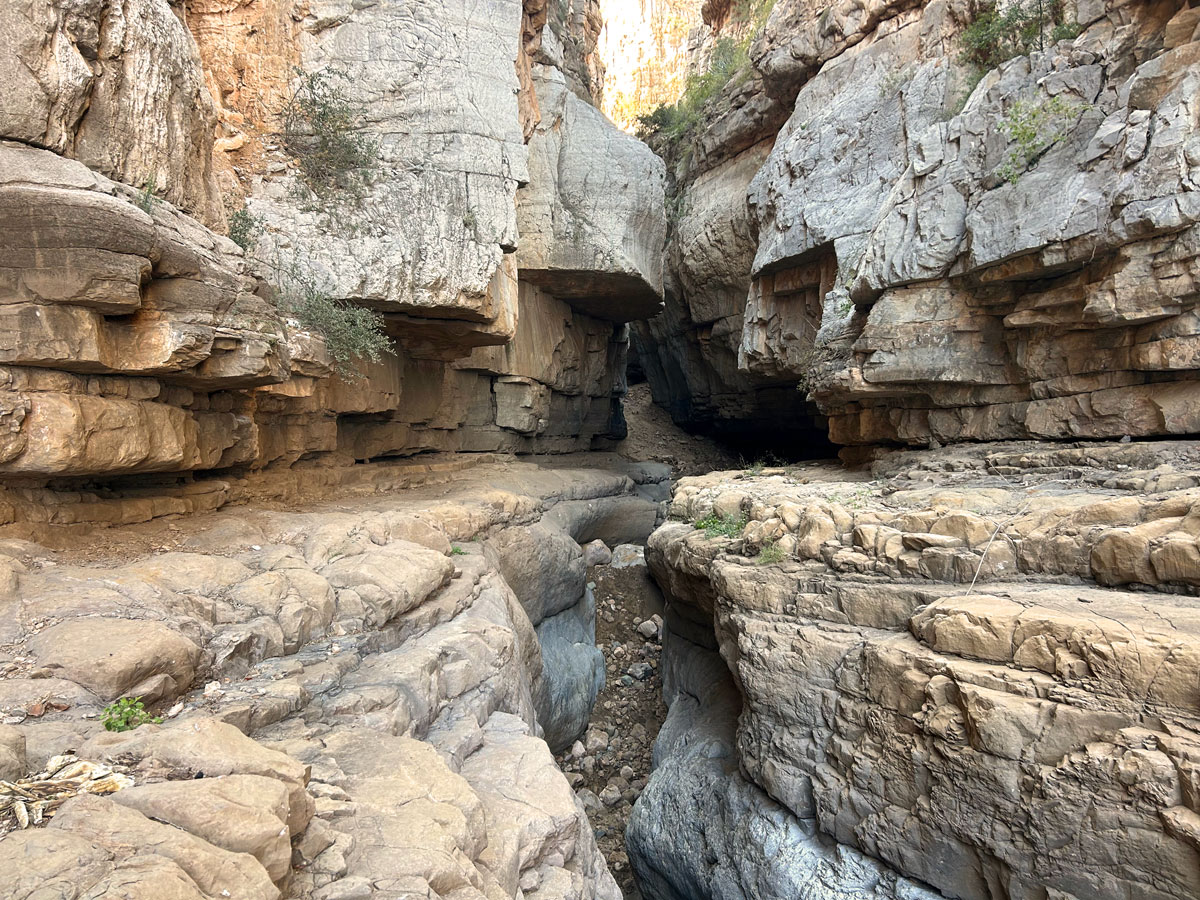 TRAIL STATS
Mileage: 2.2
Elevation gain: 582 feet
Time to complete: 2.5-4 hours
Stars: ★★★
Off trail, some water or mud
El Capitan Canyon just south of Globe, Arizona is a worthy little canyon adventure. It is full of fun climbs, short raps, beautiful corridors and cliff walls, a few fun little cave features, and some beautiful saguaro for your viewing pleasure on the hike in and out. And if you're really lucky, you might even spot some big horn sheep that call this canyon home.
🪢 This is a technical canyon with 3-5 rappels up to 50 feet. You will need one 100-foot rope, plus all the required safety equipment for rappelling and knowledge how to use it. This guide is not intended to provide instruction on how to descend a technical canyon safely.
---
Trail Description
As a preface… El Capitan Canyon can be an unpredictable little animal. We've been in this place when it has been bone dry and sandy, and we've been in here when there is flowing water up to thigh deep. It seems impossible to predict. So go prepared for any adventure. On this day, we went at the end of November, no rain for weeks, and we still negotiated a decent amount of mud. Wetsuits are never necessary, but your shoes (and pants) might come out a little worse for the wear. Apologize to your driver in advance.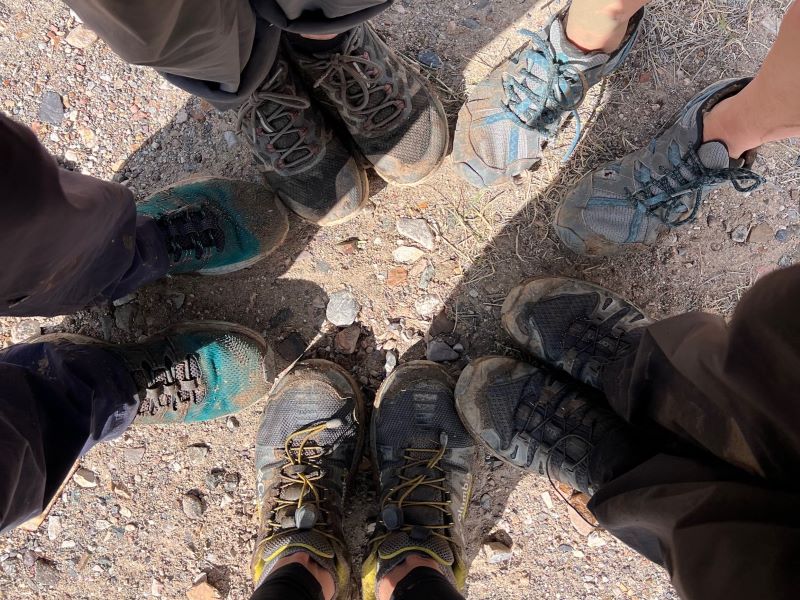 This canyon is a great canyon to take beginners or those just getting into canyoneering on. It has a pretty low commitment level, and none of the rappels are too hairy or scary. We've done it plenty of times with first timers and young kids.
Parking/Approach
We pulled in directly on Highway 77 at a pullout with a road narrows sign, dropped everyone and gear, then shuttled the car about a mile further down the road to the exit, and then Heather and I tried our hand at hitchhiking back to the start. Not that I frequently condone or practice hitchhiking, but it has worked perfectly for me in this location a few times. We caught a ride with the cutest couple in about 6 seconds, saving us a mile plus walk up a road with a very tiny shoulder. Give it a go!
You drop into the canyon immediately to the east of the road. There is a faint use trail, but just pick the path of least catclaw and stay close to the drainage. There's a few downclimbs before the canyon opens up and veers right. Continue making your way down canyon until you come to the first rappel. Where is that first rappel? Well, it depends on your particular adventure level. The first anchor is an easily downclimbed chockstone of about 8 feet. The second anchor is easily climbed around via the ledge left down canyon (and this is our favorite part of the whole canyon- so beautiful!)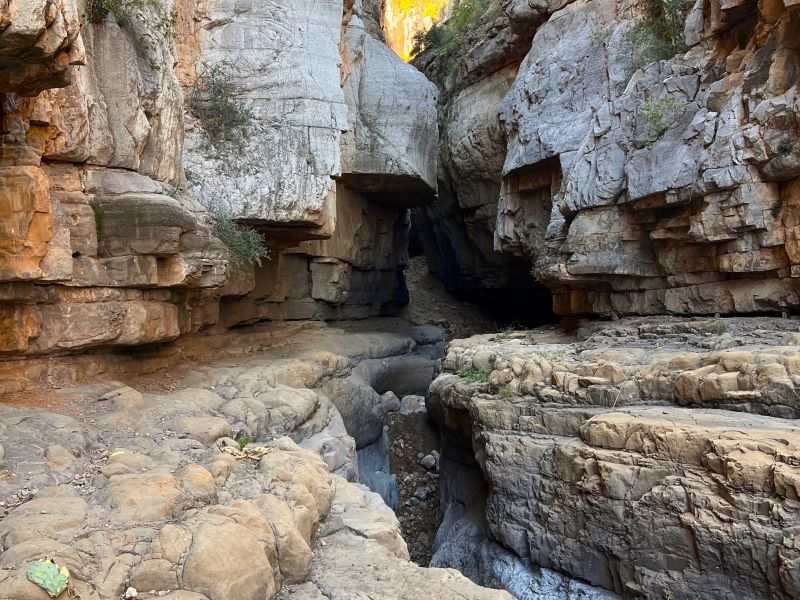 Rappel 1
The first rappel that we came to that couldn't be downclimbed still had options. A few of us decided to drop at the chockstone in the water course for a wet, muddy, and awkward rappel, and a few of us scrambled up the wall on down canyon left for an easy, dry rappel with a great anchor on the left. Choose your adventure.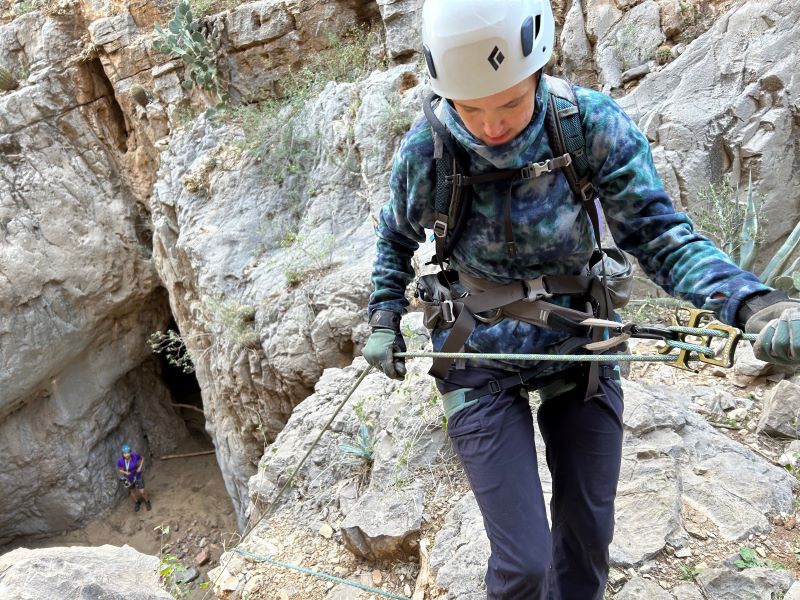 Rappels 2 and 3
After some hiking down the canyon, and a few more climb-arounds to attempt to stay dry, we came upon the second rappel- 25 feet from an anchor on the left, and rap 3- also about 25′, followed in quick succession. Both challenged our mud avoidance skills at the bottom for some extra adventure.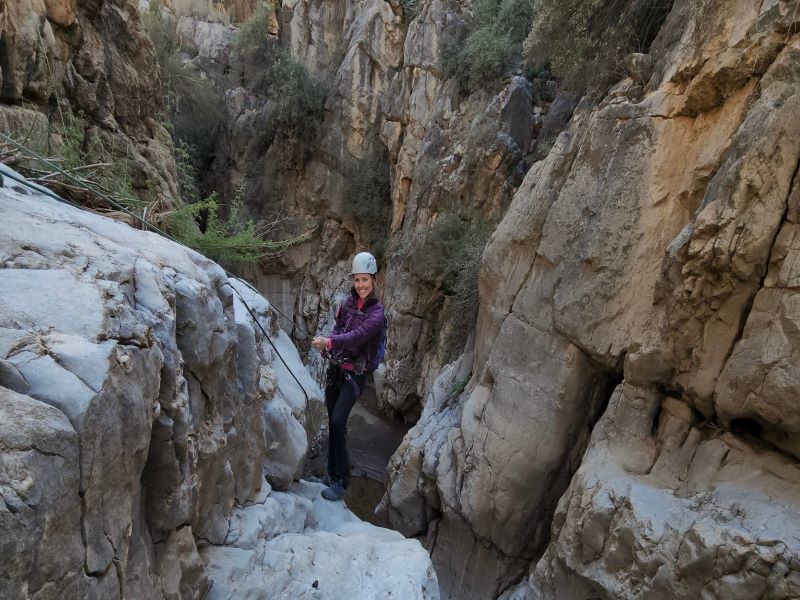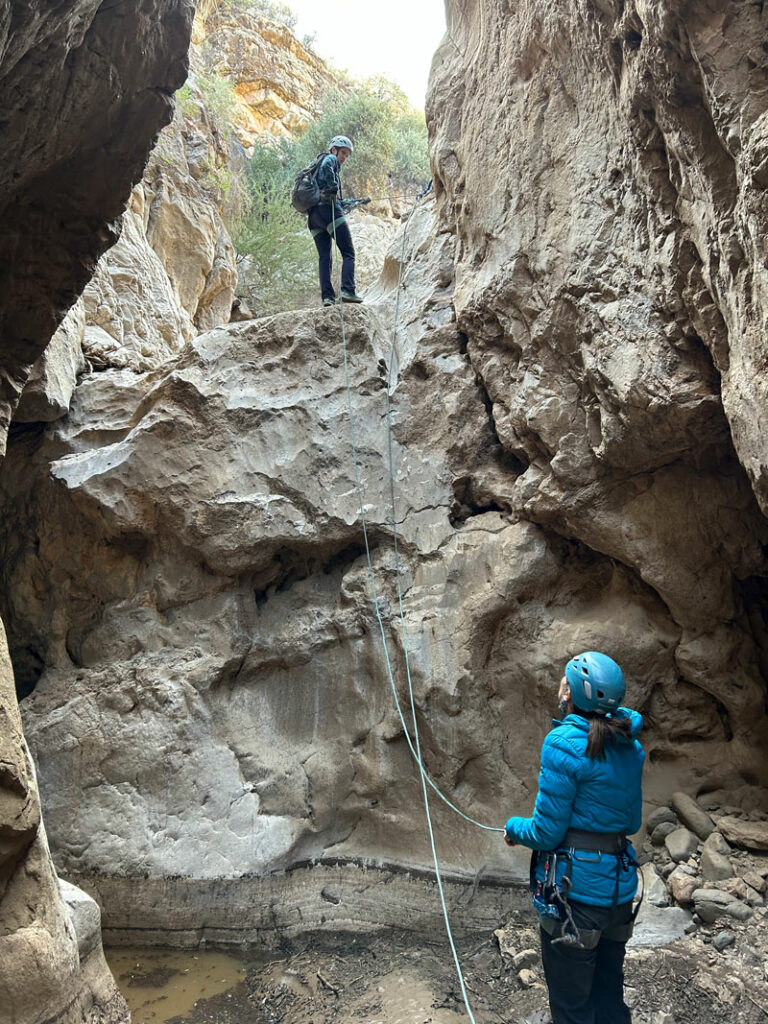 Rappel 4
The next rappel is probably the shortest, but trickiest of the entire canyon. It's a short 15 footer off of a deadman anchor over a chockstone. The deadman looked super solid when we inspected it thoroughly. The entire rappel is an exercise in awkward, and adding insult to injury, there was completely unavoidable mud at the bottom. So long, dry shoes and clean pants.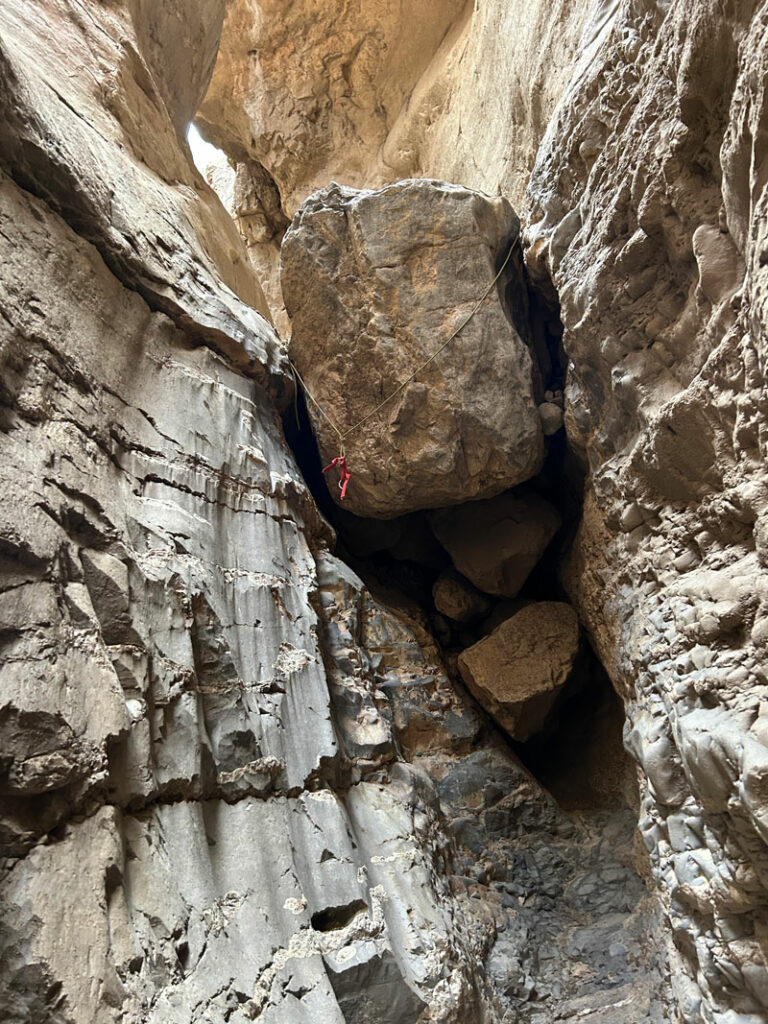 Rappel 5
Rappel 5 is about 20′ right in the watercourse with mud at the bottom. Two of us rappelled it, and 3 of us did a moderate climb-around to bypass it on the left.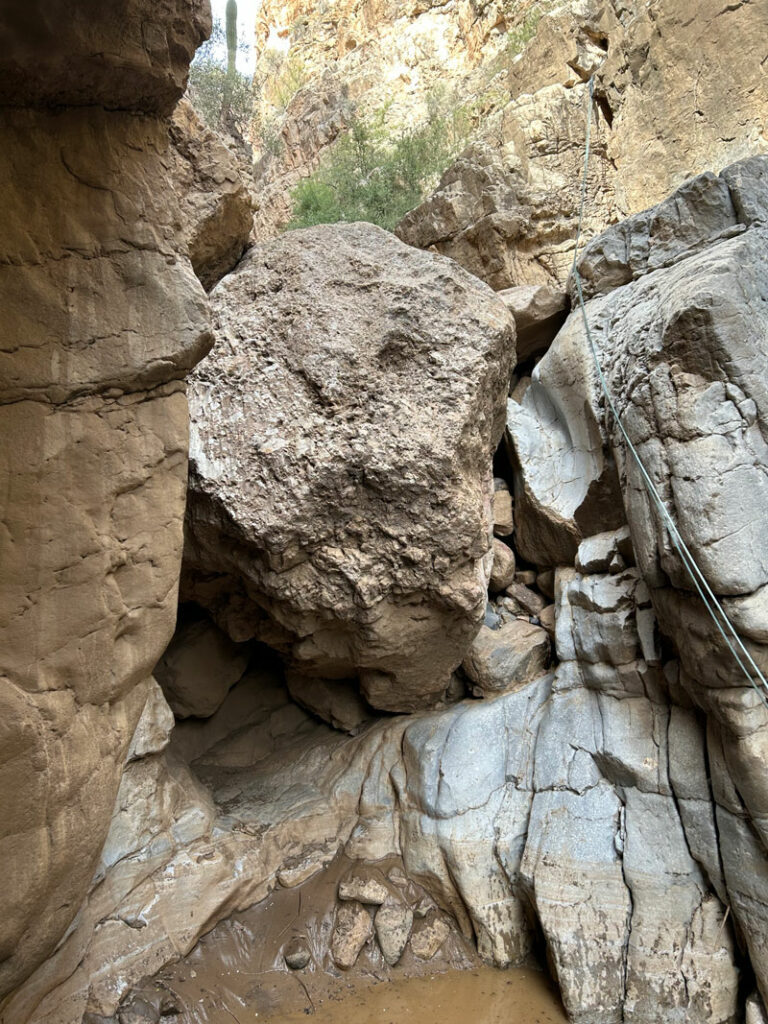 Exit
After the final rappel, continue down the wash until you see a faint road veering off to the right. Follow that faint road as it twists out of the canyon and to your waiting car. Keep your eyes peeled in this area for big horn sheep! We've seen them here at least three times while I've been in this canyon. They're amazing!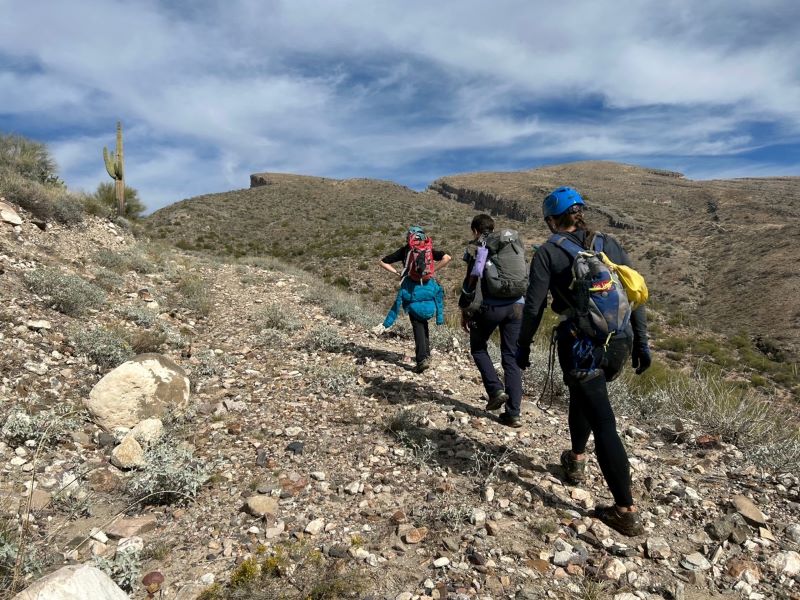 ---
Map & Directions
Location Globe, Arizona
16 miles south of Globe, Arizona on Hwy 77. Look for a road narrows sign and this is your start. The exit is about 1 mile further up the road. Going past a runaway truck pullout, there's a dirt road that enters the highway on your left. Park by the fence here.
Trailhead Facilities There are no facilities here.
Preview this Hike
---