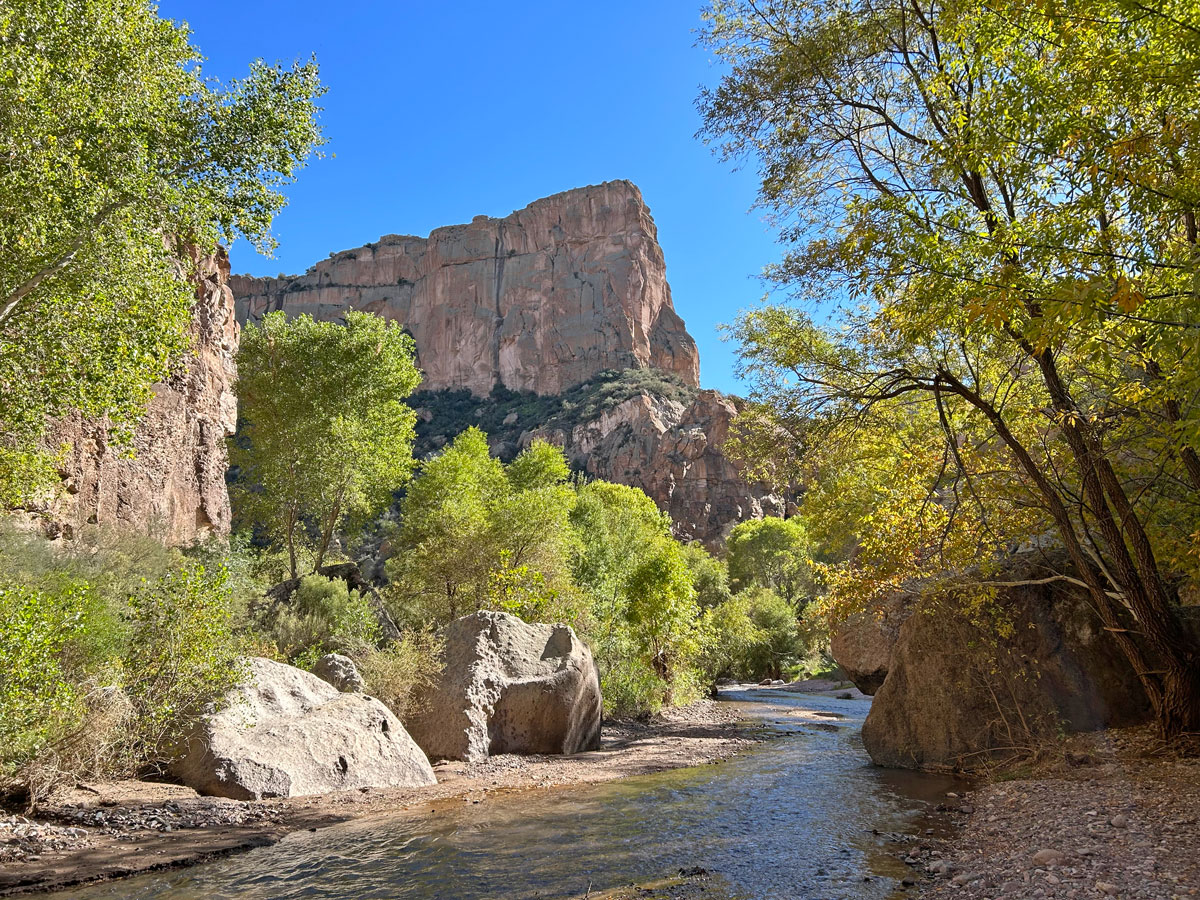 TRAIL STATS
Mileage: 24.5
Elevation gain: 401 feet
Time to complete: 2-3 days
Stars: ★★★★★
Water crossings, uneven terrain
A lush oasis with huge trees along a peacefully flowing creek is the last thing you expect to see in the desert, but that's exactly what Aravaipa Canyon delivers. Running approximately 12 miles from end to end, you will follow Aravaipa Creek as it meanders through a desert of dramatic cliffs covered with thousands of saguaro cactuses. There is not a well-defined trail here, and you'll be crossing the creek innumerable times, but the payoff is a hefty dose of wilderness therapy where you're likely to see more wildlife than people. A permit system limits entry to 50 people per day.
---
Trail Description
Aravaipa. The first time I heard of this canyon, I was 17 and writing a report about it in high school. It captivated me then, and I didn't stop thinking about it for decades until I finally had the chance to make it happen in 2016. And now, six years later, I'm still captivated and knew I had to go back one day. That day was yesterday.
Aravaipa Canyon Trail
You can start at the west trailhead or the east trailhead, but we started from the west.
From the west trailhead parking, continue beyond the trailhead signs onto a short trail leading down to the creek. When you get close to the creek, you'll turn left and hike a short distance before coming to a point where you're forced into the creek. This is the first of many crossings, so don't bother trying to keep your feet dry. Embrace it and go full send!
The "trail" is marked on maps, but there's no use trying to follow any specific path. There are generally use trails on either side of the creek, and oftentimes they will just end abruptly and you'll be forced into another crossing. Sometimes it's just easier to walk in the creek for as long as you can. Choose your own adventure here.
As you progress through the canyon, the canyon walls will start to become taller and more dramatic.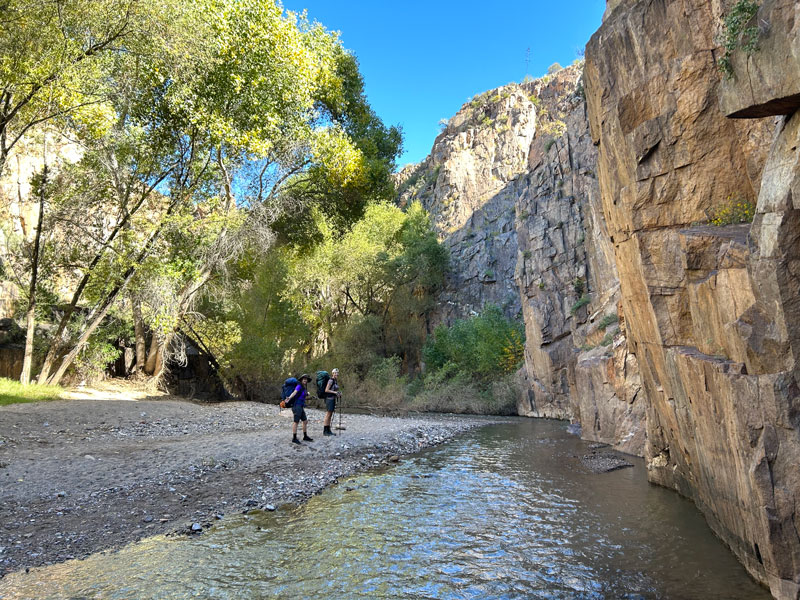 Most of the time, the water is ankle deep and mellow, but every so often, you'll be treated to a small section of rapids.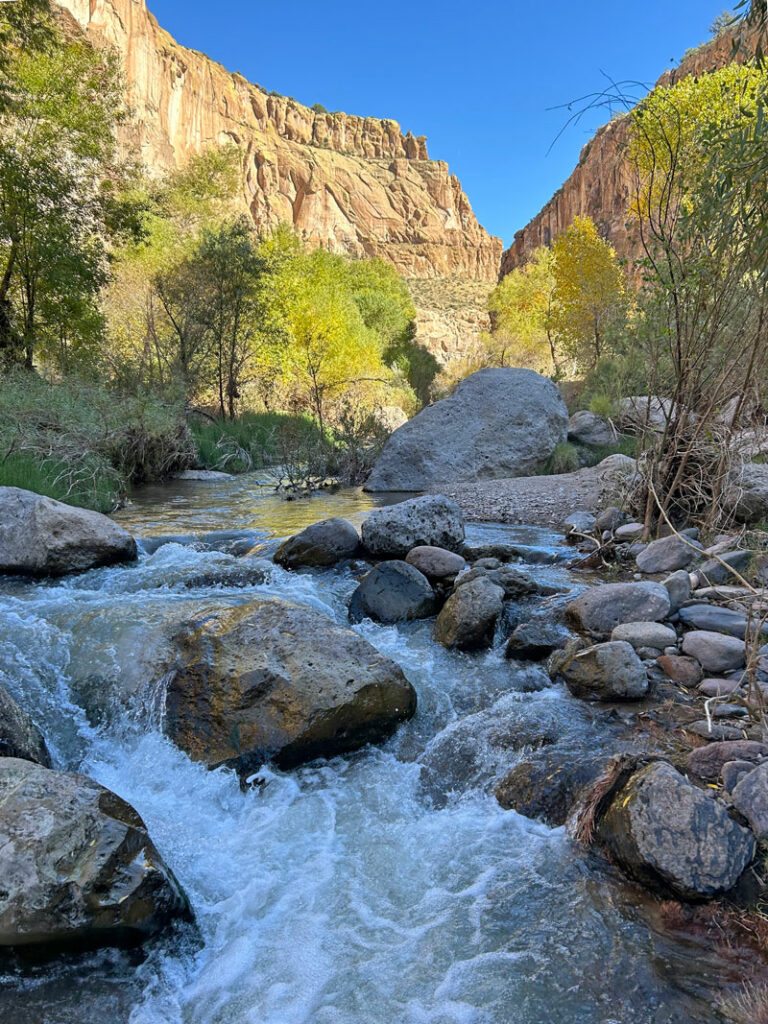 I kept putting my camera back in my pocket thinking I had seen pretty much everything, but it never stayed in my pocket longer than a minute or two. Every turn seemed to present something new and interesting.
Campsites
There are established campsites all along the way, and I've marked a few of the nice ones I noticed on the map below, but there are others.
"Saguaro Arch"
Closer to the east side, we found a cool little arch like 50 feet up the canyon wall that we called "Saguaro Arch" because there was a saguaro perfectly positioned on the other side. I marked the general location of the arch on the map, but you probably won't see it unless you you look back toward the west.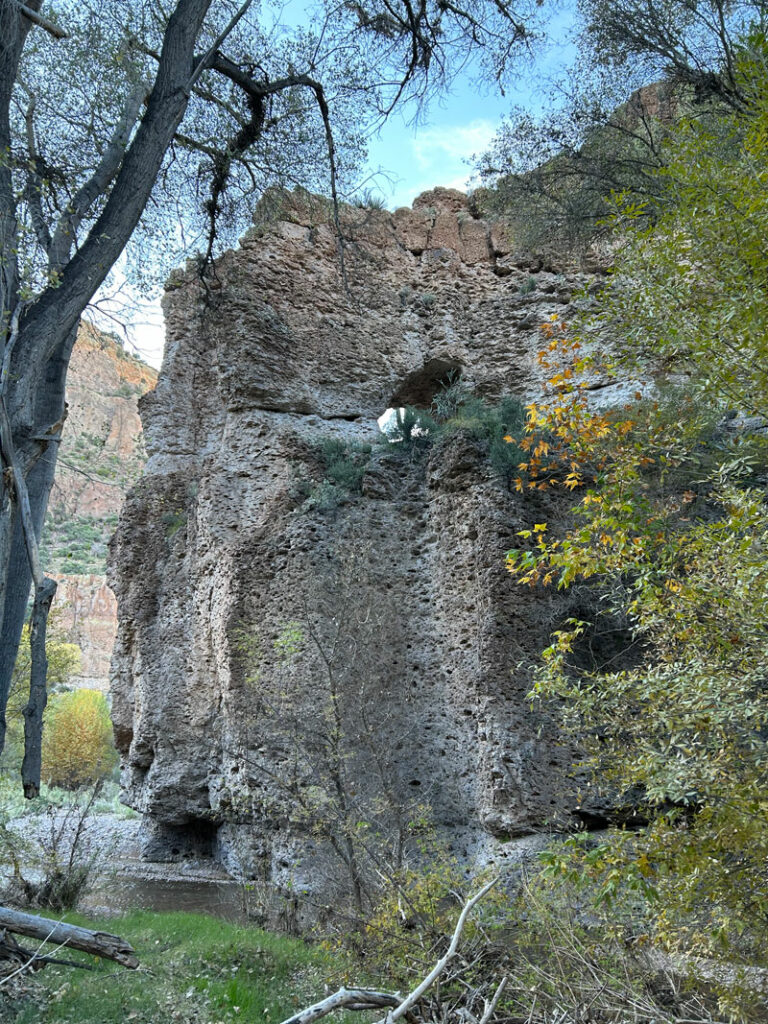 Cave
Then there was the cave that April couldn't help but climb into.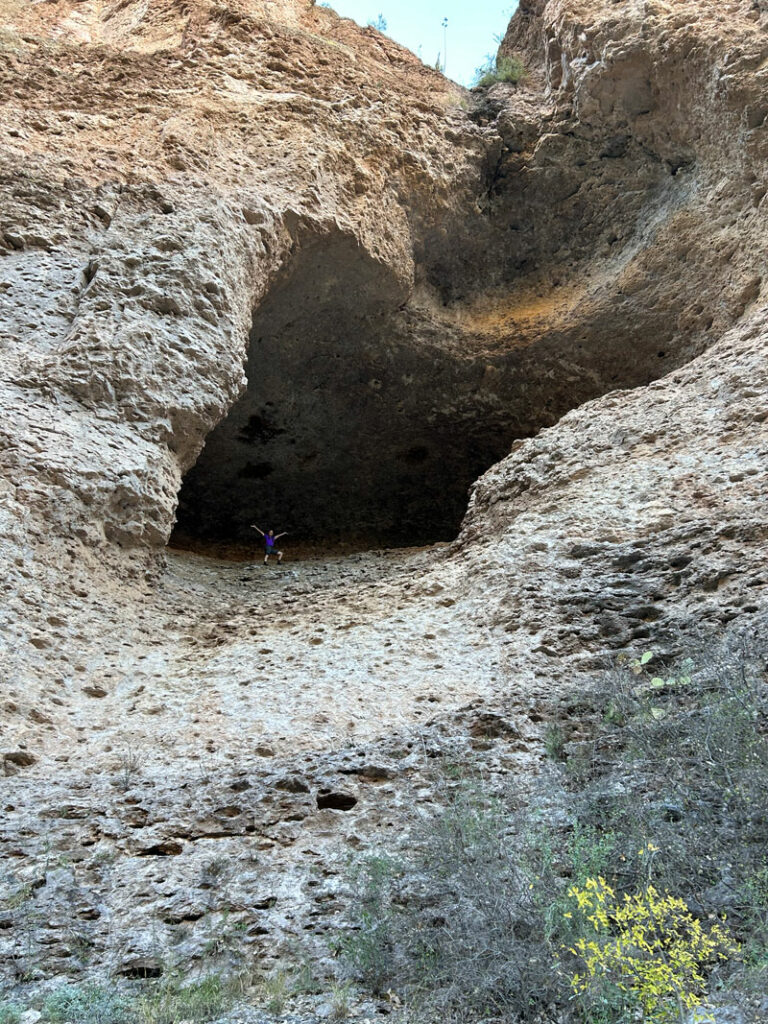 The east side of the canyon doesn't have as many of the dramatic cliffs covered in saguaro cactuses, but it has rows of huge trees that make you feel like you're entering some grand estate.
Turkey Creek Ruins
If you have time, check out the Turkey Creek Ruins located to the south along the Turkey Creek tributary. The day was short, so we didn't make it that far, but now we have something to check out next time.
Booger Canyon
There are several side canyons along the route that you can explore if you want. Todd's Hiking Guide recommends Deer Creek, but we chose to check out Booger Canyon.
April finds the name of this canyon highly repugnant, but you'll soon realize where it got its name.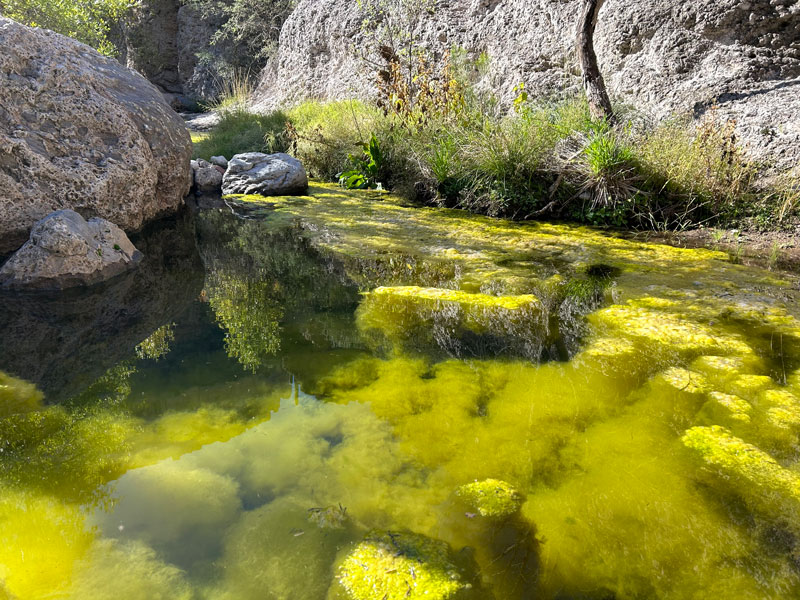 To explore this canyon, you'll need to climb up and over large boulders, so the going is slow. Water runs through this canyon, thanks to a couple of springs, and that makes for a few small waterfalls, pools, and trickles over mossy rocks. We liked "Twin Falls" the best.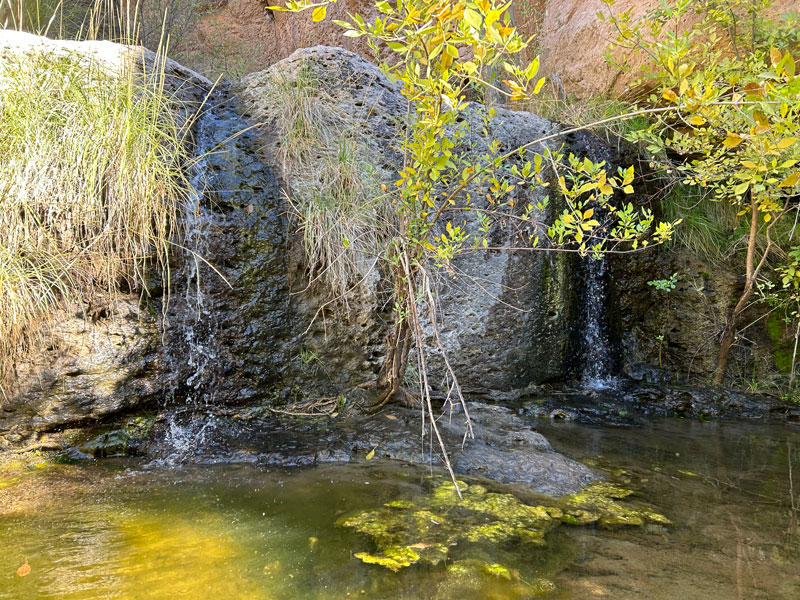 Recommended Gear
Hiking shoes that can get wet and drain well because your feet will be wet most of the trip
Neoprene socks to keep your feet warmer if the water is cold and to help cushion against the many small rocks that will soon be in your shoes.
Hiking poles to help steady you as you cross the creek (and maybe to use as self defense when your friends try to put a frog on you)
East or West Trailhead?
West Trailhead
Closer to Phoenix and Tucson
Dirt road is suitable for passenger vehicles
More towering cliffs on the west side
East Trailhead
East is farther from Phoenix and Tucson
Has a rougher road that requires a high clearance vehicle and sometimes gets washed out (your permit will be refunded if that happens—I know from experience)
Closer to the Turkey Creek ruins
Best Seasons
Aravaipa can be hiked year round, but most people will prefer to hike it in the spring or fall, and permits will fill up fast for those seasons (more on permits later). Thankfully, the permit system will ensure you still have a very uncrowded and pleasant experience. We went in November and were lucky to have daytime highs in the 70s, lows in the 40s, and some nice fall color as the leaves were turning yellow. Perfection!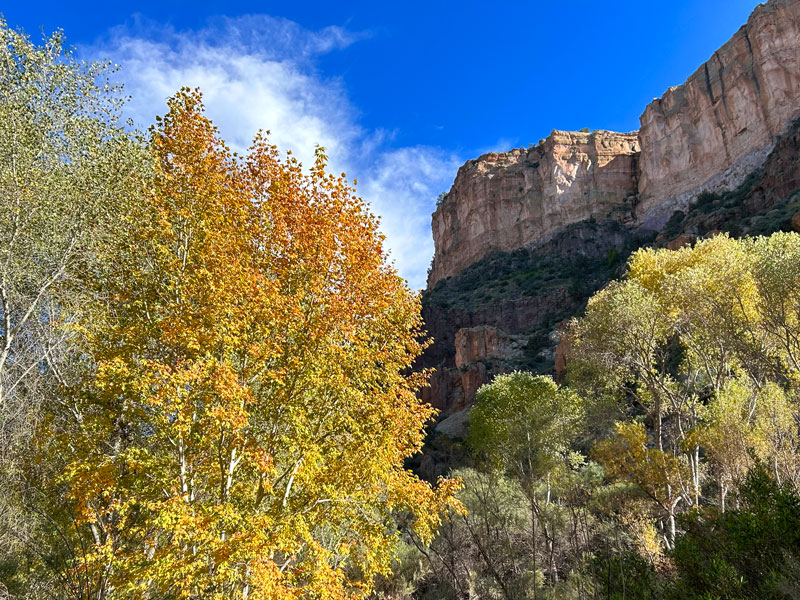 Even though it has water and plentiful shade, it is still in the desert and can get hot in the summer. In the winter, you'll likely have freezing overnight temperatures and have to walk through very cold water. Plus, a lot of the trees will have dropped their leaves.
Getting a Permit
The area has remained very pristine wilderness (you won't see even one scrap of garbage) thanks largely to the permit system that limits entry to 50 people per day, 30 from the west entrance and 20 from the east entrance spread out over 12 miles. We saw no more than a dozen people in there over two days.
You must have a permit for every day you're in the canyon, including day hiking. If you are backpacking, you'll need to secure permits for every day you plan to be inside the canyon, up to a maximum of 3 days/2 nights.
The permits open on a rolling basis 13 weeks before entry date, or roughly 3 months. So for today, November 9, you can book a starting date as late as February 8. The nice thing is that if you're doing a multi-day trip, you will be able to secure the subsequent dates even if they're not open yet (so today you could book February 8-10).
Book permits on Recreation.gov.
---
Map & Directions
Location Aravaipa Canyon Wilderness, Winkelman, Arizona
West Trailhead From Phoenix, take US60 east to Superior. Then take highway 177 down to Winkelman and then turn right (south) onto highway 77. Turn left onto Aravaipa Canyon Road at Central Arizona College, and follow it to the end. It's paved for the first few miles, but then turns into a well-graded dirt road suitable for a passenger car.
East Trailhead From Phoenix, take US 60 east past Globe and continue on Highway 70. Near Eden, turn right onto Klondyke Road, which turns into Aravaipa Canyon Road past Klondike. Follow it to the trailhead parking. High clearance needed.
Fees/Passes You must have a permit to park at the trailhead. When you print your permit, a parking pass will also be printed that you can display in the window. Carry the permit itself with you on the hike, and be prepared to enter the permit number in the trail register.
Trailhead Facilities Pit toilets available at the trailheads
Preview this Hike
---