TRAIL STATS
Mileage: 4.1
Elevation gain: 971 feet
Time to complete: 3+ hours
Stars: ★★★★
Off trail hiking, rock hopping, scrambling, ducking, and getting buddy boosts
Fish Creek is a wonder of the desert that winds its way through towering canyon walls in the northern Superstition Wilderness. There is no real destination of this hike because the creek IS the destination, and most of the fun is in trying to figure out how to explore the creek without getting wet. Yes, that means rock hopping, scrambling through rock grottoes, climbing up and over boulders, and pushing through thorny bushes. Only sure-footed people who are comfortable with maneuvering around the creek's obstacles should attempt it.
---
Trail Description
Apache Trail
Back in the good old days, and by good old days, I mean just a few years ago, you could drive a car past the Fish Creek Overlook, down to the bridge over Fish Creek, and then all the way to Roosevelt Lake. Epic flash flooding during the monsoon season caused gigantic boulders to fall from the canyon walls onto the road, closing it down indefinitely.
And that's pretty sad because there are some cool technical canyon routes back there.
But in the peace and quiet of a carless road on a cloudy day with zillions of wildflowers, the walk down to Fish Creek is anything but sad. After record-setting rainfall this past winter, the desert was as green as any scene from a fairytale, and a scene like that, dotted with saguaro cactuses, and punctuated with dramatic cliffs felt pretty special.
Your results may vary. Just sayin'. It's usually brown.
Fish Creek Bridge
At the bottom of the hill is the Fish Creek bridge, which is where the real "hike" begins.
On the right side of the bridge, looking upstream, we found a little use trail that took us up to a large cave. Looking back, we had a beautiful view of the bridge over the water.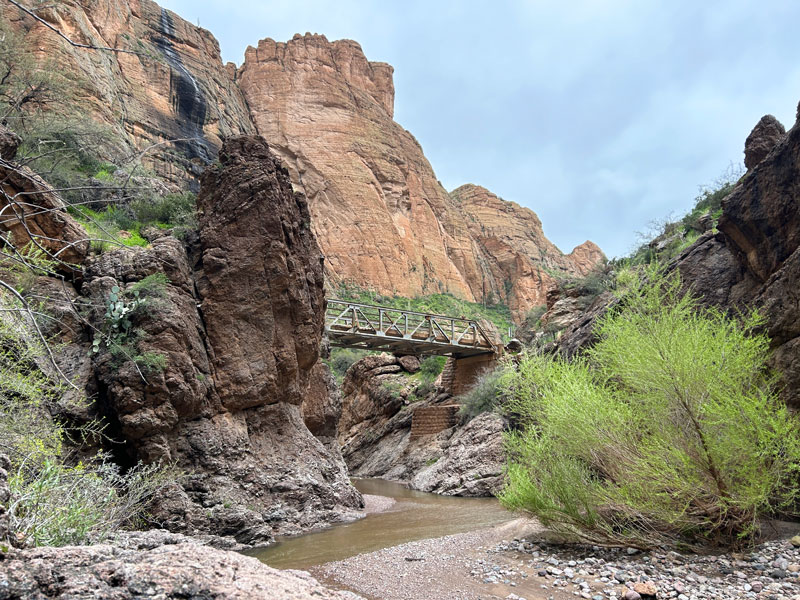 Fish Creek
From there, you're on your own because there are no real trails. You might be lucky and see evidence of prior travelers, but the main idea is to find whatever route you can manage to make it through. And just because your cheerleader friend was able to chimney right up onto that big boulder does not in any way prove it's a viable option for you.
Again, just sayin'.
Also, did I mention the catclaw? The briars and bristles? It took us like three people to hold back this beast that wanted to steal our flesh.
While we did do some creek crossings on the way in, we found that we could have just stayed on the right side and made it as far as we did without any crossings.
Which wasn't far. Not even half a mile before we turned back. But it felt like we had gone on a long journey because the going was so tricky and slow.
And that's okay because Fish Creek is a journey, and the water rushing around the boulders and spilling over small waterfalls is why we go. Explore as far up the creek as you wish before turning back.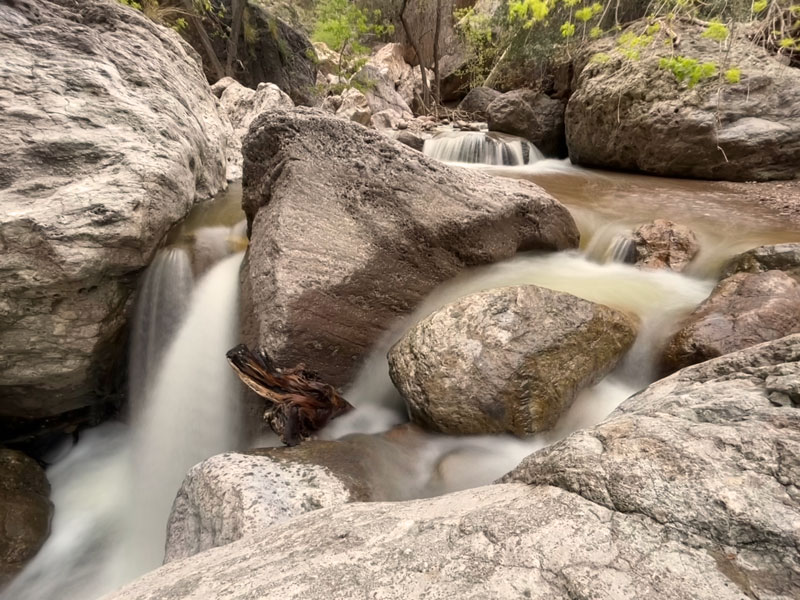 Your results may vary. There usually isn't this much water, but it's a pretty place any time.
Fish Creek Overlook
After chugging up the hill back to your car, you can walk out to Fish Creek Overlook to get some expansive views of the canyon (and maybe the remains of a few cars that met an ill fate traveling along the road). It's a worthy diversion that might entice you to walk out farther than you had planned. Give in. This is some of the most beautiful scenery in Arizona.
And also, yolo.
---
Map & Directions
Location Superstition Wilderness, Apache Junction, Arizona
From Phoenix, take the US60 east toward Highway 88 north (Idaho Road). Follow Highway 88 out past Canyon Lake and Tortilla Flat to where it ends at the Fish Creek Overlook.
Fees/Passes None
Trailhead Facilities Pit toilets
Preview this Hike
---
Recommendations for you
Share this