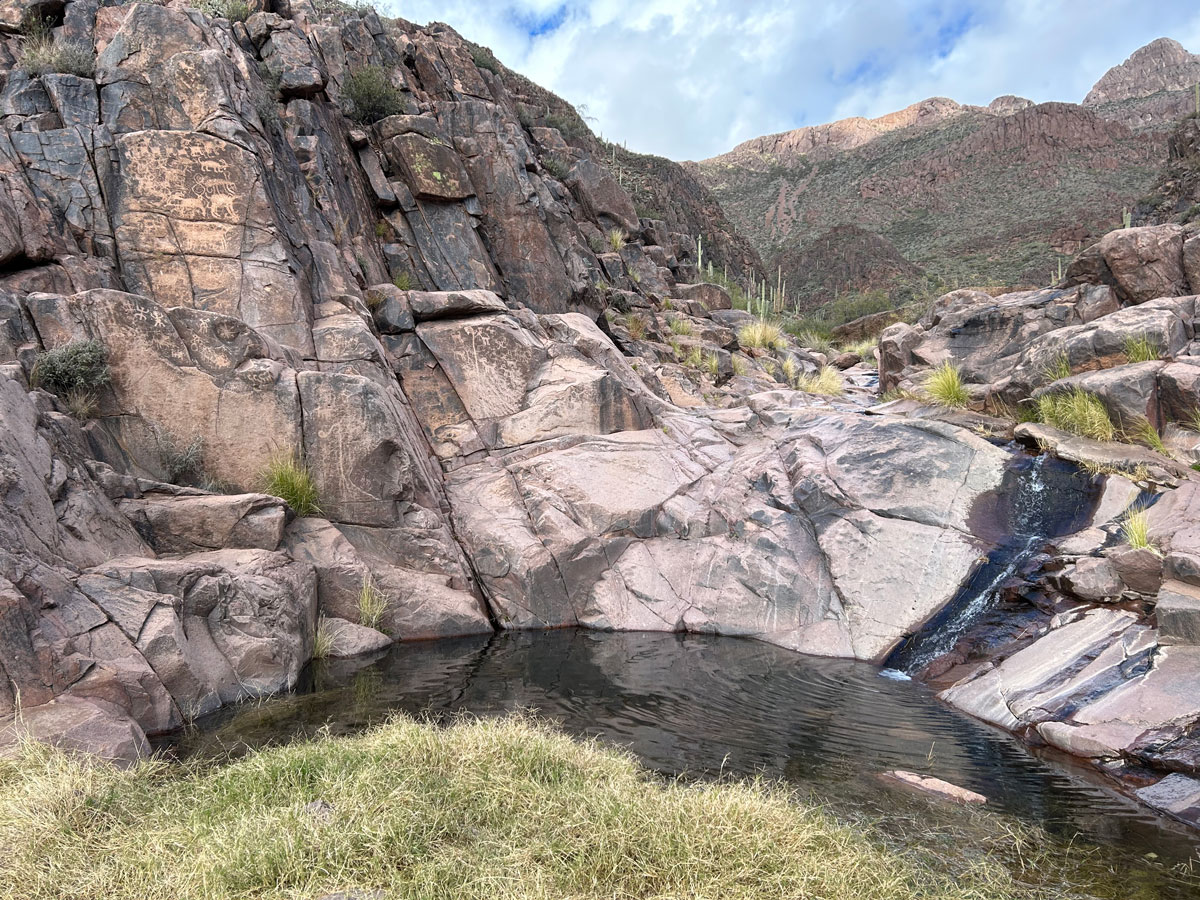 TRAIL STATS
Mileage: 2.9
Elevation gain: 642 feet
Time to complete: 2 hours
Stars: ★★★★
Rocky, but not too steep
Hieroglyphic Trail leads you to an excellent panel of petroglyphs next to pretty pools of water reflecting the desert sky. If it's been raining recently, there may be waterfalls cascading down the multi-tiered pools along the smooth rock watercourse. In very dry times, the pools can dry up completely, so try to time this one right. This is a great choice for families.
---
Trail Description
Lost Goldmine Trail
From the parking area, go through the gate to begin heading up the Lost Goldmine Trail. The trail is wide and rocky, but a very easy grade.
The benefit of going right after rain is that the Superstition Mountains just might be cloaked in a blanket of clouds.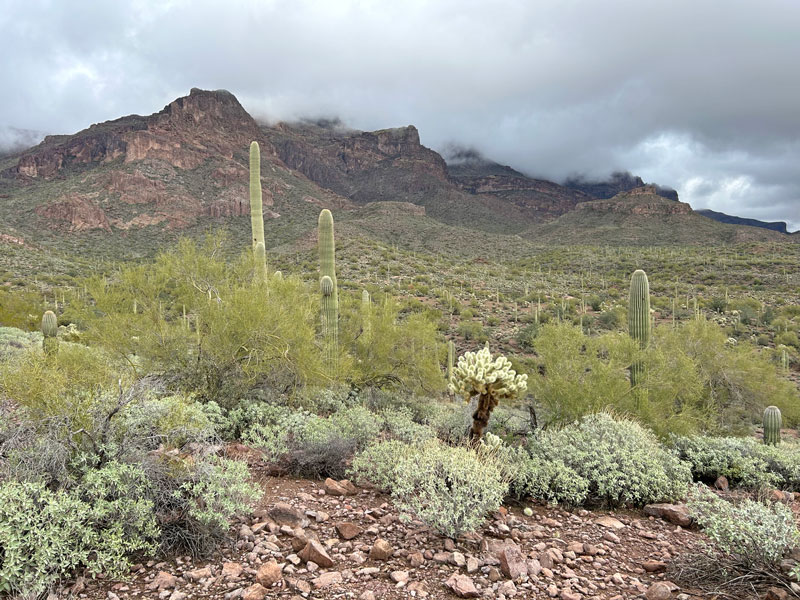 Hieroglyphic Trail
After a short distance, you'll come to a well-marked intersection with Hieroglyphic Trail. Keep left, and soon you'll reach another gate at the boundary of the Superstition Wilderness.
This trail heads back into the canyon you can see in the distance. When you get to the giant saguaros, you'll know you're almost at your destination.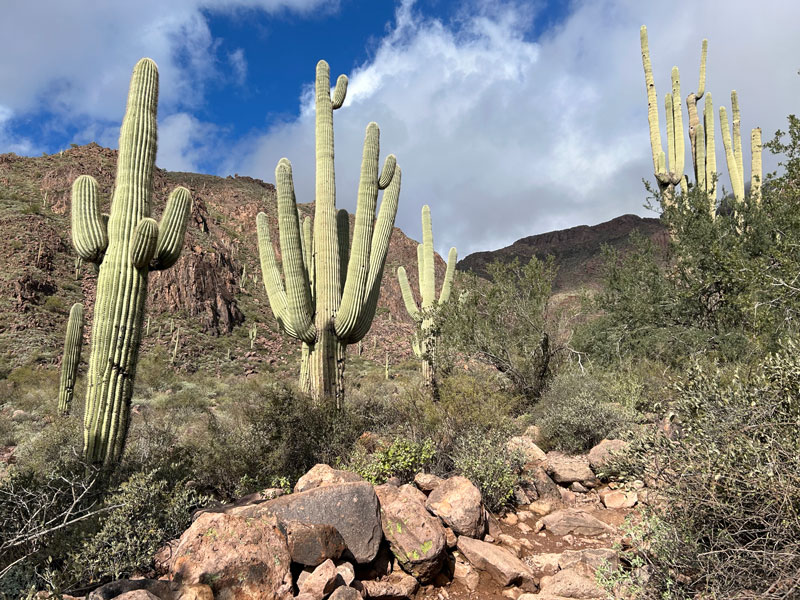 Petroglyphs
As you get close to the petroglyphs, the trail becomes a bit more rocky and uneven. You'll know you're there when you reach the smooth rock.
Hopefully you took my advice about going after rain, and the water is flowing from pool to pool. I couldn't seem to capture the beauty of all the pools in one frame.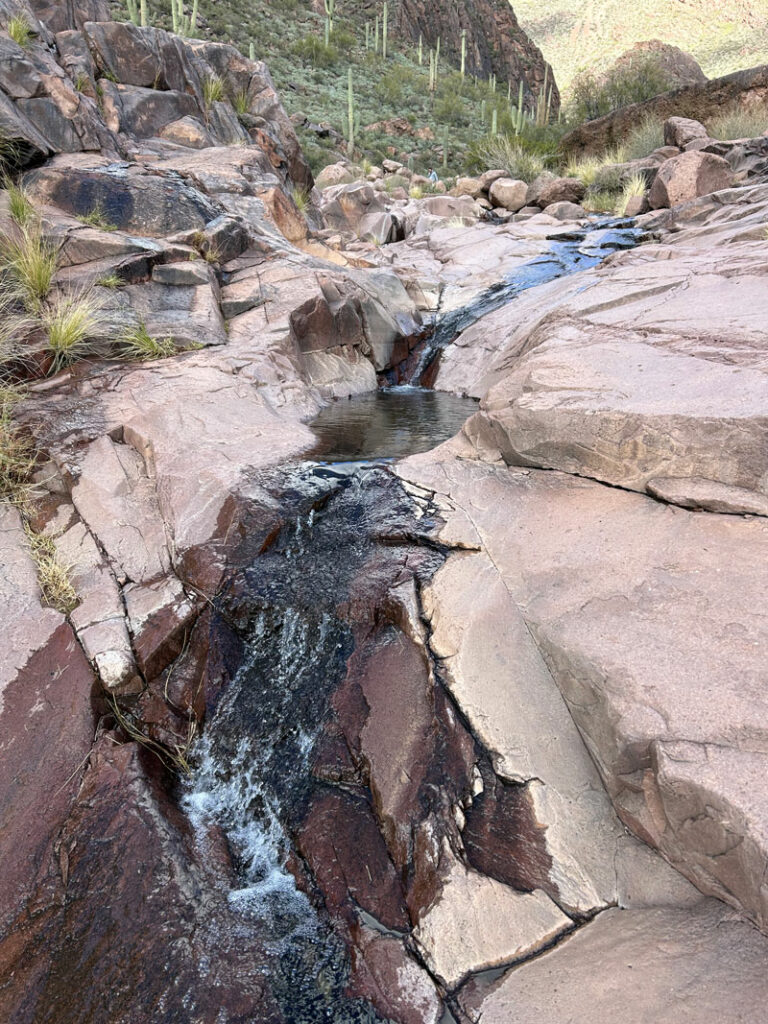 The petroglyphs are located just across the water on several walls and rocks.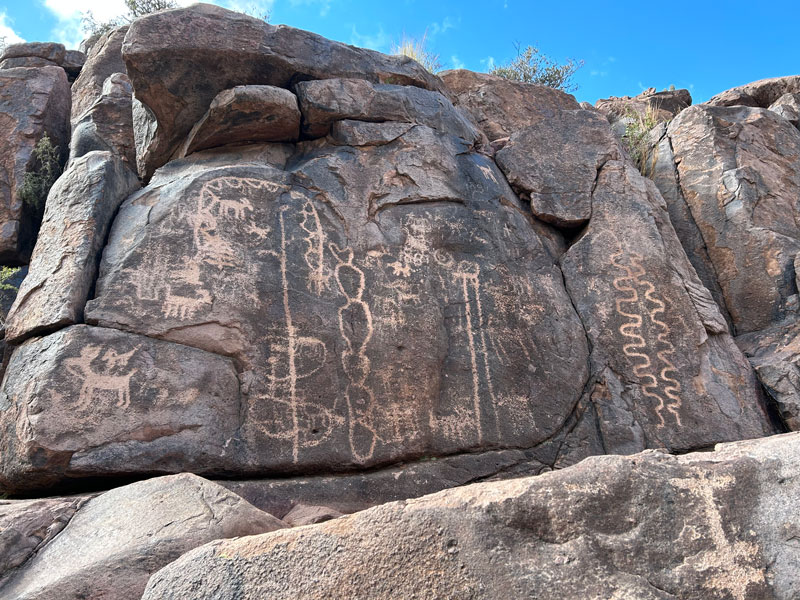 Many people explore up the watercourse for a bit, but if you're looking for a bigger adventure, you can follow a trail on the right side of the wash that will take you all the way to the Superstition Ridgeline and Peak 5057 if you'd like. This is only for experienced and fit hikers since it is a strenuous trail littered with loose rocks near the top. But it is totally awesome.
---
Map & Directions
Location Superstition Wilderness, Gold Canyon, Arizona
From the US60, head northeast on Kings Ranch Road. Turn right on Baseline. Left on Mohican Road. Left on Valley View Drive. Right on Cloudview Avenue to the trailhead. There are a lot of helpful signs to help you get there.
Fees/Passes None
Trailhead Facilities There are portable toilets at the trailhead
---
Recommendations for you
Share this