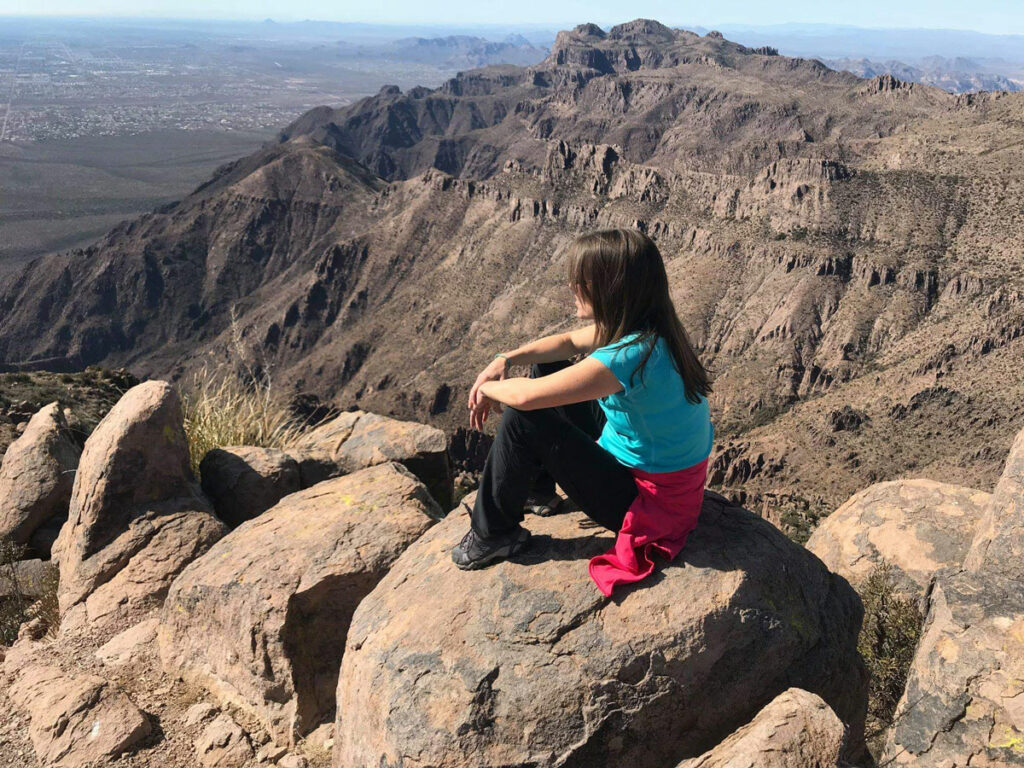 Five Epic Hikes in the Superstitions
It's no secret that the Superstition Mountains are my favorite place to hike. The endless shapes, mysterious hoodoos, and wild, rugged landscape simply captivate me.
I won't claim to have hiked every square inch of my beloved mountains, but I've come close to hiking every trail (and non-trail) in the western Superstitions. So I feel pretty confident in saying these are the best and most epic hikes in the Superstition Wilderness.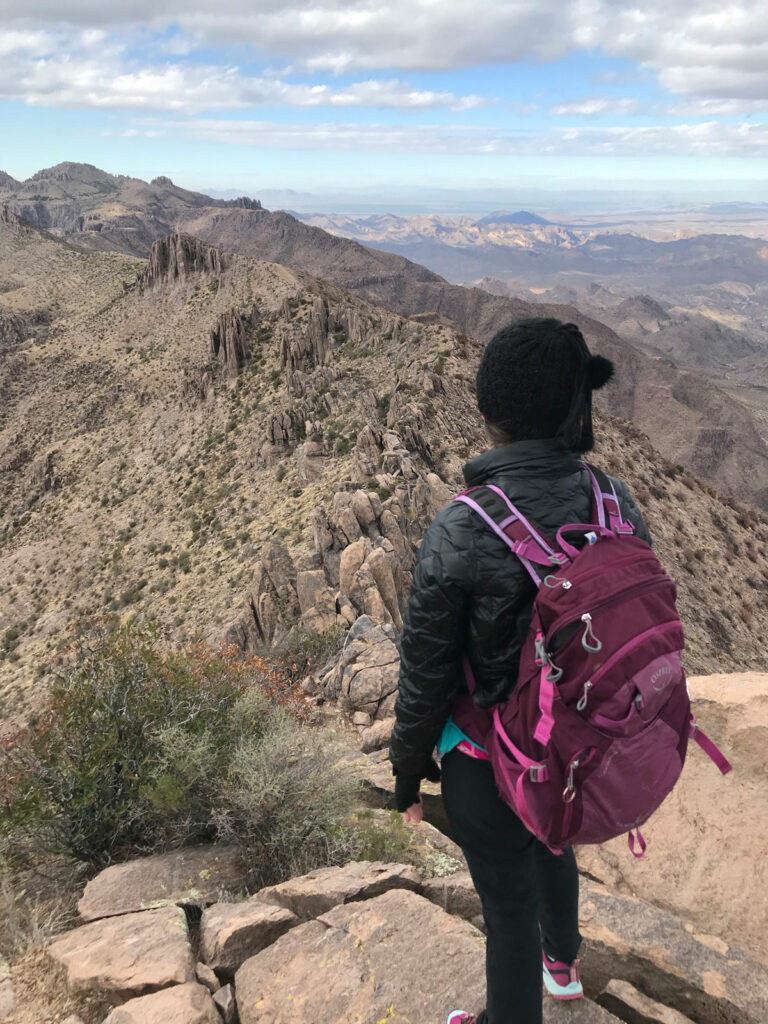 #1 Superstition Ridgeline
This will always be my number one. Superstition Ridgeline was on my list for so long before the stars finally aligned and I was able to complete it. That day was nothing short of magical. While it was certainly challenging and made me suffer a little, it also rewarded me with 360-degree views of the wilderness that stirred my soul from start to finish.
We met a woman named Annie on the hike who was traveling all over the country by herself to hike the best of the best, and she ranked Superstition Ridgeline in her TOP THREE! Annie, wherever you are, we are kindred spirits.
The stats
10.6 miles
4860 ft elevation gain (east to west)
The full report
Superstition Ridgeline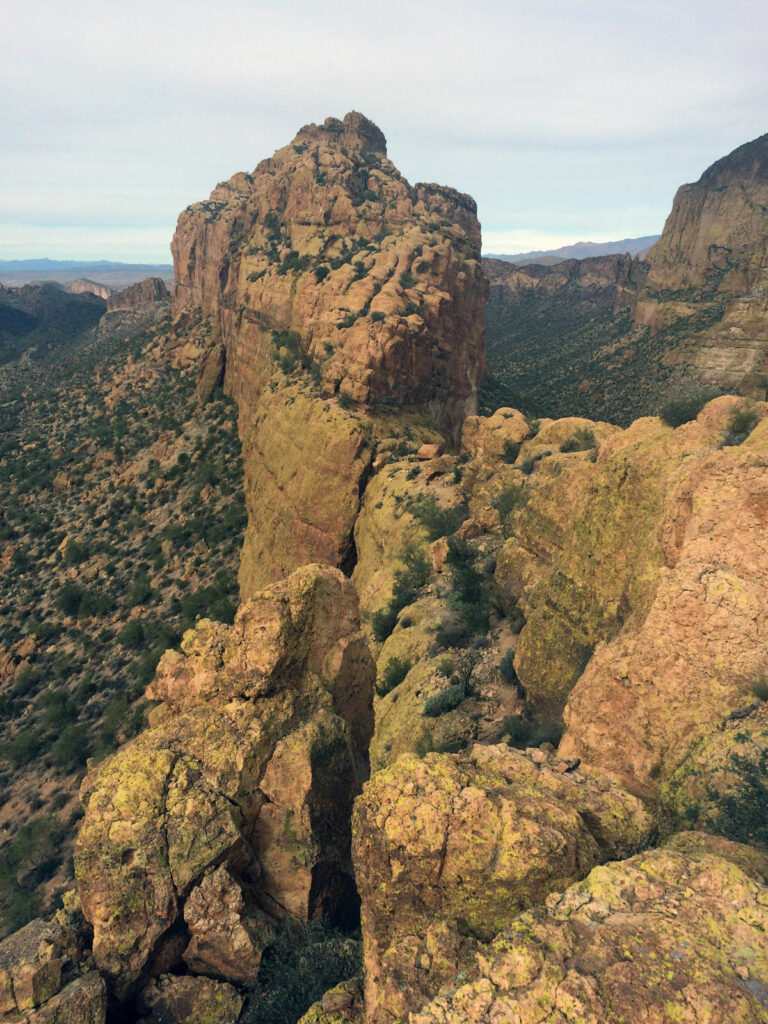 #2 Battleship Mountain
Move over Angel's Landing, here comes Battleship Mountain. Okay, I exaggerate, but at least you'll have relative solitude here. Consisting of a mile-long fin of volcanic rock, this mountain resembles a battleship cutting through the Superstition Wilderness. Its unique topography means there are steep drop-offs on both sides, and you'll climb, squeeze, slide, and scramble your way across its back for an exciting and adventurous journey to the bow. The views of Canyon Lake, Weaver's Needle, and Malapais Mountain are unforgettable.
The stats (from First Water)
12.3 mi
2746 ft elevation gain
The full report
Battleship Mountain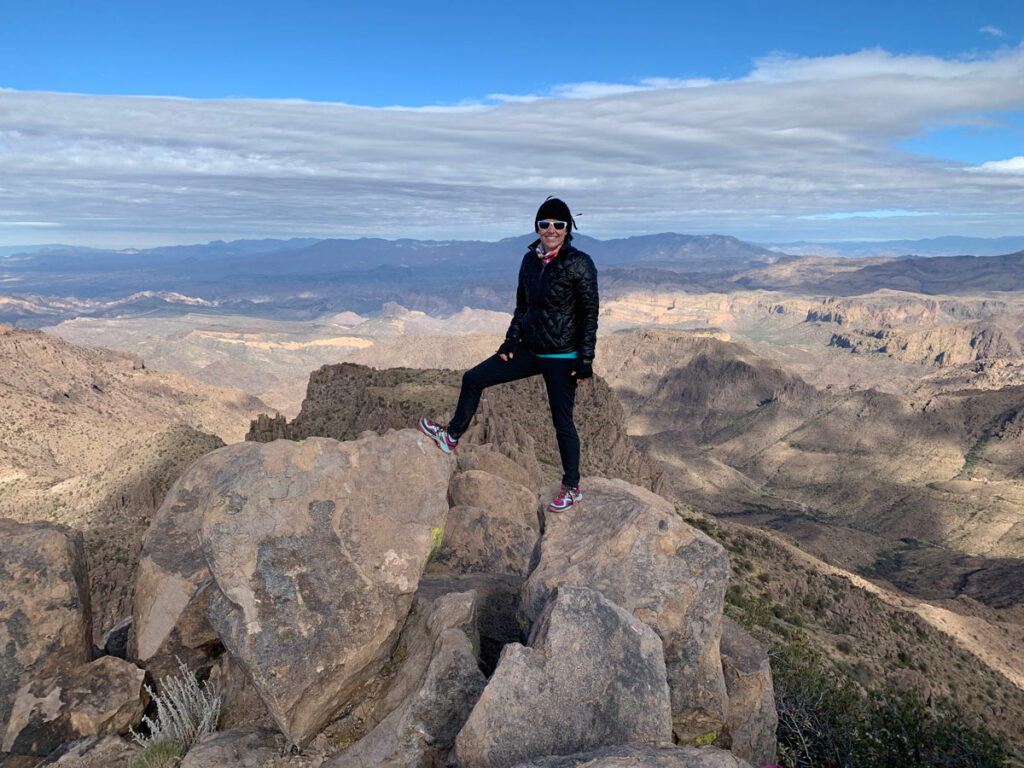 #3 Superstition Peak 5057
At the tippy top of the Superstition Ridgeline sits Peak 5057, sometimes called Superstition Peak. It can be approached from the west via Hieroglyphic Trail or the east via Carney Springs Trail, but either way, it's a steep climb. The views from the top are 100% worth every false summit, loose scree slope, or mild scrambling you may face. Plus, unlike Flatiron, you'll experience relative solitude (I've never shared the summit with anyone besides my friends) and incredible wilderness views in addition to city views.
The stats (from Hieroglyphic Trail)
7.5 mi
3106 ft elevation gain
The full report
Superstition Peak 5057 (2 ways)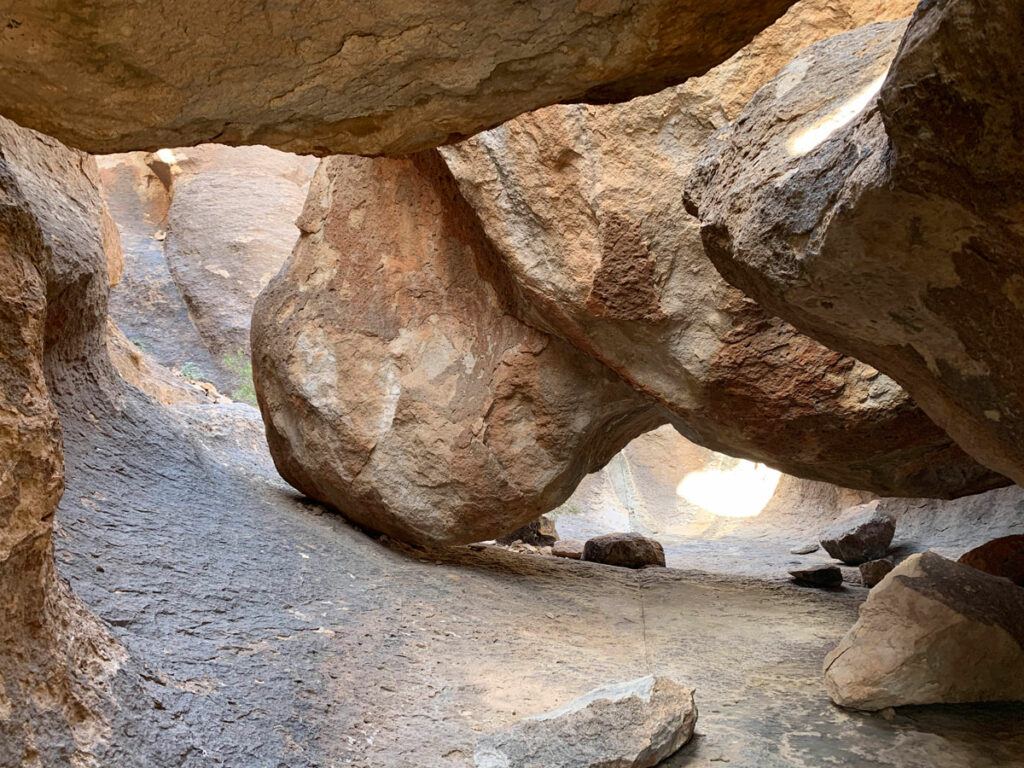 #4 Robber's Roost
Not to be confused with the hike in Sedona with the same name, this hike takes you up to a cool rock grotto hidden between Carney Springs Trail and Peralta Trail. Though this hike is not for the navigationally challenged, those who come prepared will get all the benefits of a vigorous hike to the upper elevations of the Superstition range plus the opportunity to visit a hidden gem. Good luck finding the secret entrance!
The stats
7.5 mi
2143 ft elevation gain
The full report
Robber's Roost (3 ways)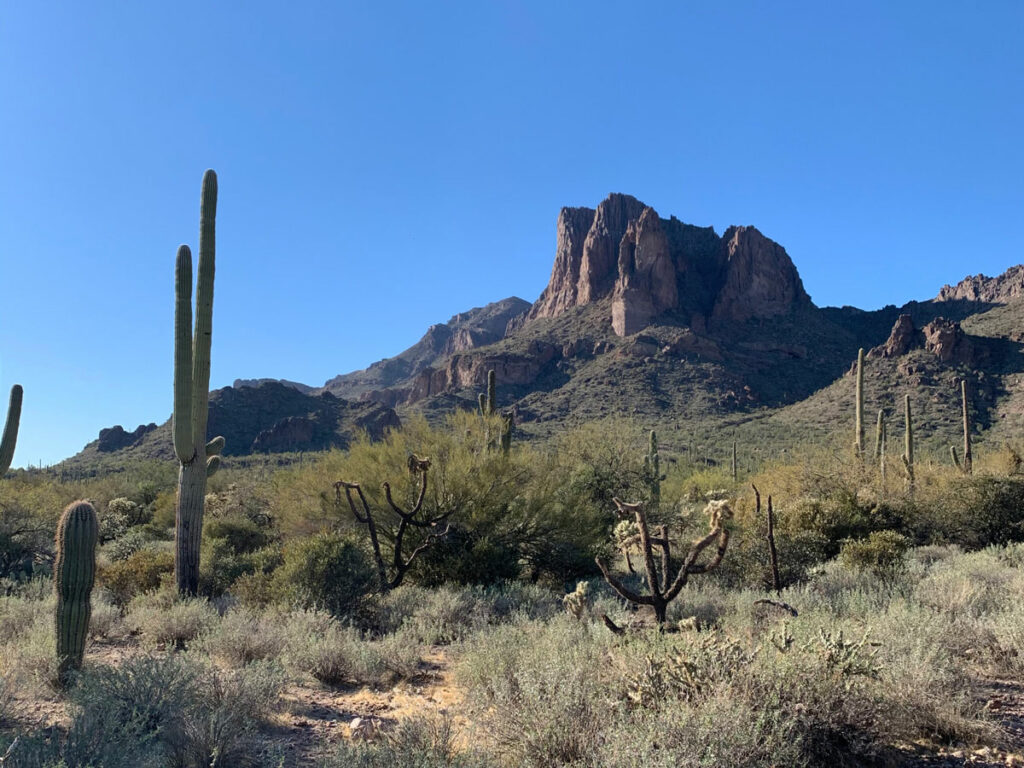 #5 Three Sisters
You thought I was going to say Flatiron, right? Admit it! While Flatiron once topped my list, that was before I really got to know the Superstition range. Flatiron is too popular, and I really hate having to pay to park. But sitting on the opposite side of the ridgeline, just as stunning, at a similar elevation, and waaaaaaay less crowded is Three Sisters. You'll still get the epic views and everything you love about the Superstitions without the smokers, amplified music, and pistachio shells.
The stats
7.0 mi
2810 ft elevation gain
The full report
Three Sisters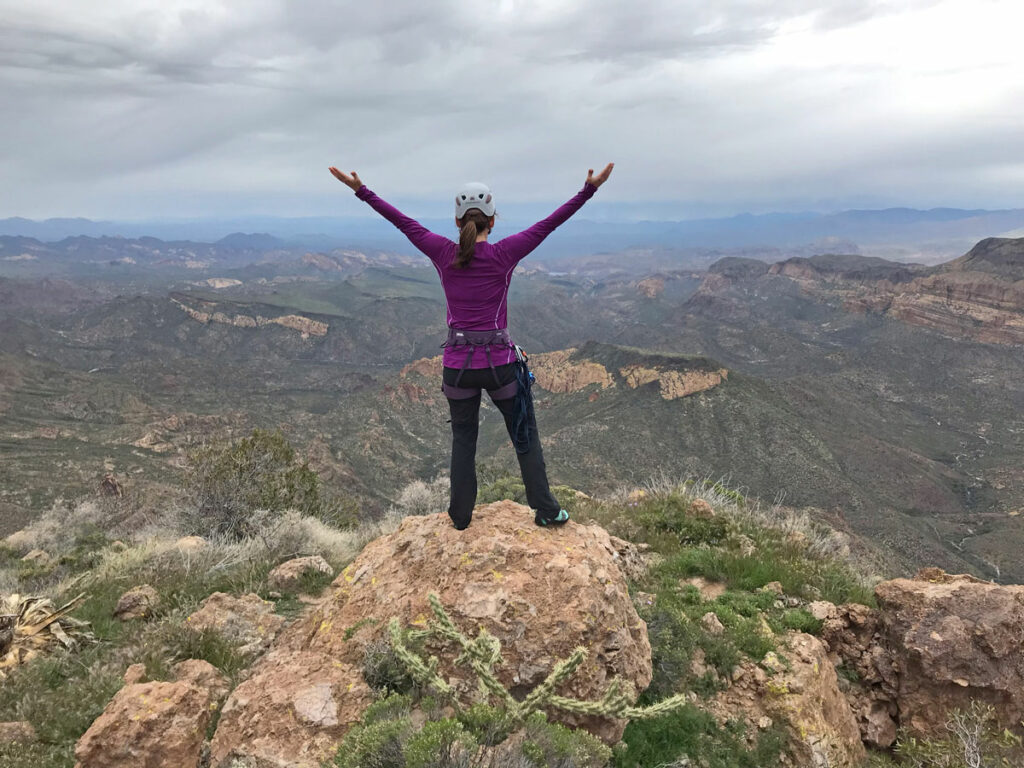 Honorable Mention: Weaver's Needle
One of the most iconic formations in the Superstition Mountains is also one of the most epic adventures to be had there. I could not end this article without at least mentioning the one and only Weaver's Needle. Once you've seen it, you never forget it. Once you've climbed it, it's etched on your heart forever.
Not strictly a hike because it does require technical climbing equipment for trad climbing and knowledge how to use it. It is, however, easy enough for beginning climbers who are with someone who knows what they're doing. Sadly, we did this climb before we started recording all our adventures, so hopefully one day I'll add the full report.
Share this