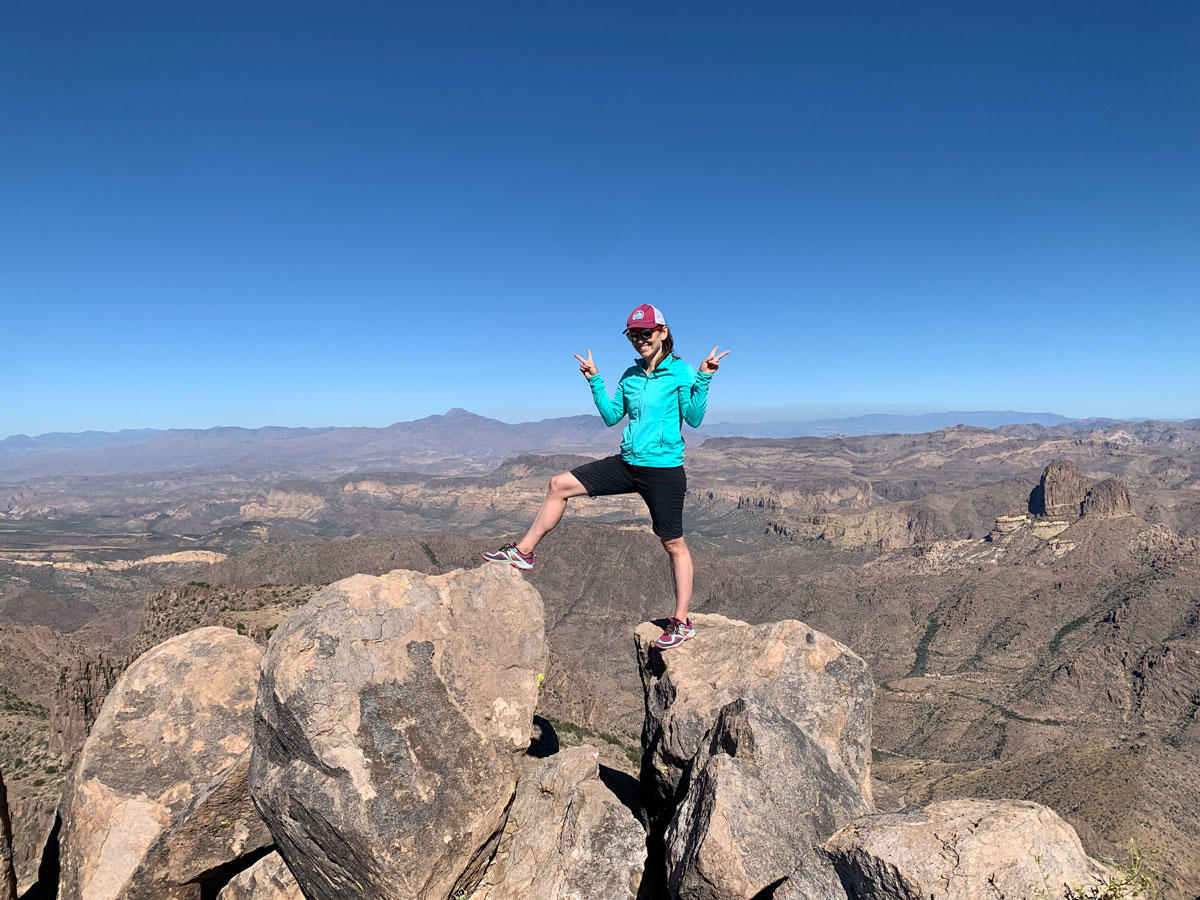 Superstition Peak 5057 (2 ways)
TRAIL STATS
Mileage: 7.5
Elevation gain: 3106 feet
Time to complete: 5-7 hours
Stars: ★★★★½
Strenuous, scrambling
Hike past ancient Native American petroglyphs on your way to Superstition Peak 5057, the tallest peak on the Superstition Ridgeline. Though the upper section of Hieroglyphic Canyon is steep and loose at times, your reward will be commanding 360-degree views of the wilderness, including Weaver's Needle.
---
There are two common ways to hike to the top of Superstition Peak 5057: from Hieroglyphic Trail on the west or Carney Springs Trail on the east. The statistics above refer to the Hieroglyphic route.
Option 1: Hieroglyphic Trail (recommended)
From the Hieroglyphic Trail parking lot, you'll follow the hordes of people who are heading to see the petroglyphs that the trail was named for. I have never known the difference between hieroglyphics and petroglyphs—brb, I'm going to Google it. Okay! Turns out hieroglyphics are any enigmatic symbols or writing, and petroglyphs are specifically hieroglyphics carved into rocks. So I guess they're both!
The trail up to the petroglyphs is rocky and wide, and the incline is moderate. You'll find all types of hikers on this trail, from first time Arizona visitors to children on a field trip. If it's been raining recently, there will be a nice pool of water near the petroglyphs. (Pro tip: don't plan on stripping down to jump in the pool of water by the petroglyphs to fetch your phone when it's field trip day. Better yet, don't place your phone where it could slide into the pool.)
Most people stop here or wander a short way up the wash before turning back, so you'll have considerably more solitude going forward. Don't be tempted to follow the wash because there is an actual trail to the right of the wash, and it's pretty well-traveled.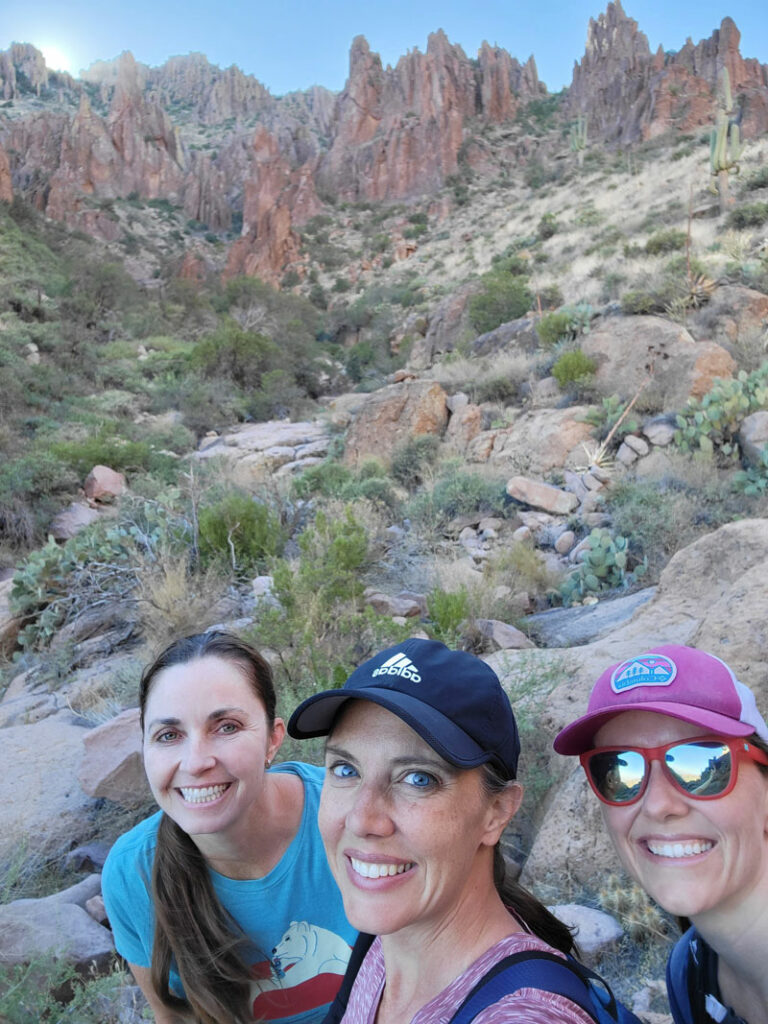 As you get up to the higher reaches of the canyon, you'll find a lot of cool hoodoos and an awesome view behind you. Be VERY careful because some hoodoos are crumbly.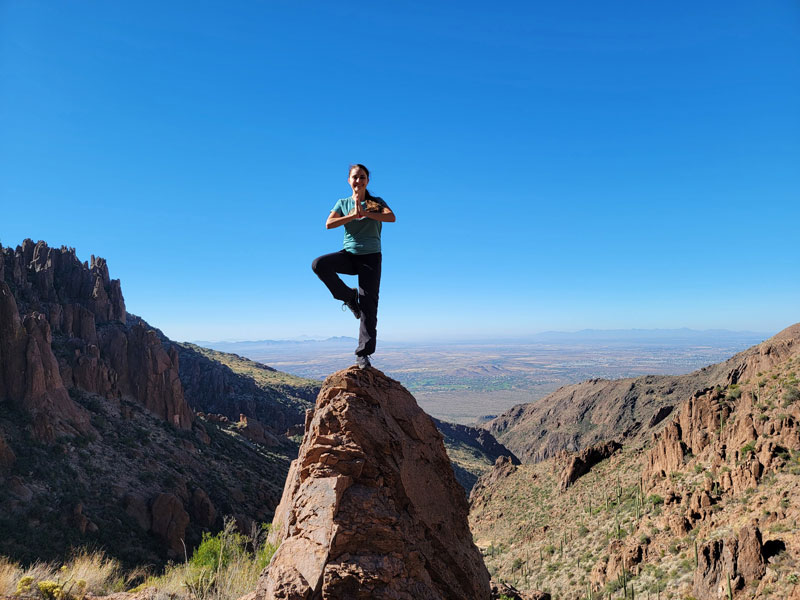 This section of the trail is also pretty steep with a lot of loose rocks, so proceed with caution. Just remember, the way back is gonna be worse.
When you reach the ridgeline trail, make a right. You'll get to climb your way through one of the most fun parts of the ridgeline trail. Aw, don't let the picture intimidate you. It's pretty easy when you get on on the rock ledge and swing your leg around.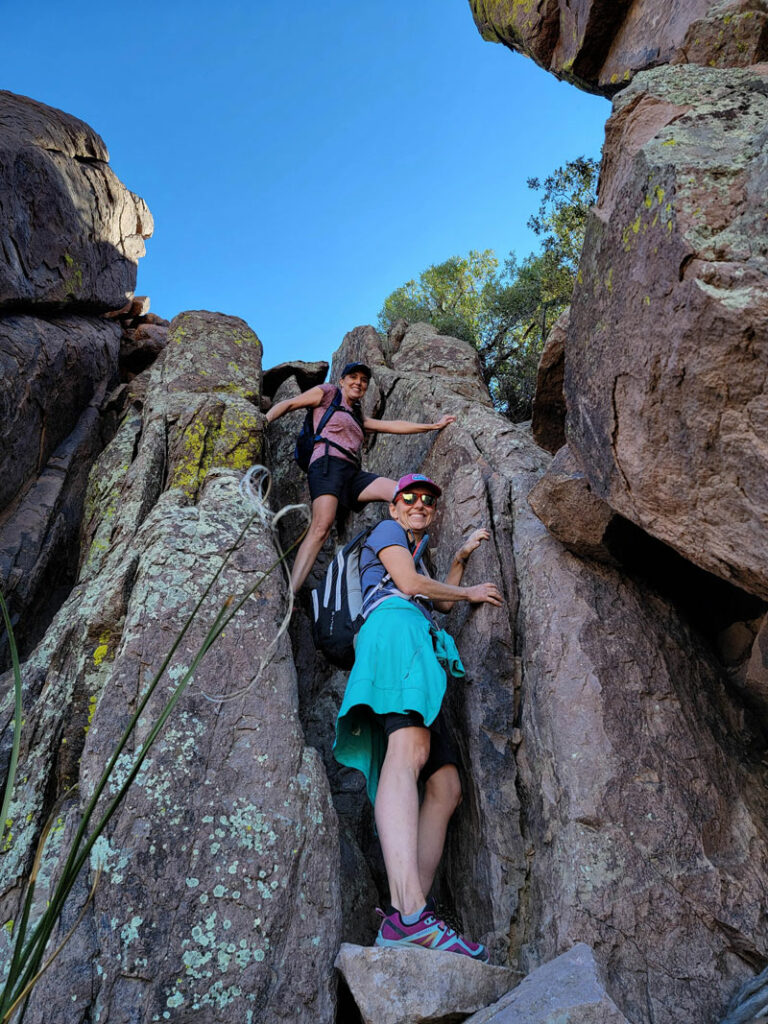 Here's the bad news. You'll see Peak 5057 on your right as you hike along and start wondering why you're going past it. "Can't we just go straight up?" Well, no, because if you did that, you might end up traversing a sketchy rock face, grabbing onto a dead plant for stability, and then tumbling head first when the plant breaks, catching your pants so they get pulled down half way, and then begging your friend to help. I mean, not that we've experienced that or anything.
Just soldier on, and when you get basically all the way past the peak, you'll see a path marked with a cairn where you'll make a sharp right to start making your way up to the summit. The route is mostly just cairns on this part, so keep an eye out for those. There's a little bit of a scramble to get up on the peak, but nothing major. YOU MADE IT!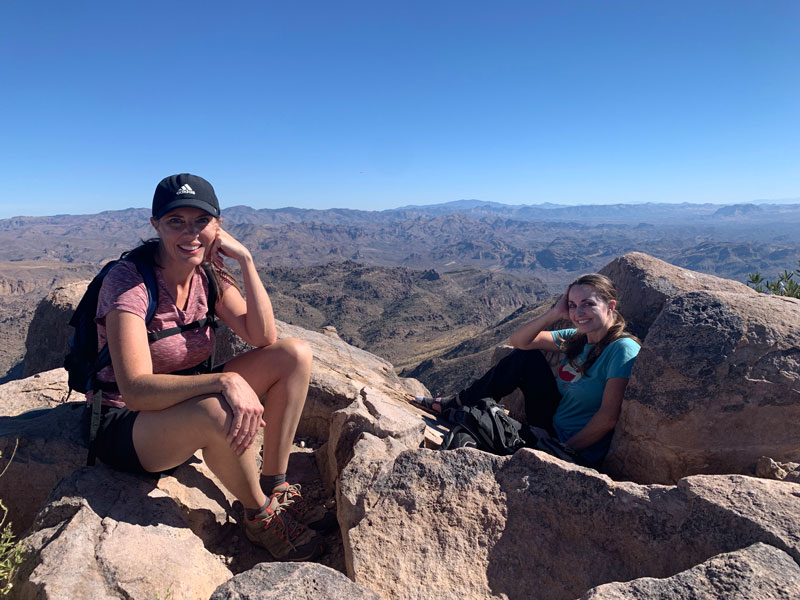 The view up there is incomparable, so plan to spend some time up there. It's magnificent.
On your way down, remember to turn left at the prickly pear cactus. At least, that's how we decided to remember it. Because there's only like one prickly pear up there, right? But there is definitely one at the turn, so don't miss it unless you want to haul your booty all the way to the Flatiron and then catch a ride back to your car. But making rash decisions like that is foolish. Just ask Connor, whose life we saved when we found him with no water, a dead cell phone battery, no map, no ride back to his car, and no clue. All in a day's work.
Option 2: Carney Springs Trail
This route adds half a mile and 268 feet of elevation gain.
From the Carney Springs Trailhead on Peralta Road, follow the masses as they begin their hike to the Wave Cave. Don't worry, you won't be with them long. Past the fence, there's a fork in the trail at 0.8 miles where they (and the white spray painted arrows) will all go left, but you'll blissfully go right. There was a nice sign there at one point, but I didn't see it last time, and the giant cairn that is usually there seems to be inconsistent.
The Carney Springs Trail beyond the fork broke my spirit a long time ago, and I've never fully recovered. It wasn't all the trail's fault—it was 96 degrees outside. But I've had to make peace with it since then because I have to use this trail so often to access some of my favorite places in the Superstitions. The steep incline and false summit are a means to an end, so just keep climbing. It's not as bad as I like to remember. And even the views from the false summit can invigorate you.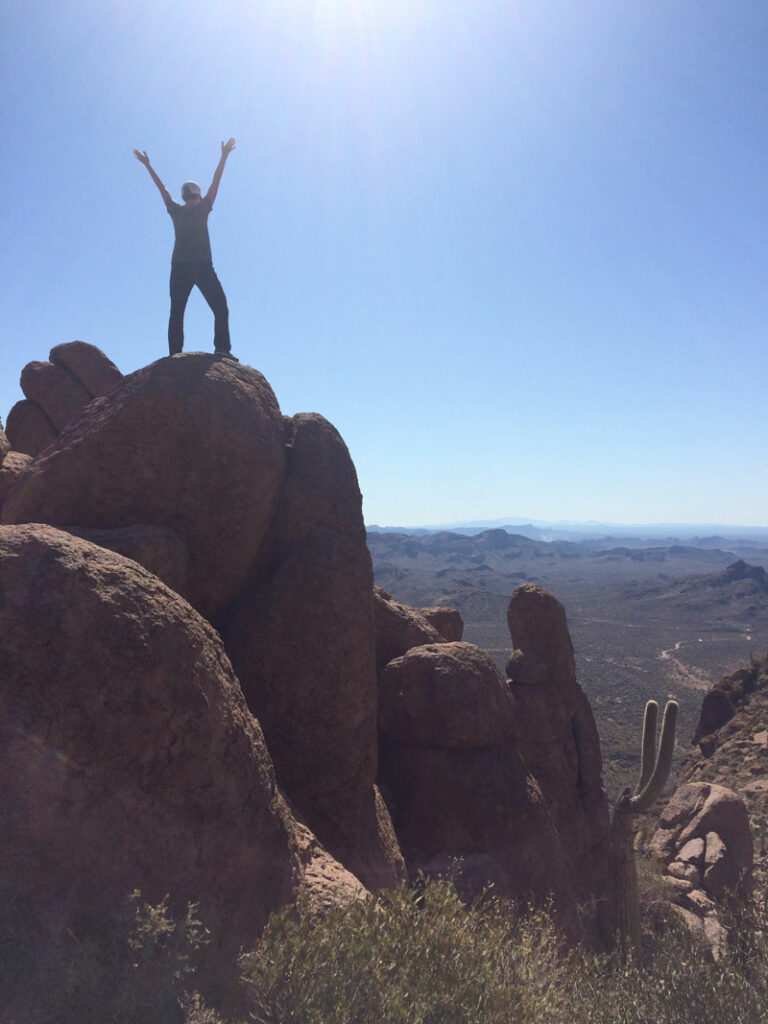 One you're on the saddle, you'll start heading left along the Ridgeline Trail. It won't be long before the peak will come into view, and it'll look really far away. Don't despair. What the Hieroglyphics route folks don't know is that they'll have to come to your side of the peak to ascend it while you have a straight shot to the top. That doesn't mean it'll be easy. You've still got a lot of ups and downs to go, and some of those uphill sections are a little brutal. You brought good shoes, right? No Converse? Good.
Just before the peak, there will be a fork (that hopefully has a cairn to mark it), and you'll go left to head to the peak.
---
Map & Directions
Location: Superstition Wilderness, Tonto National Forest, Gold Canyon, Arizona
Hieroglyphic Trail
To get to Hieroglyphic Trailhead, take US60 to Kings Ranch Rd and go north. Take a right on Baseline Road, left on Mohican Rd, left on Valley View Rd, and then right on Cloudview Ave and follow that to the trailhead. Don't worry, there are quite a few signs pointing the way.
Trailhead Facilities There are portable toilets. No water.
Carney Springs
To get to the Carney Springs Trailhead, take US60 to Peralta Road and go north. Fork left, and then find the Carney Springs Trailhead on the left side 1.3 miles before you reach Peralta Trailhead. A recreational permit is required from the Arizona State Land Department.
Trailhead Facilities None
Alternatively, you could drive up Peralta Road just over half a mile farther and park at the Lost Goldmine Trailhead and then take the Lost Goldmine Trail to where it intersects with the Carney Springs trail (near the wash—look for an opening in the fence for hikers).
---