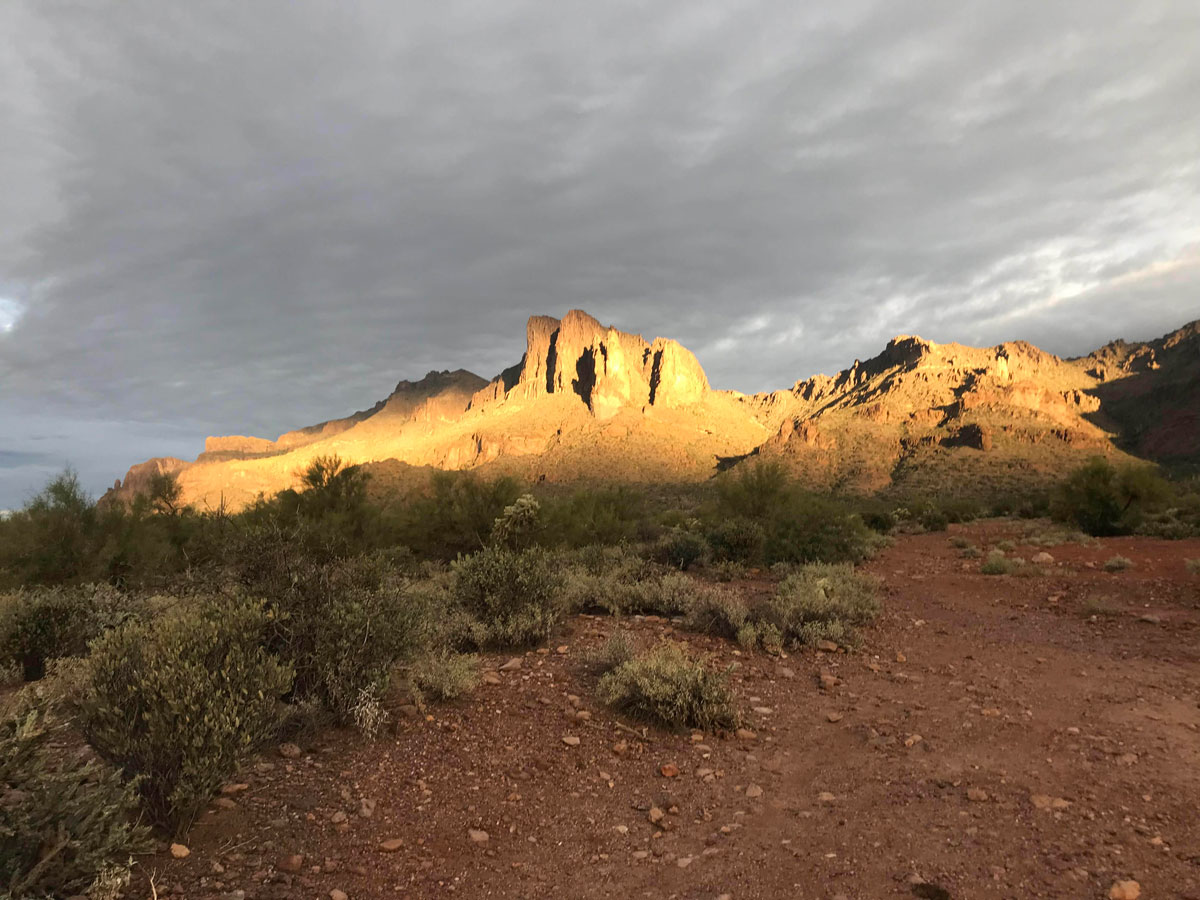 TRAIL STATS
Mileage: 10.6
Elevation gain: 4860 feet
Time to complete: 8-12 hours
Stars: ★★★★★
Very strenuous, long, some route-finding and scrambling
If I had to choose just one favorite hike in the Superstition Wilderness, this would be it! The Superstition Ridgeline hike is very physically demanding, but it gives you 360-degree views for miles and miles and makes you feel alive. This route travels between Carney Springs on one end and the Flatiron on the other end with the option to visit Superstition Peak 5057 along the way.
---
Trail Description
Behold the crown jewel of the Superstition Wilderness, the Superstition Ridgeline Trail. You can do this trail in either direction, but I'm going to make a case for starting up the Carney Springs Trail and coming down the Flatiron: the view of the sunset on the way down (if you're doing it in December like we did), hitting the Siphon Draw trail later in the day when there are fewer crowds, and a shorter drive to burritos afterward. If you have an awesome spouse like we do, then you'll also be able to get valet service to and from the trailhead and avoid paying the fee at Lost Dutchman State Park. Boo-yah!
Carney Springs Trail
The Carney Springs Trail is always a beast, no way around it. I'm so sorry. Just power through it because you're fresh and the anticipation of this hike has you pumped!
Don't forget to look around because the early morning light can be just stunning.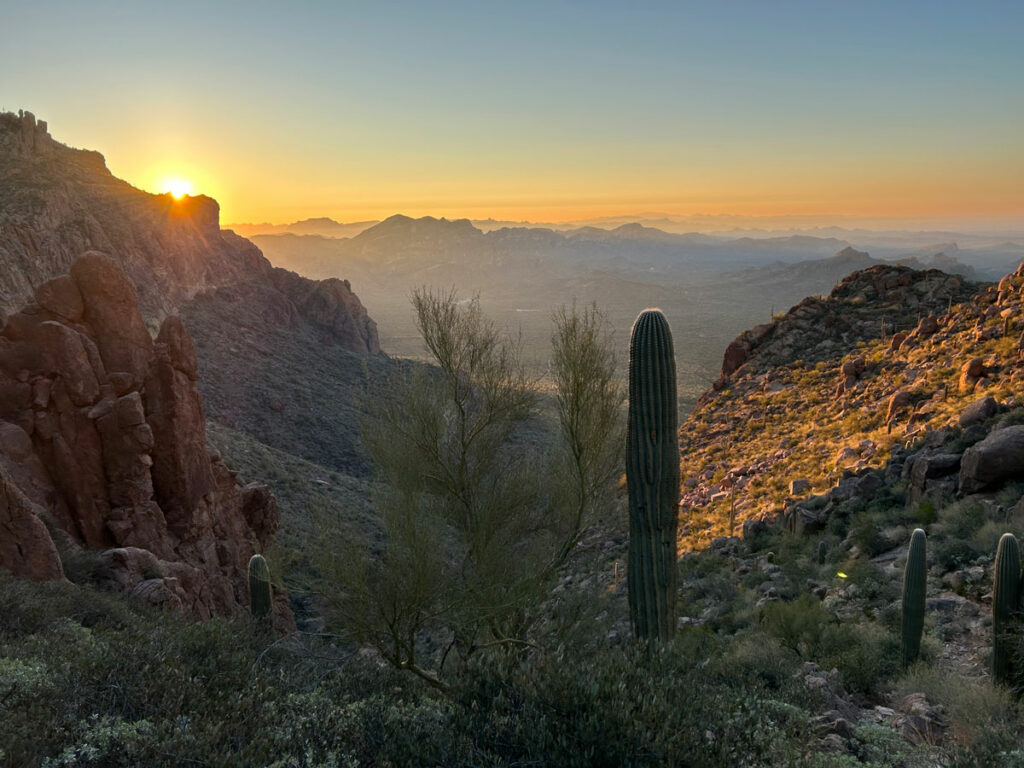 Once at the Carney saddle, you can see Superstition Peak 5057, but it will look depressingly far away still. And the peak is not even close to half way across the ridgeline.
Settle in, this is gonna be a haul.
Superstition Ridgeline Trail
Go left on the Superstition Ridgeline Trail and follow it up some of the most steep and loose sections of the trail. It's hard, but when you get your first view of the other side of the mountain, you can just feel the energy. Wahoo! You're on the ridgeline!
At times, the trail has multiple forks where you can take the high road or the low road, and it's up to you to choose how much you're willing to pay for those top-of-the-world views.
Superstition Peak 5057
For a worthwhile side trip to Superstition Peak 5057, watch for the fork to your left and follow it up to the peak. If you get an early start, chances are you'll be there before noon.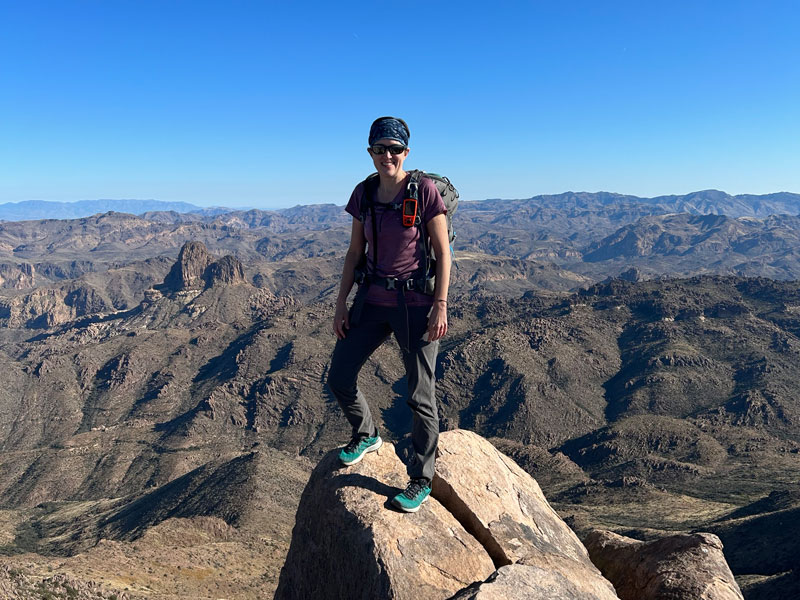 Stopping at Superstition Peak 5057 is optional and adds a little distance to the hike, but how can you pass by without sitting on top? This is where we broke out the Jetboil and the hot cocoa bar (yes, we did!). It tastes better at 5057 feet, and the views are absolutely killer.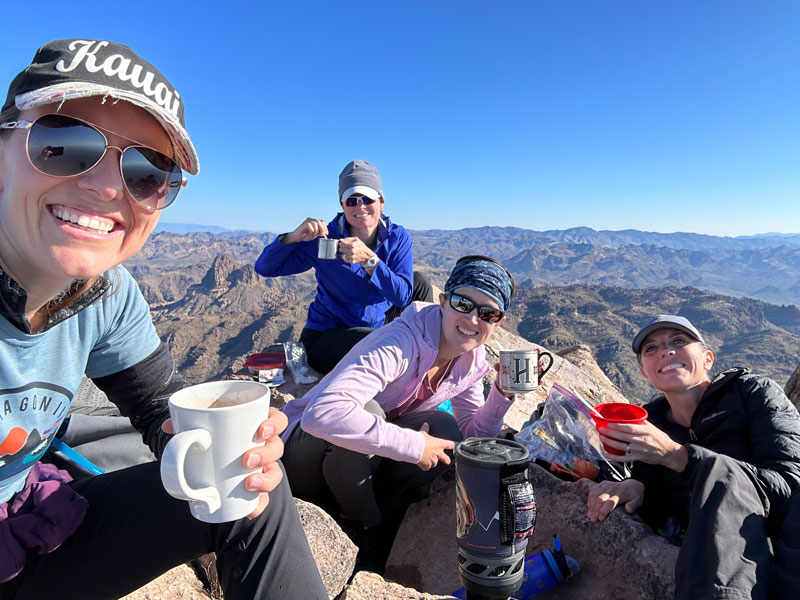 At this point, you'll be thinking you're "all that" because you're already half way there and it's all downhill from there. Resist the temptation, my friend! You are not half way, and it is nowhere near all downhill from there! Your trials are just beginning, but your incredible surroundings will buoy you up and carry you through.
The trail is pretty obvious these days, but there are still some confusing spots, so you should definitely bring GPS. The trail is rugged, and there are a few sections with some fairly easy scrambling. Heather calls them the fun parts.
After you pass the junction with Hieroglyphic Trail junction you can get a view of the rest of the ridgeline extending out before you. This will likely be the most rugged and challenging section of the trail. I can't even look at this without wishing I was there.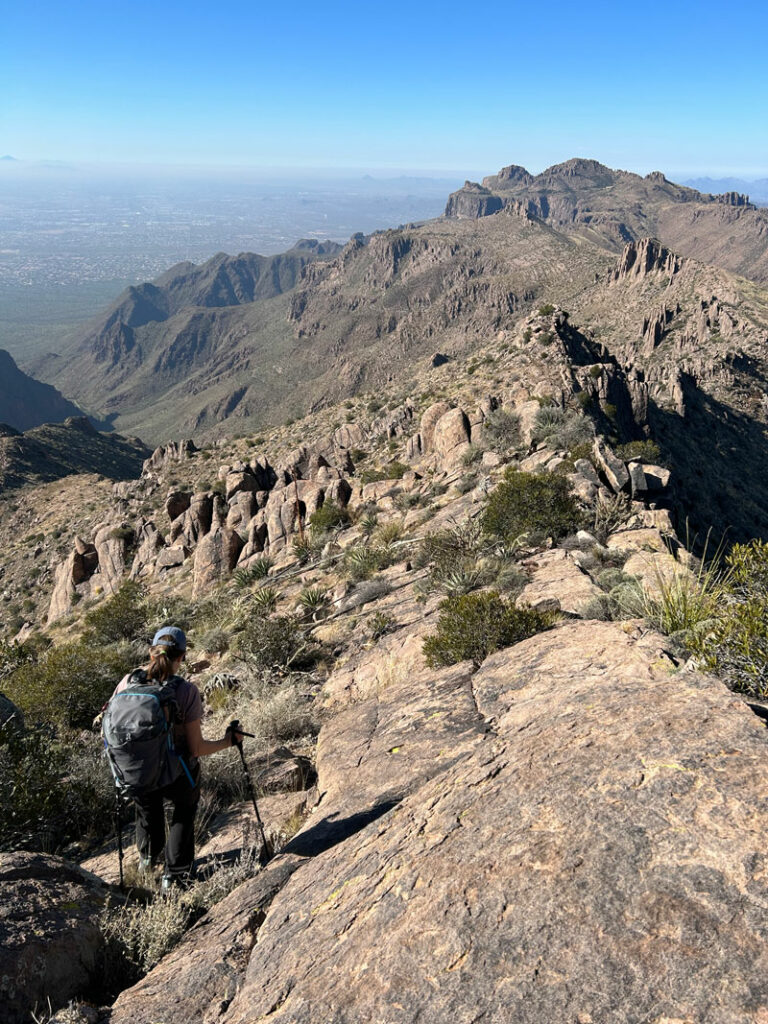 Keep going and going, and when you think you should be there, go some more. It's a long way, and it'll break your heart a few times when you realize how many times you have to go down only to go back up again. As you get closer to Siphon Draw Trail, it's not super obvious where to go, so keep an eye on that GPS.
Flatiron and Siphon Draw Trail
Before long, you're going to crest your final hill, and the Flatiron will gloriously come into view before you. You know the way from here, right? Find the entrance to the Siphon Draw trail, and you're on your way down.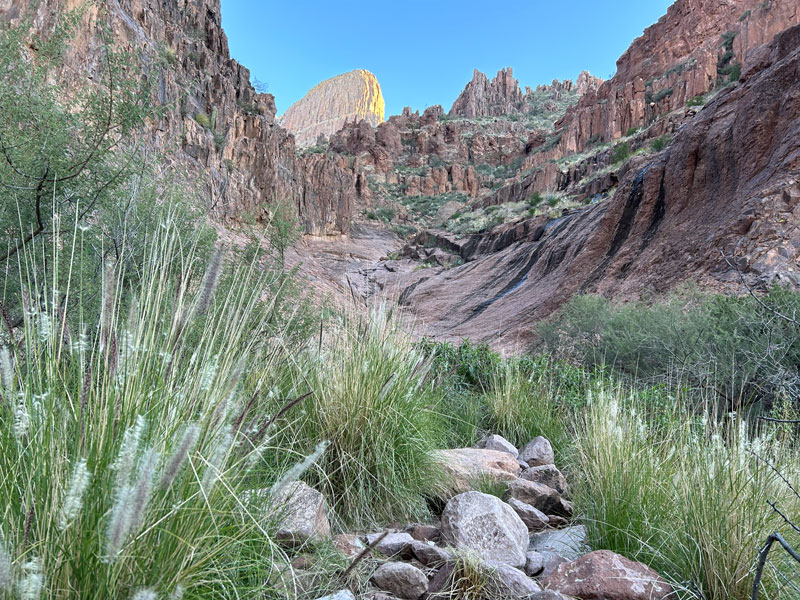 And if you're lucky, you'll get a special dusky view of this beautiful area that you normally only see in broad daylight. Bring a headlamp just in case it takes longer than expected.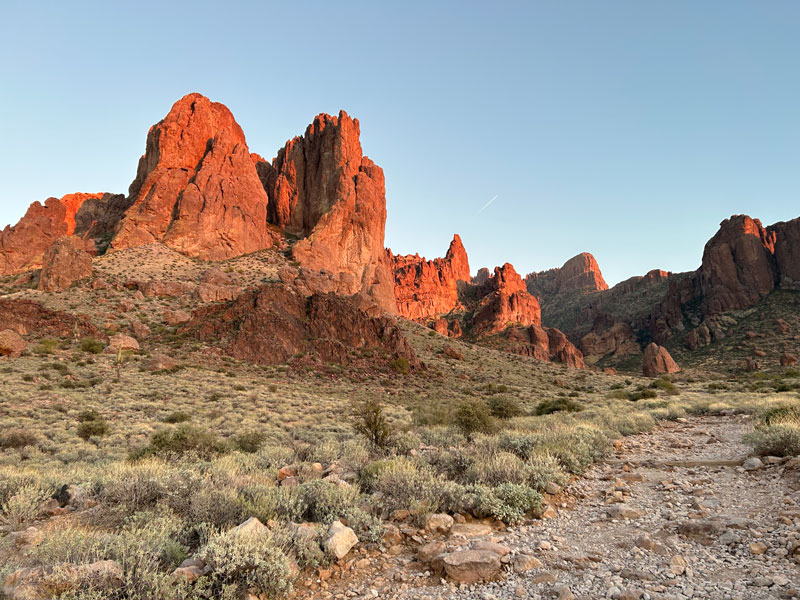 If you left a shuttle car here, you'll head to the Siphon Draw Trailhead in Lost Dutchman State park. But if you're smart, you'll get that awesome spouse to pick you up in the nearby neighborhood for free (as shown on our map). Then tell your valet driver just how hungry you are, and go enjoy a burrito while you laugh and reminisce about the day's adventure.
---
Map & Directions
Location Superstition Wilderness, Tonto National Forest, Lost Dutchman State Park, Gold Canyon, Arizona
This is a point to point hike between Carney Springs Trailhead and Siphon Draw Trail that can be done in either direction. Leave a shuttle car at one end and then drive to the other end or have someone drop you off and pick you up.
Carney Springs Trailhead
To get to the Carney Springs Trailhead, take US60 to Peralta Road and go north. Fork left, and then find the Carney Springs Trailhead on the left side before you reach Peralta Trailhead.
Fees/Passes A recreational permit is required from the Arizona State Land Department (didn't I say to have someone drop you off anyway?).
Trailhead Facilities None
Siphon Draw Trailhead
The Siphon Draw Trailhead is located inside the Lost Dutchman State Park. Take US60 to Idaho Road and go north. Then turn right on Highway 88 and follow it until you reach the park on the right.
Fees/Passes There is a fee to enter unless you have the State Parks Pass. Alternatively (I'm just sayin'!), you can have someone pick you up at the neighborhood location shown on our map, but be aware there is no parking there.
Trailhead Facilities Flushing toilets (fancy!) and water available.
Preview this Hike
---