TRAIL STATS
Mileage: 13.4
Elevation gain: 4791 feet
Time to complete: 1-2 days
Stars: ★★★★★
Swift water rappels, strenuous hike out
Even if you've hiked Bright Angel Trail at the Grand Canyon numerous times, you probably never knew the most amazing waterfall was just around the corner from you along Garden Creek. Because of the technical nature of this canyon, few of the hundreds of visitors who travel the trail every day ever get to see it. The rappels are long, wet, sometimes cold, and a little bit tricky at times, but those who put in the effort are rewarded with the most unexpected oasis. Camping at Havasupai Gardens one night makes it extra enjoyable.
🪢 This is a technical canyon with seven rappels up to 200 feet and several moderate downclimbs and slides. You will need two 200-foot ropes, a 200-foot pullcord, plus all the required safety equipment for rappelling and knowledge how to use it. This guide is not intended to provide instruction on how to descend a technical canyon safely.
---
Trail Description
The Grand Canyon. It's the stuff dreams are made of. It's hard to imagine, even as you are standing on its rim, the vastness of this amazing place. We have known for some time that there many technical canyoneering routes within the canyon, however most of them require an amazing amount of logistical planning and an extreme amount of fitness. Garden Creek, though still quite a challenging endeavor, might be considered the gateway into canyoneering in the Grand Canyon. We at WildPaths love the Grand Canyon with all our hearts, and we were so excited for this adventure!
Havasupai Gardens Campground
Job #1: Land a coveted permit at Havasupai Gardens. There are many people who do this canyon in a day, but it would be an extremely long day, and the word of the street that we got was that it's just far more enjoyable with a night at Havasupai Gardens. We wholeheartedly agree with that. It was nice not having to hike all the way out Bright Angel after the hard work of the canyon. The downside? Carrying all of our backpacking gear as well as all of our canyon gear. Still, though. Totally worth it. Havasupai Gardens is the most dreamy campground.
Bright Angel Trail
We camped on Forest Service land the night before and got an early start down Bright Angel Trail. We reached Havasupai Gardens in 4.5 miles and a few short hours, found a campsite, dropped our packs, had a snack, packed only what we needed for the technical canyon, and headed a few miles further down Bright Angel to the start of the canyon
Garden Creek Entrance
The entrance to the watercourse was easy to find and right off of Bright Angel Trail. I mean, like 20 steps off Bright Angel Trail. So nice. We got our gear on, and went to work.
A note on wetsuits: we had 2 people in full wetsuits, 2 in shorties, and two with none. Everyone was happy with their choice. We were in the canyon midday, outside temp was around 80 degrees, and the water flow was high.
Right away, there was a moderate downclimb, followed by a slide, followed by another moderate downclimb. We actually spent some time looking for an anchor, then ended up putting everyone except the last man at risk (LAMAR) on a meat anchor, and having the last person downclimb with some partner assist.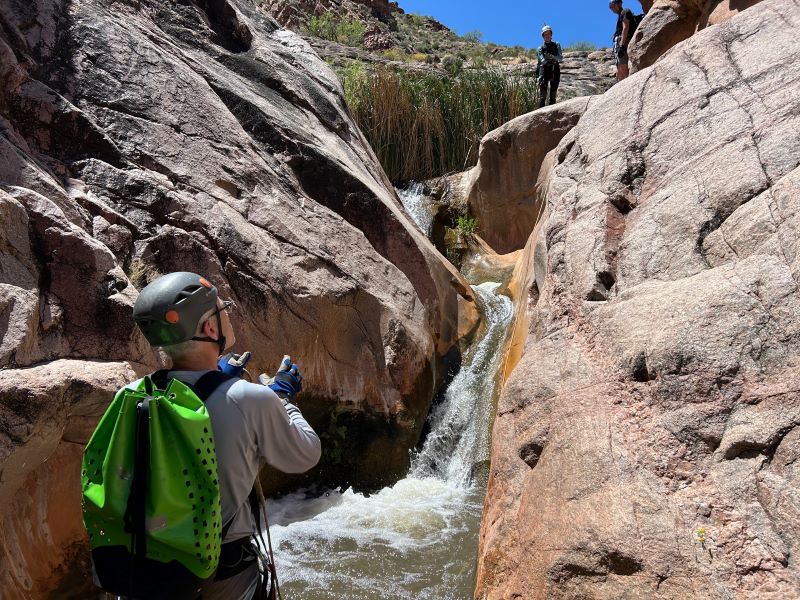 At the bottom of this series, we found the first anchor exactly as described in the beta. So just know: the entrance into this canyon is a little tricky, and may prove to be some of the harder moves in the whole canyon. Especially in higher flow.
Rappel 1
Rappel 1 is anchored from both a knot chock and a piton down canyon left. The anchor is a little sketchy to reach in high flow, so bring those tall friends. It is the only unbolted rappel in the canyon, and it is about 30 feet around a corner and down a few cascades. And that pretty much sums up almost every rappel in the canyon.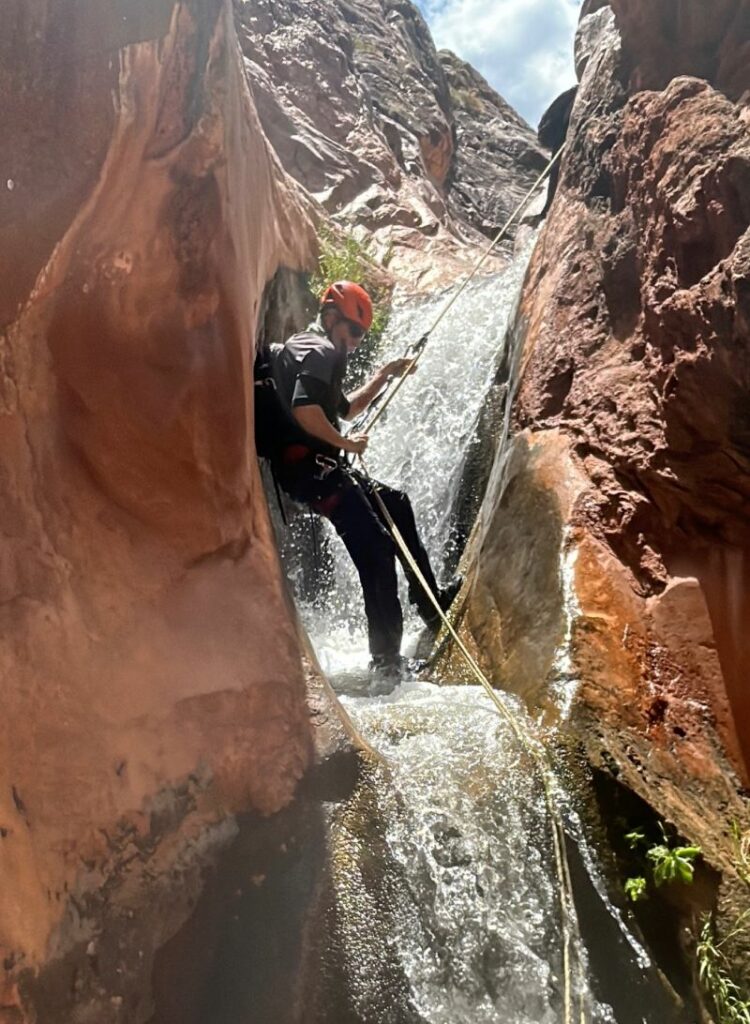 Rappel 2
Rappel 2 is bolted down canyon right, and is also around 30 feet. And is also around a corner and down a few cascades. Lots of cascades. Lots of tiered waterfall rappelling.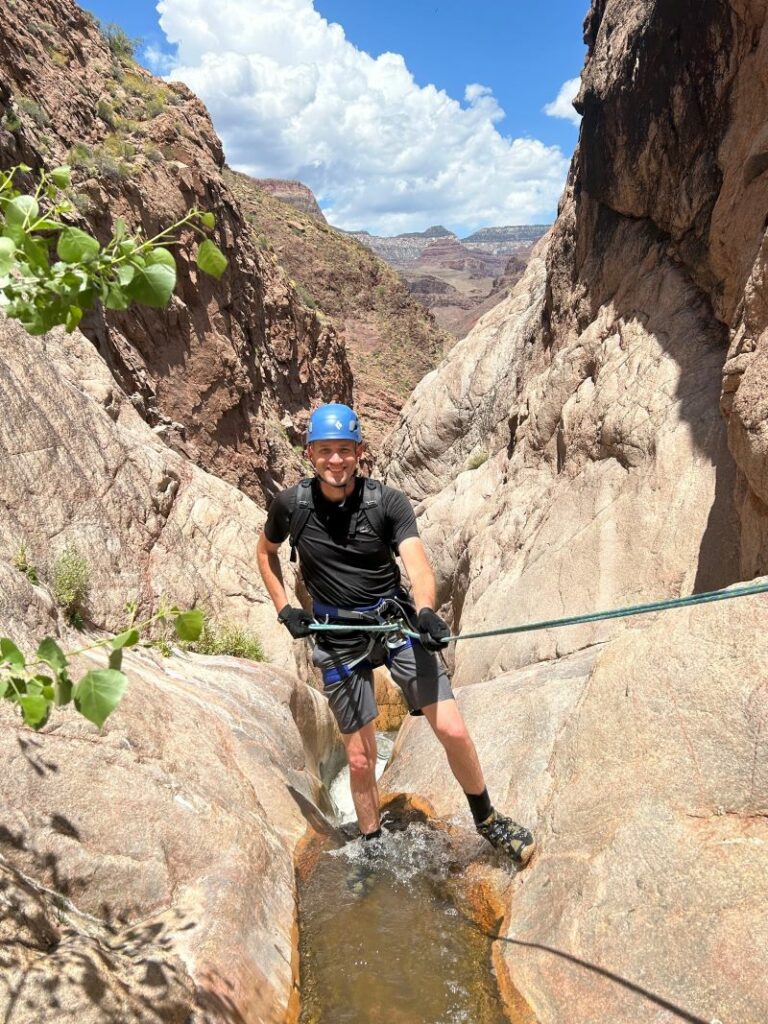 Rappel 3
Rappel 3 is bolted down canyon right. It is about 120 feet, and lands in the most beautifully green pool with so much green growing all along the wall next to it. This rappel was so beautiful! We didn't think it could get any prettier! We had no idea…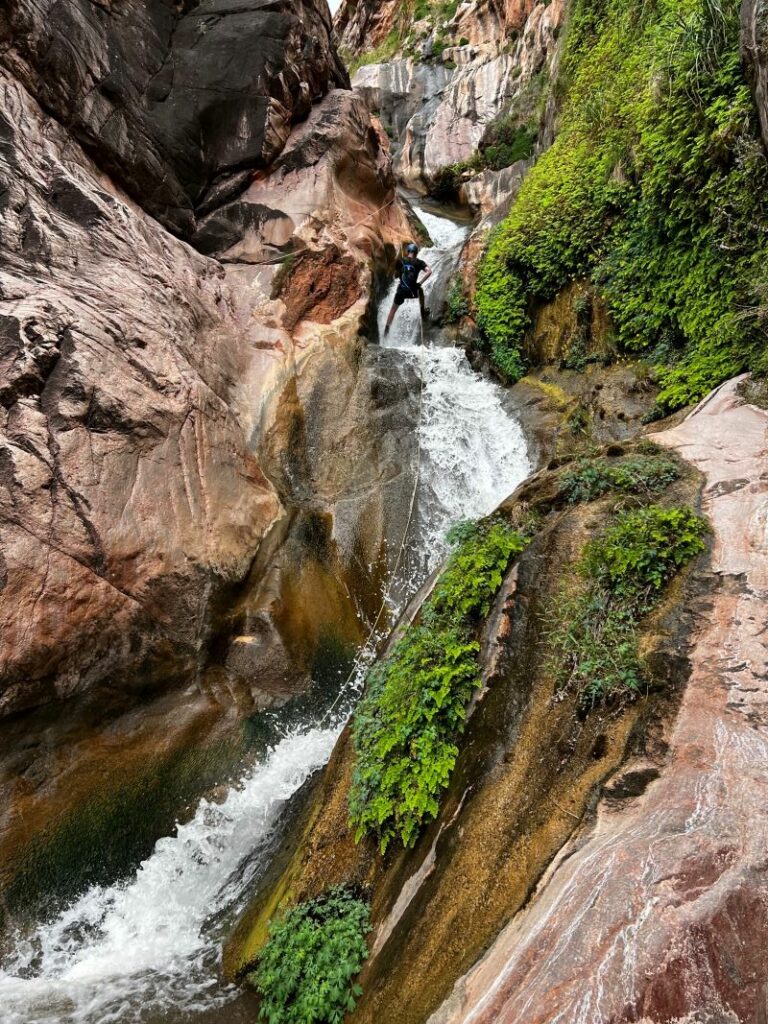 Rappel 4 and 5 Sequence
Rappels 4 and 5 are basically one 360 foot rappel sequence with a rebelay station 160 feet down the first section. We knew that the rebelay station was 160 feet down and on the left. (Hard to miss if you're paying attention.) And then from here, it was another 200 feet to the bottom. We didn't really know anything else about this sequence.
A few things: We brought waterproof walkie talkies to attempt to communicate with. And they weren't like cheap kid's walkie talkies. They did not work. They didn't love the canyon walls, and you cannot see the bottom of the raps or the person on rappel on really any of these rappels. So communication before the rappel is key.
We were hoping there would be enough room at the rebelay station for 3 people. (We had 6 in our group.) There was not. There is room for two only, so we had the third person stay on rappel while we rigged the second half of the rappel and sent someone down.
Personal anchors are absolutely key— the rebelay station is small and slippery when wet. Save your best rope-pullers for last on this first stage. The rope comes around a corner, down, over a few cascades, and around another corner, so the rope pull requires a strong and steady hand to avoid a rope stick.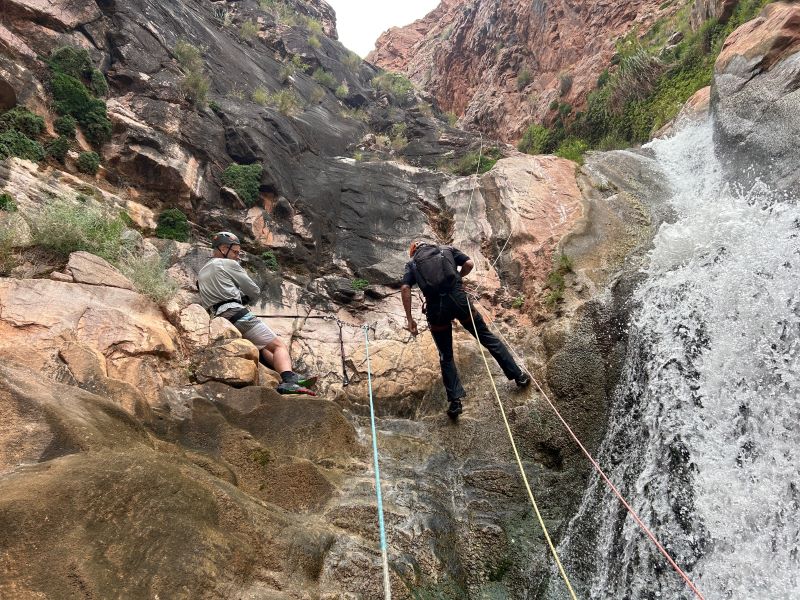 Rappel 5
The second stage, or rappel 5, is the money rap of the canyon. It's a low angle sloping waterfall that, even in strong flow is easy to rappel as it spreads out over an entire cliff face. It is just a stunning 200 foot rappel with gorgeous canyon walls all around you. Take your time and take it all in. You're at the bottom of the Grand Canyon rappelling an insanely beautiful waterfall hardly anyone will ever see. It's a good life.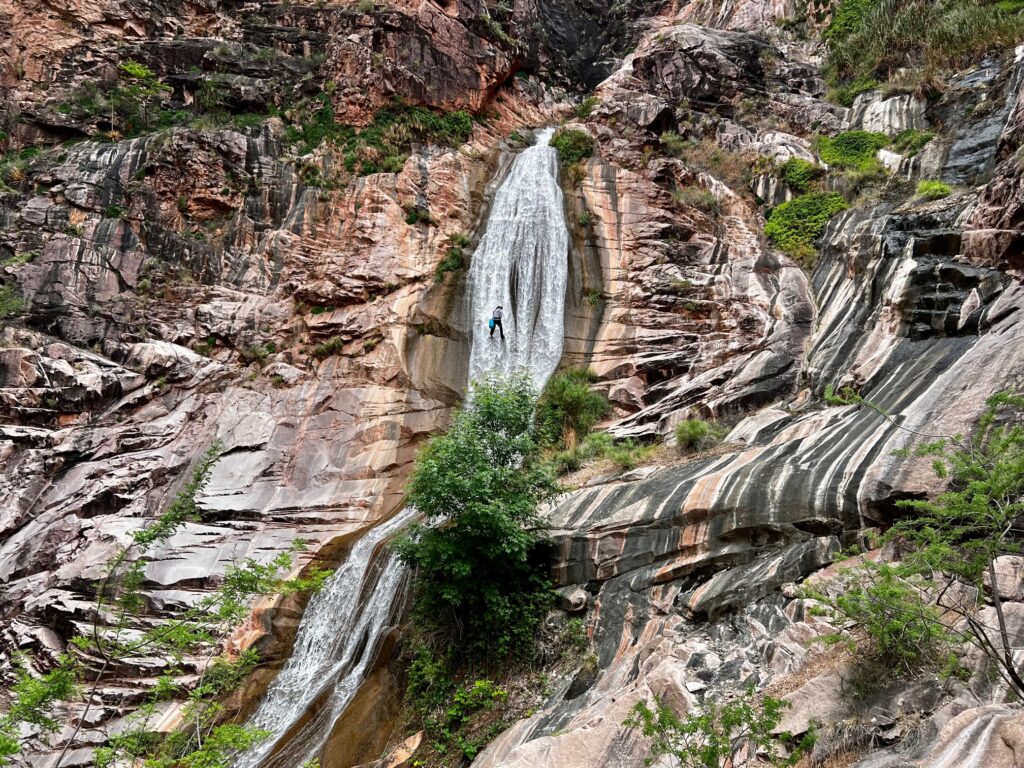 After rap 5, there's a fun little slide into a cold swimmer, just to make sure you're still alert and awake.
Rappel 6
Rappel 6 is another long one—180 feet from a bolt down canyon right. The first part is down a waterfall in an incredibly beautiful chute thick with moss in the watercourse. After the chute, it opens up to more cascades and pools to navigate to the bottom. You could theoretically downclimb some of these, but we stayed on rappel to the bottom.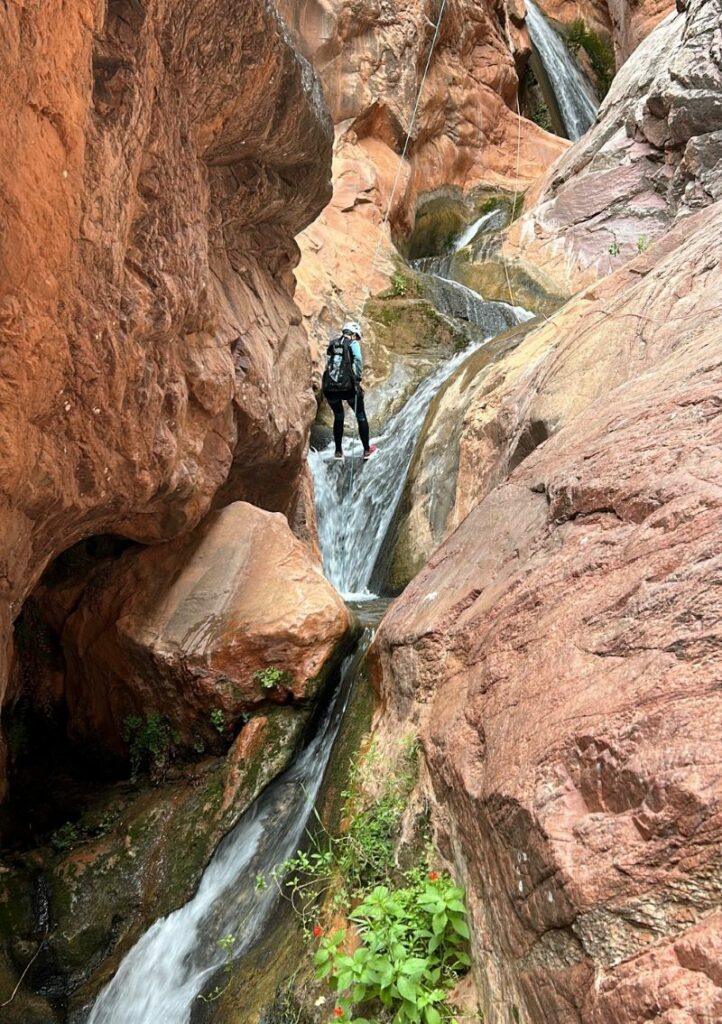 Rappel 7
Very shortly after you get off rope, you're to the top of Rap 7, the final rappel. It is 80 feet off of a bolt down canyon left. More of the same— multi-tiered into multiple pools.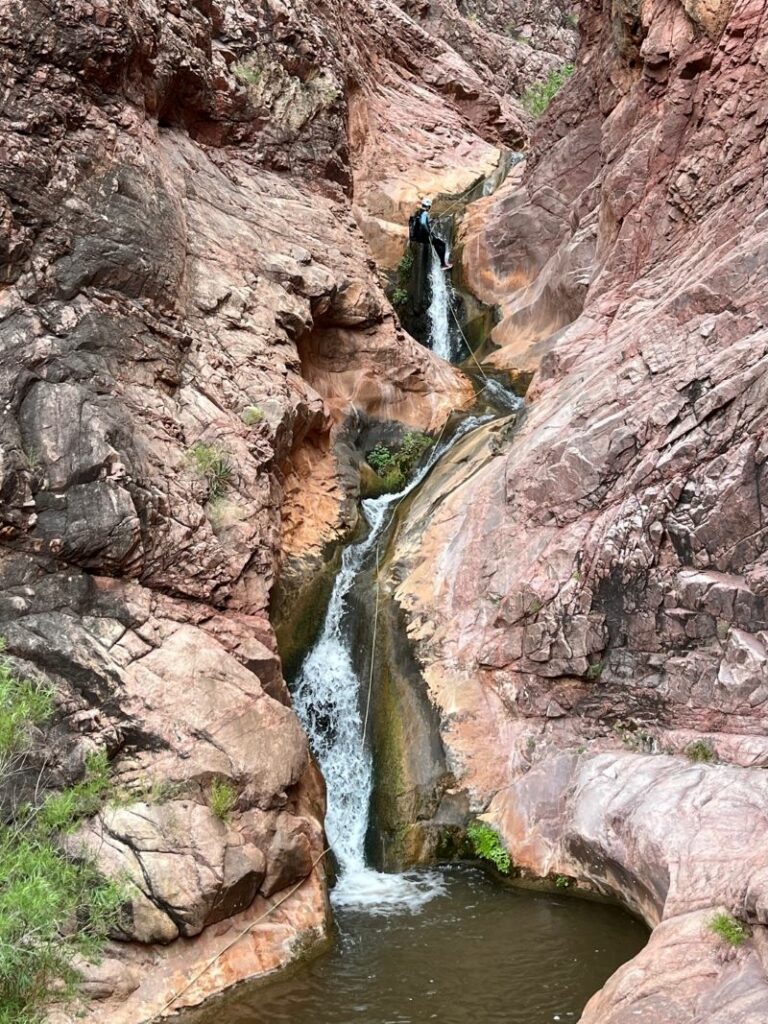 After this final rappel, look for a path to your left (stay up higher a bit) that will take you to Bright Angel Trail in very short order. I mean, it MIGHT be 100 yards. If that. You can see the trail from the bottom of the final rappel. We dropped our wetsuits, filtered water from the creek, loaded up the gear, and began our hike back to camp.
Exit Hike
When you come out of the technical canyon, you are a short half mile from the bottom of The Grand Canyon and the Colorado River. If you've never seen the Colorado in the Grand Canyon, it's definitely worth a little jaunt down there. We had all been there before, knew we would be there again, and we were on the verge of starvation, so we opted to head back to Havasupai Gardens for the night. The hike back to Havasupai Gardens is about 2.5 miles. It is all uphill and it is through the dreaded Devil's Corkscrew. Plan this accordingly so you aren't hiking in the very hottest part of the day. (It was fully in the shade by 6 pm.)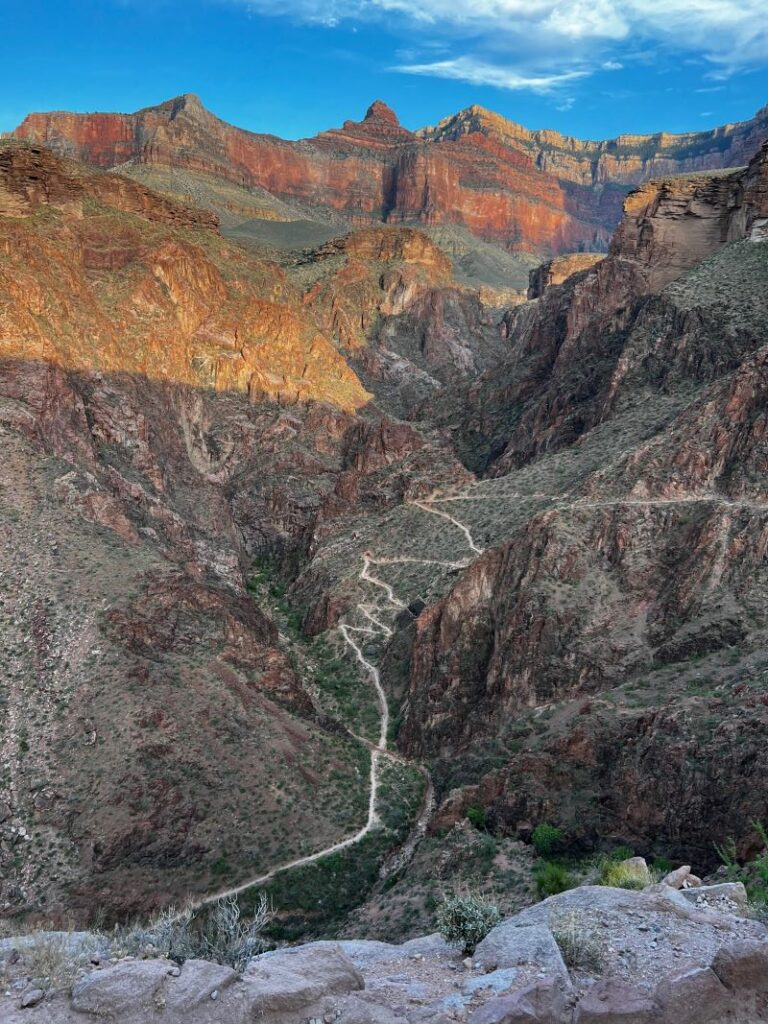 Exit Hike- Day 2
After a perfect night camping at Havasupai Gardens, we headed up the remainder of Bright Angel Trail. It's another 4.5 miles. It's the longest 4.5 miles in the history of miles. Sometimes the price of a canyon is steep, but the price for Garden Creek is worth it. 100 times over. Worth it.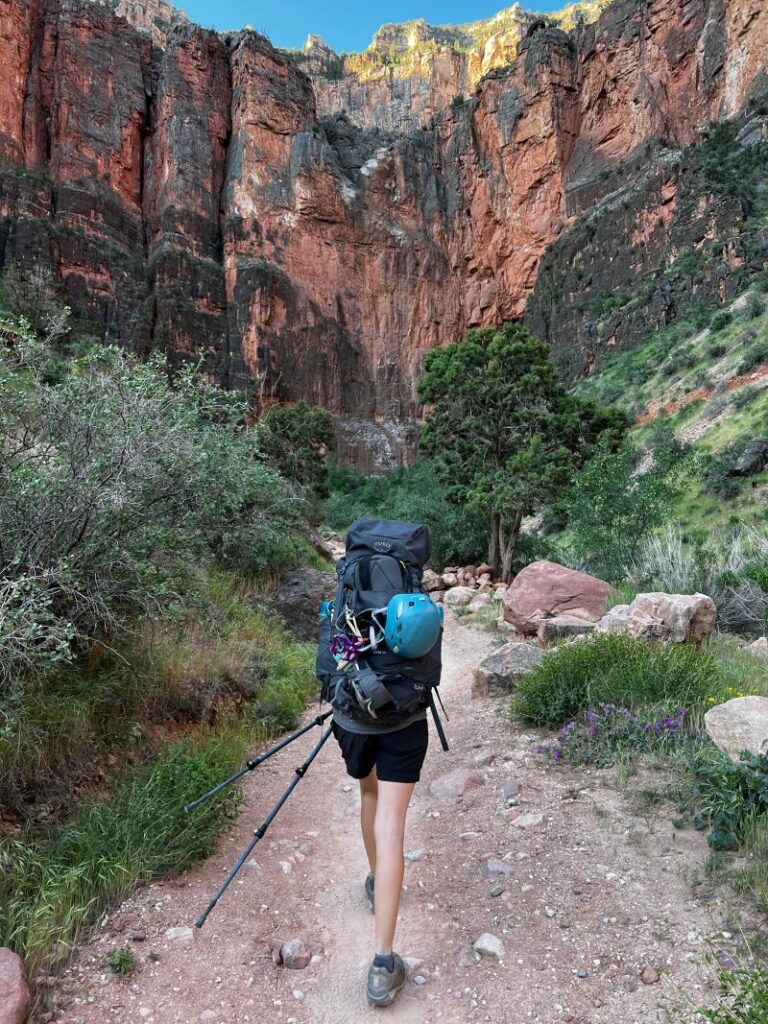 ---
Map & Directions
Location Grand Canyon National Park, Tusayan, Arizona
From Flagstaff, take I-40 west to Williams. Go north on Highway 64, pass through Tusayan, and continue into the park.
Fees/Passes There is a $35 per vehicle entrance fee at Grand Canyon National Park, or you can use an America the Beautiful Pass ($80/year)
Trailhead Facilities Water and restrooms available at Bright Angel Trailhead. Restrooms at Havasupai Gardens. Water also available seasonally at Havasupai Gardens, 3 Mile Rest House, and 1.5 Mile Rest House. Check with a ranger.
Preview this Hike
---