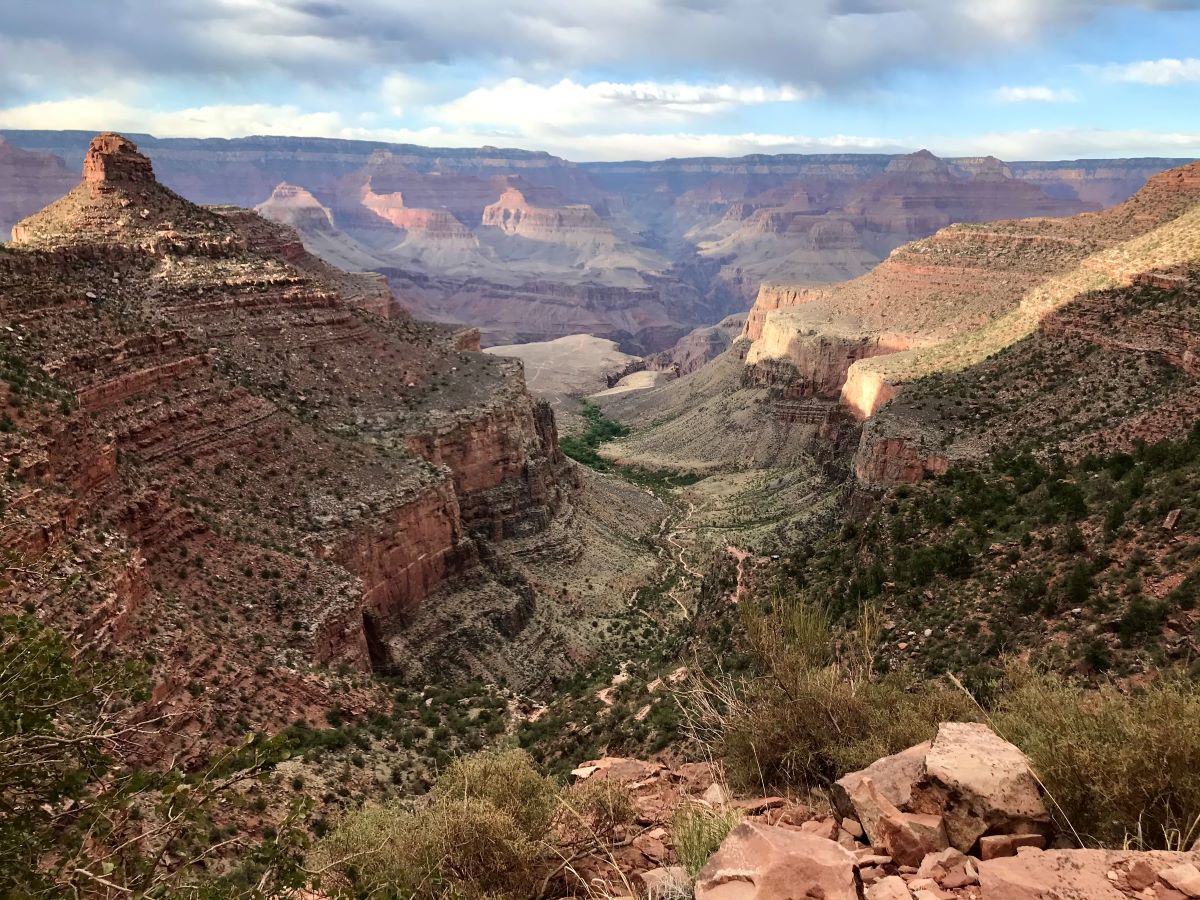 TRAIL STATS
Mileage: 23.7
Elevation gain: 4340 feet
Time to complete: 10-14 hours
Stars: ★★★★★
Loose terrain, moderate incline
"I believe in evolution. But I also believe when I hike the Grand Canyon and see it at sunset, that the hand of God is there also." -John McCain
We can't have a website about hiking in Arizona without including the Arizona hike of all hikes: Rim to Rim of the Grand Canyon. One of the Natural Wonders of the World, The Grand Canyon boasts around 5 million visitors every year, but less than 1% of them see the views from the Colorado River that formed it. There is no way to capture the sheer vastness of this place or this hike in words or pictures. It is the trek of a lifetime. It will tax you in every way, but the payoff is huge. Grand Canyon huge.
---
Logistics
First things first. Let's talk logistics of this hike because this part is almost as difficult as the hike itself. And I wish I were exaggerating this point. But hopefully we can go over a few points that might make it less daunting for you.
Transportation
The Grand Canyon is semi-close (but not that close) to two major airports—Phoenix and Las Vegas. (We live in Phoenix, so this makes the logistics just a tad easier.)
Once you have a car lined up, you can work on the other transportation logistics. Here's why it's so tricky: you are hiking from one rim to the other, which is around 24 miles through the canyon, but driving from one rim to the other is 4 hours and over 200 miles. Here are some options that we have made work.
Car Swap
Our very favorite option is the car swap. Have one group start at the South Rim, and one group start at the North Rim. You each hike opposite ways, and have a car waiting for you on the other side for your transportation needs. If you can make this happen, it makes all the other logistics so much less messy. For the people starting on the North Rim, you park at the North Kaibab Trailhead. For the people starting on the South Rim, you park in the Backcountry Lot and either hike down Bright Angel Trail (about1/4 mile form the parking lot), or take a shuttle to The South Kaibab Trailhead. (Hours vary depending on season.)
Personal Shuttle
Our second favorite method, which requires some serious selfless love on the part of one special person is the personal shuttle method. Everyone hops in and rides to the North Rim, gets dropped off by a loved one who then spends the day making their all the way around to the South Rim to pick you up on the other side when you're done. Shout out to Stephanie and Joanne who have lovingly done this for us!
Transcanyon Shuttle
The least appealing option, but sometimes necessary to get the job done: utilizing the Transcanyon Shuttle. Drive to the South Rim of the Grand Canyon, park, and ride the Transcanyon Shuttle to the North Rim Lodge to stay the night. The next morning, ride the lodge shuttle, or if you want to get an earlier start, walk the two miles, or hitchhike to the trailhead. This isn't like sketchy hitchhiking in the actual world. This is hitchhiking in the hiker world. People will happily pick you up and give you a ride. We squeezed 5 grown men into our van of 6 grown women to give them a ride and I'd do it again.
If the North Rim Lodge is booked, your other option is the Kaibab Lodge just outside of the park boundary. They have their own rim to rim shuttle and you can also schedule another shuttle to the trailhead for the next morning.
**The Transcanyon Shuttle departs the South Rim at 8:00 am and 1:30 pm everyday during the high season. It is $120 per person**
Lodging
South Rim
Your options for lodging on the South Rim are essentially endless. There are awesome places to stay in the park, or just outside the park in Tusayan. There are also awesome campgrounds to camp at in the park, as well as gobs of dispersed camping on forest roads just outside the park. We usually choose the dispersed camping option because we're just there to hike, and we're usually up and out pretty early. (You can dry camp on basically any National Forest Road in the Kaibab National Forest.)
North Rim
Lodges
The North Rim is far more tricky. There is so much less traffic to the North Rim, so the amenities are few but mighty. The North Rim Lodge is the only lodging within the park boundary, and getting a reservation can be brutal. Plan way, way in advance or check often for cancellations. They have a restaurant, a cafe, a small store, and world-class views. The cabins are… old. Rustic. But functional. They offer a shuttle to the trailhead the morning of your hike. This option is only available May 15th-October 15th. After October 15th, all services on the North Rim close for the winter, though the road to the trailhead is still open until December 1st or the first major snowfall, whichever happens first.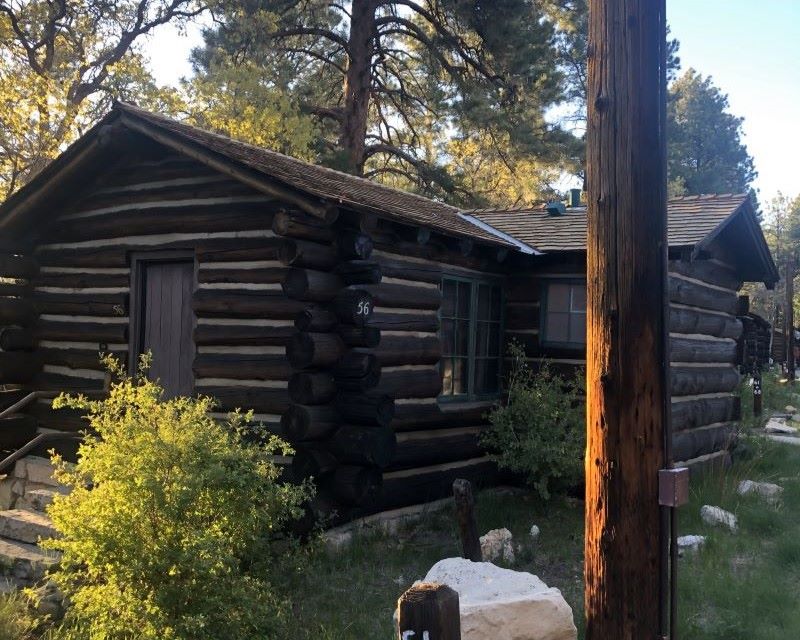 The Kaibab Lodge is another awesome option just outside of the park boundary. It is 16 miles from the trailhead, but much easier to land a reservation. They also have a rim to rim shuttle, as well as hikers shuttle that will take you to the trailhead the morning of your hike. They are super awesome and flexible if you want to head out early or require a late pickup. The fee for Rim to Rim Shuttle is $120/person, and the hikers shuttle from the lodge to the trailhead is $25/person.
Camping
If you are taking the shuttles, these two are going to be your best option. Camping is possible, but then you have to take all of your camping stuff on your rim to rim hike, and ain't nobody got time for that.
If you aren't taking the shuttles and have a car to store your gear, you can camp at the North Rim Campground, or any number of dispersed camping spots on Forest Roads just outside of the park.
Other Options
As a final recommendation, we have stayed at the Jacob Lake Inn, which is a 50 minute drive to the trailhead. It's definitely the most cost effective, as well as the easiest to get a reservation. No shuttles, and no frills, but listen when I tell you: World-class cookies. You should just stop here for a cookie no matter where you're going on the North Rim. I'll strongly recommend the Cookie in a Cloud. You're welcome.
Weather
The weather at the Grand Canyon is definitely worth mentioning. The Rim to Rim trail passes through every ecosystem to be found between Canada and Mexico, so to say the weather will be variable is a vast understatement. You could have frigid temps on the North Rim while it's hotter than six shades of hell at Phantom Ranch. And everything in between. I personally would rather deal with the cold than the heat, so I'm going to give you my best piece of advice: don't do this hike in the summer.
Best Time to Go
The perfect time to do it is between October 15th and November 15th. Here's why:
While the North Rim will likely be freezing and possibly have a spot of snow on it, which might make you question your sanity, it is so short-lived, and before you know it, the sun comes up, the trail gets warm, and you're shedding layers one hour in. Then you spend the rest of the hike in relative comfort.
Services on the North Rim are closed, so if you can figure out the logistics, the trail will be FAR less crowded. (Contrasting that to opening weekend in May where the entire trail is a virtual conga line of people. No lie.)
Planning for Heat
If this time frame isn't a viable option for you and heat will be an issue, you'll likely survive if you are prepared. But plan accordingly because the heat is not something you mess with here. Temps at Phantom Ranch can and do easily exceed 100 degrees. Very regularly. Hiking in that kind of weather is excruciatingly brutal, and needs extra preparation. My 3 main tips for these conditions:
Wear a light colored long sleeve cotton shirt, a hat with decent sun coverage, and have a cooling towel. Keep all of these things soaking wet as much as possible.
Dial in your nutrition and hydration one hundred percent. Drink as much electrolyte replacement (I like Liquid IV) as you are water. Snack constantly on salty snacks and eat regular meals. My first time doing this hike, one of the rangers told me that the absolute best food for this (or any) endurance hike is pizza, and I agree wholeheartedly. Pizza regularly makes an appearance in my pack for super long hikes.
DO NOT hike in the hottest part of the day! (10am-4pm). Start before sunrise and hustle down to Phantom Ranch by 10 am, then chill by the creek until the afternoon shade comes in. I know this seems drastic. But hiking the Devils Corkscrew in full afternoon sun will give you a personal meet and greet with the Devil himself. Not a good time. I've always dreamt of doing this hike by the light of the full moon. That's an option as well.
The National Park Service has more information on their website, and I found their Introduction to Backcountry Hiking Guide to be extremely informative as well.
Trail Description
Should I Start at the South Rim or the North Rim?
There are two ways to hike this beast—north to south or south to north. This description will be for the north to south route. Having done both, I think north to south is easier in basically every way. You will utilize The North Kaibab Trail going in, and the Bright Angel Trail going out. The South Kaibab Trail is super awesome and amazing, but it comes in second place for a few reasons: while it is a shorter exit hike, it is far steeper than Bright Angel, there is no access to water on the way out, and it is more exposed to the sun in the afternoon than Bright Angel. If you're doing south to north, the South Kaibab Trail is a perfect choice to go down.
The North Kaibab Trail descends the North Rim 5,740 feet, and connects with Bright Angel Trail at Bright Angel Campground after 13.7 miles. From here, you have a 9.5 mile hike with 4,340 feet of elevation up Bright Angel Trail.
North Kaibab Trail
The North Kaibab Trail begins in a cool forest thick with pine, fir and aspen trees. The trail descends sharply through the many rock layers of the canyon. The trail has been very literally carved out of a cliff, and the endless views into Bright Angel Canyon are my favorite of the entire hike. Along the way, you will also see the gushing Roaring Springs to your left, which is such a juxtaposition to the hot and dry trail you're hiking on.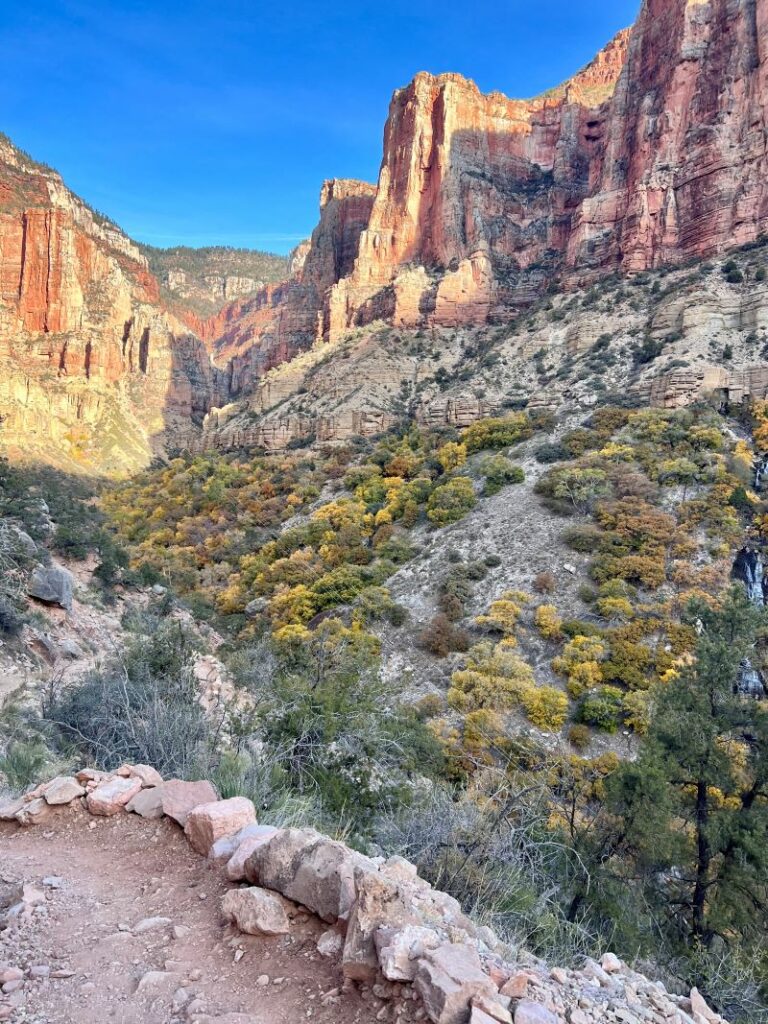 Manzanita Rest Area
The first notable stop along North Kaibab is Manzanita Rest Area at 5.1 miles in. By this point, most of the steep downhill is done. You can top off your water and use the restroom here. If the water is turned off, this is also a great place to filter.
Cottonwood Campground
Cottonwood Campground is just another 1.5 miles up the trail with most of the same amenities, but after that, it's 7 miles to Phantom Ranch. This stretch is notoriously the hottest and most exposed part of the hike, so make sure you have enough water and electrolytes to get you there. (Although you are hiking along Bright Angel Creek the entire way, and could filter in several places in an emergency.)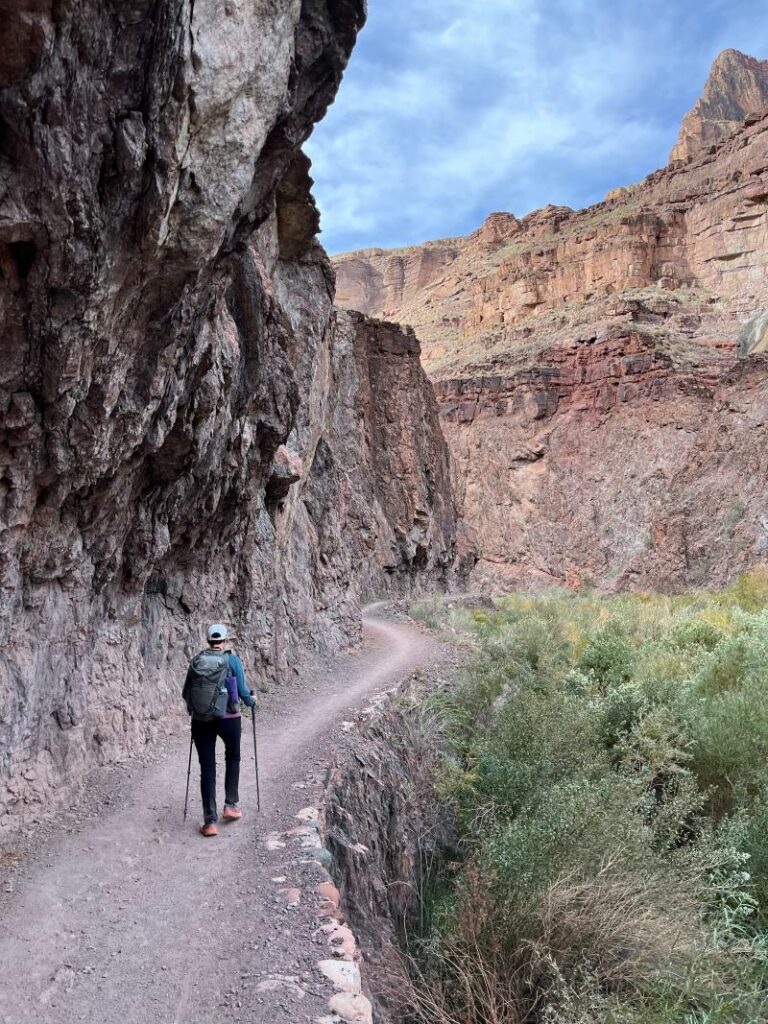 Ribbon Falls
About a mile after Cottonwood Campground, off the trail to your right, you will be able to see Ribbon Falls. The view of the falls from the trail is extraordinary, but I've heard it's even better close up if you have the time and energy to cross the creek and hike out to it. It's about a 1 mile round trip detour. I haven't made this detour yet, but I am determined to this year!
Phantom Ranch
Phantom Ranch is a pretty rad and special place. Like a stunning but quaint little oasis of cute cabins and tons of trees at the bottom of this massive canyon. Landing a reservation at a cabin here is like the Holy Grail of Grand Canyon hiking. It's a super special treat. For those of us just passing through, they have a little canteen with a few snacks and beverages you can purchase. My husband will sing the praises of that ice cold lemonade all day. He swears it has special healing and energy powers. $5/cup. So bring cash or card if you're feeling the need for extra powers.
Bright Angel Trail
Shortly after Phantom Ranch, you will pass Bright Angel Campground, and shortly after will be the junction with South Kaibab and Bright Angel Trails. You will continue on the River Trail to Bright Angel Trail via the Silver Bridge. Hiking across and along the Colorado River is an unreal experience. Just pondering the fact that this river carved this massive and vast and glorious canyon, and trying to wrap my head around that really made me wish I would've taken that college Geology class a little more seriously. It is just impossible to fathom. Maybe that thought will distract you from the horribly deep sand you're trudging through for a little over a mile.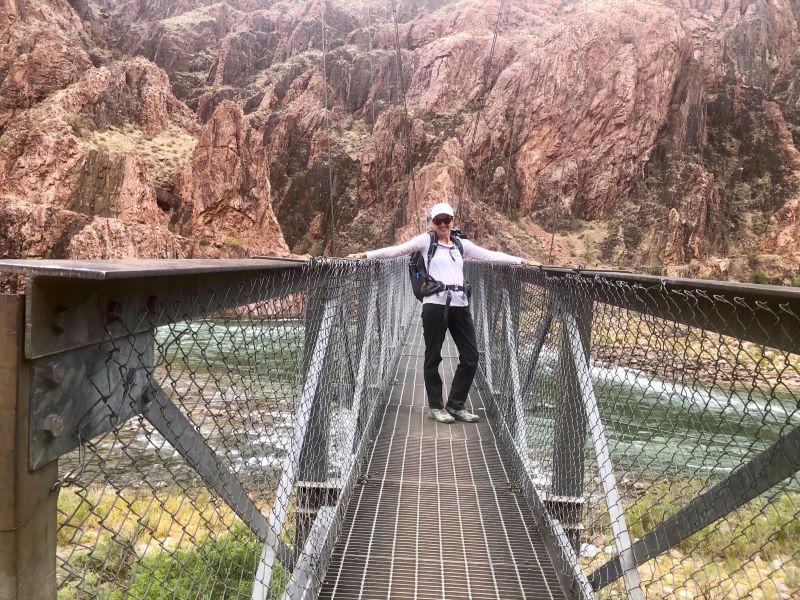 There is a river resthouse as you make your turn away from the river, and this is where the climbing begins in earnest. Don't worry, the trail eases you into it. It's a little over 3 miles to Havasupai Garden. With the exception of The Devils Corkscrew, (you'll know it when you see it, and it's as bad as it sounds), the going is a pretty gentle up to Havasupai Garden.
Havasupai Gardens
Havasupai Gardens (formerly Indian Garden) is just another super special and jaw-droppingly beautiful place. Garden Creek is running right beside the trail (sometimes on the trail) for a good portion of the trail here, making everything around it so lush and green. Soak it all in.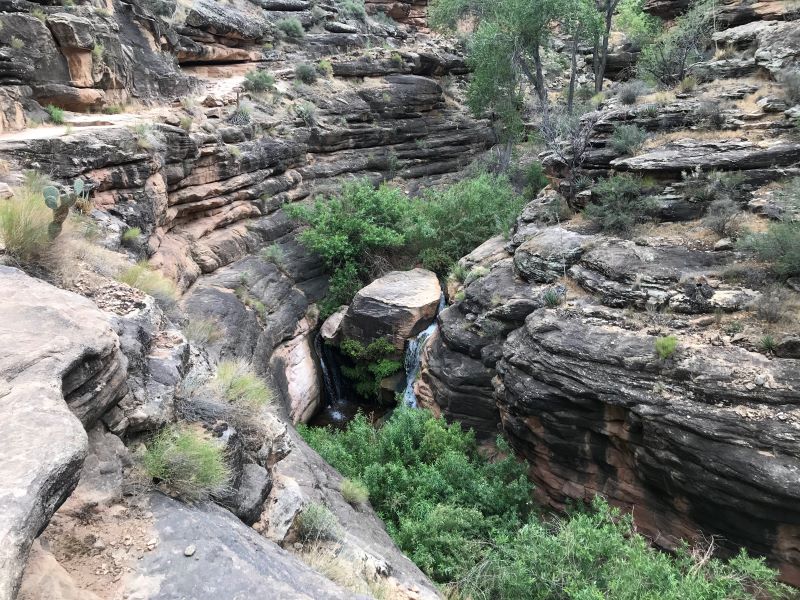 Bright Angel Rest Houses
From the rest area in Havasupai Gardens to the top is 4.5 miles, and it is the hardest part of the whole hike by far. By this point, you've already hiked close to 20 miles, and you still have most of the hard work left to do. I like to break that up into 1.5 mile chunks, because 1.5 miles at this point seems so much more doable than 4.5 miles. It is 1.5 miles to the 3 mile rest house, then 1.5 more miles to the 1.5 mile rest house, and then 1.5 more miles out from there.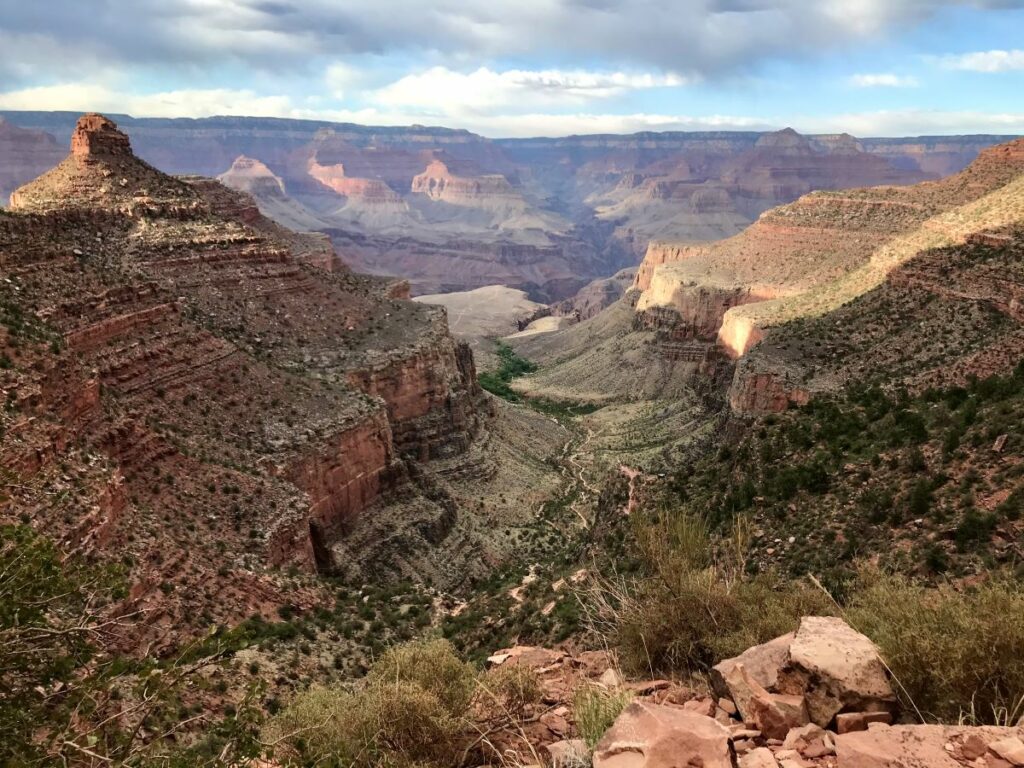 I allow myself (and encourage my group I'm with) to only stop to rest at the rest houses. And only for a few minutes at most. We go whatever pace we need to go, slowing way down if we need to, but we don't stop. Sometimes we get a little spread out here because everyone has their own struggling pace, and everyone gets a little quieter and more contemplative as they just put one foot in front of the other, using their poles as crutches as necessary. Whatever it takes is what you do to get yourself out of that canyon. In the struggle, don't forget to look around at the views. if the hike doesn't take your breath away, the views surely will. Let it distract you from the work and discomfort.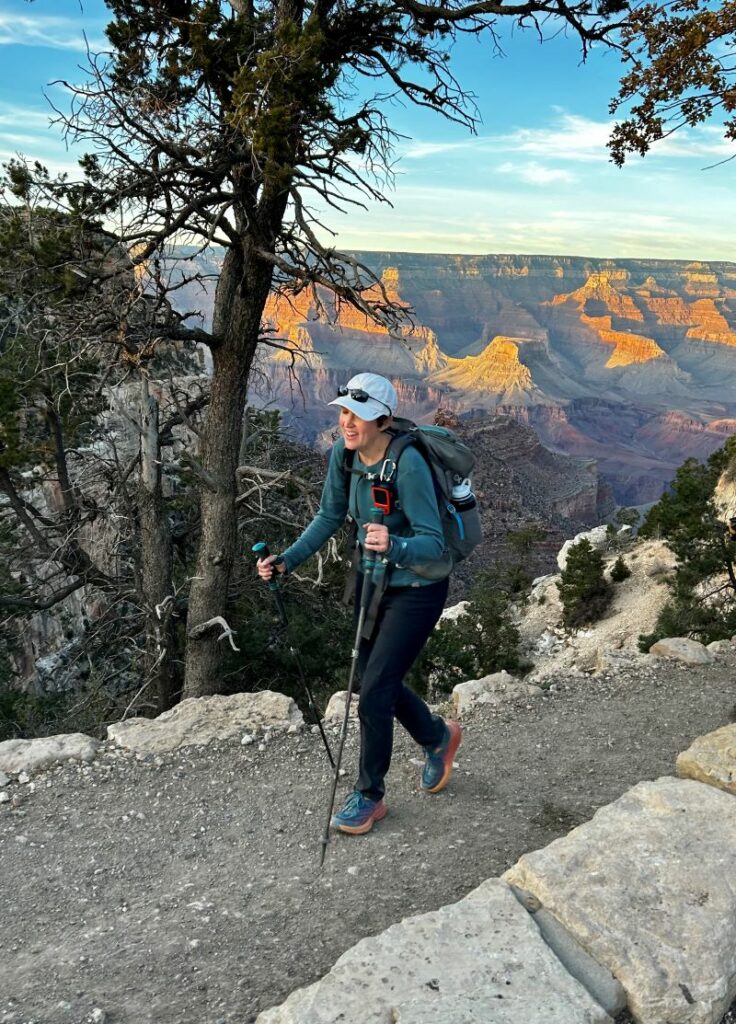 Here's how you'll know you're almost there: you'll see people in flip flops carrying bougie purses with no water. Smile and express to them how happy you are to see them as you pass. They are your sign. The top of a trailhead truly never felt so good and hurt so bad all at the same time. This is the moment where you will shake your head, and then whisper to yourself, "Never again." But I assure you, the views and the trails, the challenges and the people, the sunsets and the waterfalls… it's all a dangerously addictive elixir. You'll be back.
---
Map & Directions
Location Grand Canyon National Park
South Rim is located along AZ Highway 64 within the South Entrance of the National Park 50 miles north of I-40 at Williams.
North Rim is located on AZ Highway 67 42 miles west of US-89A at Jacob Lake.
Fees/Passes Entrance Fee is $35/car or the America The Beautiful National Parks Pass will get you in as well.
Trailhead Facilities There is water and restrooms at every trailhead as well as throughout the canyon
---