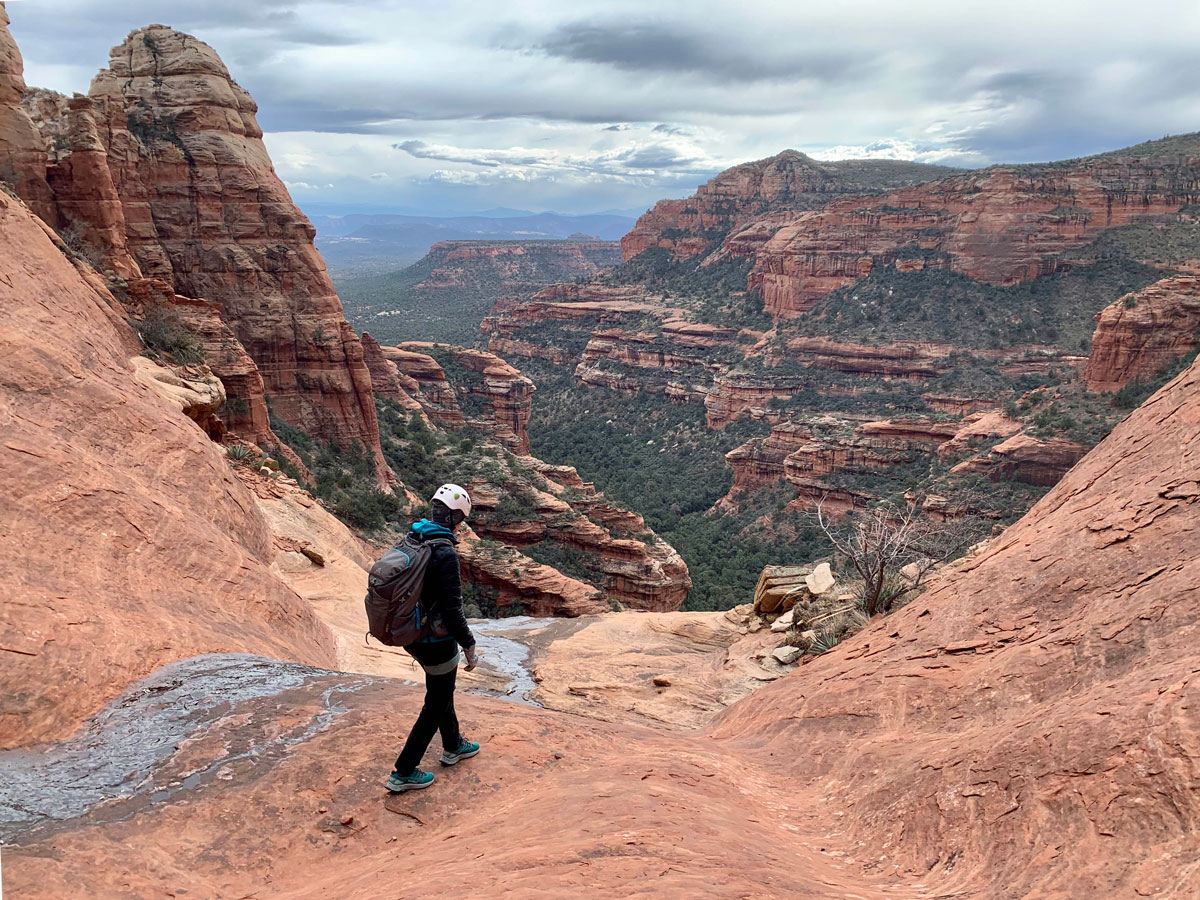 TRAIL STATS
Mileage: 6.3
Elevation gain: 2800 feet
Time to complete: 8-10 hours
Stars: ★★★★★
Strenuous, exposure
Grizzly Canyon offers the best canyoning in Sedona on the incredibly scenic Bear Mountain. A long and tiring approach hike will give way to some of the best views to be found in all of Sedona, as well as six epic rappels up to 180 feet, as you make your way down this stunning canyon. As a bonus, you'll get a birds-eye view of Native American ruins on the final, mostly free-hanging rappel. It's legendary!
🪢 This is a technical canyon with six rappels up to 180 feet. You will need two 200-foot ropes or one 200-foot rope and one 200-foot pull cord, plus all the required safety equipment for rappelling and knowledge how to use it. This guide is not intended to provide instruction on how to descend a technical canyon safely.
---
Trail Description
Grizzly Canyon has been at the top of our wish list for almost as long as we knew that canyoneering was a thing. It has a reputation for being one of the best Sedona has to offer. So for Ben and Russ's birthdays, we decided to make it happen. Finally.
Bear Mountain Trail
We parked our car at the Doe Mountain Trailhead and crossed the street to Bear Mountain, then began the climb. Bear Mountain is no joke. STEEP climbing was the theme. After about 2.5 miles and over 2,000 feet of elevation (as well as howling, face-freezing wind and a few snow flurries), we topped out, and that is the end of the marked trail portion of the adventure (bad news), as well as the end of the steep uphill ascent (good news).
After huddling behind a lone juniper for a few seconds to study maps and futilely attempt to block the wind, we headed east along the ridge to the start of the canyon. This is where it becomes imperative that you glance around for the path of least resistance through the thick manzanita, juniper, agave, scrub oak, and all the things trying to steal your flesh. There is no trail, and there is much bushwhacking. Enough to make you question your personal sanity. But after about a half mile of that, it begins to open up and you will find yourself on this ridge overlooking the entire Sedona valley, and I am not exaggerating when I say it literally took my breath away.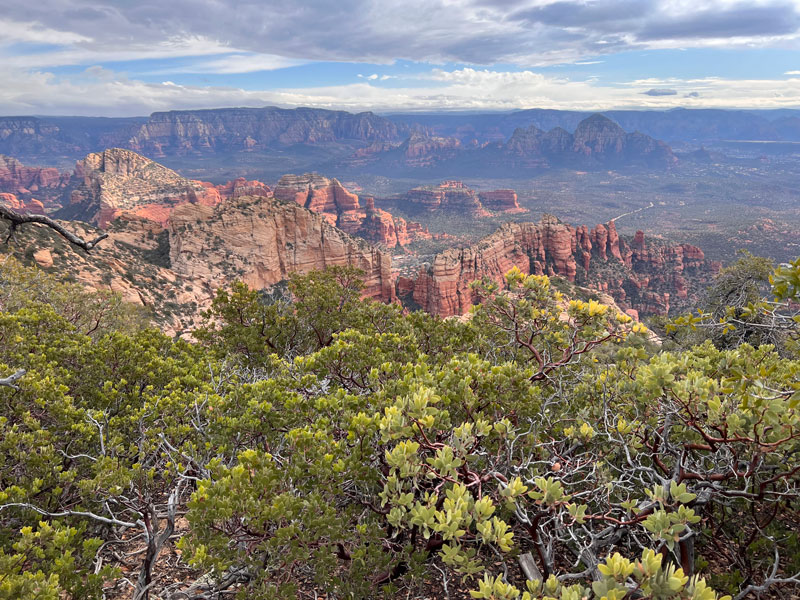 I have seen a view or two of Sedona, and thought I had seen the best from various spots. I couldn't have been more wrong. The view from this ridge was absolutely heart-stopping. It was worth the cold, and the snow, and the wind, and the bushes. It was worth every effort.
The Technical Section
After a little route-finding and scrambling around, we finally located the first rappel—down a pretty sketchy slab of layered sandstone with steep drops on either side! We employed our crab walking skills to get down to it, grabbed a quick lunch (it was well into the afternoon by this point), and prepped for the descent.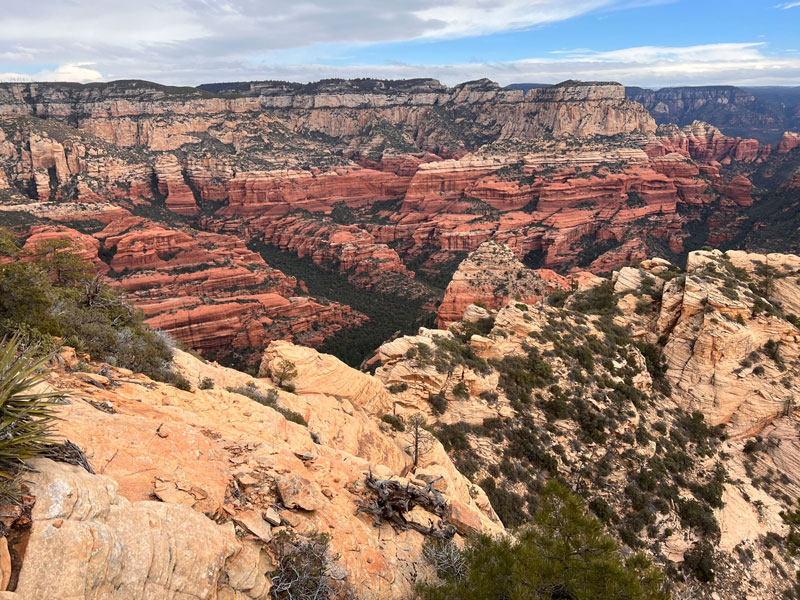 Rappel 1
Rappel 1 is an easy 150-footer, followed immediately by a second rappel or a downclimb of the next 200 feet of sandstone slabs. Stacey and I chose different paths of the downclimb, and the boys rerigged and rappelled it to save their knees a little. If I had to make a recommendation, I would say skip the rap, go ALL THE WAY left down canyon to a small chute, and start your downclimb there. The downclimb is fairly unsketchy with lots of switching back. Although there's certainly more than one way to bake that cake.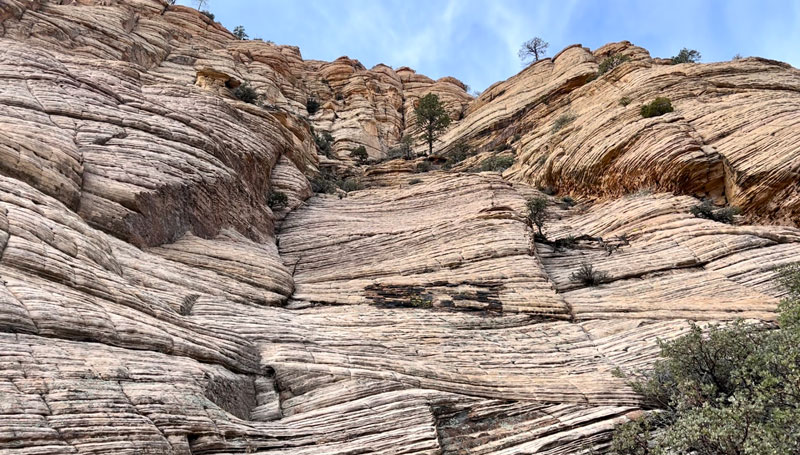 Rappel 2
Rappel 2 is 70 feet with a crazy and immediate overhang. The start was a tad awkward for the ladies, and the guys did it perfectly. Some hip-slide, some just leap off into the abyss. All about your personal comfort level with the abyss, I guess.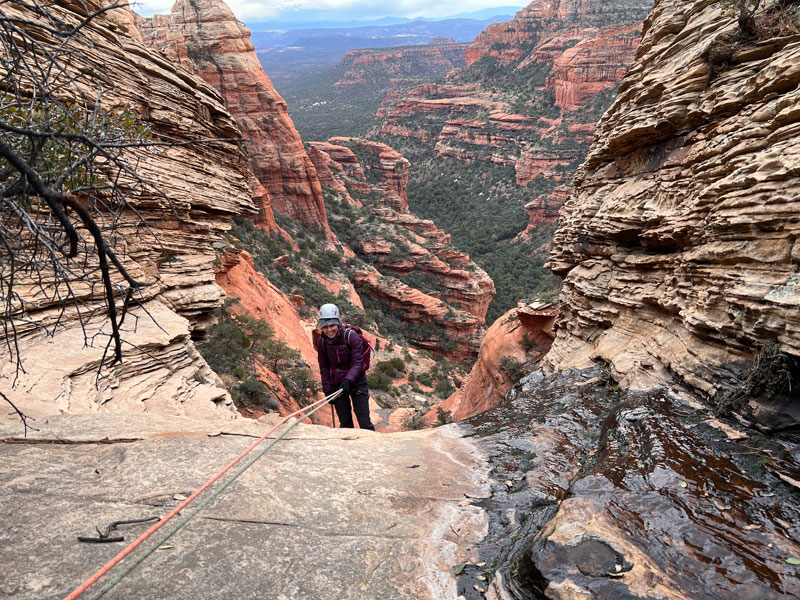 Rappel 3
Rappel 3 is a really fun, fat 180-footer in three stages. The anchor rock, though massive, looked slightly precariously perched, so we also slung a nearby tree to take some of the load off. I'm sure it was unnecessary, but it made us feel a little warm and fuzzy, so we went with it.
Rappel 4
Rappel 4 is a pretty standard 70-foot rap to a ledge. Once on the ledge, you can either downclimb through the bushes (me), downclimb immediately down canyon left (Stacey), or just extend the rappel the rest of the way down (the guys). If you have a 70 meter rope, you'll make it just fine, and that's the right play.
Rappels 5 and 6
Rappels 5 and 6 are right next to each other—you can see the anchor for six from the top of five. Five is a little baby rap, and six is the money rap of the canyon. It is almost completely overhung, and you pass some pretty sweet native ruins as you are rappelling down. Caution should be used when dropping the rope (trail it down, don't throw it) and on the rope pull (we found it easygoing to step way back and down canyon right and pull from there to avoid sticking or landing in trees.)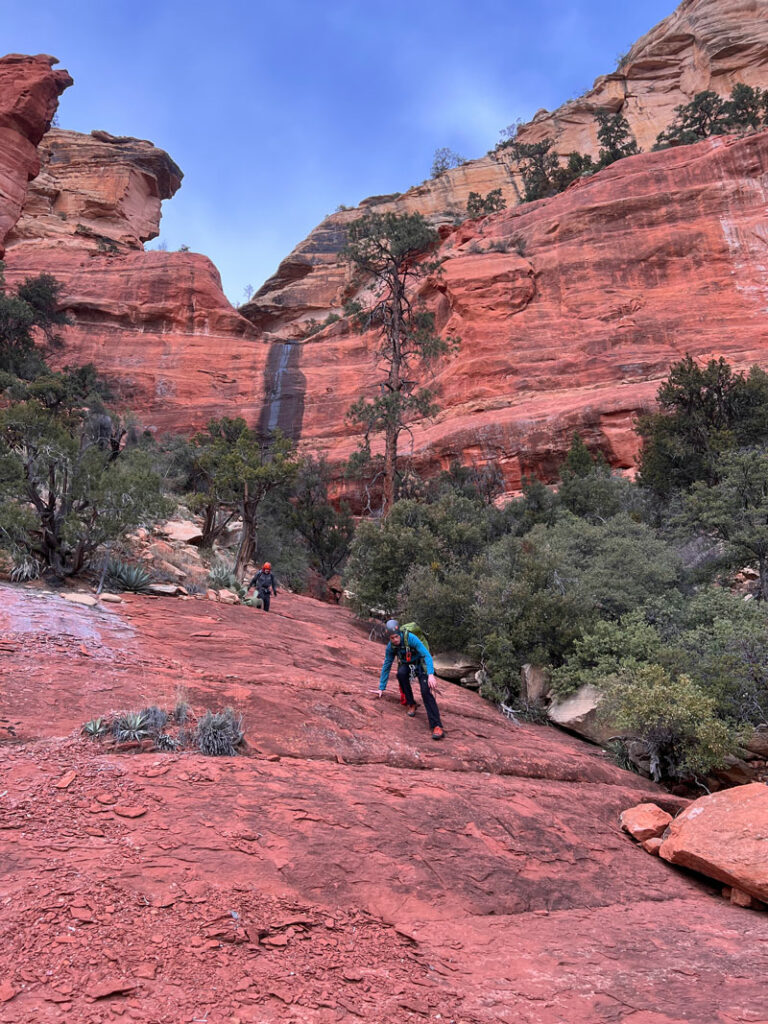 Fay Canyon Exit
The short hike out at dusk through Fay Canyon is just so beautiful with the sun setting on the red canyon walls that you barely even notice the exhaustion you feel from the adventures of the day. You'll be at the Fay Canyon Trailhead in short order. If you have two cars, you wisely left one of them at Fay Canyon to shuttle you back to the Bear Canyon lot (and remembered to bring the keys). If you aren't that fortunate, don't panic. It's an easy .8 mile stroll up the road. Or you can try your hand at hitchhiking, which I'm always tempted to do, but it's generally frowned upon by my caring and cautious friends.
Grizzly Canyon, even in slightly adverse weather, won us all over. It may have become the Sedona canyon to beat all Sedona canyons. We will be back for a return visit. Very soon.
---
Map & Directions
Location Red Rock-Secret Mountain Wilderness, Coconino National Forest, Sedona, Arizona
From Hwy 89A in West Sedona, go North on Dry Creek Road. At the first stop sign, turn left onto Boynton Pass Road. At the second stop sign, turn left to stay on Boynton Pass Road and follow to Fay Canyon Trailhead to park your shuttle car (if you have one). Then continue on to Doe Mountain Trailhead. Park here, and walk across the street to the Bear Mountain Trailhead – Oski Approach. A Red Rocks Pass or America the Beautiful pass is required at Doe Mountain.
Trailhead Facilities Pit toilets available. No water.
Preview this hike
---
Share this