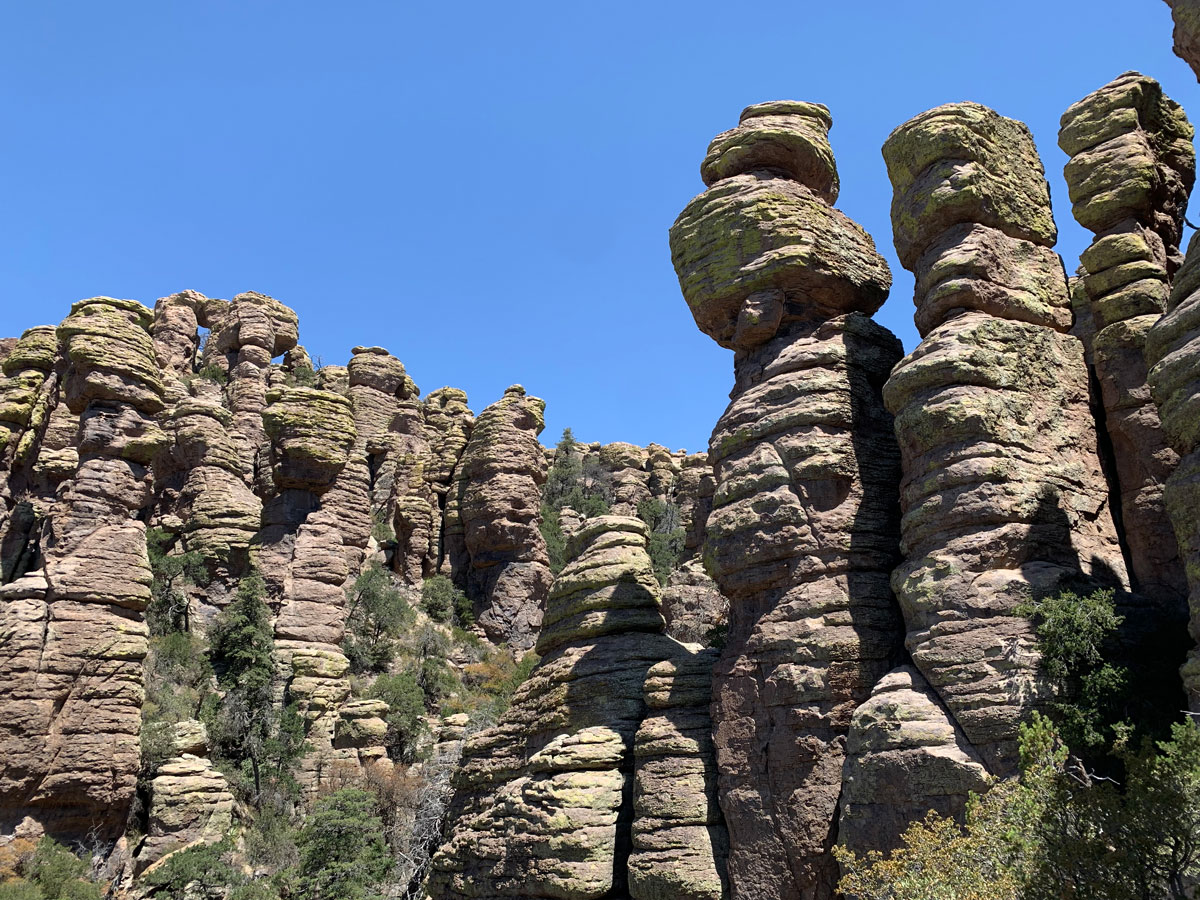 Heart of Rocks via Big Loop
TRAIL STATS
Mileage: 8.0
Elevation gain: 1895 feet
Time to complete: 4-6 hours
Stars: ★★★★
Moderate incline, good trail
The Big Loop hike through the heart of Chiricahua National Monument takes you into an enchanting land of endless hoodoos, including the Echo Canyon Grottoes and Heart of Rocks. You'll feel small as you wander through the giant hoodoos, marvel at their balancing acts, wonder at their shapes, and get drawn into their hidden nooks and crannies.
---
Trail Description
Chiricahua National Monument is a natural wonder. Its landscape of hoodoos as far as the eye can see have me grasping for adjectives. Mysterious? Weird? Intriguing? I think it's safe to say it'll bring you a little bit of all those feelings. The monument isn't all that big, and you can see most of what it has to offer on the Big Loop. You'll visit the Echo Canyon grottoes, Echo Park, the Heart of Rocks loop, Balanced Rock Trail, and Mushroom Rock Trail, with the option to visit Inspiration Point.
Echo Canyon Grottoes
Echo Canyon is simply amazing. If you don't have time for the full loop, be sure to do this trail anyway, and make sure to leave time for exploring. One does not simply hike past these incredible formations without stopping because they draw you in and invite you to explore. The first stop along the way is Echo Canyon Grottoes. The map you get at the park doesn't mark the correct location exactly, so don't make our mistake and go trying to find them where they don't exist. As long as you stay on the trail, you will find them because the trail goes right through the grottoes. You literally can't miss them.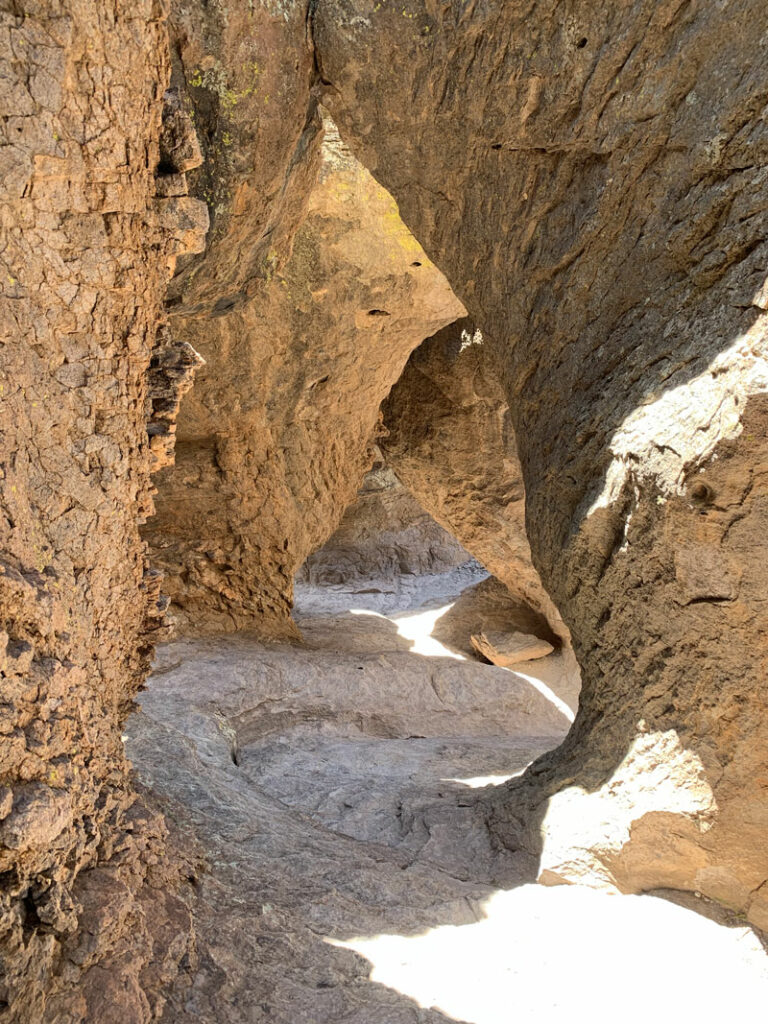 The grottoes are cool, but the fact is that there are a ton of really awesome formations all along this trail. We spent so much extra time exploring that we started to wonder if we'd have time for the entire loop.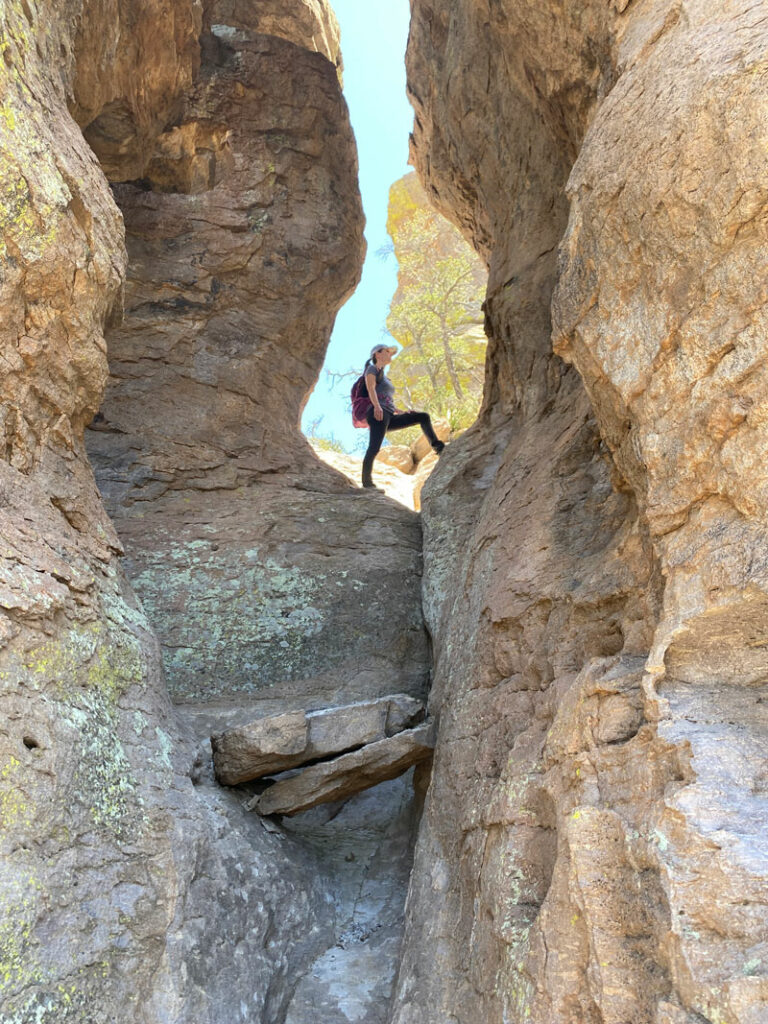 My pictures cannot come close to showing all there is to offer here.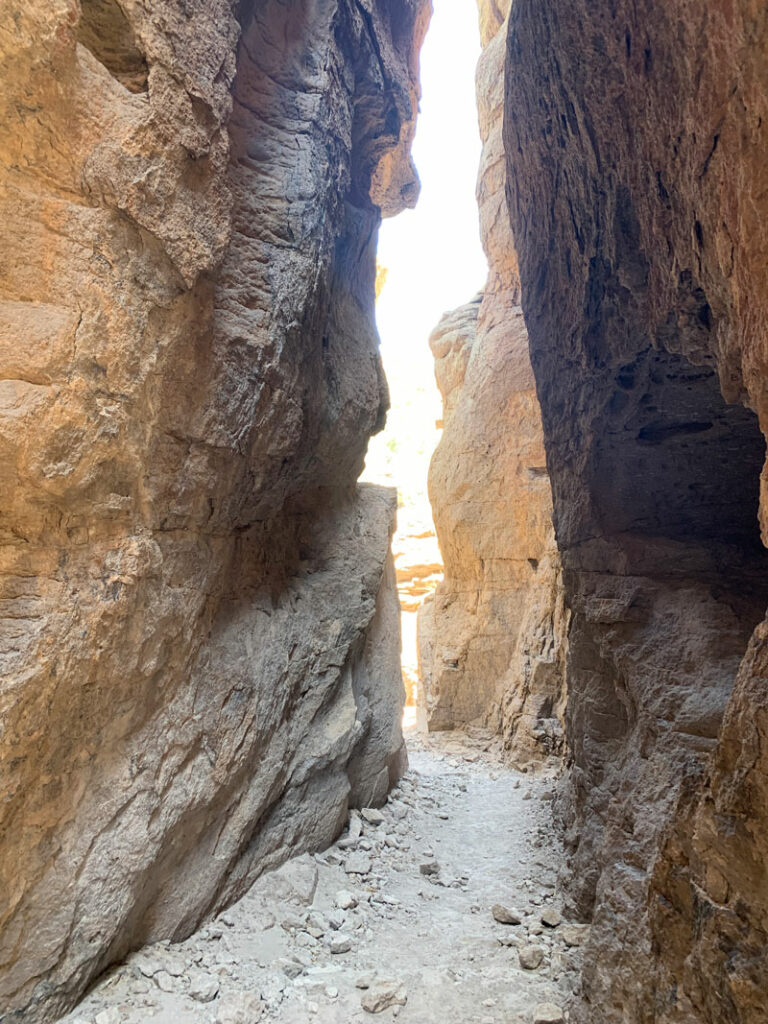 If you're short on time, you can make a smaller loop by turning onto Hailstone Trail and following it to the Ed Riggs trail, but you'll miss the Heart of Rocks, which is pretty cool, but I think it's not quite as cool as Echo Canyon. As you descend farther into the canyon, it begins to turn into a forest, and you'll enjoy plentiful shade and probably a lot of beautiful birds. I'm no bird expert, but even I had to stop and watch them frolic.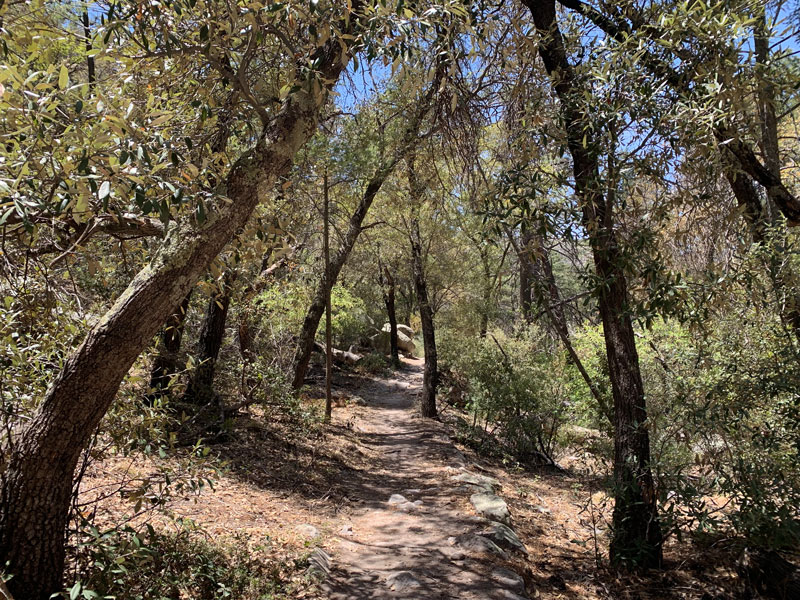 Somewhere in here is probably a good place to eat lunch, and hopefully you didn't pack your takeout container of leftover Mexican food for lunch and end up with guacamole all over inside your pack. Yeah, hopefully not. Like, who would do that?
Note: flies like guacamole.
Sarah Deming Trail
When you get to the Sarah Deming trail, it's time to start going uphill. That nice forested lunch spot is not free. Now I don't know if it's just because we foolishly chose to do this hike after a long day of exhausting canyoneering the day before or what, but that uphill section felt like it went on forever. Like, where the heck is the top of this thing? But eventually it does end, and you'll be among the rock formations again. And it'll be just as mind-blowing as before. How does this rock stand there like that? How? I can't even balance a spoon on my nose.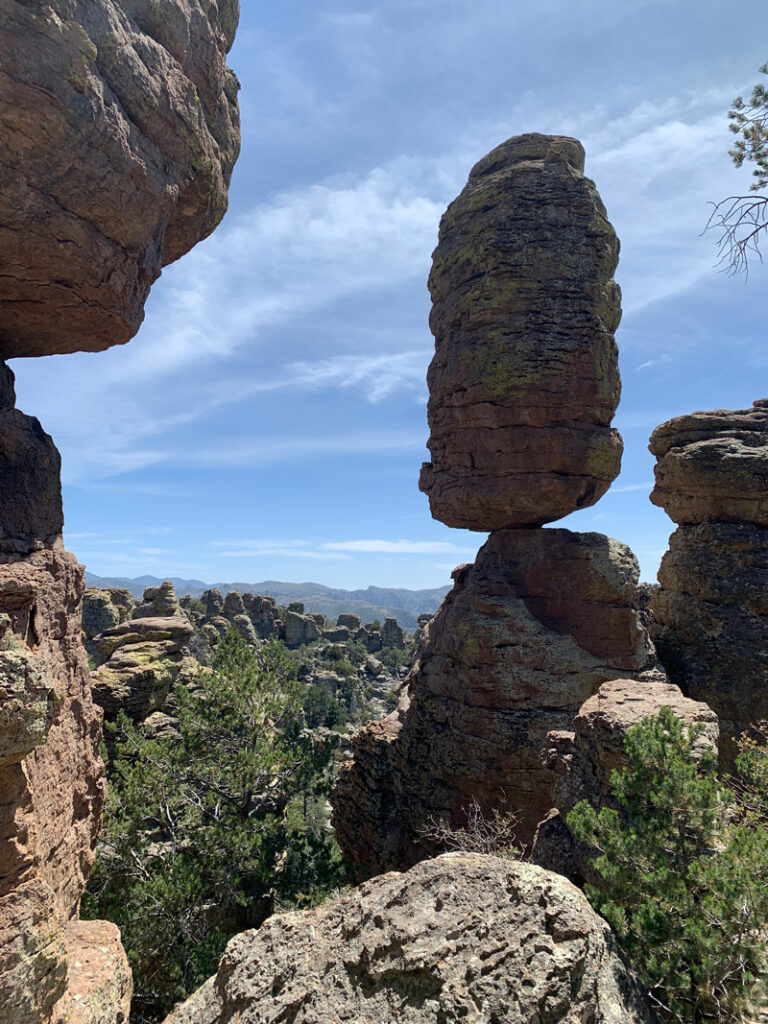 Heart of Rocks Loop
Soon you'll see the turnoff for the Heart of Rocks loop, which says it's a mile but sure does not feel like it. There are a lot of fun formations with names there. Be sure to take a selfie kissing your hiking partner at the Kissing Rocks. It's tradition!
In this area, you'll occasionally get glimpses of vast valleys completely filled with hoodoos, and it's then you'll realize that you are only experiencing a tiny fraction of these magnificent pieces of natural art.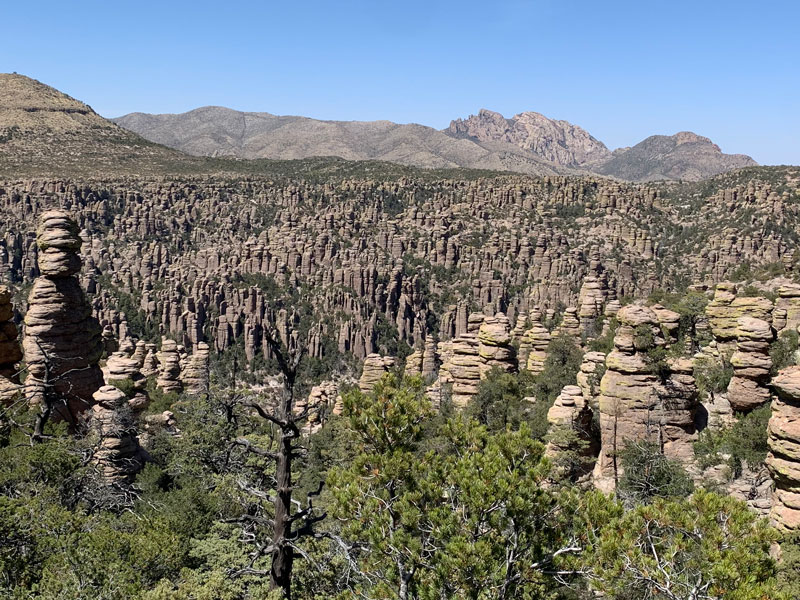 Balanced Rock Trail
After Heart of Rocks, continue the loop on Balanced Rock trail. This section passes through a high flat area (with a nice breeze, blessedly, since it was warm that day), and you'll have the option to take a one mile side trip to Inspiration Point. It sounds really amazing, but we didn't check it out (remember our sore muscles from canyoneering?). Be sure to let me know how it was if you end up going.
Mushroom Rock Trail
Eventually, you'll drop back into the forested area again as the trail continues to Mushroom Rock Trail. Look up on the high cliff next to you to see Mushroom Rock, another impossibly balanced rock (there's a sign pointing to it). Finish the loop on the Ed Riggs trail, which has plentiful afternoon shade, and then a short connector trail to the parking lot.
Chiricahua National Monument is magical. Mystical. Maybe it's even spiritual. Go see it, and then drop me your adjectives in the comments below.
---
Map & Directions
Location Chiricahua National Monument, Willcox, Arizona
From Willcox, Arizona, take Highway 186 south. Make a left at the junction with Highway 181, and that will take you straight into the park.
Trailhead Facilities Pit toilets are available at the trailhead. Water is available at the visitor center nearby.
---