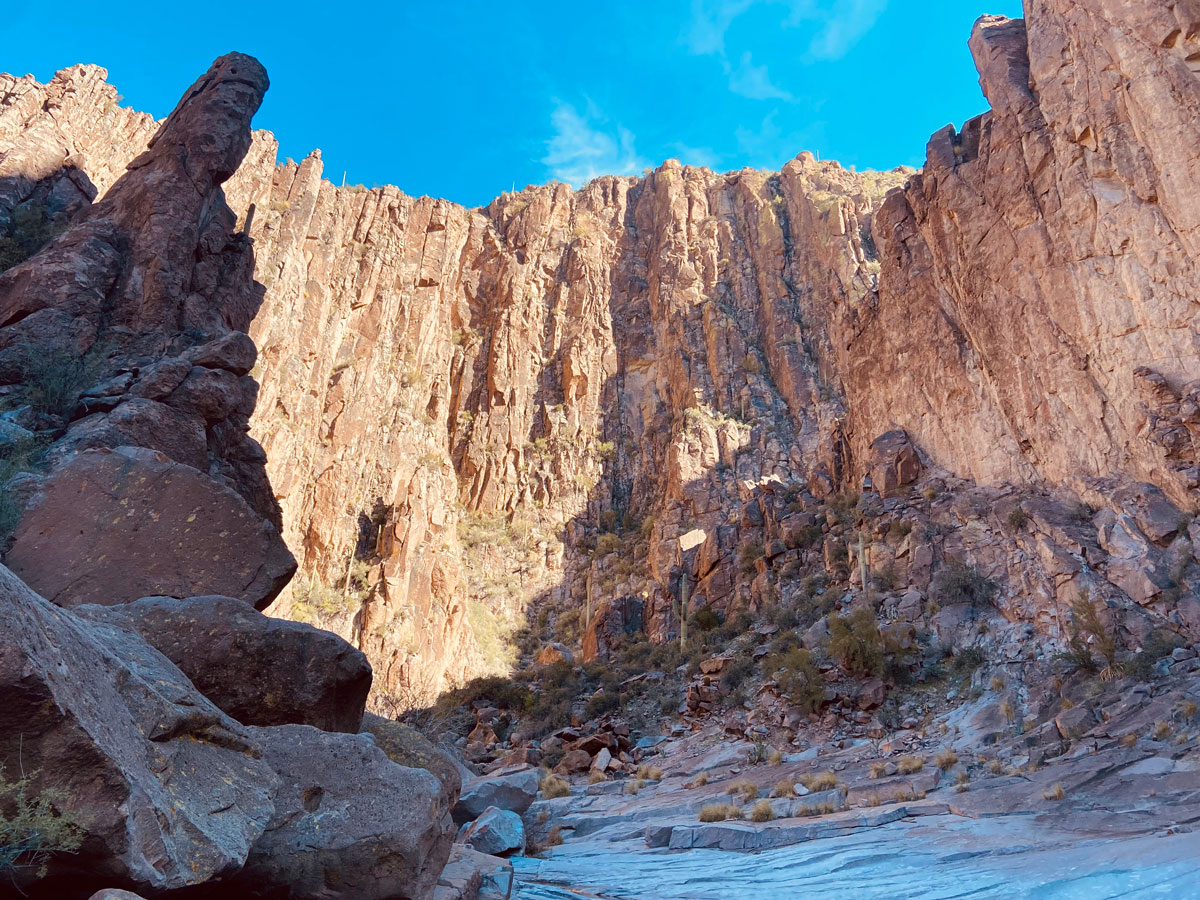 TRAIL STATS
Mileage: 10.4
Elevation gain: 3000 feet
Time to complete: 5-7 hours
Stars: ★★★★
Strenuous, some route-finding
After a good rainstorm, La Barge Creek transforms into a desert oasis with deep pools, rushing water, and small waterfalls. Just north of Battleship Mountain, near what is called La Barge Pool, lies one of the most scenic segments of the creek—a place often called the La Barge Box. Towering canyon walls and a short section of narrows are just some of the features of this beautiful canyon. Most people will want to turn around after visiting the narrows, while the more adventurous can continue to follow the canyon to Cavalry Trail.
---
Trail Description
The trip begins at the Canyon Lake Marina, which has several parking spaces on the east end reserved for hikers (Tonto Pass NOT required). After parking your vehicle, make your way across Highway 88 to the start of the Boulder Canyon Trail. Though the hike starts off steep, you'll soon be rewarded for your efforts with grand views of Canyon Lake and Boulder Canyon below. Ahead, Battleship Mountain and Weaver's Needle will come into view, providing much needed motivation for the journey ahead.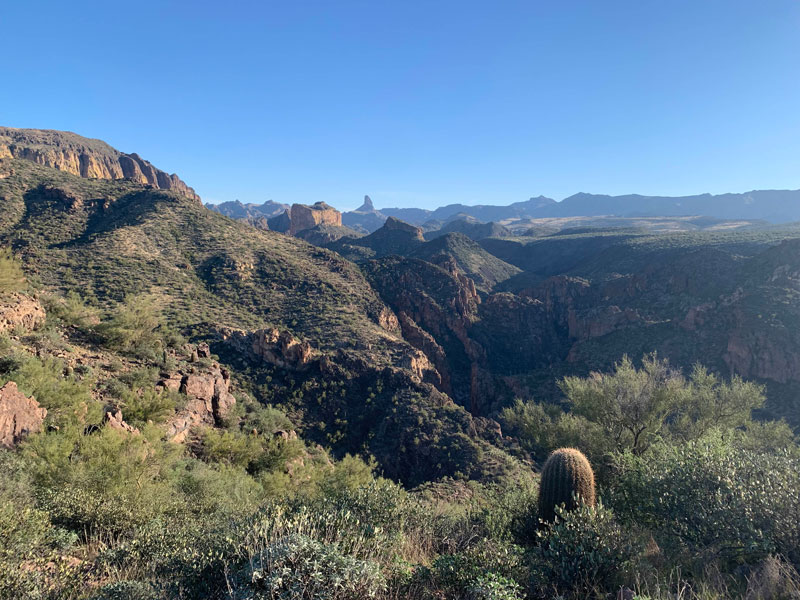 The trail then drops into Boulder Canyon where you'll follow La Barge Creek along the north side of Battleship Mountain. This is where your friends start wondering if you know what you're doing, and you begin wondering if I know what I'm doing, as you rock hop and criss-cross the creek, looking in vain for any sign of a trail (I swear it's marked as a trail on my topographical map!).
La Barge Pool and Box Canyon
Just when you're about to be booted as leader of the pack, the creek veers off to the left between the narrowing walls of the canyon, and your friends will be so awestruck, they'll totally forget about the lack of a proper trail. At this point, you'll find yourself at beautiful La Barge Pool. There is a super sweet campsite across the pond, which I filed away in my head for a future backpacking trip. The plentiful shade here at noon made for a great, if somewhat chilly, place to enjoy lunch on the rocks as we listened to the flowing water and started wondering what the path ahead had in store.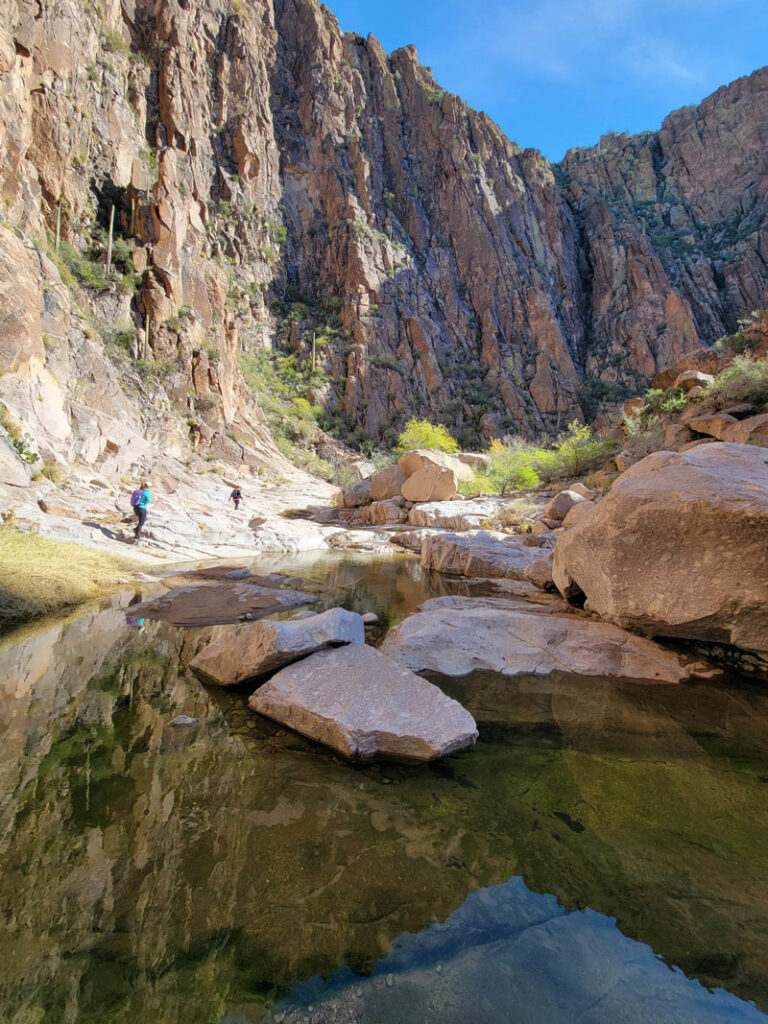 If the canyon is full of water, as it was on this trip, there are a few tricky spots on your way up the canyon where you might have to climb up and around obstacles so everyone can get through without getting wet. Well, everyone except that ONE friend who can't seem to keep her feet out of the water and then eventually goes in thigh deep. (Yes, it's on video.) I find this type of hiking pretty fun and memorable, and the scenery definitely made it worth it.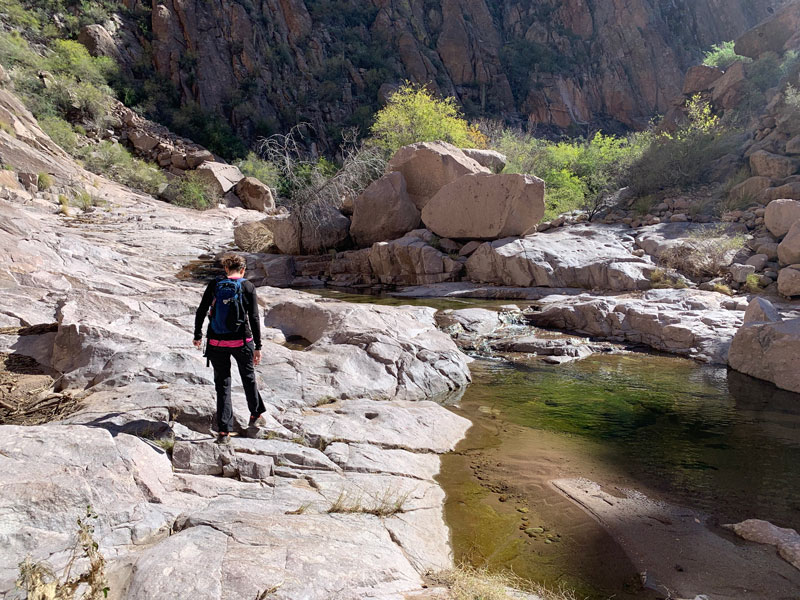 Once the scenery starts getting a little more boring, you can either turn back for the shortest return route, or keep following the creek to where it intersects with the Cavalry Trail. Listen to me now: whatever you do, do not plan to follow it all the way to Cavalry Trail unless you have plenty of time to spare. The going is slow through this section, and downed trees from flash floods make it all the more difficult. (Did I forget to mention NOT to do this trail or any narrow canyon if it's been raining?) There will be bushes to whack. We didn't know how long it would take, so when we started running low on time, we decided to take a "shortcut" and cross a low saddle to cut off about a mile. My friends cringe when they hear me say shortcut, and with good reason. Not recommended. Just NO. If you're short on time, turn yourself around and head back. You've already seen the best of the route anyway!
Optional Loop
Adds 5.8 miles, 356 ft elevation gain, and takes away a full star. This is the yellow portion shown on the map below.
If you didn't turn around, and you eventually make your way to Cavalry Trail, follow it until it intersects with Boulder Canyon trail. At this point, though we figured a return trip rock hopping back down La Barge Creek was probably technically the shortest route, we opted to take Boulder Canyon trail along the south side of Battleship Mountain because it's a MUCH better trail and is almost guaranteed to get you there faster! Plus, you get to go past this weird old mining camp with a bed frame. Nap, anybody?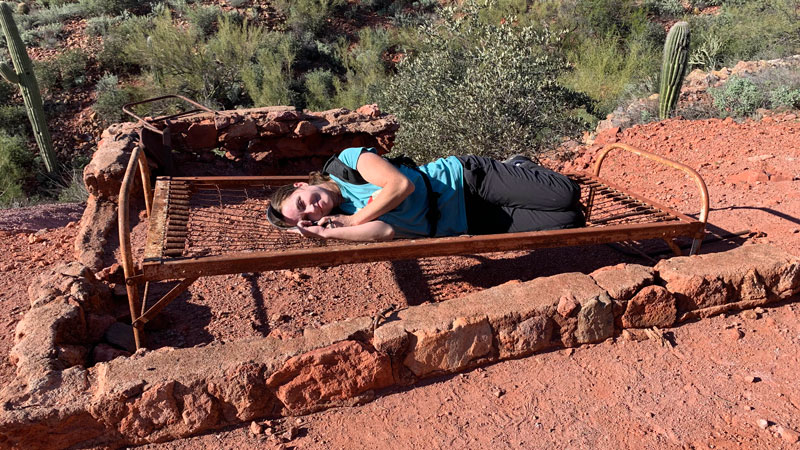 Not far from here, you'll reconnect with the section of the trail you took this morning and will retrace your steps back to the Canyon Lake Marina. The afternoon light tends to be better, so whenever your friends start complaining, just turn around and exclaim, "Check out that view!" It's sure to do the trick.
---
Map & Directions
Location Superstition Wilderness, Tonto National Forest, Apache Junction, Arizona
Take US60 to the Idaho Road exit. Go north on Idaho Road to Highway 88 and travel east (right) until you reach Canyon Lake Marina. Turn left into the marina and then turn right into the parking lot and find the parking spaces nearest to the highway that are marked as reserved for hikers.
Trailhead Facilities Restrooms and restaurant are available at the marina in the same parking lot.
Preview this Hike
---