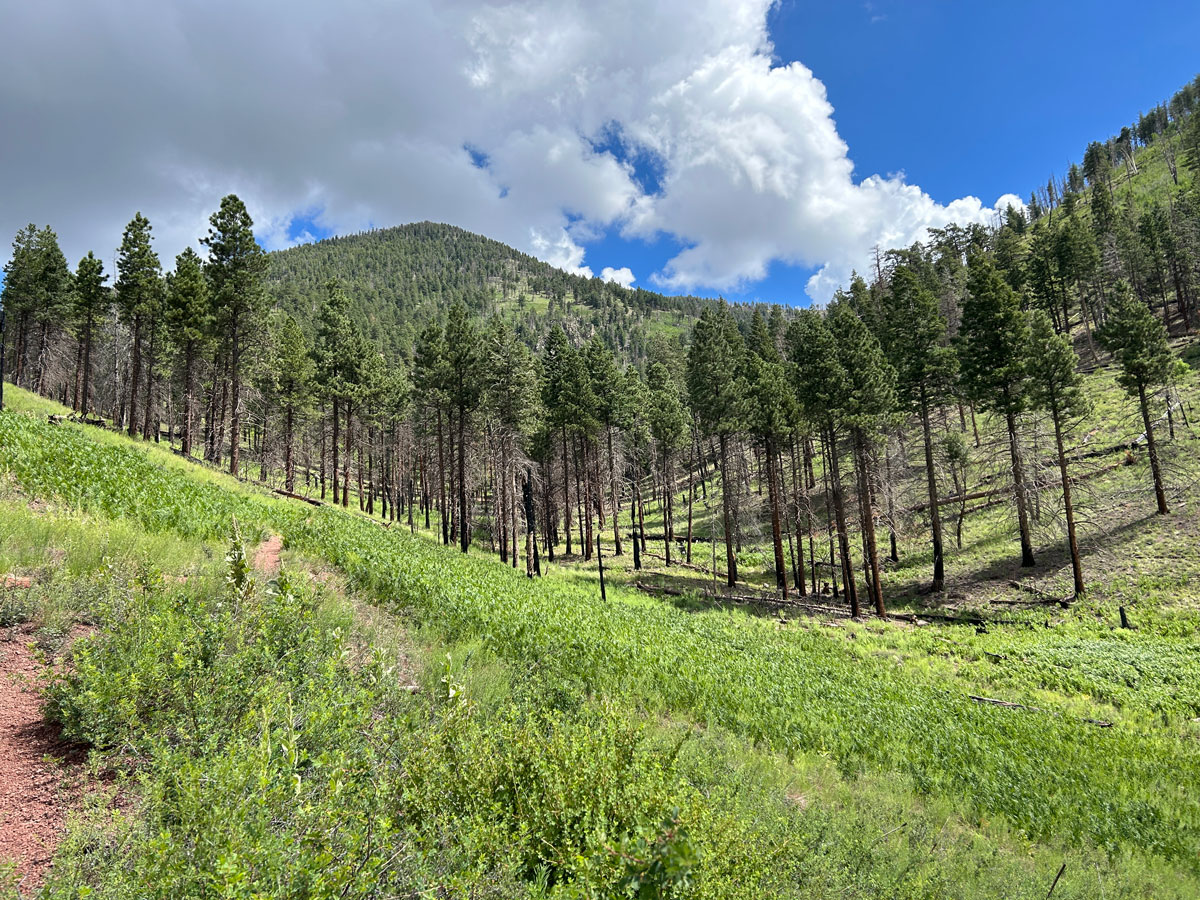 TRAIL STATS
Mileage: 9.0
Elevation gain: 2788 feet
Time to complete: 5-7 hours
Stars: ★★★★
Good trail, long, moderate incline
Kendrick Peak provides a pleasant high elevation hike to beat the summer heat or as a slightly easier alternative to Humphreys Peak in the Flagstaff area. You'll find an old lookout cabin at the saddle and a modern fire lookout at the summit, plus great views including the San Francisco Peaks. The well-groomed trail and plentiful switchbacks make the hike never seem too hard, though there are a few dead trees to go over or around.
---
Trail Description
To get to the trailhead, you'll have to drive about 7 miles on dirt roads, but if roads are dry, a passenger car can make it without a problem. Note that roads that start out dry might not be dry when you are done, as we found out the hard way, but even with some unexpected rain (and hail), we made it out to tell the tale.
Kendrick Peak Trail
From the trailhead, go through the opening in the fence near the sign to start the trail. If you brought an old topographical map along, don't get too hung up on where it says the trail "should" be. The beginning of the trail didn't match the map, but even without a map at all, you should still be able to stay on the trail pretty easily.
The trail passes through a ponderosa forest broken up by rolling meadows filled with ferns and grasses. You can see signs of damage from the Pumpkin Fire where there are lots of downed trees, but it's not so extensive that it detracts from the beauty of this place.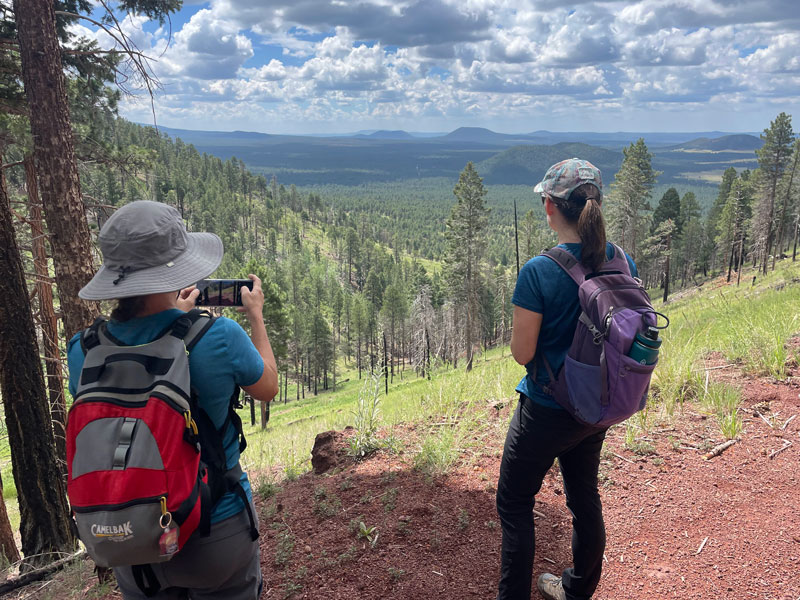 A few of the downed trees block the trail here and there, but it's always easy to go over or around, and there aren't so many that you'll be regretting this hike (see Secret Mountain for a different story).
From the beginning the summit didn't look that far away, but these switchbacks seem to be taking you on a tour of the whole mountain. "Why are we going this way?" Take a peek at the map below to see what I mean.
Kendrick Peak Saddle
When you reach the saddle, the trees will thin out a bit, and you'll find the old cabin lookout. The doors were locked, but through the window, we could see an ammo box with a sign on it directing visitors to sign the log inside of it. Well. . . we decided not to break and enter.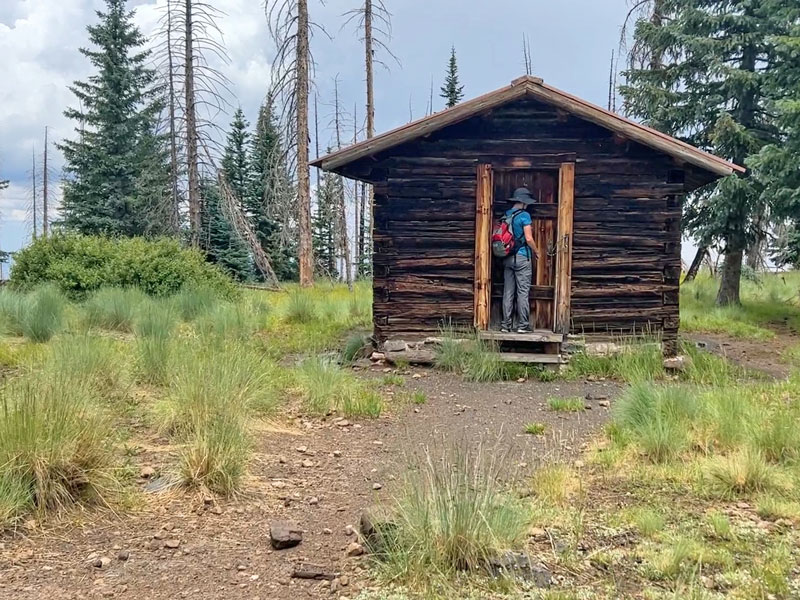 From there, all you have is the final push to the peak, and you'll be able to see the newer fire tower lookout perched atop it.
Now, I swear we checked the weather the day before, and there were full, happy suns all the way until 1pm. But the clouds started looking a bit ominous, so we checked it again and saw a 50% chance of rain for the next couple hours. For a minute there, our summit bid was in jeopardy, but the weather cleared enough to give us a perfect window of opportunity.
Kendrick Peak Summit
As soon as you hit the summit, you'll be at the new fire lookout tower where you'll enjoy nice views. Unless you see that storm in the distance. Then it'll put the fear of God in you.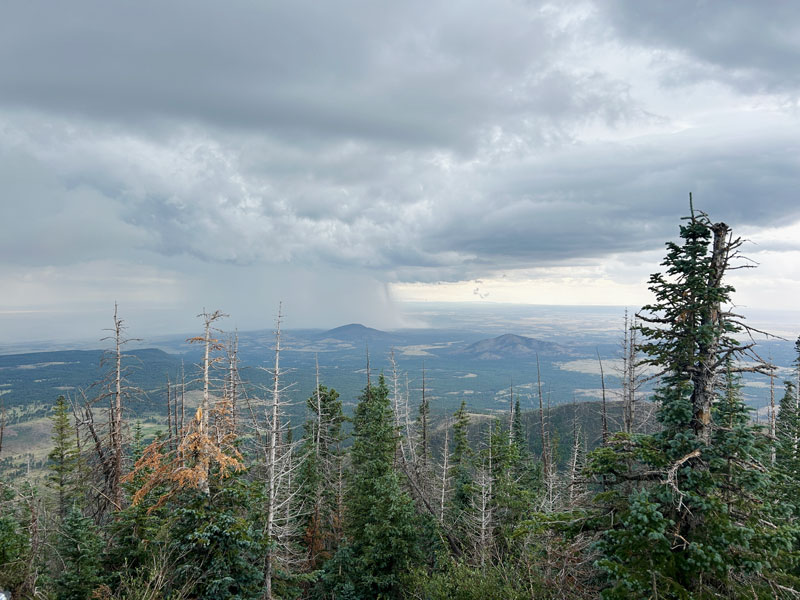 Inside the tower, there were water containers, paper towels, and other supplies. Fine, but what was really unsettling was the no smoking sign that warned of extreme danger. With storm clouds on the horizon and thunder rolling, I didn't want to be anywhere near that big metal building, and so we snapped a picture and headed down.
Fast.
And got pelted by hail on the way.
But when the rain and hail calmed a bit, we took a moment to soak in the beauty of the scene. Okay, yeah, I just wanted an excuse to post this picture because I love it.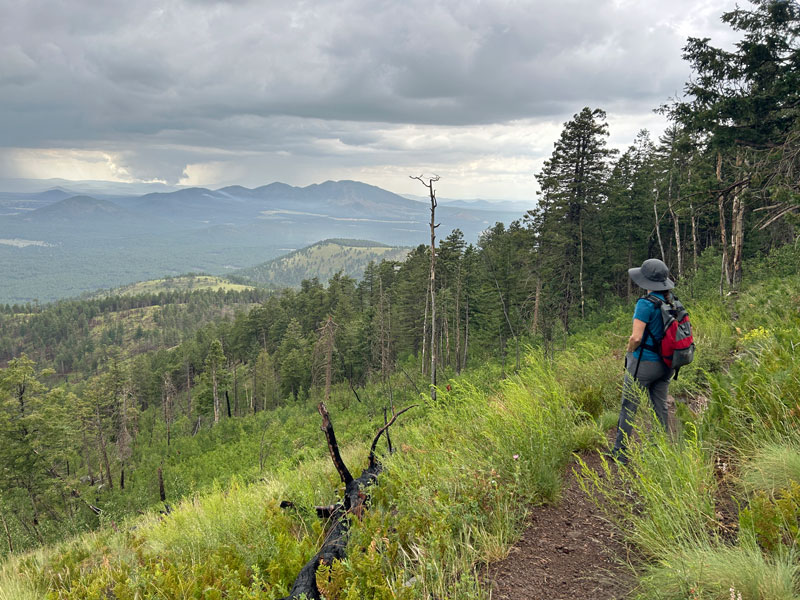 The next worry was whether we'd be able to make it out after the rain with our 2wd passenger car. So we ran, but the storm had already dumped what it was going to dump and was clearing. We even saw sunshine.
And we made it out just fine. If you don't count being soaking wet.
---
Map & Directions
Location Kendrick Peak Wilderness, Coconino National Forest, Flagstaff, Arizona
From Flagstaff, go north on Humphreys Street and turn left on Highway 180 like you're going to Snowbowl. Pass the road for Snowbowl and keep going to Forest Road 245, where you'll turn left. There are lots, and I mean LOTS, of potholes in this road. None too serious, but you might want to slow down because they hide in the shady spots. At the fork, turn right onto Forest Road 171. There's one tricky intersection ahead where you'll have to fork right and then fork right again immediately onto Forest Road 190. This road takes you to the trailhead. There are signs that help direct you there.
Fees/Passes None
Trailhead Facilities Pit toilets
Preview this Hike
---