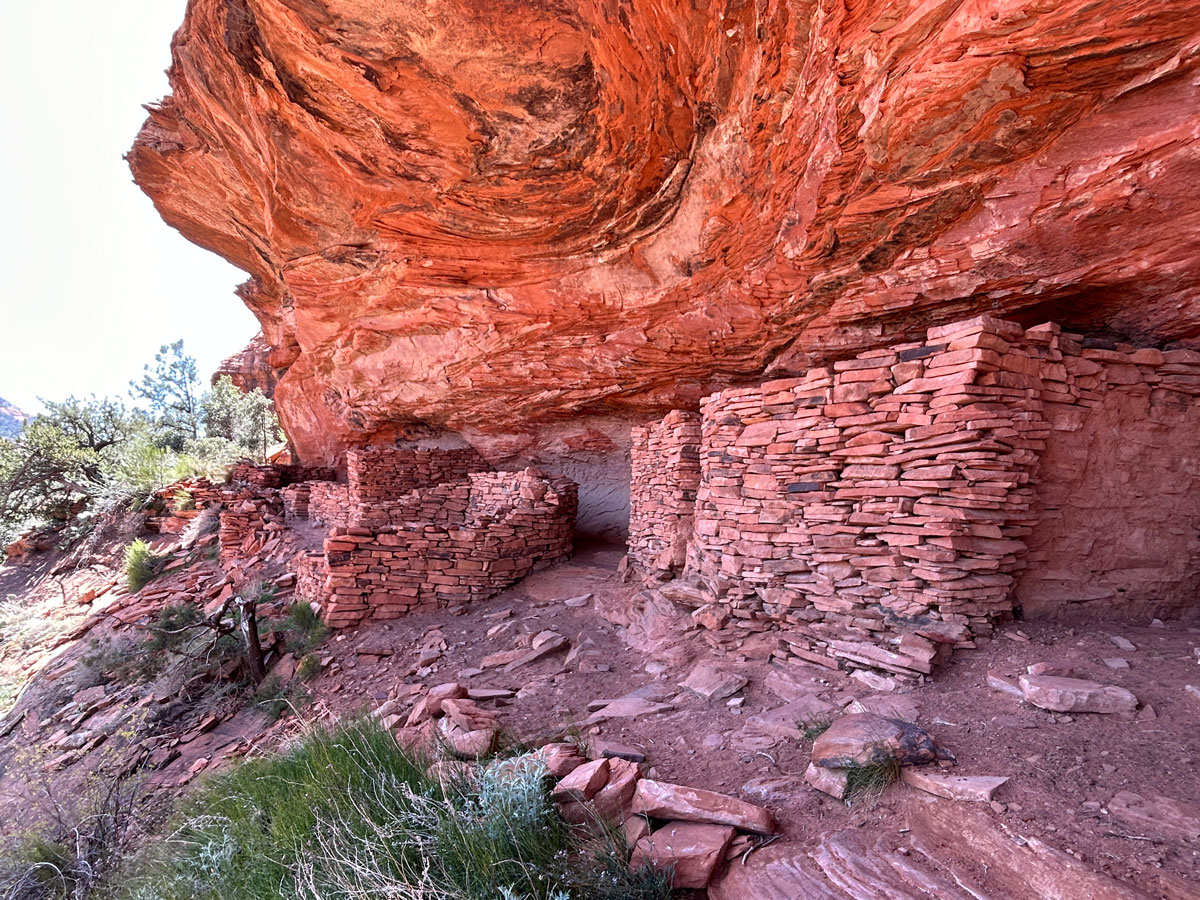 TRAIL STATS
Mileage: 3.6
Elevation gain: 825 feet
Time to complete:
Stars: ★★★★½
Scrambling, navigation challenges
Loy Canyon is a journey back into ancient times with evidence of ancient Native Americans hidden throughout the canyon. If you're feeling up for a challenge, you can continue your hike all the way up onto the rim for magnificent views.
Native American ruins, petroglyphs, and artifacts are an important part of our human history and are of significant importance to their modern day descendants. Please respect these sites by looking but not touching or desecrating them in any way. Hidden cameras are also in place to protect these areas, and any vandalism could subject you to criminal penalties.
---
Trail Description
But first, an important note. . .
The sites we visited in Loy Canyon had several groups visiting, so I'm pretty sure they're not a secret anymore. However, there's a raging debate about whether or not to reveal the locations of ancient Native American sites. On the one hand, I completely understand wanting to protect these places from careless people. On the other hand, I've gotten tips about places from other hikers, and I was so glad I was able to visit.
I am conflicted, so I will leave it up to you to find the exact locations, but I always like to take opportunities like this to educate other visitors about how precious and irreplaceable our historical sites are. Please adhere to the US Forest Service Archaeological Site Etiquette Guide to help preserve these treasures for future generations. Let me know your thoughts on the subject in the comments.
Now without further ado. . .
From the parking area, cross Forest Road 525 to start on Loy Canyon Trail.
Loy Canyon Trail #5
The first section of the trail passes through Hancock Ranch and is private property. The Forest Service acquired a right of way for the trail system, so please be careful to stay on the trail to avoid trespassing. Watch your map to see when you're back on public land.
Petroglyph Wall
It is believed that this magnificent pictograph site has evidence of all the people who have ever inhabited the Verde Valley. A small rock wall can be found at the far left end of the site, and the pictographs continue for several yards.
I found some interesting facts about this site in an article by Gary Every called "Loy Canyon."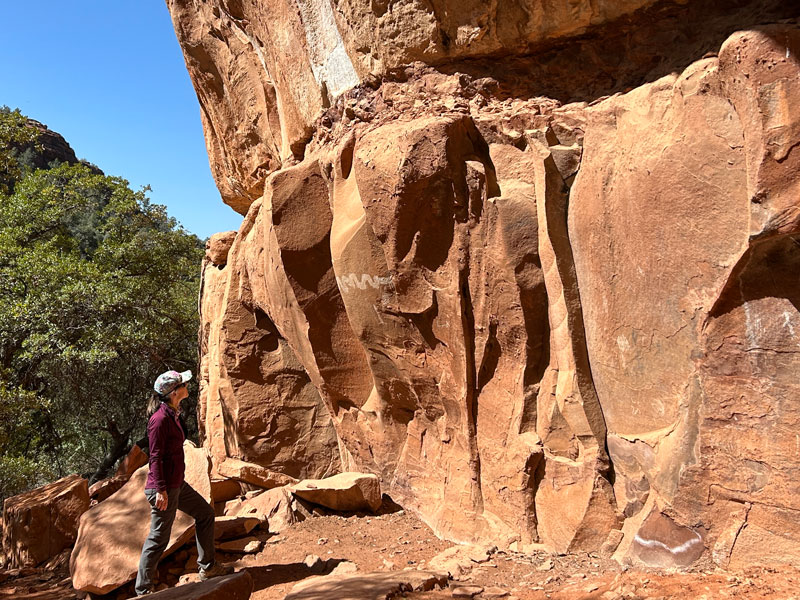 As a reminder, look but don't touch.
Loy Canyon Ruins (aka Warrior's Wall)
Right from the trail, you'll be able to see these ruins tucked high up on the canyon wall.
It's a bit of a trick to get up there, but the moves aren't that hard. It does require use of your arms, so those with limited physical ability will want to admire the ruins from below.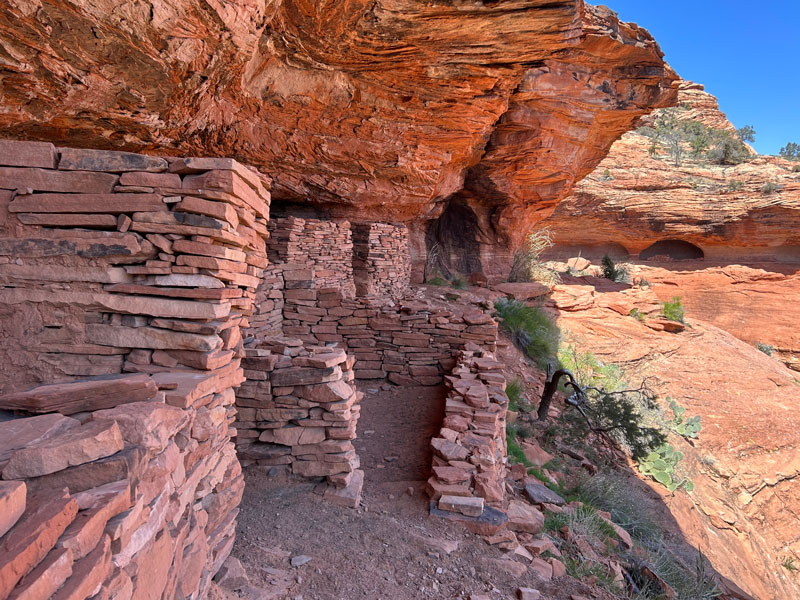 You'll be able to follow the ledge around the corner to see a few more small ruins.
Again, I hope I'm preaching to the choir, but DO NOT DISTURB these structures in any way.
I've read several trip logs by people who have explored farther up Loy Butte and found a couple of additional, smaller ruins. If you're feeling adventurous and are up for exploratory hiking, you might be rewarded.
Continuation to the Rim
Additional mileage 7.5
Additional elevation gain 2283
Farther up Loy Canyon, the trail travels through a pleasant, shady forest, and the canyon walls slowly become closer together. As you approach the rim, the trail climbs steeply up the canyon wall. Your reward is excellent views down Loy Canyon as the trees drop below you. There is a brief reprieve from the incline while trail contours along the canyon wall for a little while before finishing the climb up to the saddle at Secret Mountain. The trail is brushy, narrow, and sometimes travels close to the edge.
The views at the saddle are largely blocked by trees, but it sure feels good to be back in the shade, several degrees cooler, and able to look down the other side.
---
Map & Directions
Location Red Rock Secret Mountain Wilderness, Sedona, Arizona
From Sedona, take Highway 89A toward Cottonwood. Turn right on Forest Road 525 and follow it to the Loy Canyon Trailhead. In dry conditions, this road is bumpy but passable to passenger cars.
Fees/Passes None
Trailhead Facilities None
---
Share this