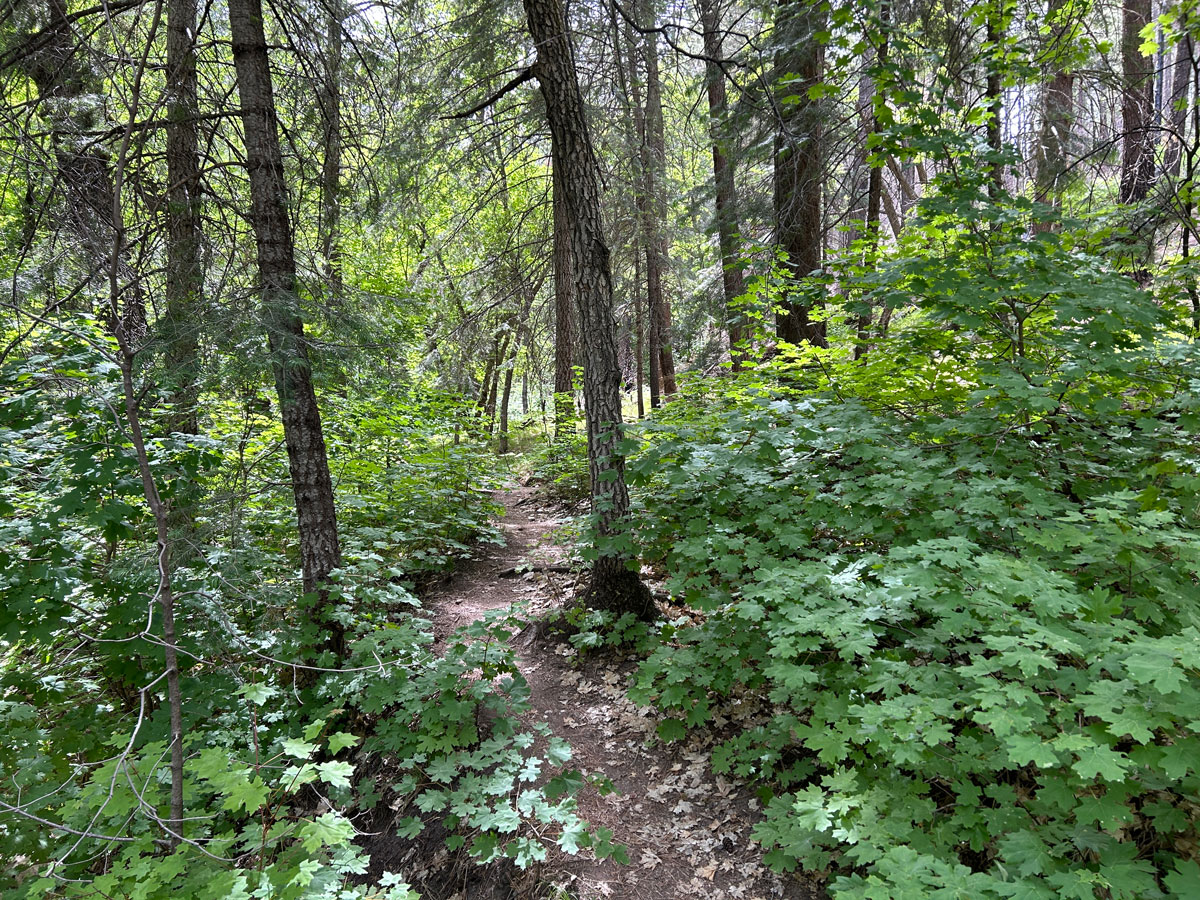 Marshall Gulch Aspen Loop
TRAIL STATS
Mileage: 4.2
Elevation gain: 914 feet
Time to complete: 2 hours
Stars: ★★★★
Loose terrain, moderate incline
When it's hot down in Tucson, it's cool and green at Marshall Gulch. With a trickling creek, abundant wildlife, and greenery galore, it's a little slice of paradise in the summer time. Continue on to the Aspen Trail to make a loop that includes great views.
---
Trail Description
The most annoying part of this hike is probably driving the 25 miles up Mount Lemmon, especially if you get stuck behind a slow RAV4 that refuses to pull over and let anyone pass.
Not to worry, whatever frustration you experience with other drivers will absolutely melt away when you immerse yourself in this forest paradise.
Once at the parking area, you'll likely hear a lot of party people enjoying the water, but I found that once I left the parking area, there were very few people on the actual trail. Ah. . . peace and quiet, baby.
Marshall Gulch Trail #3
If you're doing this loop counter-clockwise like I did, starting in Marshall Gulch, head over toward the bathrooms where you will find the trailhead. Except it's kind of confusing, and I ended up going straight back at the sign. It was pretty and eventually connected with the trail, but if you want the real trail, look for this.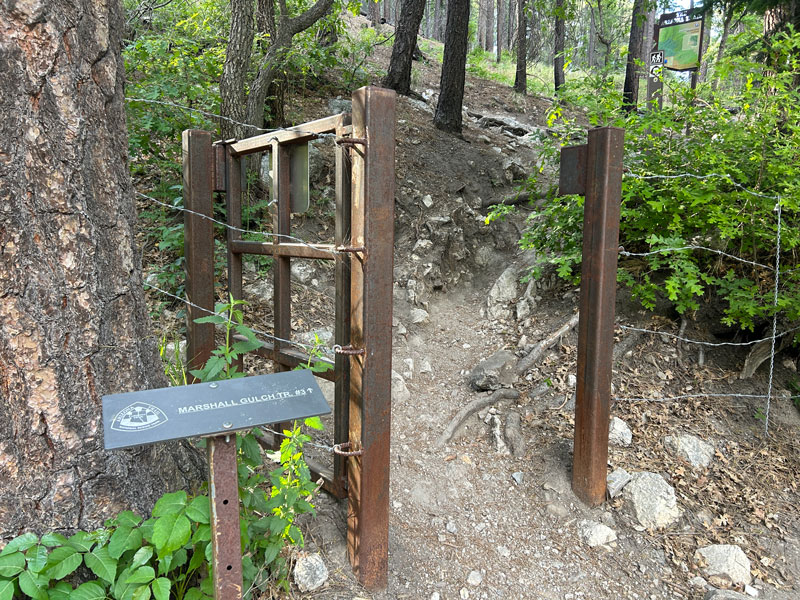 I could not believe how beautiful and green it was! The creek was running, there were birds flitting about, squirrels scampering, and filtered light falling beautifully on the forest floor around me. I tried to capture it all in a photo, but the critters were a bit camera shy.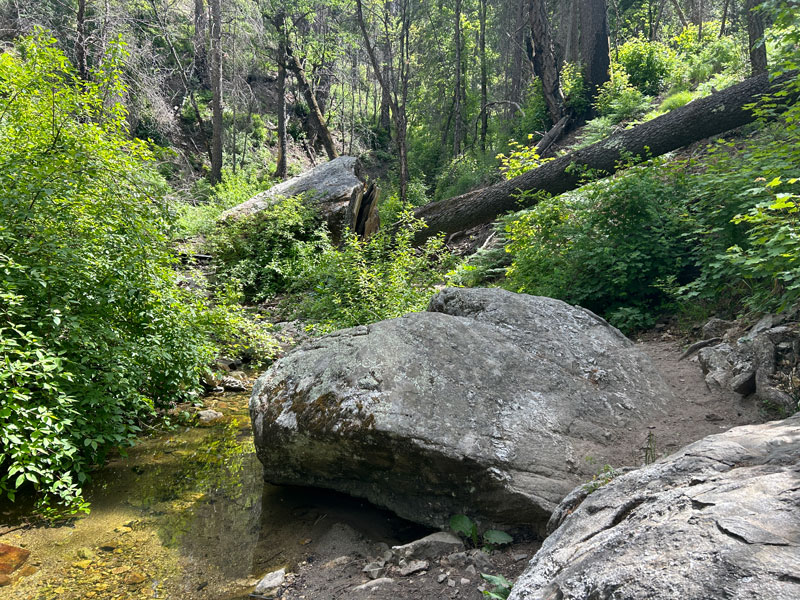 You'll just have to imagine the sound of the gentle breeze, the trickling creek, and the birds singing. Throw a little scampering squirrel into your reverie, and you've got the idea!
After a while, you'll begin to leave the creek and enter a more open area that climbs up toward a saddle. Here, you'll intersect with the Aspen Trail and can hang a left to make a spectacular loop.
Aspen Trail #93
The main draw of the Aspen Trail is the views.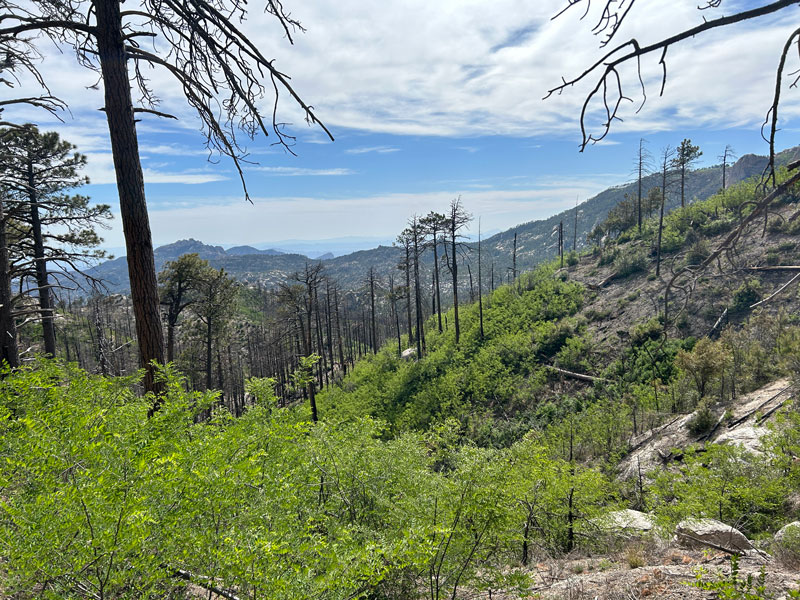 Though this Aspen Trail goes through a burned area, many trees are still alive, and the ferns are growing in nicely. I didn't think it took away from the hike much at all.
Viewpoint 1
I noticed there was a little spur trail that looked like it might lead to a view, and to be honest, I didn't really feel like exploring it. But then, I thought of you, my readers, and knew I had to check it out so I could let you know. It's very short, the path is in decent shape, and it does indeed provide a pretty nice view (though my picture doesn't do it justice).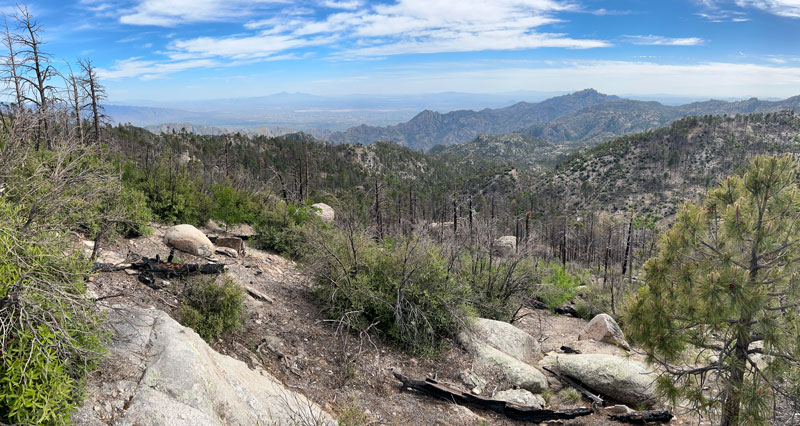 Back on Aspen Trail, it took me around Marshall Peak. About this time, I started wondering why it's called Aspen Trail, as I only saw a few small aspen trees here and there. It wasn't until the trail started descending near the end that I found myself engulfed in an aspen grove.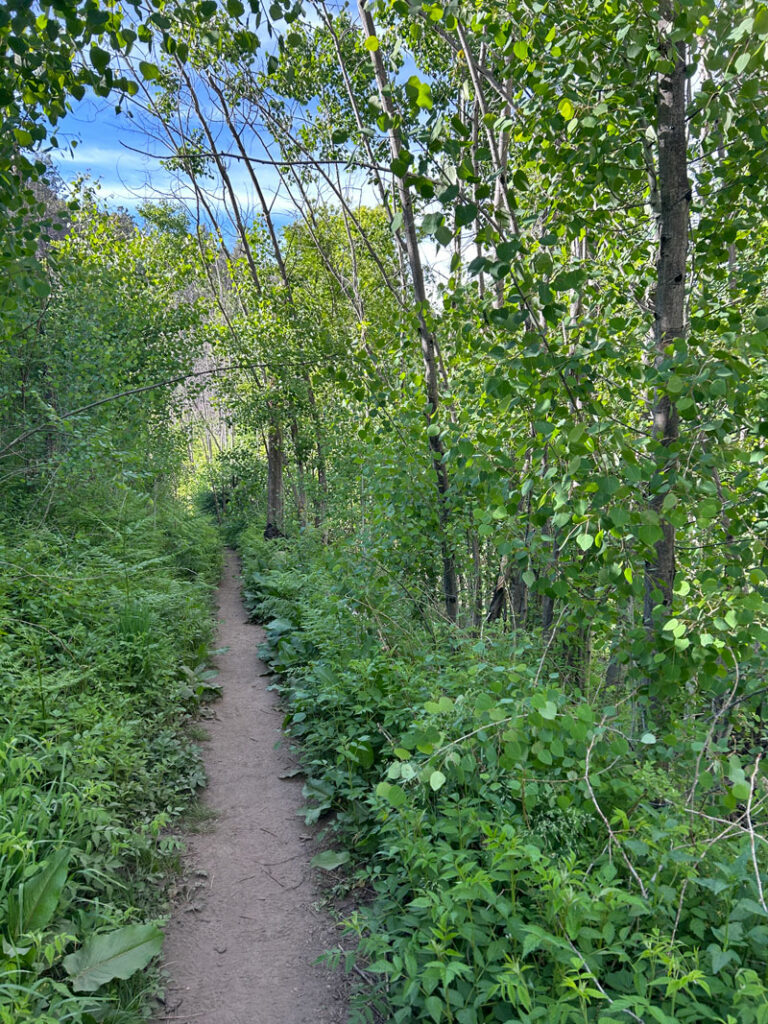 My best advice here if you're hiking alone is not to psych yourself out by imagining you're going to run into a black bear at any moment. Because if you do, you might get really startled by the burnt black log standing in the middle of the trail. Just sayin'.
Follow this trail until it dumps you back out at the parking lot where you started.
(PS – Remember how I hiked a little extra for you? Well, we'd love it if you would follow us on Insta, FB, and Youtube! Shameless plug, I know. Love you either way – happy hiking!)
---
Map & Directions
Location Marshall Gulch, Coronado National Forest, Summerhaven, Arizona
Take the highway up Mount Lemmon past Summerhaven, and if you can manage to stay on that road, it'll end at Marshall Gulch. I call it "the highway" because I'm not sure if it's the Catalina Highway, Mount Lemmon Highway, General Hitchcock Highway, or all of the above. The last stretch of road up to the trailhead is closed December 15 – March 1. If the parking lot is full, you can park down the road a ways and hoof it if you don't mind a little extra distance.
Fees/Passes You can pay the day use fee using the envelopes at the trailhead or just display your America the Beautiful Pass.
Trailhead Facilities Pit toilets
---