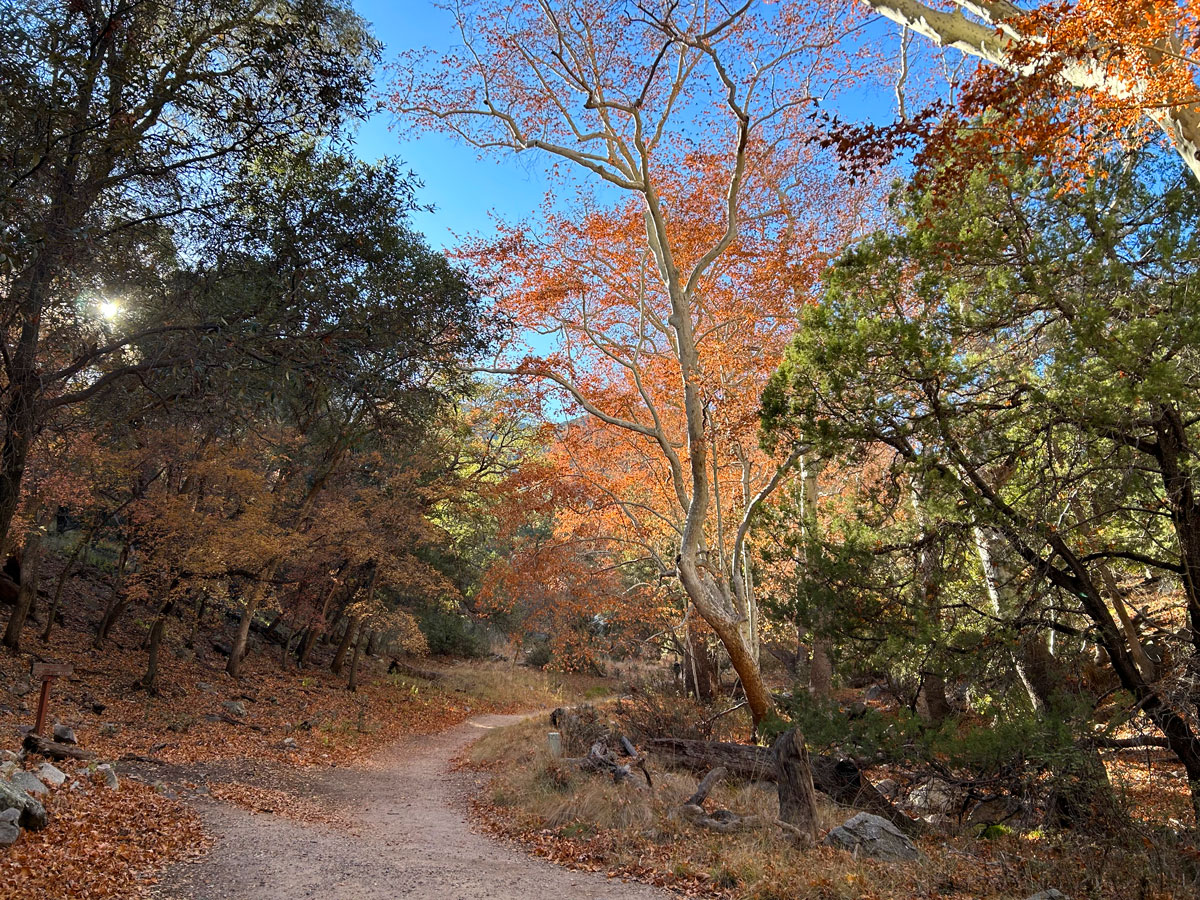 TRAIL STATS
Mileage: 2.9
Elevation gain: 944 feet
Time to complete: 2-3 hours
Stars: ★★★★
Flat first half, then steeper
Ramsey Canyon Nature Preserve protects a riparian habitat that used to be home to a dozen settlers. The easy path within the preserve parallels a creek with huge sycamore trees, pines, and maples that show off their colors in November. It also passes an old cabin and house, foundations of historic homes, and ponds where they are bringing back the Huachuca leopard frog. For an added bonus, you can hike up to an overlook within the national forest and then down to a pretty stream. It's an excellent choice for families.
---
Trail Description
You'll find this canyon at the very bottom of Arizona, near Sierra Vista, within about 15 miles of the Mexican border. I guess that's why I had no idea it was there. Or that the mountains at the bottom of the state could be so incredibly beautiful. Arizona just keeps on surprising me.
Parking The parking at Ramsey Canyon is limited to 27 spaces, and if it's full, they have a sign that says there is no alternative parking and to try again later. Fortunately, there was a spot open just for us.
Fee Enter through the visitor center and pay the entrance fee there. The friendly staff explained all the sites to see along the trail, wildlife we might encounter, and the options for hiking into the national forest.
Hamburg Trail #122 (aka Ramsey Canyon Trail)
The trail along the creek is very flat and easy, and the bridges crossing the creek, numerous benches, rocking chairs, and hummingbird feeders along the way beckon you to stay a while and watch Mother Nature work her magic.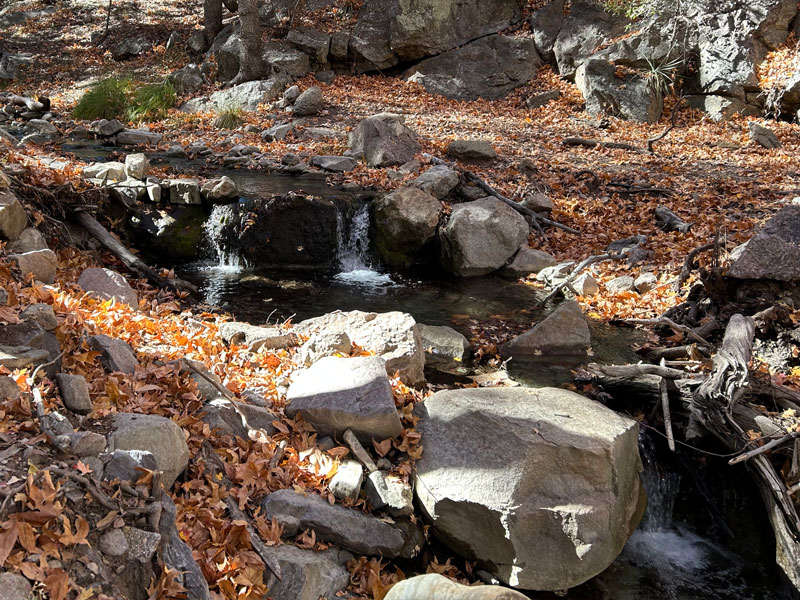 This is a popular place for birders, and we noticed very beautiful birds even though we are completely inexperienced at birdwatching.
There are two optional loops along the way, both of which are worthwhile and can be done on the way up or the way back.
Grand View Loop
This loop takes you in for a closer look at the cabin and house that were once occupied by the settlers in the area.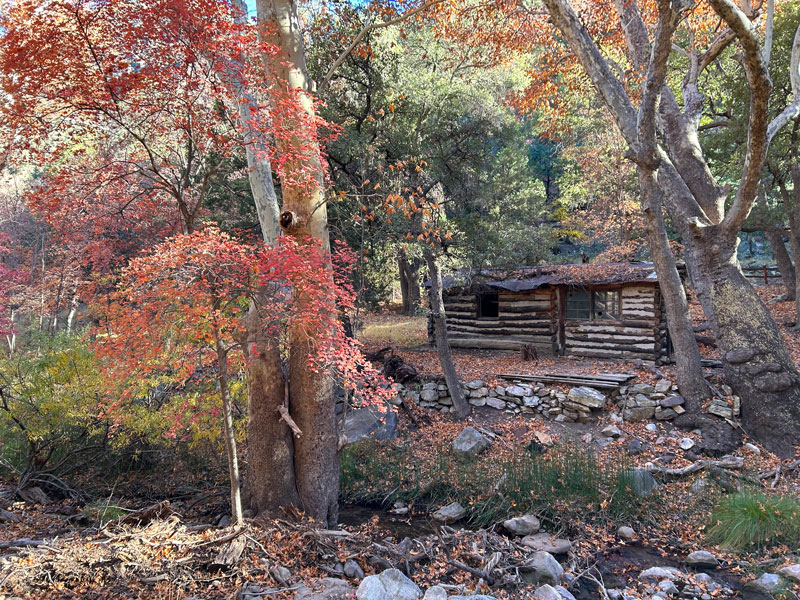 Bledsoe Loop
This look was named after the person who gifted this land to the Nature Conservancy. If you have kids with you, you'll want to take this loop to see the ponds where the kids can look for Huachucan leopard frogs. There is also a chimney and some foundations of homes that used to be there.
The Overlook
Near the end of the Bledsoe Loop, you'll find the turnoff to climb 500 feet up a series of switchbacks to an overlook of the Huachuca Mountains. There are a lot of benches along the way, so anyone can do it. It's worth it!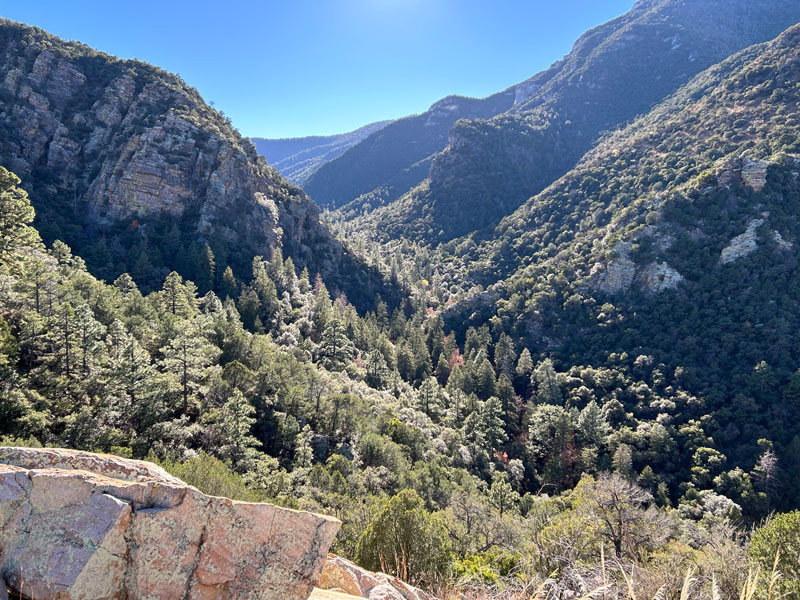 Beyond the overlook to the right, there's a little use trail that goes to a higher overlook where you can look down canyon as well.
Hamburg Creek
If you keep going just a quarter mile more, you'll come to a gorgeous view up canyon and a most lovely spot on the creek.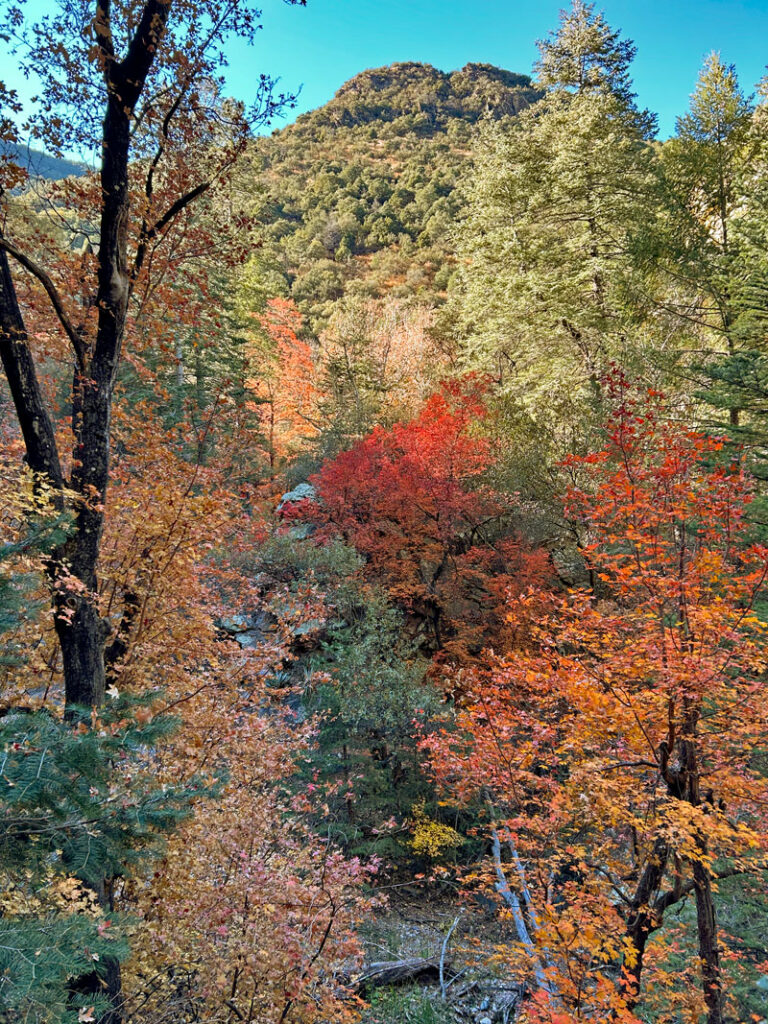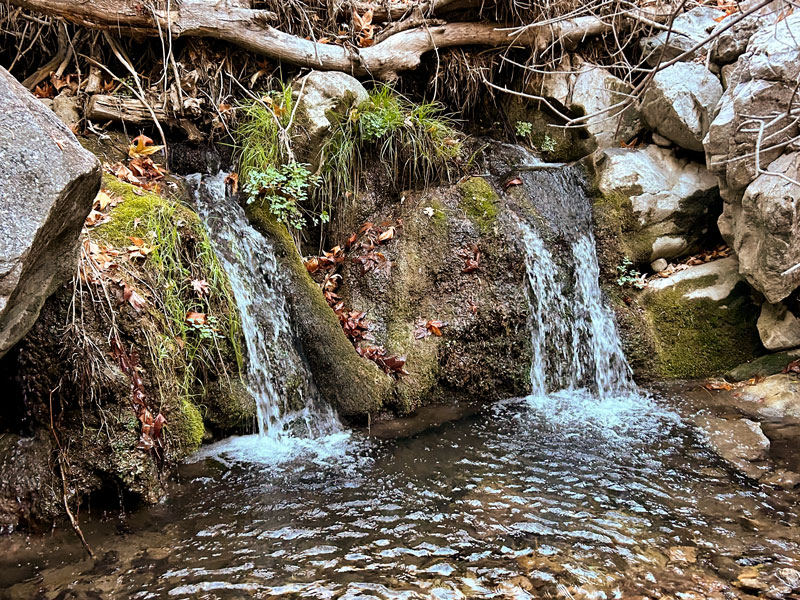 From there, you can continue along the creek for as long as your heart desires. I've read that you can get to the remains of the Hamburg mining settlement, so now there's something to explore next time.
I'm pretty sure I'll be back.
---
Map & Directions
Location Ramsey Canyon Nature Preserve, Huachuca Mountains, Miller Peak Wilderness, Sierra Vista, Arizona
From Sierra Vista, Arizona, travel south on Highway 92. Turn right on Ramsey Canyon Road and follow it to the end.
Fees/Passes There is an entrance fee for adults and discounts for Cochise County residents. Children 17 and under are free.
Trailhead Facilities There is a visitor center with water and restrooms
---
Recommendations for you
Share this