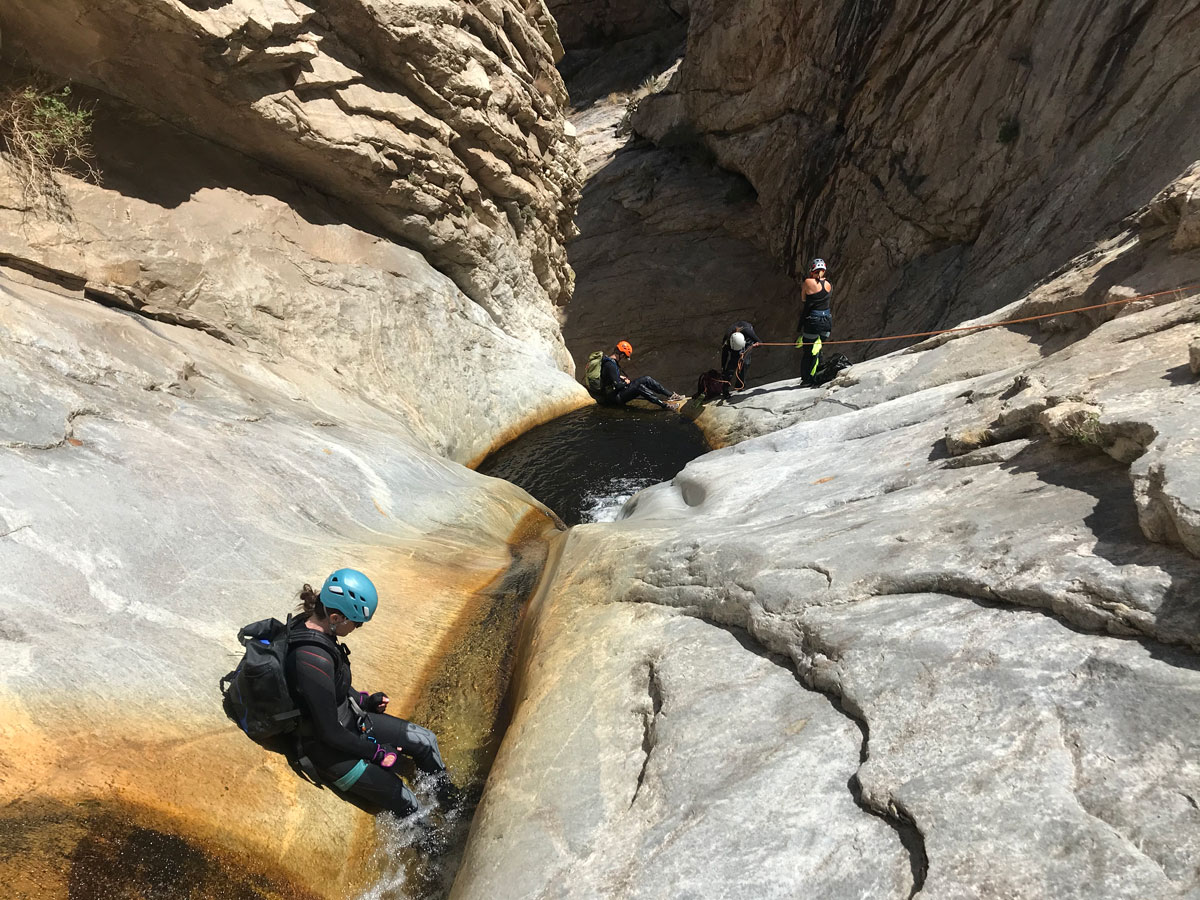 S'mores Canyon (Frye Creek)
TRAIL STATS
Mileage: 2.1
Elevation gain: 818 feet
Time to complete: 5-7 hours
Stars: ★★★★★
Swift water, exposure
One of the most fun swift water canyons around, S'mores Canyon on Frye Creek packs ten rappels, numerous waterslides, and a fixed rope traverse into less than a mile of polished granite. The slick pour-offs, sloped canyon walls, and dicey locations of some of the anchors make it best for intermediate canyoneers and may be hazardous during high water flow.
🪢 This is a technical canyon with ten rappels up to 80 feet. You will need one 200-foot rope, plus all the required safety equipment for rappelling and knowledge how to use it. This guide is not intended to provide instruction on how to descend a technical canyon safely.
---
Trail Description
Whenever we think of fun canyons, S'mores Canyon is always right there at the top of the list. The approach hike is less than a mile, and even shorter than that if you decide to go the lazy way and drop a shuttle car down at the reservoir and then drive up to the end of the road to start the hike. But are you seriously gonna do that? It can't get much easier than this.
At the end of the road, you'll see the exit point for the halfway bailout. Yeah, we took that walk of shame once. And you know why? Because even though it seems like a really straightforward canyon, we always seem to have issues coordinating how to access the anchors and get everyone on rope efficiently. The fixed rope traverse can be a challenge, too, for those who aren't mentally prepared or are wearing sucky shoes that slide out from under them unexpectedly (I'm looking at you, Merrell Vibram). And the canyon gods have been known to require at least one sacrifice of nice gear to appease them. I'm just glad we got my camera back.
From the end of the road, pass through the gate and hike a little farther to the drop-in point, where you'll descend a short way down a use trail to a nice flat rock where you can put on your wetsuits. Then it's just a short bushwhack down the creek to the technical section.
The Upper Technical Section
Rappel 1
Okay, fair warning. It's going to look really fun to slide right into the pool just before the pour-off for rappel 1. Don't do it! We did that the first time and had to use buddy boost to carefully climb out to access the anchor. Be aware ahead of time, and watch for the anchor on canyon right. There are two of them, and you generally want the one closest to the rappel to avoid rope pull issues and running out of rope if your rope isn't exactly on the half mark. Yes, we had both those issues. Learn from us!
As long as one person is up at the anchor to set the rappel, it's okay if the remaining crew begins the rappel from the pothole. I know that slide really looks fun. Rock, paper, scissors?
Rappel 2
Immediately after rappel 1, look for the anchor canyon right for rappel 2. If you don't need to replace the webbing (you're welcome), then getting to this anchor isn't too bad, but it's not the most secure location, so use caution.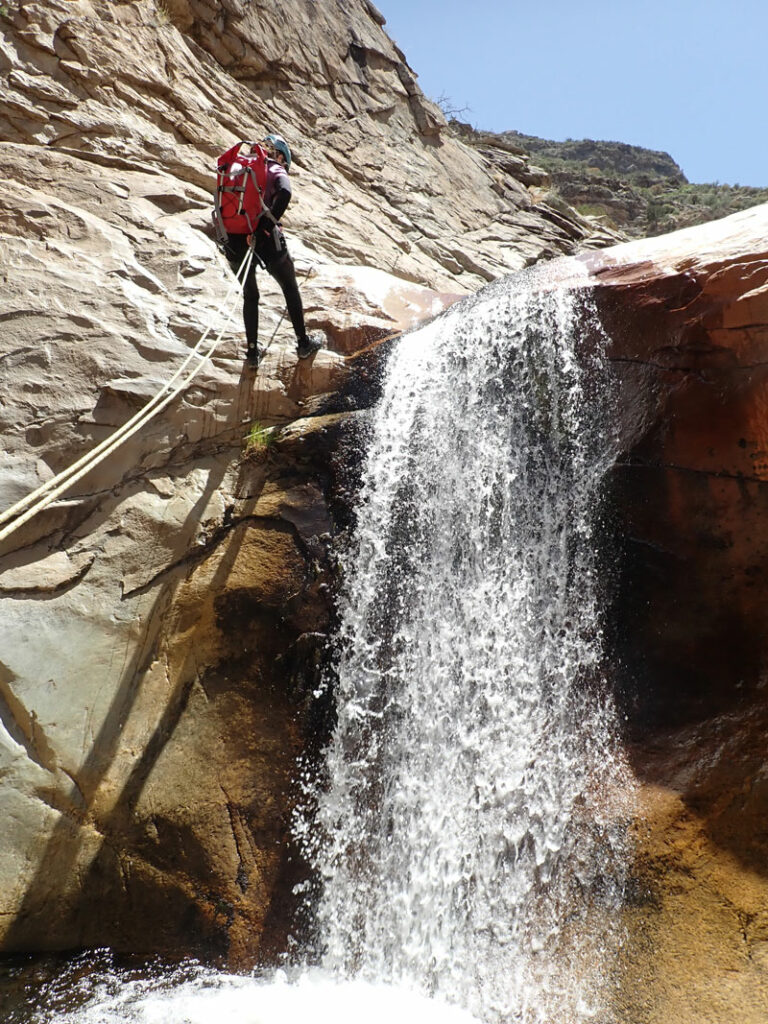 Rappel 3
Oh, rappel 3. The first time we did S'mores Canyon, we pulled the rope from rappel 2 and then realized just how precarious it is to get to the anchor for rappel 3. You have to go up a steep slope with a huge pour-off right next to you, and the slick rock definitely doesn't give you the warm fuzzies about it. The second time, we had our tallest (and less experienced) stay on rope to access the anchor, but after she rappelled, we realized the rope was out of reach and had to send the next person up without a rope. She proceeded to drop her ATC into the pool below, drop the f-bomb, and then awkwardly try to get the rope on the other side of her. Meanwhile, two of our most experienced sat back and laughed. Canyon – 2, WildPathsAZ – 0.
This time, we vowed to conquer rappel 3 smoothly. Other than untangling a huge knot from a rope we were using for the first time and hadn't flaked ahead of time, it went perfectly. Our tallest canyoneer stayed on rope, set the rappel up, and stayed up there to hand the rope to everyone who followed. I'm calling it a win.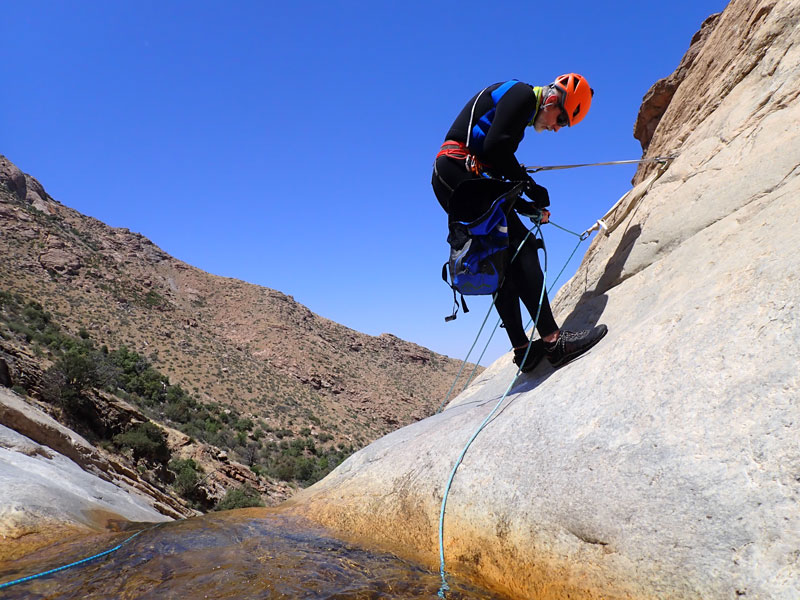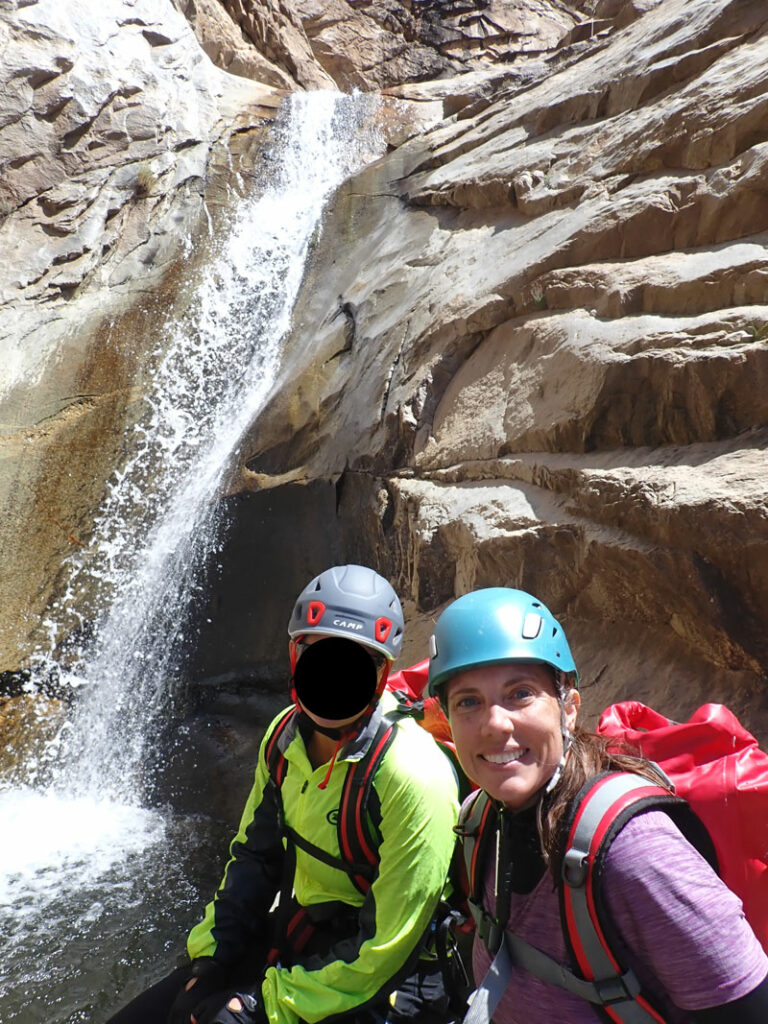 Rappel 4
Everyone tries to stay out of the waterfall on this one, but hear me now. . . you're going in. Just accept it ahead of time and save yourself some of the struggle on slippery rock. This pool is notorious for stealing gear, so hang onto it! Did you bring goggles just in case?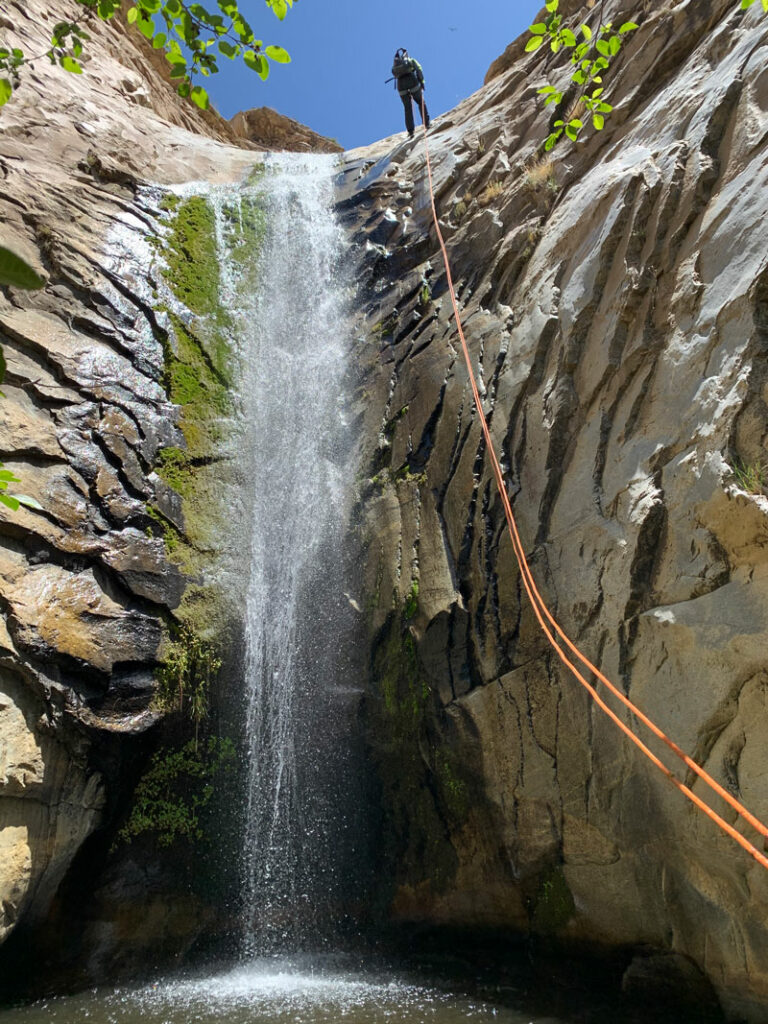 Fixed Rope Traverse
Next comes the dreaded fixed rope traverse. We have a love/hate relationship. The fact is, the first and second times I did this, it was super easy, and I'm hoping such is the case for you. Last time, Heather had a breakdown and cried, so we set up an optional rappel from rebar for her. This time, though, my shoes were my enemy and kept slipping unexpectedly to where I was dangling helplessly as I tried to regain some kind of traction. It sucked. Eventually, I clipped in to provide some insurance against a fall, but next time I swear I'll only go barefoot. Choose your own adventure here.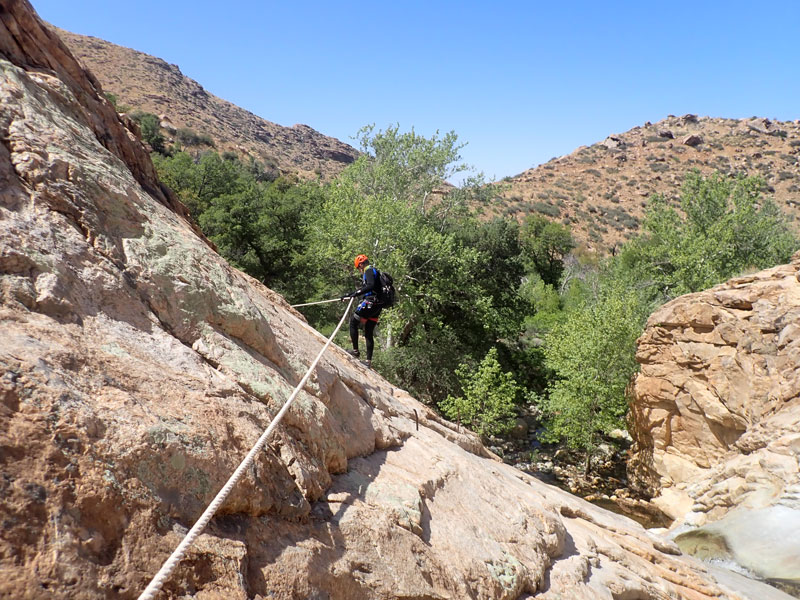 At the bottom of the traverse is the optional bailout point. If you've had enough for today, you can exit canyon left on a use trail. I will say that the second half of S'mores Canyon goes by pretty quickly, so time is less of a factor. If you're cold, though, or the water flow has been a little much, you may want to seriously consider bailing. The lower section of the canyon is narrower, so you won't be in the sunlight, and almost all the remaining rappels are directly in the water flow. We were all cold by rappel 8. Even Russ, my bed heater.
The Lower Technical Section
If you decide to continue on, you'll have around 30-60 minutes of walking down the creek, sliding the occasional slide, including the big slide where the provided handline doesn't reach all the way to the bottom. Let the screaming commence.
Rappel 5
An easy rappel out of the water flow. Our technique was to hug canyon left.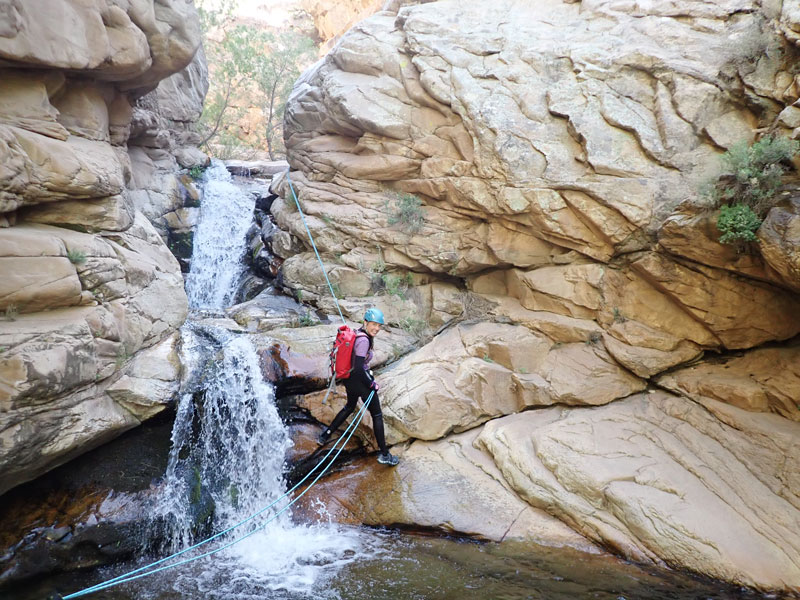 Rappel 6
Did I say they were all in the water? I guess I lied. Enjoy the warmth because it's about to get real.
Rappel 7
It's short, a little awkward, and really wet.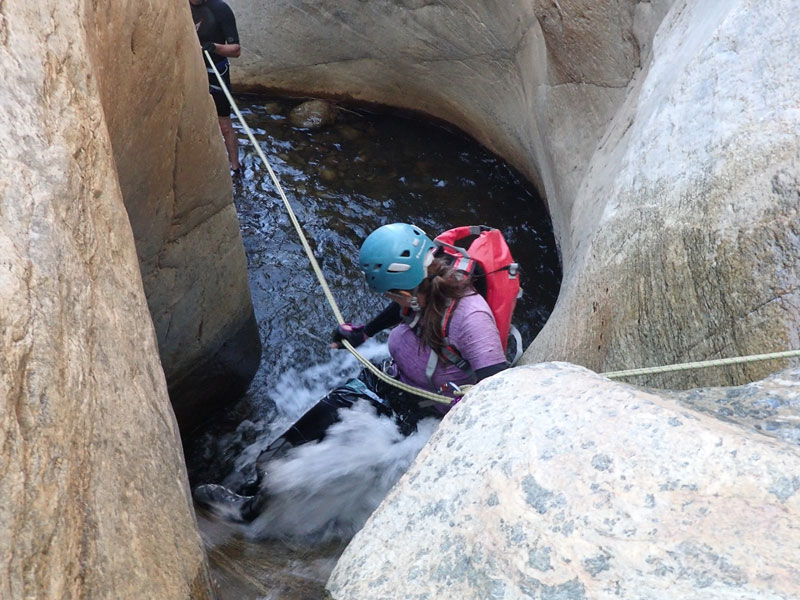 Rappel 8
This 80-foot two-stage is fun! Start by going over a chock stone, get a direct hit to the face from the water, and then try to get your footing on the incredibly slick rock below. Or don't. Slide your way into the pool, let more rope through your rappelling device so you can swim to the other side, then awkwardly try to kick up onto the next lip to get to the second stage. It took me a sec to get any traction. You might be tempted at this point to just keep going over head first. Don't be a Russ.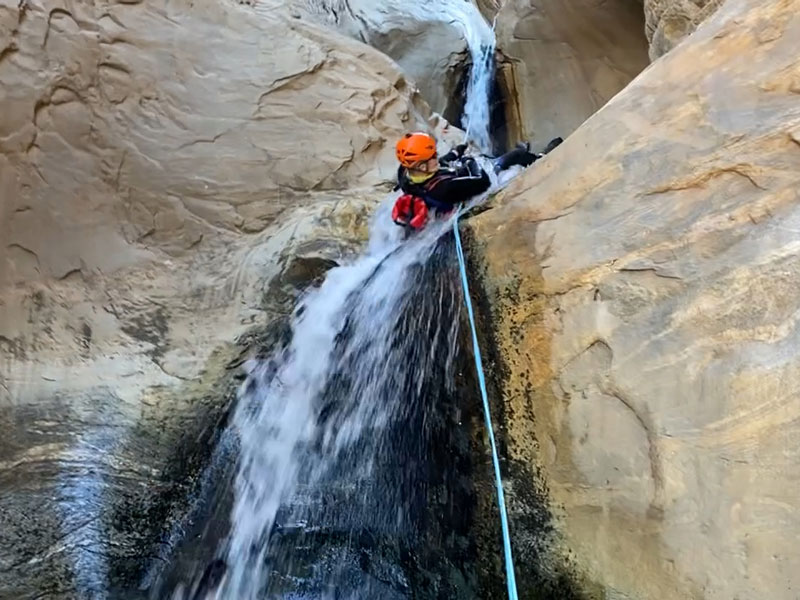 Rappel 9
Maybe the prettiest rappel in S'mores Canyon starts with a hip slide and then gives way to a free-hanging drop at the end.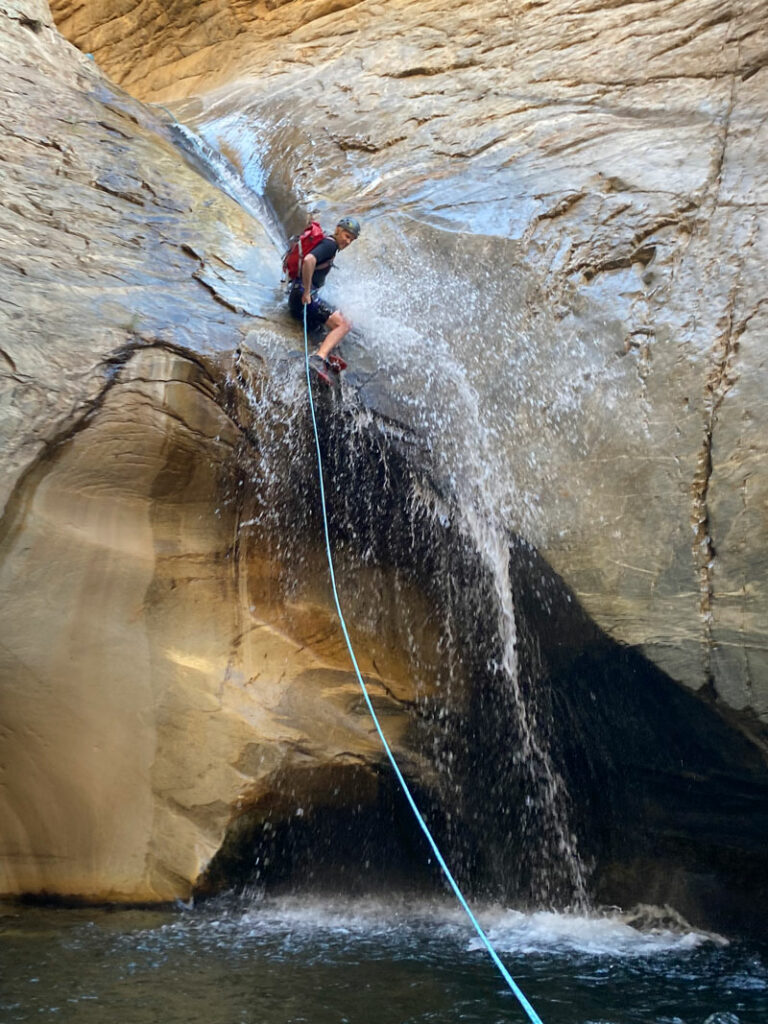 Are you freezing your butt off yet? We had wetsuits and rain clothes over, but by now you've been soaked a while, there's no sun, and you're stuck standing in the water waiting for your turn on the next rappel. What the heck is taking Russ so long anyway? Geez.
Rappel 10
While the wait to get out of the pool below rap 9 may feel agonizingly long, rap 10 is blessedly out of the water flow. Can I get a hallelujah? Heather flopped herself out onto dry rock and just laid there like a beached whale. One more, guys. The crawl up to the anchor is a little sketch, but there's a little pool just below that reassures you that you won't go over the big falls if you lose your footing. That's good because we're all tired.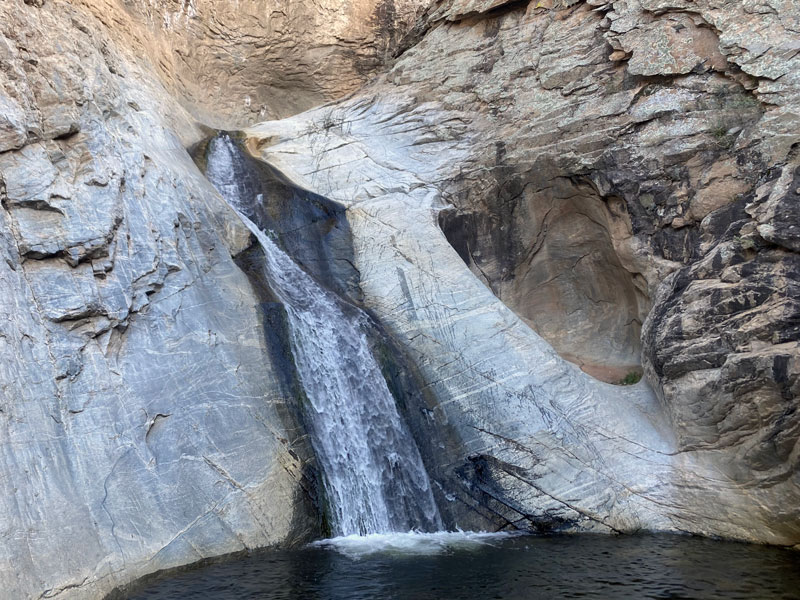 The Exit
If you're lucky, there will be some locals down there completely amazed that you just came over those falls. Make your way down the creek a little way, hugging the left side, and you'll soon find a use trail that starts climbing back up to your car.
Burritos anyone?
---
Map & Directions
Location Pinaleno Mountains, Coronado National Forest, Thatcher, Arizona
In Thatcher, go south on Reay Lane. Turn right on Frye Mesa Road, which will quickly become dirt. This road is best with high clearance but does not require 4×4. Follow the road until you reach the turnoff for Frye Mesa Reservoir and park there (that's our preference anyway, although you could park at the reservoir or up the hill at the end of the road).
Trailhead Facilities None
Preview this hike
---
Recommendations for you
Share this