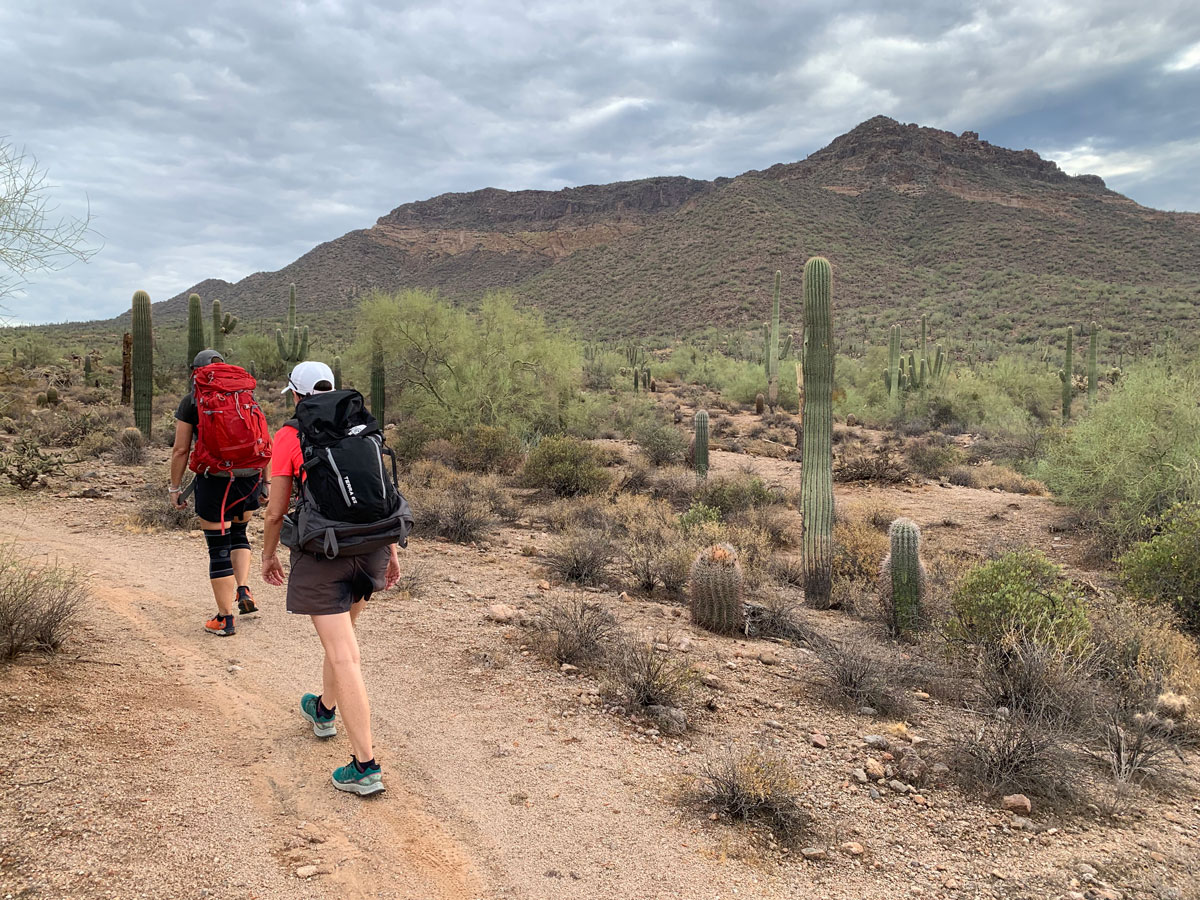 TRAIL STATS
Mileage: 7.8
Elevation gain: 992 feet
Time to complete: 3-4 hours
Stars: ★★★
Long, uneven in spots
Pass Mountain Loop is a popular hike close to the Phoenix Metro Area with really decent mountain views on the back side. This one is also one of our favorite training hikes to knock out in a few hours.
---
Trail Description
Deciding on a trail to hike in Phoenix in July is a little like choosing your own method of being killed softly. But it was a little cooler, AND overcast conditions, AND we are preparing for a huge backpacking trip in a few weeks, so we decided to knock out Pass Mountain Loop at Usery Mountain Regional Park as a training hike. Minus the oppressive humidity (just so much sweat) from all the monsoon storms, the weather was super ok for July in Phoenix!
Meridian Trailhead
We started on the Meridian Trailhead at the end of Meridian Road and headed clockwise on Pass Mountain Loop Trail, which is the more gradual ascent. If you want a fast climb followed by a super gradual descent, feel free to swing counter-clockwise. Either way, its about an 8-mile loop. Going clockwise, you hike in front of Usery Mountain first, which is decidedly the less scenic part of the loop, so I like to get that part over with and get on with the awesome mountain scenery on the backside.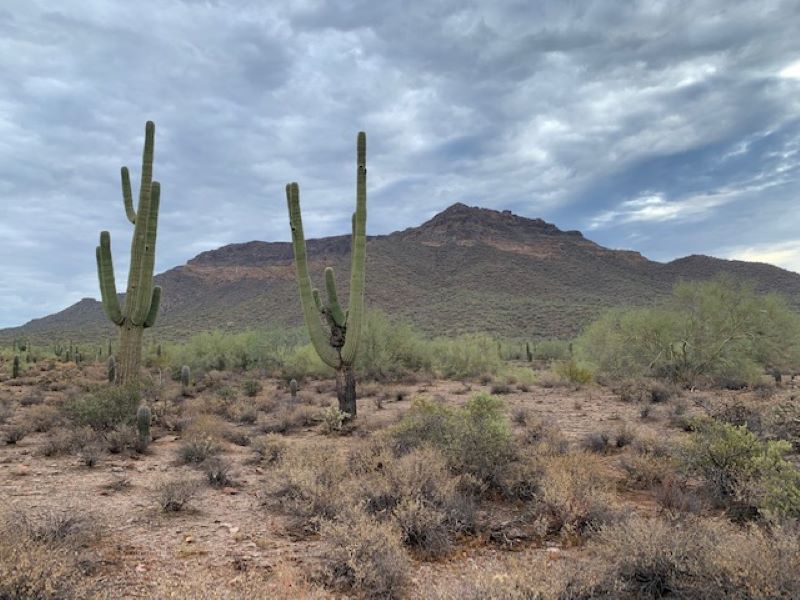 Mountain Views
At about halfway in, you'll start to turn right and hike slightly more steeply up to swing back around on your loop. Take a few minutes to appreciate the views of the Goldfields immediately to the east, and the Superstitions a little farther away. This is honest to goodness one of my favorite views of any hike in the Phoenix valley.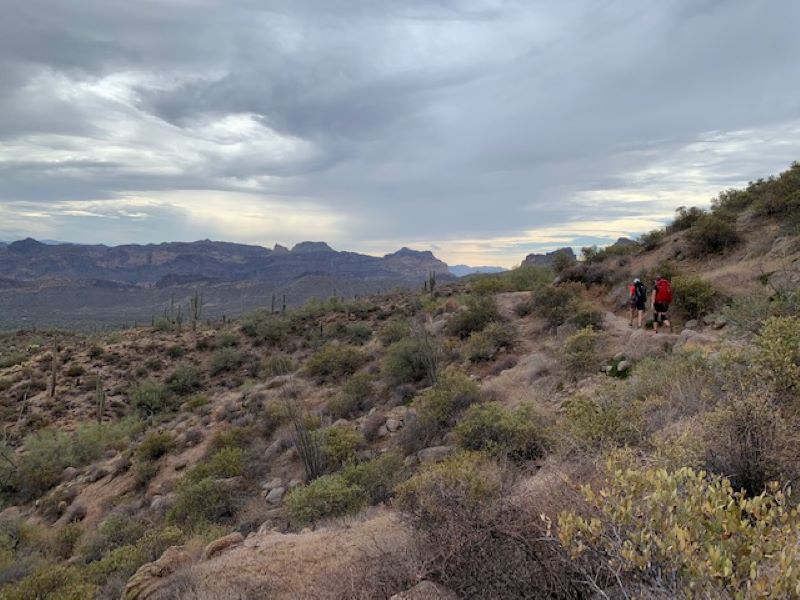 Pass Mountain Saddle
As you continue around toward the saddle and then on the descent, the trail definitely gets steeper, and more rocky. Use caution on the downhill, especially if you're wearing a huge, heavy "ruck" (as a guy we ran into on the trail referred to our big packs as… )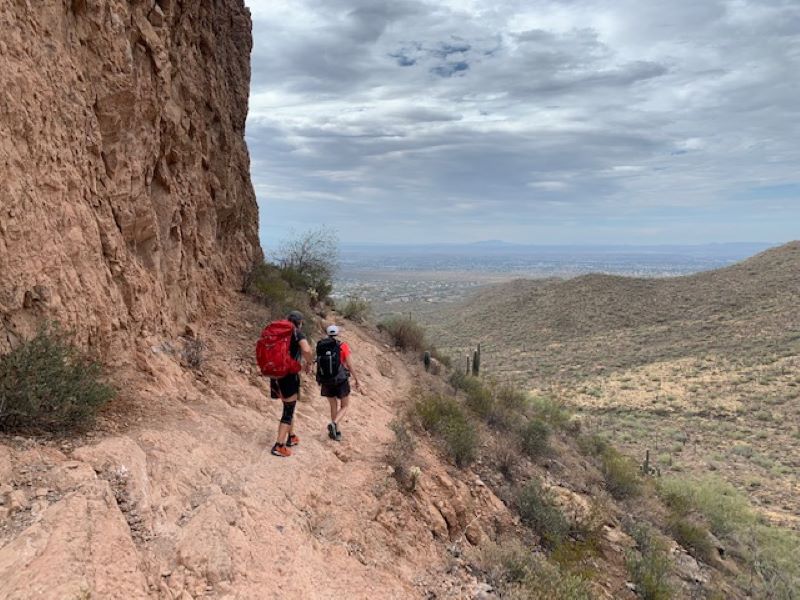 There are a few caves, cliffs, alcoves, and peaks around you. Feel free to explore! I know we have, and we love this area! On this day, though, we used this trail strictly as a training hike, and it fit the bill perfectly—a good amount of miles, some decent elevation, and fairly close to home. For those reasons, WildPathsAZ will be back out there again. And again.
---
Map & Directions
Location Tonto National Forest, Usery Mountain Park
Take US60 to Signal Butte Road and go north. At Southern, go east one mile to Meridian Road and go north to the end. There is a dirt parking lot there.
Fees/Passes None
Trailhead Facilities Restrooms and drinking fountain about 2 miles in at Usery Mountain Park (going clockwise)
Preview this Hike
---