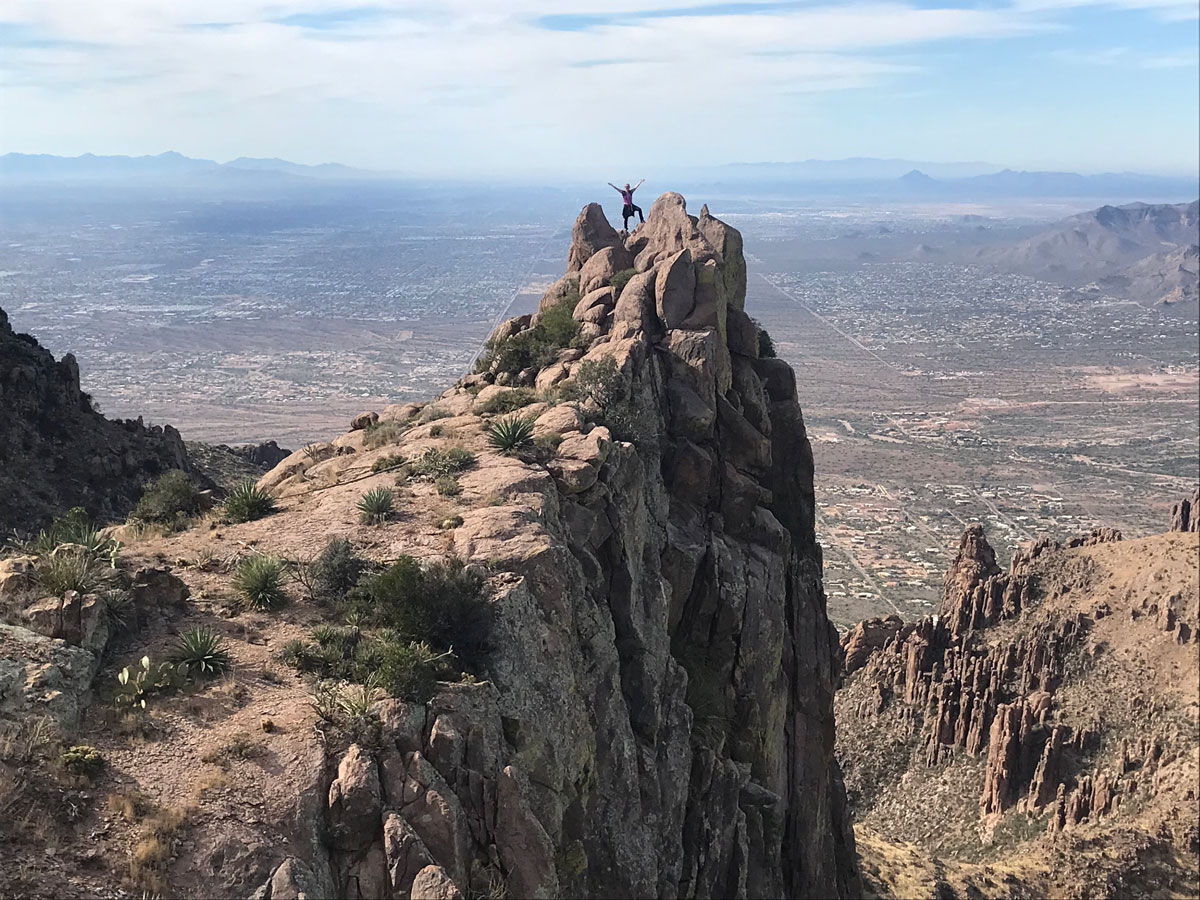 TRAIL STATS
Mileage: 8.4
Elevation gain: 2902 feet
Time to complete: 6-8 hours
Stars: ★★★½
Strenuous, route-finding, off-trail
Reverse Flatiron is an adventurous alternative to the traditional hike to the top of Flatiron. This hike climbs above Massacre Falls and up the ridge to the backside of Flatiron using an off-trail route that is steep, loose, and hard to follow. Only those with an appetite for adventure and a GPS should attempt it.
---
Trail Description
I'm not sure when I started to hate hiking Flatiron, but it might have had something to do with the day I found a really fresh orange peel next to some people and they claimed to know nothing about it. Or maybe it was the time I had to hike with they guy playing Ozzy Osbourne "Crazy Train" super loud. I mean, I have nothing against Ozzy, but there's a time and place!
Here's, the thing, though. The Flatiron itself if pretty awesome, and sooner or later, everyone who has been there gets the urge to go back. And so it was that I discovered the Reverse Flatiron route published on Hike Arizona.
The hike starts out simply enough—hike to Massacre Falls, basically. If you've done that before, it's possible you know there is some confusion as to how to get there exactly, and some of that confusion is thanks to Hillary accidentally publishing a recorded route that didn't actually go to the falls. Sorry 'bout that! They are actually marked on most maps, so if you have legit navigation, you're good to go. Unless the falls are running, you should skip them because before you get to the falls, you'll need to go to the right to get above them. There is a faint trail there that has sporadic cairns leading you there.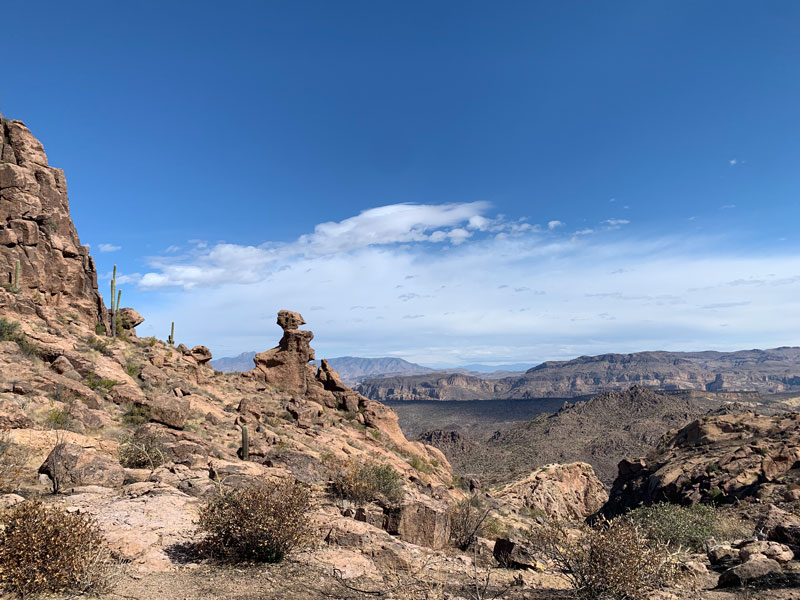 Off-trail Section
Here's where the "fun" starts. Although there seems to be traces of a trail every now and then, it's mostly just a matter of staying on the ridge to the right of the gulley that feeds Massacre Falls. There's not much bushwhacking involved, but in the upper reaches, there are some steep, loose areas that convinced us the return trip would be pretty sketchy.
Once you've gained an elevation that's about even with the Flatiron, you'll start going to the right to make your way around the peak ahead of you. This part is really cool because you're just basically following a ledge around the mountain, and then all of a sudden, NO JOKE, there's actually a false Flatiron. The first time I did this hike, I was completely confused, and my friend kept saying something wasn't right, but I didn't think there was any possibility of a false Flatiron or that I would fall for it if there was. But I did. And once you realize it, just keep heading around until you find the memorial for the people who were killed nearby in a plane crash several years ago.
Flatiron
By now, you can see the real Flatiron, and it's within your reach! The intersection with the Siphon Draw route is just ahead, and then you'll head out onto the precipice for an epic picture! (A young man fell from this ledge recently and died, so please take care.)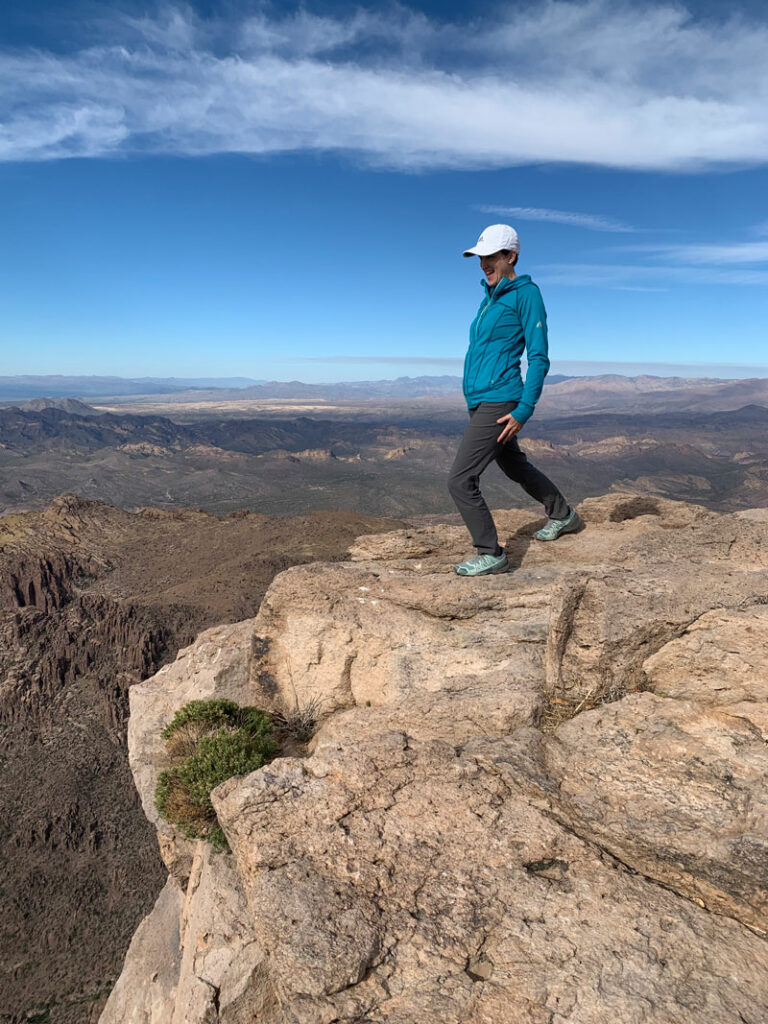 By this time, you're tired and thinking about that sketchy, loose slope, so you'll probably decide to just go down the regular Flatiron route. I've never descended the Reverse Flatiron route, so if you do, drop us a line and let us know if it was worth it!
The good thing about descending Siphon Draw is that the crowds are usually diminished later on, and you can look back at the imposing grandeur of Flatiron.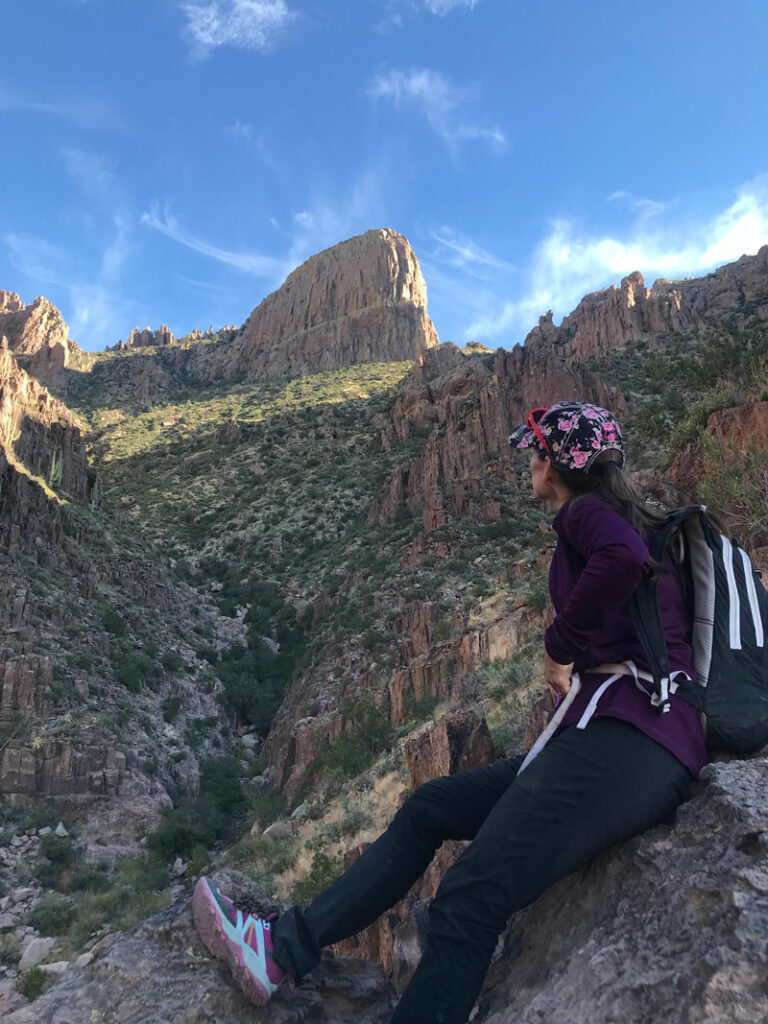 Take a right at the intersection with Jacob's Crosscut Trail and follow it all the way back to First Water Road and your car.
---
Map & Directions
Location Superstition Wilderness, Tonto National Forest, Apache Junction, Arizona
From the US60 take the exit for Idaho Road. Go north on Idaho Road to state route 88 and turn right. Follow this road past the Lost Dutchman State Park to the turn for First Water Trailhead. Turn right and follow the dirt road to a parking area on the right at the Crosscut Trailhead. This is also the trailhead for Massacre Falls and is usually suitable for passenger cars.
Trailhead Facilities None
---
Recommendations for you
Share this