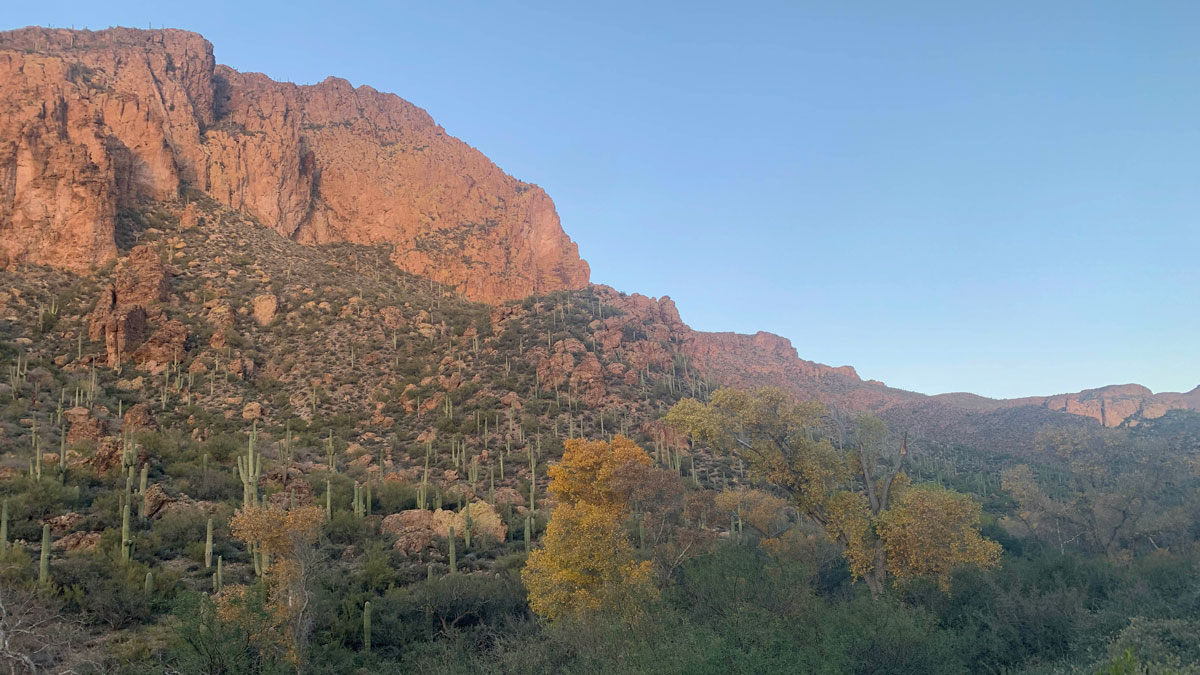 TRAIL STATS
Mileage: 21.1
Elevation gain: 3602 feet
Time to complete: 2 days
Stars: ★★★½
Good trails, long
In the arid desert of the Superstition Mountains, La Barge Canyon after a rainfall and Charlebois Spring can become an unexpected oasis. Nearby, you can find relics left from the mining days in the early 20th century along Cavalry Trail. Finish off with a refreshing visit to Charlebois Spring, one of the most reliable springs in the wilderness, and spend the night among the nearby trees.
We found information about these sites from the book Hiker's Guide to the Superstition Wilderness by John Carlson and Elizabeth Stewart.
---
Trail Description
Bluff Spring Trail
We set out from the Peralta Trailhead, the closest trailhead to Charlebois Spring, a fact we hoped would come in handy the next day as we were hiking out. Bluff Spring Trail tries to break your spirit immediately as you ascend a series of log stairs steeply up the mountain. About a half mile in, I almost lost my leader status for accidentally turning onto Cave Trail, thinking it was Terrapin, and making my friends unnecessarily hike up an even steeper hill. Oof. The intersection with Terrapin has a sign, so don't be fooled, and keep an eye on your GPS!
Terrapin Trail
As you make the turn onto Terrapin around mile two, you start heading into the heart of the wilderness. Though the hillsides close by may be covered with plants still recovering from fire damage, you can get a little glimpse of the beautiful views that lie ahead. At this point, it almost seems like the struggle up Bluff Springs will be worth it. To your left, you'll get a different view of Weaver's Needle than you're probably used to, and you may even wonder if you're looking at the right thing. That's part of the magic of these mountains–-the way they always surprise you.
Dutchman Trail
After almost three miles on Terrapin, you'll turn right (east) onto the Dutchman Trail and soon come upon a cool little rock grotto. Just over a mile later, you'll intersect with Cavalry trail. Since we knew we were coming back this way, we decided to continue east on Dutchman just 200 yards to a shady campsite near the usually dry White Rock Spring, where we could eat lunch and drop our big packs. Good memories are made there!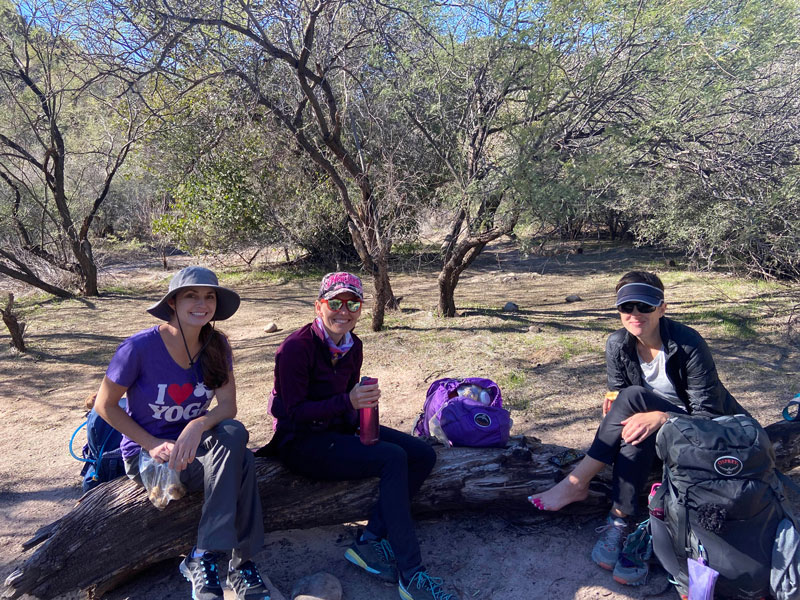 Cavalry Trail
After lunch, we headed back west to Cavalry trail, this time with just our day packs. This is where the true beauty of the area is on full display, as it follows La Barge Creek eastward along the flanks of Black Mountain and Malapais Mountain.
Large Corral
The large corral can be found just southwest of Malapais Mountain near the mouth of a small canyon to the east of the trail. It measures 30 feet square and has some bits of trash inside, but is overall unremarkable. I was just happy we found it!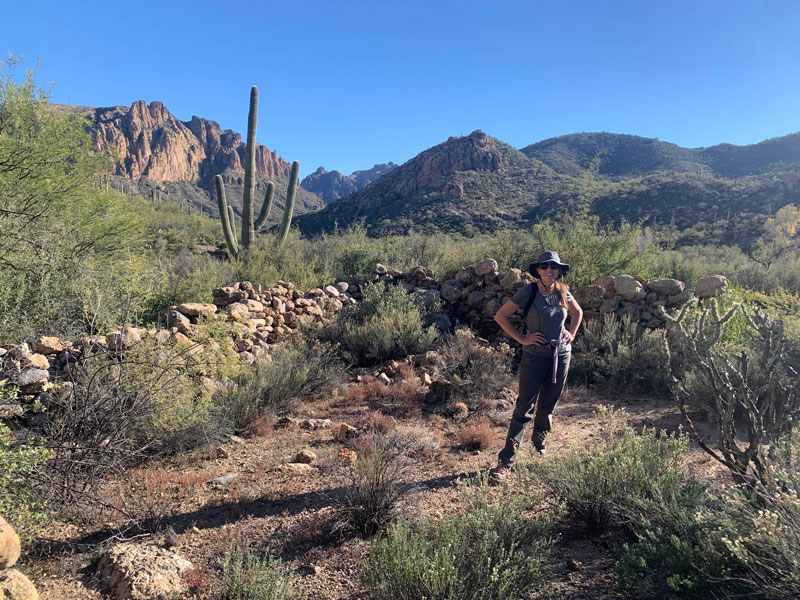 We then tried to find the location of an old camp that is supposedly on a small, flat hill to the north, but we were running short on time and patience. The real stars of the area are Malapais Mountain in the late afternoon light and La Barge Creek, which we followed around the corner to enjoy its beauty a little longer.
Rock Grotto
Heading back toward White Rock Spring where our packs were, we made a quick stop to a rock grotto where an early miner is said to have camped. If you venture inside, you'll find a lot of old trash and some bolts that have been pounded into the rock. Be careful about snakes because we saw a lot of holes for critters, but no snakes out on that cool day. It's fun to climb up inside and explore, and if you're April, climb a tree as well.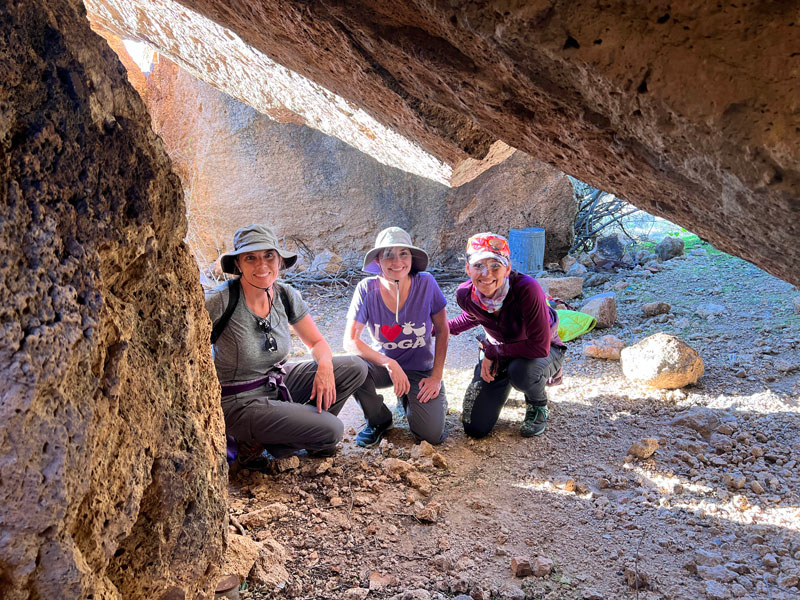 Dutchman Trail (continued)
After finishing at the grotto, we returned to White Rock Spring to retrieve our packs. Continuing east on Dutchman, we traveled along an extremely beautiful section of La Barge Creek with huge trees. You almost forget you're in a desert. Along this section, you'll find several excellent, large campsites. If the camps near Charlebois are full, these are great alternatives, especially if La Barge is running.
Charlebois Spring
About a mile and a quarter past White Rock Spring, you'll come to the turnoff for Charlebois, one of the most reliable springs in the Superstitions, incredibly beautiful, and a popular campsite on weekends in the cool season. There are a couple great campsites along this path, and we chose the first one to set up camp for the night. [Hillary edit: I crushed the other ladies with three Yahtzees in a single game that night.]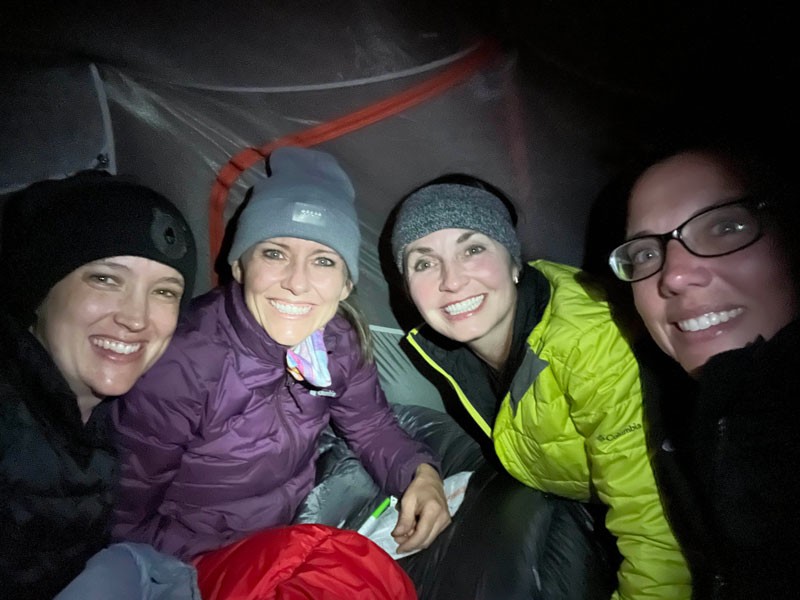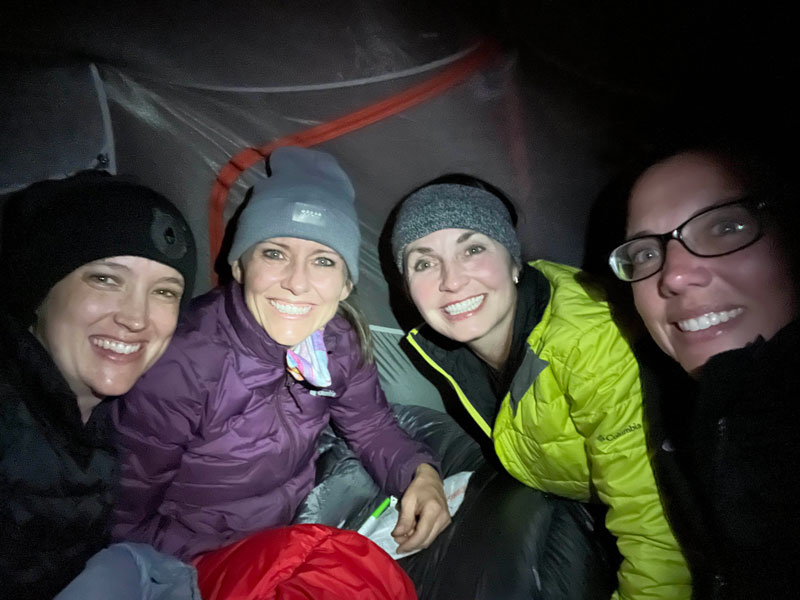 The next morning, we went to find the spring to filter water. The spot marked on the topographical map was at a large pool with a big tree and boulder. We explored a little farther up to see if we could find the source but were unsuccessful. I don't know if it's because of recent rains or if it's just always hard to find, but in any case, the water in the pool was clear, and truthfully, all of the water in the creek was quite clear and good for filtering. Delicious, too! I wouldn't worry too much about finding the source. I'd worry more about finding your friends back there, as we got separated and couldn't find each other even though it was a dead end. Marco! . . . Marco?
For our hike back, we planned to get back on the Dutchman trail heading southeast and follow it all the way back to the trailhead. Along this route, you'll find more great campsites with lots of shade.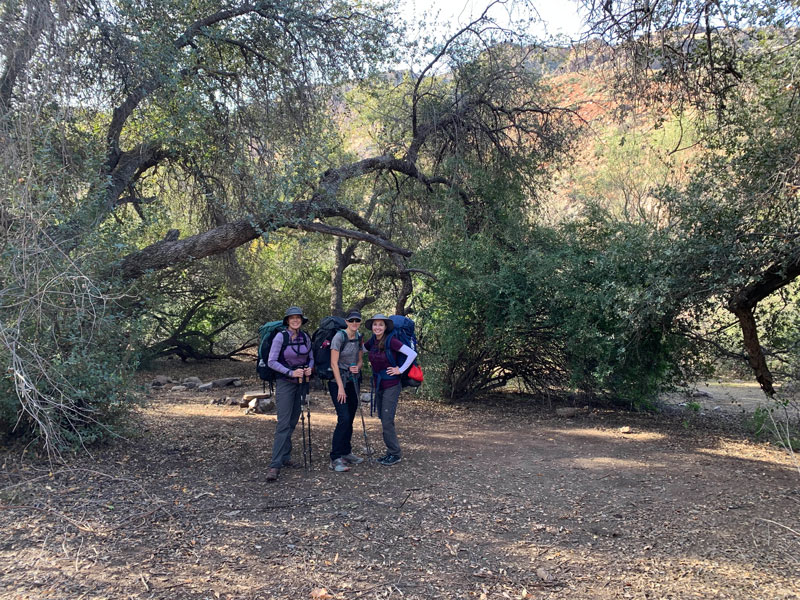 Bluff Spring
Just after you pass the intersection with Red Tanks trail, you'll begin to leave the beauty of La Barge Creek for a drier area. On the way to Bluff Spring, which is about two miles from where you left La Barge Creek, keep your eyes open for a spur trail that heads to the west (there may be many of them), and follow it about a tenth of a mile to the greenery you can see in the distance. It's a nice shady spot that had running water when we went, and we enjoyed our lunch there.
Back on the trail, you'll soon see the intersection with Bluff Springs trail. We thought taking Dutchman trail the whole way would be the least steep and easiest, but it turns out it's not all that easy, and it starts to feel very long at the end. If you want to see Miner's Needle and don't mind a couple extra miles, stay on Dutchman like we did. If you'd rather take the shortest path back to the trailhead, turn right (west) on Bluff Springs trail.
Miner's Needle
Continuing on Dutchman trail, you'll arrive at a saddle that will give you a wide open view of Miner's Needle and the mountains in the distance. This is a good place to take a break (and air out your bra if you're April). Just keep an eye out for random guys coming off of Whiskey Springs trail to the east. Just sayin'.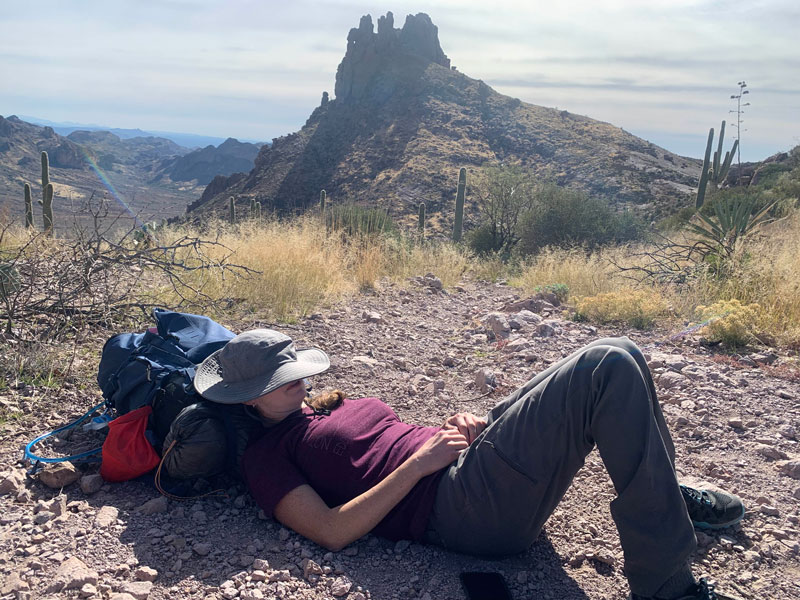 Descending from here, we passed through a section of desert that was severely burned a couple years ago but is slowly recovering, although some of the saguaro were completely burned and won't be coming back in our lifetimes. Once you reach the valley below, stay on Dutchman for what might seem like the longest two and a half miles of your life, as you travel west along the base of the mountains and over the foothills toward Peralta trailhead. Just when you think it will never end, it doesn't, and you'll be going up and around a few more hills until finally, the parking lot will burst into view below you. In a cruel twist, the trail will start to head away from the parking lot before finally turning back toward it and setting you free. You made it!
---
Map & Directions
Location Superstition Wilderness, Tonto National Forest, Gold Canyon, Arizona
Everybody knows where Peralta Trailhead is, right? Oh well, just in case you don't. . . take the US60 east past Apache Junction and Gold Canyon to the Peralta Road stoplight. Turn left and follow the dirt road. At the fork, turn left and follow to the end. This road is suitable for a passenger car (but please, pull over when you see our red Expedition coming through!).
Trailhead Facilities There are pit toilets at the trailhead. No water.
Preview this Hike
---