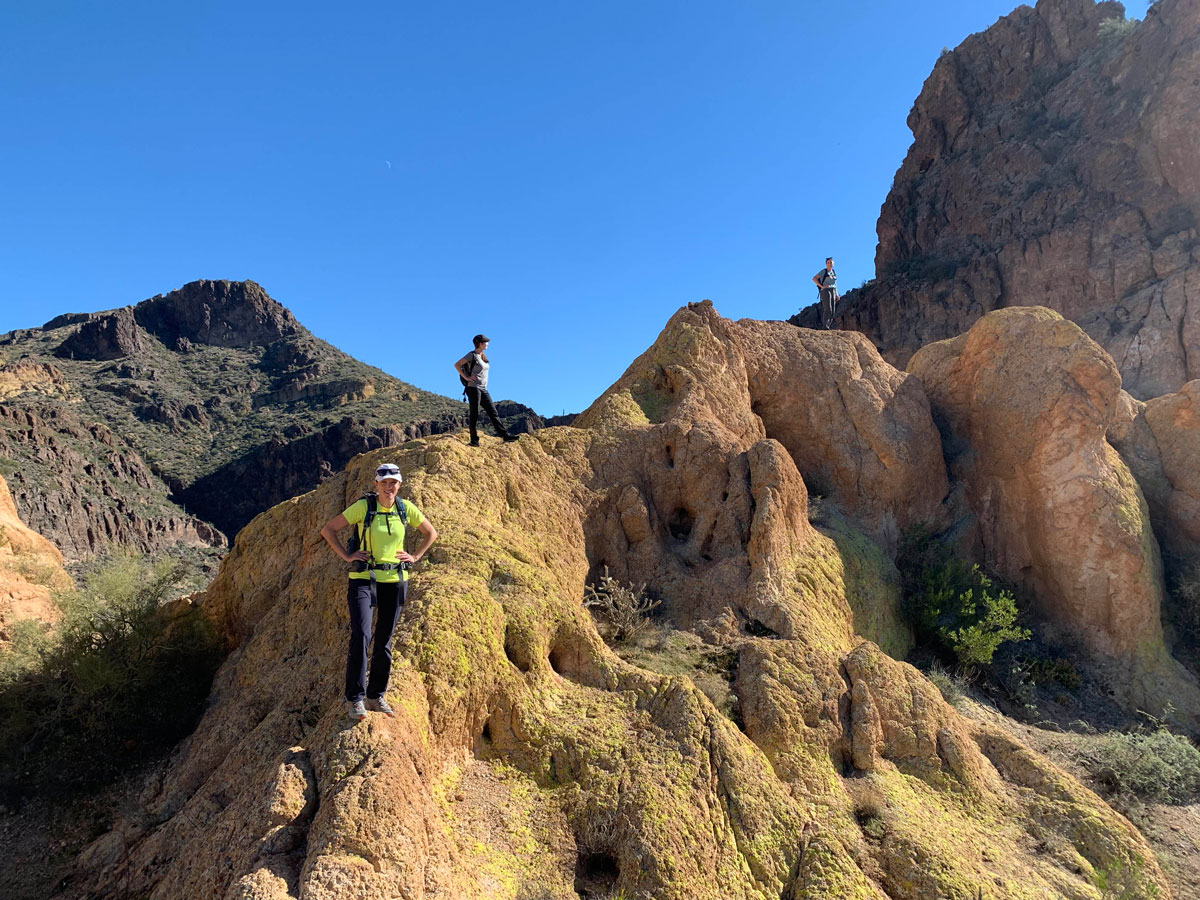 TRAIL STATS
Mileage: 7.4
Elevation gain: 1709 feet
Time to complete: 4-6 hours
Stars: ★★
Heavy bushwhacking, river crossing, route-finding
We don't have very much experience in the Goldfield Mountains, but it turns out Rhyodacite Canyon across the Salt River from the Water Users parking area is pretty cool. . . once you pay the high price of admission. A muddy river crossing, army crawling, and heavy bushwhacking is just some of what's in store for you on this unique hike. Be sure to look for the cave with creepy stuff inside along the way.
---
Trail Description
Heather got a tip off Facebook about Rhyodacite Canyon and suggested the group try it. Now, I'm not one to discourage anybody from checking it out, but you better understand what you're in for! It's highly likely whoever is posting about this canyon is a seasoned adventurer who is used to blocking out the memory of the approach and only showing pictures of the good parts
You can find this route on AllTrails, but be aware that the posted route crosses through an area that is closed December 1 through June 30 for bald eagle nesting. Since we went in January, we checked the closure map, which can be found on the Tonto National Forest website, to make sure that our route would go around it. We didn't know what to expect, but we decided to give it a go. We're famous for that. We love wild paths.
River Crossing
The first obstacle is the river, and when you go in January, it's going to be mucky, smelly, and cold. Got that? I'm sure you'll think of your own special adjectives–this is not for the squeamish. A couple of us even brought two pairs of shoes so that we wouldn't have to hike in wet, muddy shoes. I won't use names, but evidence would suggest we're possibly the smartest of the bunch.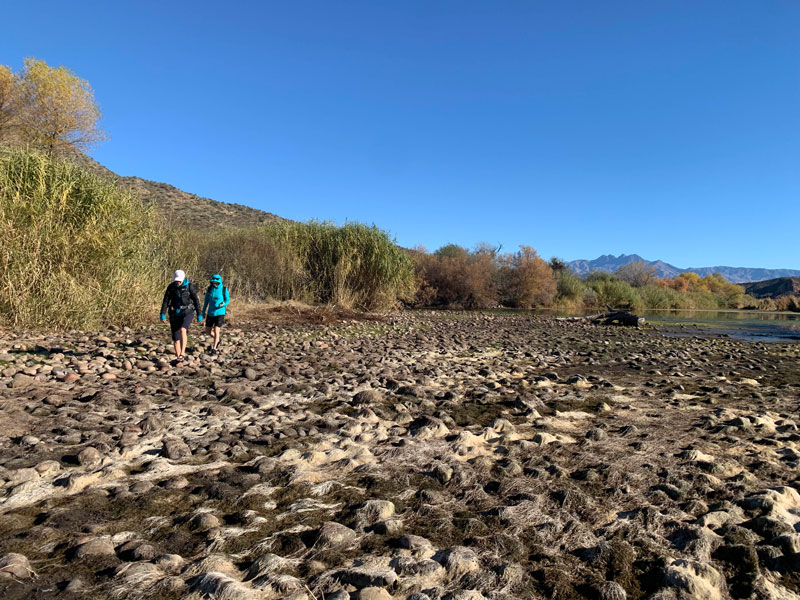 If you're lucky enough to go when the closure is not in effect, just follow the AllTrails route. But if you're doing it during nesting season like us, it's imperative that after you cross the river, you locate the mouth of the drainage that leads to Rhyodacite Canyon. This may require bushwhacking (and possibly crawling) through a maze of overgrown river trees, where you'll find the grossest bits of river trash. Keep your face up. And if you eventually find yourself climbing up onto a ridge, give yourself a little kick from me and get back down to find that drainage immediately. . . if you can. Good luck.
Are you still with me? You're pretty hardcore! Now the drainage is not exactly a picnic, and you should try to skirt around the big trees if you can. They're brutal. You will get scratched. But once you get past the initial section of bushy drainage, the canyon starts to get interesting.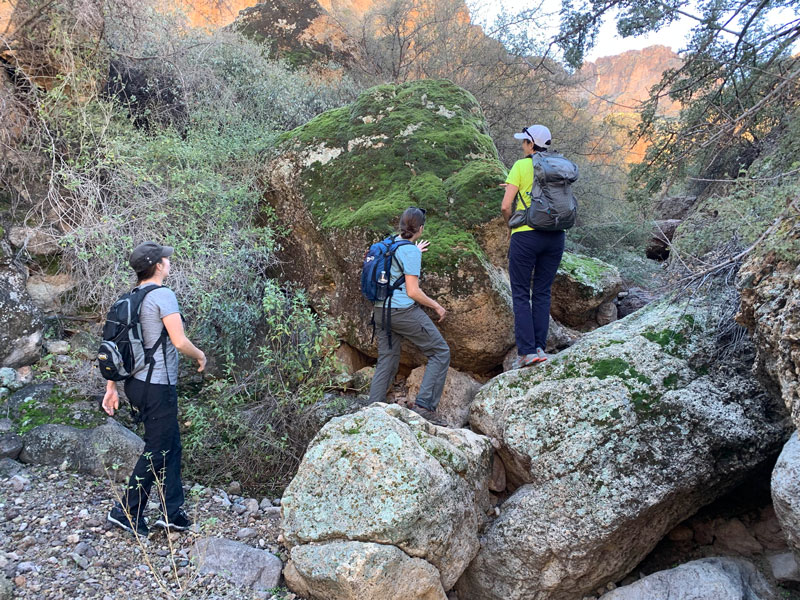 And, hopefully, it has water from recent rain.
This does not mean easy. The trees give way to smaller bushes and tall grasses, which are easier to negotiate, but there is never really a trail.
About halfway up Rhyodacite Canyon is where you begin to climb up the right side of the canyon to a pretty cool viewpoint. Be sure to look up at the left side of the canyon wall ahead to locate a small arch near the top. See it?
Viewpoint
Your climb up the canyon wall is steep, but the terrain is decent, and you'll soon be rewarded with some interesting rock formations and a spectacular viewpoint (not to mention great photo op).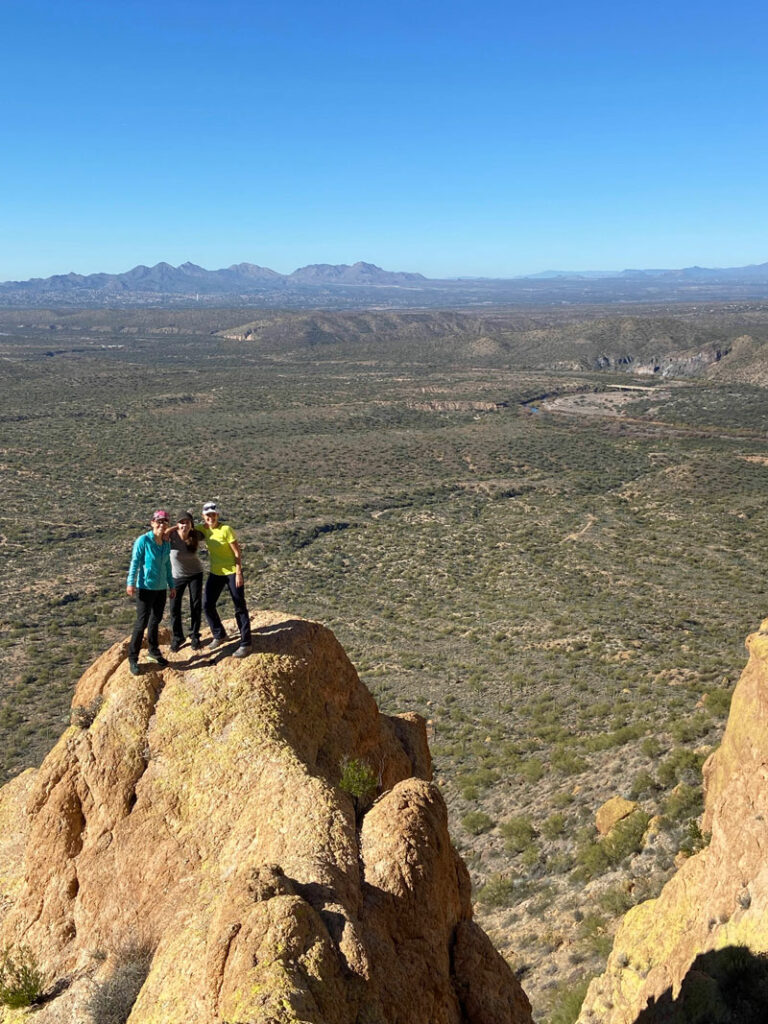 Cave
If you didn't notice it on the way in, now is the time to look to your left as you exit to find a cave. Two in our group were adamantly against visiting the cave, but the other two of us couldn't resist and hoped they'd forgive us later. It looked unremarkable from the trail, but it was actually quite spacious inside and had signs of previous habitation. By some kind of creeper. If you go and look at the artifacts, perhaps you'll discover why I say that.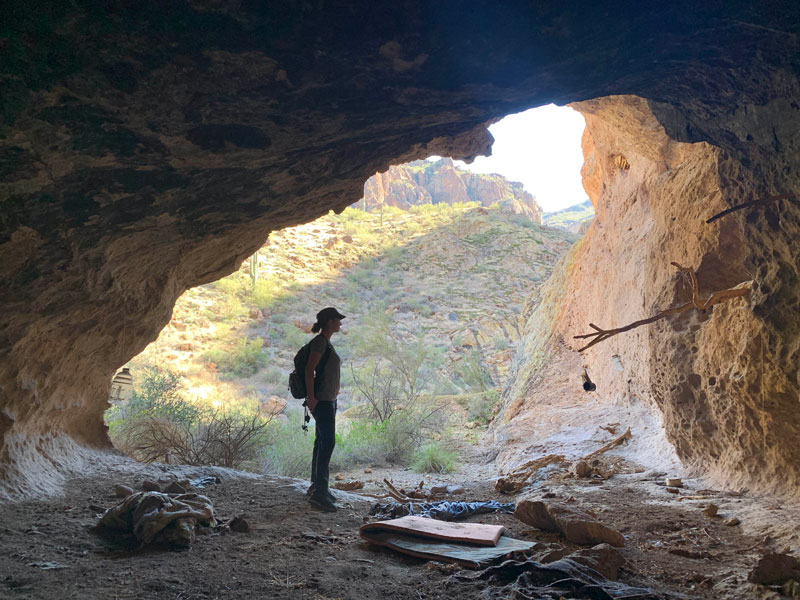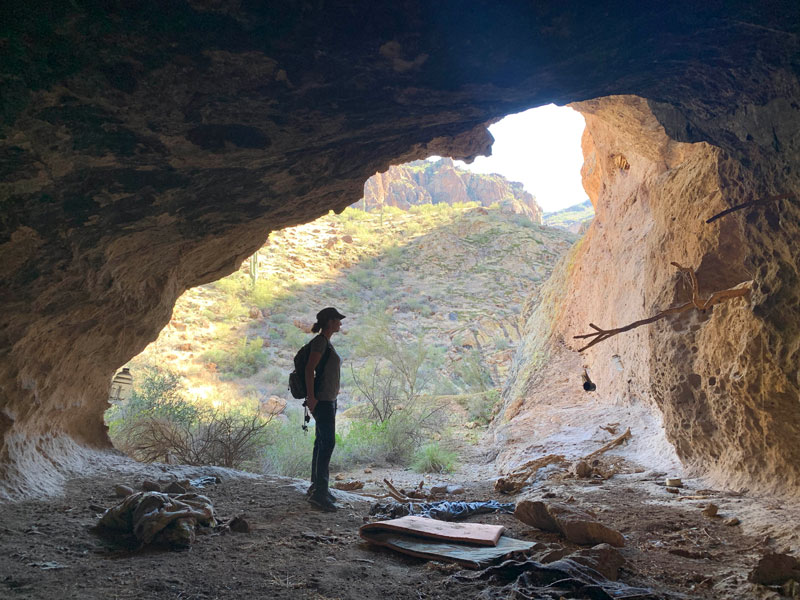 The return trip is pretty much as painful as the trip in, but what good is an adventure without a little pain?
---
Map & Directions
Location Goldfield Mountains, Tonto National Forest, Mesa, Arizona
From the Loop 202 north in Mesa, exit on University Drive and turn right. Turn left on Ellsworth Road and follow it to the stop sign at the intersection with Bush Highway. Turn right and follow that to the Water Users parking area.
Trailhead Facilities There are pit toilets available (but I can't recommend them).
Fees/Passes You will need a Tonto Pass or America the Beautiful Pass to park here.
Preview this hike
---