TRAIL STATS
Mileage: 10.5
Elevation gain: 1596 feet
Time to complete: 6-8 hours
Stars: ★★★★½
Creek crossings, off-trail hiking
During high water flow, when Sabino Creek is flooding the road, those who are undaunted by the conditions can see this spectacular waterfall that is normally dry and maybe have it all to themselves. To get there will require you to cross the stream on the flooded road nine times or cross once and then hike up Phoneline Trail. Once at tram stop 9, a wild creek crossing and a short rock hop up the creek will get you to this little slice of paradise.
---
Trail Description
First things first. Creek crossings can be hazardous at high flow, and this route will require you to go during high flow to see the waterfall, so it's up to you to determine if conditions are safe for crossing.
Tram Road or Phoneline Trail?
The stats for this hike are based on a loop hike using both routes, but you can certainly make it an out an back with either one. Choose your fave.
Tram Road Upper Sabino Canyon Road, the tram road, is the shortest and least strenuous path to tram stop 9. However, you will be required to cross the creek NINE times along this road. It's an adventure in itself.
Phoneline Trail If you want to minimize creek crossings, Phoneline Trail is hands down the way to go. You will have to cross the creek once, but there are rock pillars along the side of the road that let you hop your way across. One pillar was broken when we were there, but some smart person put a bench there so no one's feet had to get wet.
Tram Road
If you choose the tram road (high five!), be prepared to get wet. Repeatedly.
To help you gauge whether the falls are actually flowing, this picture shows the first crossing on the day we went. I was like, "WHAT?!"
It was January, the water was ice cold, and most people were turning back. A passing ranger graciously gave us huge trash bags to cover our legs so we wouldn't have to take our shoes off for each crossing. I've never been so glad to be wearing a trash bag.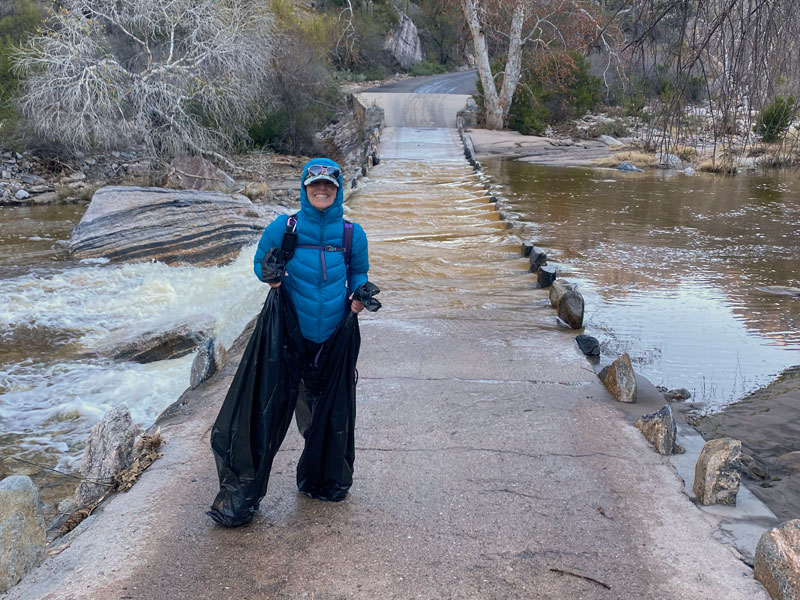 Don't worry, there are only eight more crossings to go. But the cool part is that you'll see very few other people along a normally crowded route.
Phoneline Trail
If you choose the Phoneline Trail, you will take the trail toward Bear Canyon, then follow a small section of road that has one creek crossing, and then connect up with the trail. This trail follows the contour of Sabino Canyon, high up on the canyon side where you're safe from the water. Near the end, you'll take the trail junction for tram stop 9.
Sabino Creek Trail
From the last tram stop, find a trail that leads toward the creek. A small sign claims it's half a mile away, but I have my doubts. Once at the creek, make your way upstream and find a place you find suitable for crossing. There aren't any great or dry options, so just find the least treacherous spot you can and go for it. Full tilt adventure time!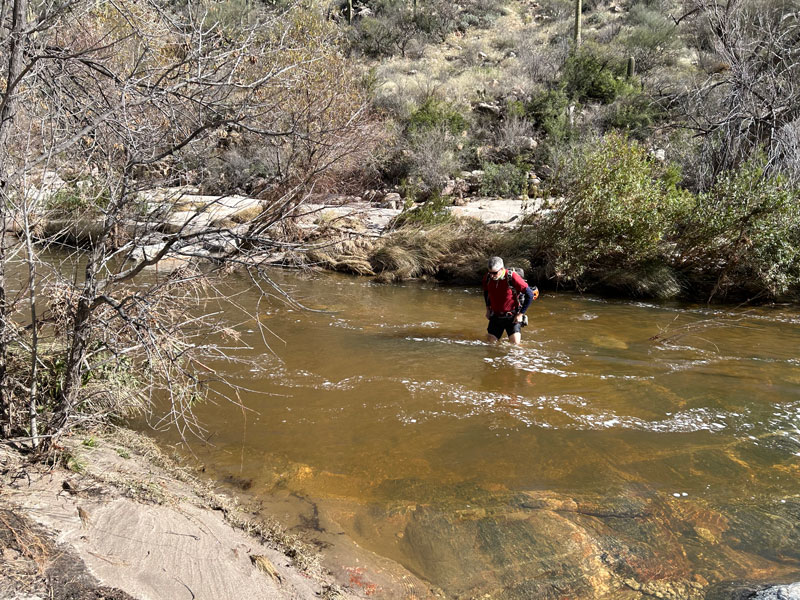 On the other side of the creek, find the path of least resistance up the creek. I'd recommend staying as close to it as the bushes will allow. You'll likely be hopping across some boulders, stepping in deep, wet sand, and battling some ferocious catclaw.
Sabino Creek Waterfall
The good news is, it's not very far up the creek before you'll see the ravine coming in from the left that leads a short distance up to the waterfall.
Here is your prize!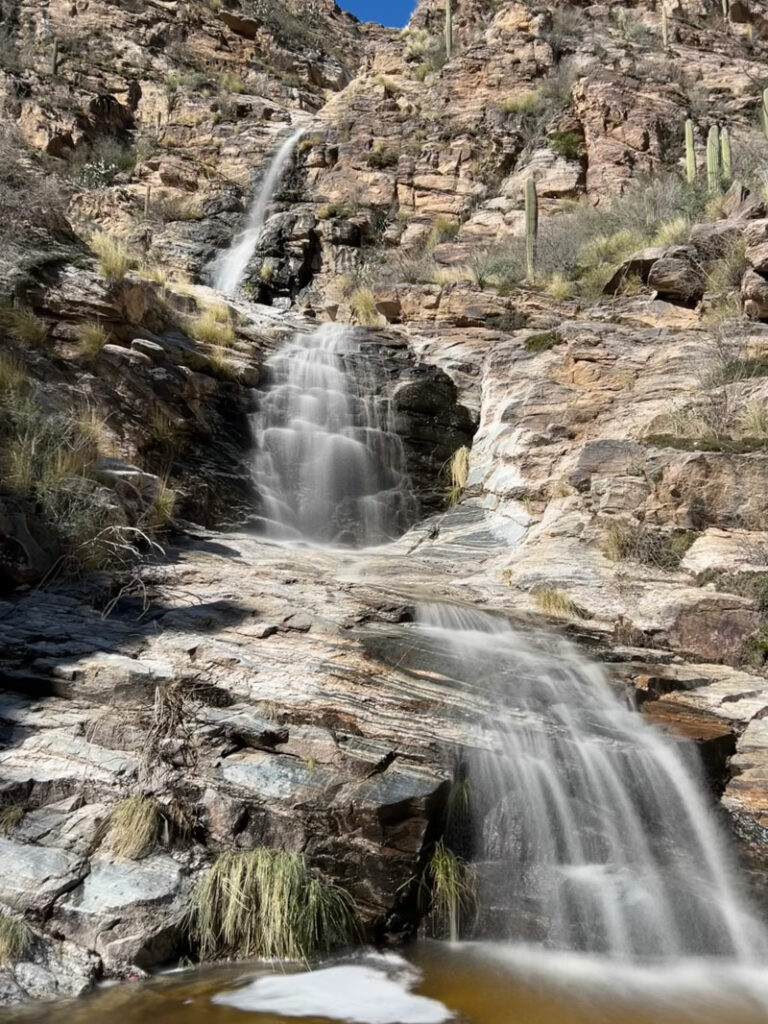 I don't know if this waterfall actually has a name, so I just named it after the creek it flows into. So generic, I know. We were able to access the upper falls by climbing up the left side.
---
Map & Directions
Location Sabino Canyon Recreation Area, Tucson, Arizona
From the I-10, take Orange Grove Road east. Turn right on Skyline Drive and continue as it turns into Sunrise Drive. Turn left on Sabino Canyon Road and then turn right into the parking lot. If you're using Google Maps, search for Sabino Canyon Visitor Center or Google might tell you it can't find a way there.
Fees/Passes You must buy a parking pass or use your America the Beautiful Pass.
Trailhead Facilities Flushing toilets, drinking water, vending machines, and gift shop
---
Recommendations for you
Share this