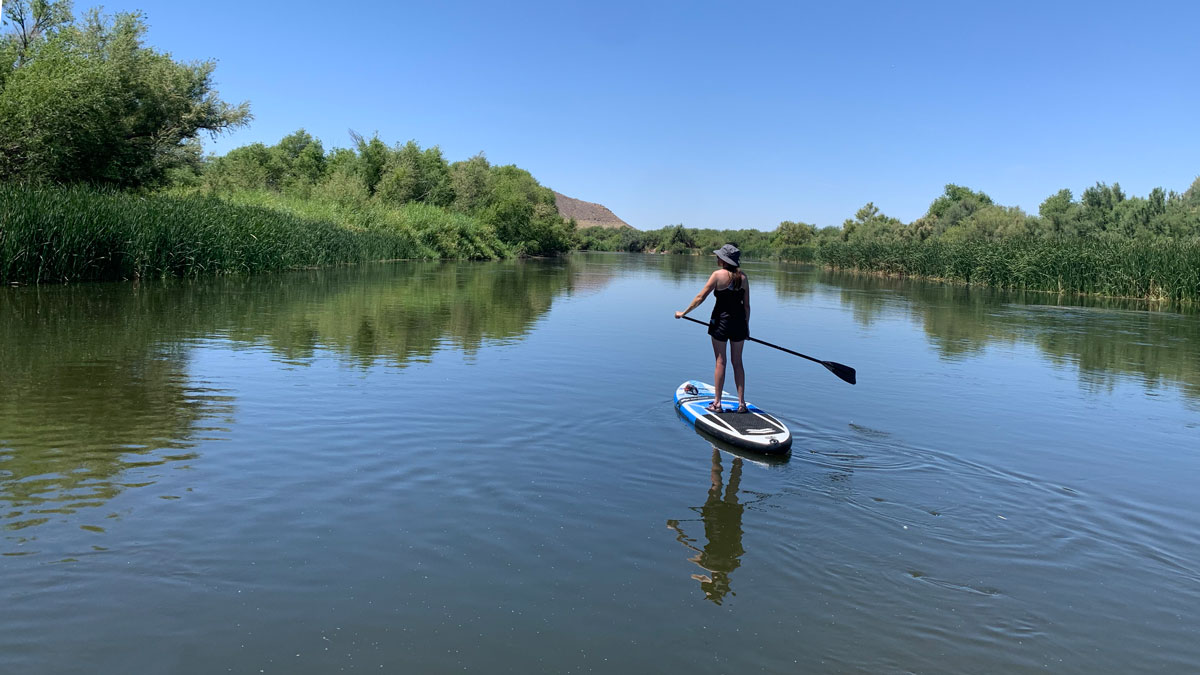 TRAIL STATS
Mileage: 5.3
Elevation gain: -40 feet
Time to complete: 3-4 hours
Stars: ★★★½
Class I river
When the Phoenix weather heats up, a float down the Lower Salt River provides an easy way to cool down and have fun. It gets crowded on weekends with riff raff, but if you go during the week, you can enjoy a beautiful desert oasis with wild horses, plentiful birds, and more.
---
Trail Description
The entire lower Salt River is 12 miles long, and you can do all 12 of those miles, but more than likely you'll choose to do one segment.
While you can rent tubes at Salt River Recreation and use their bus service, the river is open to the public, so renting there is not required. To run the river on your own, you'll just need your own tube, kayak, or paddleboard, a shuttle vehicle, and a Tonto pass or America the Beautiful pass for each vehicle.
With the popularity of the river comes the undesirable things like crowds, amplified music, and trash. Going on a weekday helps, but there's no getting around the trash problem, and we saw a lot of it on our trip because the river was unusually clear that day. Make sure you secure all your belongings, including trash, to help keep the river clean-ish.
Recreation Sites on the Lower Salt River
From top to bottom (east to west), the six recreation sites with parking lots along the river are
Water Users
Pebble Beach/Blue Point Beach
Goldfield
Coon Bluff
Phon D Sutton
Granite Reef
The stats and description for this guide are for the Goldfield to Granite Reef section, but we have done all of them, and they are all good.
See the map provided by the Forest Service for an overview of the Lower Salt River Recreation area.
Goldfield Recreation Site
Whether you come from Power Road or Ellsworth, everybody stops at the stop sign next to Salt River Recreation. To get to the Goldfield stop, turn left if you're coming up Power or go straight if you're coming up Ellsworth, and drive to the end. Hopefully it'll be quiet when you get there, but on busy days, it'll be crawling with people and buses and maybe a street preacher trying to bring the river rats to Jesus.
The river entry here is pretty shallow, so the water moves relatively swiftly, and you'll want to make sure your whole crew is ready before you push off because you're gonna be swept away in no time. If you're lucky, some kind soul will have left behind a little dam made of rocks to help the water stay calmer right at the entry point.
The River Section
Once you're in, the river is nearly always calm and wide. And quiet. Unless the bus has just dumped off a load of tubers. Then you never know what you'll get.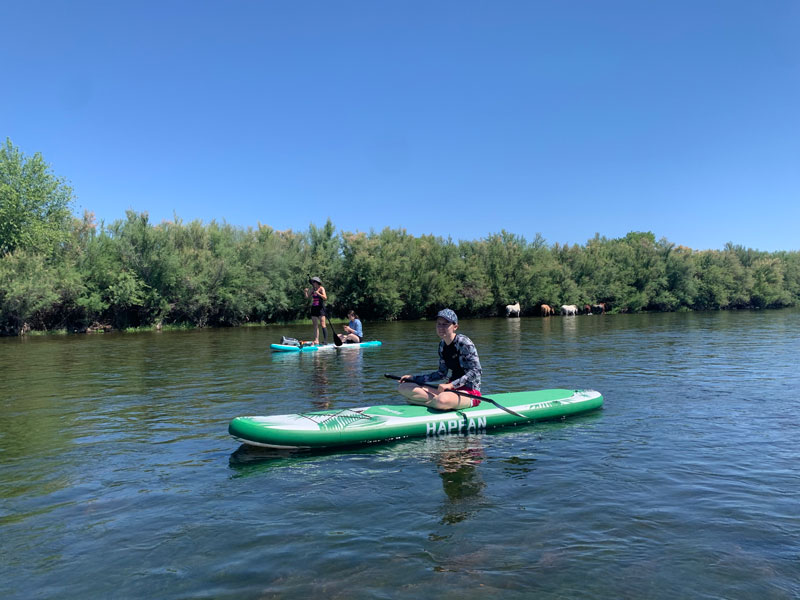 If you're an animal lover, you are in for a treat. The Salt River is home to dozens of wild horses, and you will undoubtedly see some on your float. And maybe they'll be doing things that shouldn't be seen by children. Or maybe they'll be standing in the middle of the river refusing to move. They're wild, okay? But you must try with all your might to give them plenty of room because these horses are fiercely loved and protected, and there's a pretty big chunk of the population who cares about them a lot more than they care about you. Just FYI.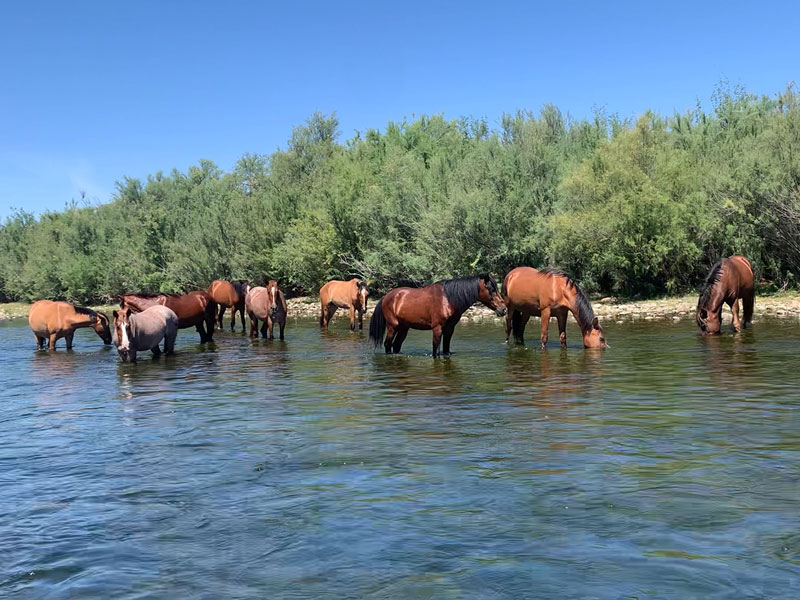 From time to time, there will be an island in the middle of the river, and you'll have to judge whether to go left or right on the fly. We meant to go left near Coon Bluff, but the river had other ideas and sent us down a narrow section where I crashed into trees and reeds and other paddleboarders. It was mayhem there for a second.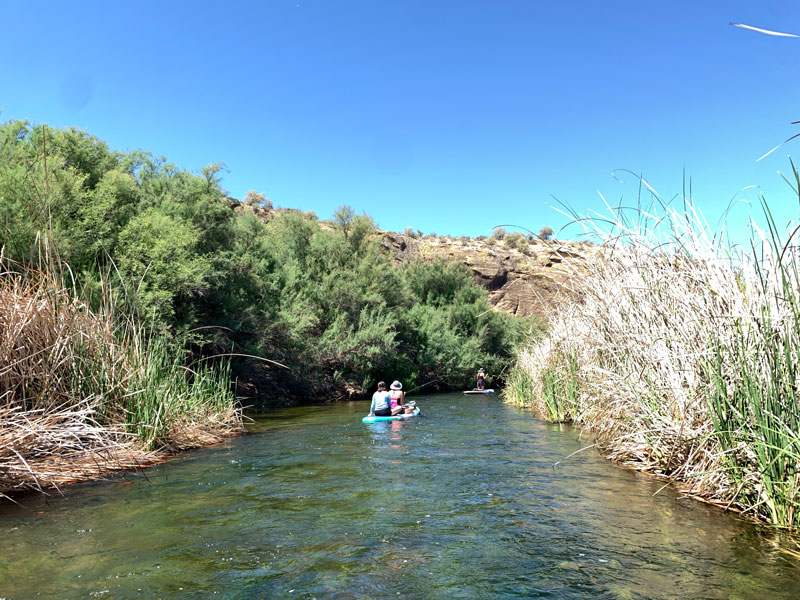 If you're on a tube, trees are bad and you may find yourself sharing a tube with someone else if you're not careful. Of course, if you're on a tube, you also can't steer, so good luck.
Heather told me there's one "tippy" part close to the Phon D Sutton recreation site, which she knows from unfortunate personal experience. On tubes, fun. On kayaks, you barely notice. On paddleboards, you might wanna take a seat. Let's be honest, the river is a little gross. Nobody really wants to get dumped. If you do—for the love—keep your mouth closed.
Beyond that point, you'll get a spectacular view of Red Mountain with trees flanking your sides and so many birds. The place sounds alive. Unless you happen to be sharing the river with some jerk who has decided to share his music with everyone on the river.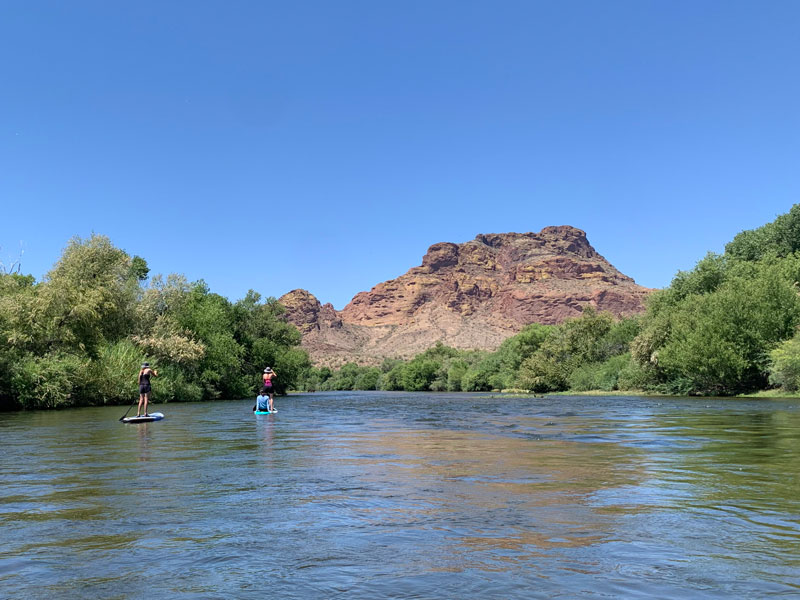 Granite Reef Recreation Site
When the river slows and widens, and the grasses and plants start turning into a disgustingly thick carpet beneath you, you're at Granite Reef. Did you put the fin on your paddleboard? You did? Me too. We're dummies because more than likely it's been skidding on a few rocks and getting caught in river plants. Only when we arrived at the very end, and I mean like 10 seconds from the parking lot, did Hillary clue me in to the fact that you should leave your fin off for this river. She does know I just got the paddleboard yesterday, right?
Right?
Now hopefully you didn't pull an April and park at Phon D Sutton, a mile back. Hopefully you parked at Granite Reef, and hopefully you brought the keys for the shuttle vehicle. Did you see that guy hoofing it along the highway when you drove in? Yeah, that's the guy who left his keys in the car at the top. You won't have that problem because you learned from us. You're welcome. Have fun!
---
Map & Directions
Location Goldfield Recreation Site, Granite Reef Recreation Site, Lower Salt River Recreation Area, Mesa, Arizona
Granite Reef Recreation Site
Take McDowell Road from the north 202 (Red Mountain Freeway) and go north on Power Road. Turn left into the Granite Reef Recreation Site.
Fees/Passes A Tonto Pass or America the Beautiful Pass is required to park here.
Be aware that there are kiosks for buying the Tonto Pass at some of the sites, but you'll save money by planning ahead and buying it in town. Here is the list of vendors. Most gas stations can hook you up.
Trailhead Facilities Pit toilets are available. No water.
Goldfield Recreation Site
Once you drop your shuttle vehicle (you put your Tonto Pass or America the Beautiful Pass in the window, right?), take everyone and their floaties up to the Goldfield Recreation Site. To get there, turn left on Power (Bush Highway) and follow it to the stop sign. Then turn left and follow that to the end of the road.
Fees/Passes A Tonto Pass or America the Beautiful Pass is required to park here.
Trailhead Facilities Pit toilets are available. No water.
Alternative Start/End Sites
Water Users, Pebble Beach/Blue Point Beach, Coon Bluff, and Phon D Sutton recreation sites are also located on the Bush Highway. See the map provided by the Forest Service for the locations of all the recreation sites in the Lower Salt River Recreation area.
Preview this Float
---