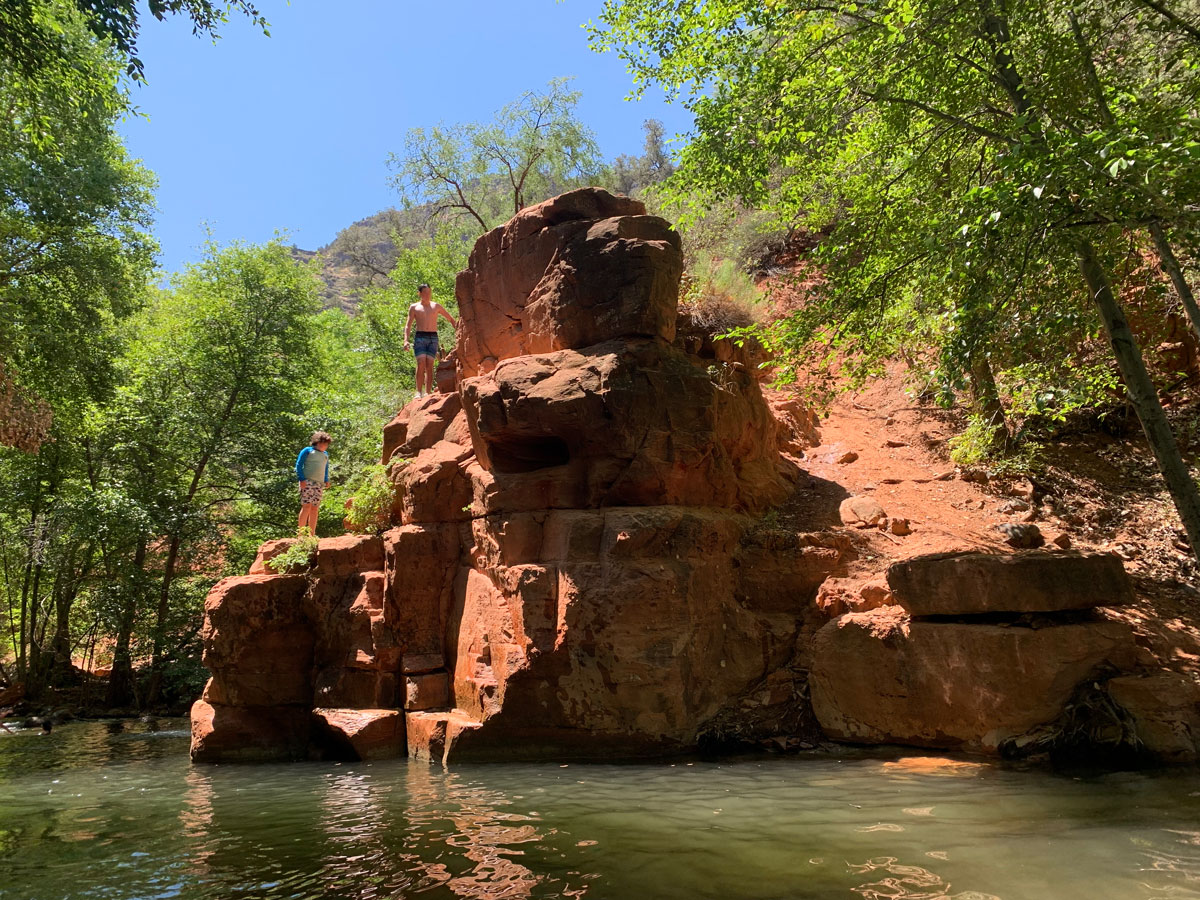 TRAIL STATS
Mileage: 1.6
Elevation gain: 154 feet
Time to complete: 2-3 hours
Bull Pen swimming hole is a large, shaded place to cool off near Camp Verde with cliffs of three different heights for jumping and a rope swing (or two) if you're lucky. You will have to hike about three quarters of a mile to access it, but if you know where you're going, it's an easy walk that'll get you just warm enough to make you want to take a plunge! Getting there can be tricky, but we will show you exactly how to get to the Bull Pen swimming hole.
---
Trail Description
Bull Pen. You elusive, sneaky one. The first time we attempted to find this, we ended up on West Clear Creek Trail for 10 miles in blazing heat with a wild animal freaking us out.
Don't get me wrong, it was a pretty hike. The first mile after you reach the creek is scenic and refreshing, but it's not really a swimming hole.
We never did find it that day, but we were determined to come back.
Turns out, it's not that hard to get there if you know what you're doing. And I guess everybody except us knew what they were doing because it's not a big secret.
Bull Pen Parking Area
When you start seeing a sign for "Bull Pen" and cars parked everywhere, you'll be tempted to park right there. Resist the temptation and stay on the road until it ends at a restroom and a locked vehicle gate. This is the start of the trail, so park as close as you can, put on the sunblock, and get ready for fun!
West Clear Creek Trail
The trail is actually the continuation of Bull Pen Road, but no vehicles are allowed on it. The "hike" is not very exciting and is hot and sunny in the summer, but hang in there! As soon as you see this stone house, you'll know you're getting close.
The Turn Off (don't fail to turn!)
This is where we went wrong. The trail does continue on straight, but you'll want to turn right just after the stone house and head down a well-worn trail. Soon you'll see an arrow sign pointing straight to the swimming hole.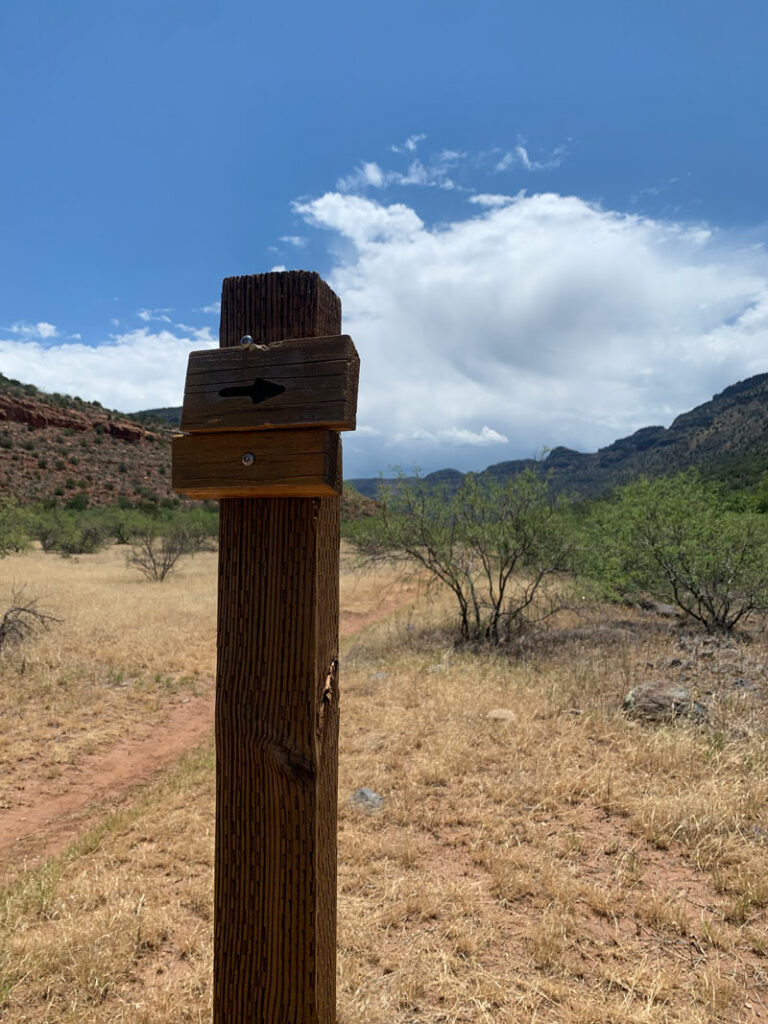 Still on the right track? Yay! Soon after you follow the arrow, you'll come upon this cool little contraption that looks like it's made for fun zip line rides across the creek. Sadly, no. But don't worry, there will probably be a rope swing waiting for you.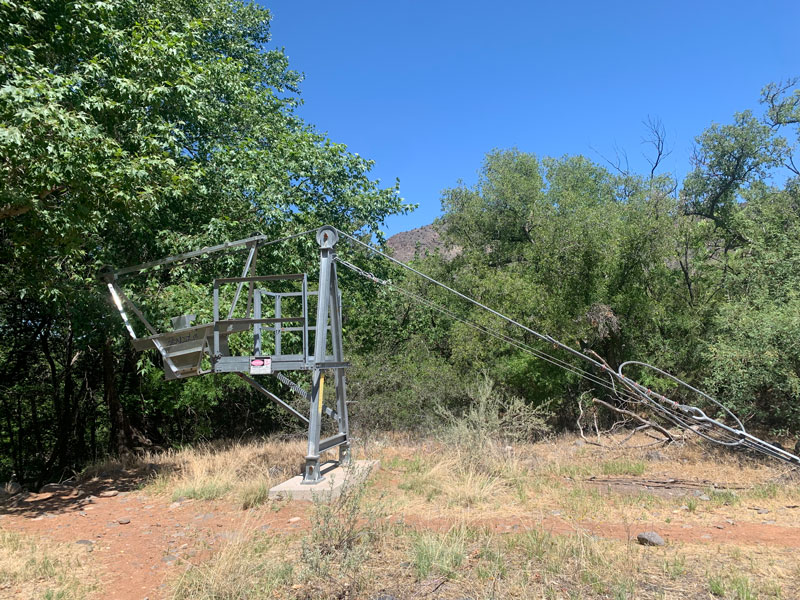 By now, you should be able to hear people having fun. If you go straight to the creek at that point, the swimming hole will be up the creek to your left. The easier way is to turn left and follow a slightly curving trail directly to it.
The Swimming Hole
If it's a hot weekend in the summer, be prepared to share it. The main draw here is the cliffs of three different heights that you can jump off of (always check the water depth first).
The rope swing was installed but not in use when we arrived, so Russ decided to try it out.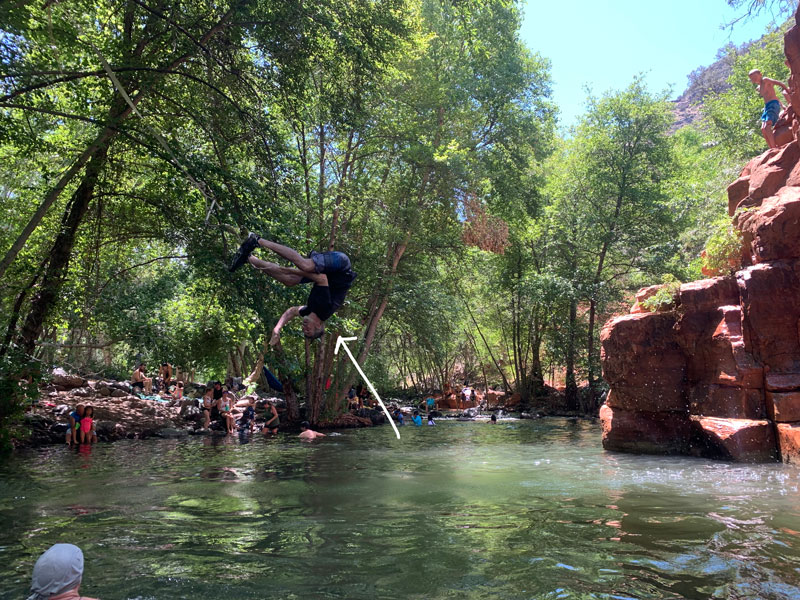 He made it look so rad that a bunch of other people wanted to try it after that, too. Pro tip: grab the handle if you want to swing all the way out. Otherwise, you'll likely hit the water too early. Good luck!
---
Map & Directions
Location Bull Pen Day Use Area, Coconino National Forest, Camp Verde, Arizona
From the I-17, go east on Highway 260 in Camp Verde and then turn left on Forest Road 618. Be looking for it because it sneaks up on you! At the fork, turn right onto Bull Pen Road. The dirt road is bumpy, but we saw several sedans down there, so any car can make it. Follow it until a gate blocks you from going any farther and park there.
Fees/Passes None
Trailhead Facilities Pit toilets are available
---