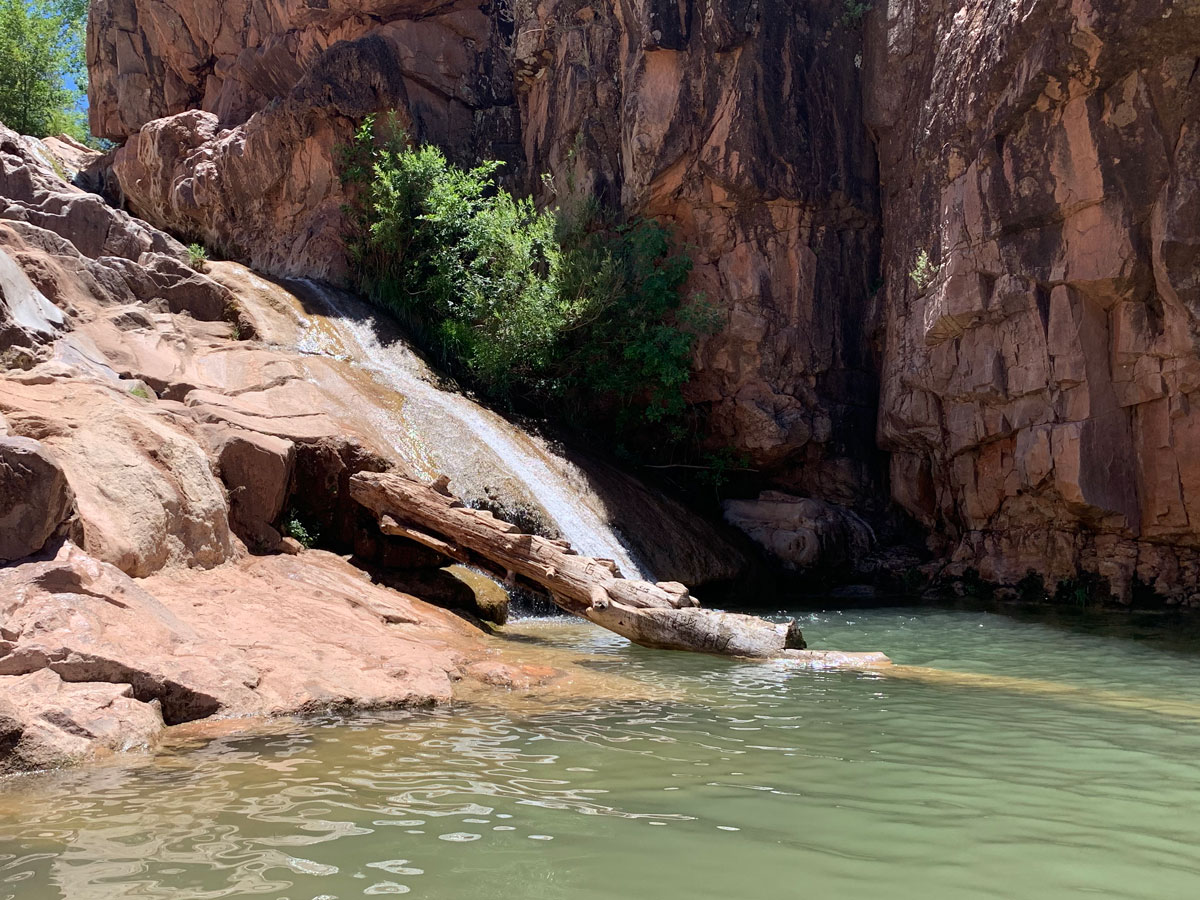 TRAIL STATS
Mileage: 1.7
Elevation gain: 232 feet
Time to complete: 2-3 hours
Stars: ★★★★
Rocky, uneven trail
Water Wheel Falls is a refreshing oasis and popular summer time swimming hole near Payson, Arizona. Almost everyone goes straight to the falls, but if you're willing to explore a little more, you'll find more cascades and swimming holes without the crowds. The short hike along the Verde River and Ellison Creek is scenic and fun for kids. However, its uneven and sometimes slippery surfaces make it challenging in spots. If you want to avoid the crowd at the falls or have people in your group who can't walk over uneven terrain, there are many nice areas to enjoy the river along the way.
---
Trail Description
The trail to Water Wheel Falls starts out wide and flat and passes picnic benches in densely shaded forest along the river. There will likely be fishermen out there hoping for some luck.
The Water Wheel
Keep your eye out for an obvious trail to the left that will lead you to the waterwheel that this area is named for. It's in disrepair and isn't by the water, but it's a short, easy diversion.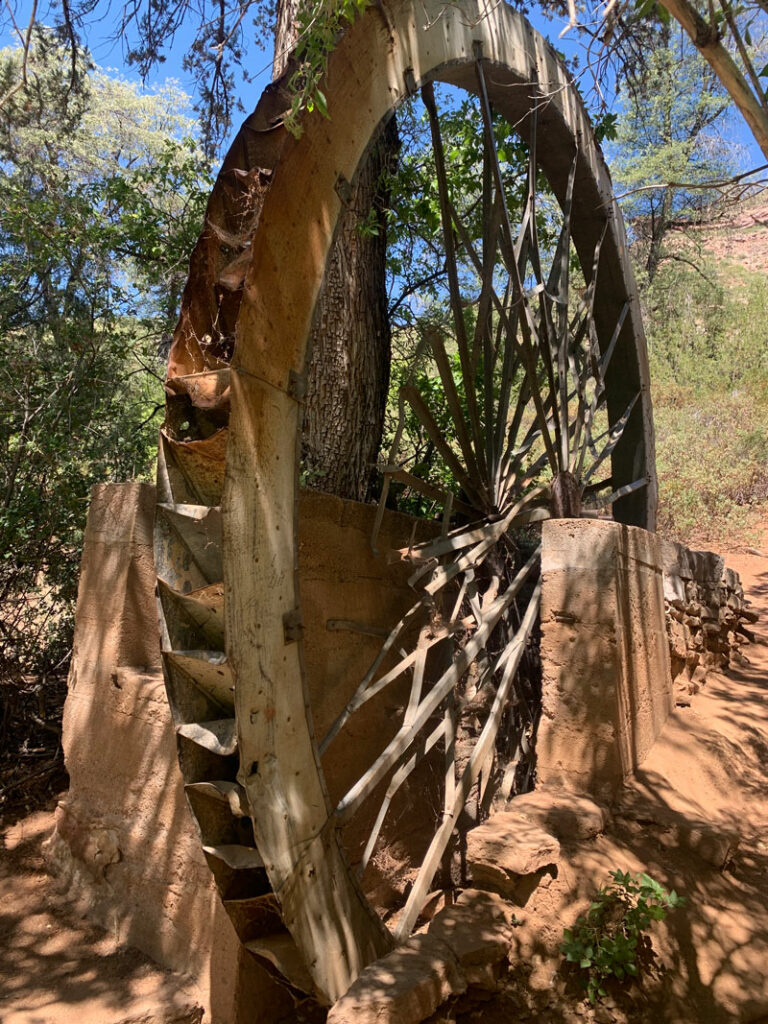 According to Stan Brown, the water wheel was built in the early 1900s by a miner named James Greer to crush ore for a mining claim.
Memorial for Flash Flood Victims
Shortly after the water wheel, you'll come across a memorial for a family who perished here in 2017 during a flash flood. I hope this goes without saying, but be sure to check the weather and avoid the area if there is any chance of a flash flood.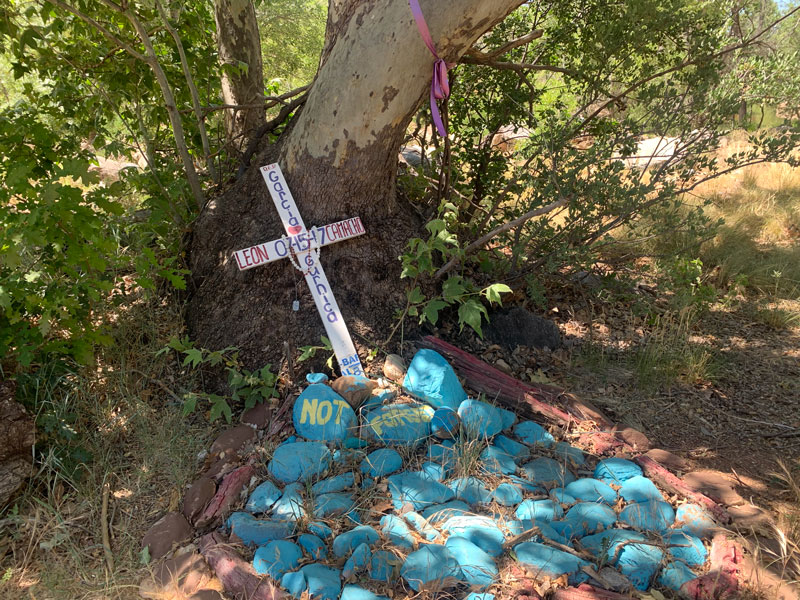 The trail is flat and smooth for a little bit longer before you'll come to a rocky area where you will start to go up high along the side of the river. This section is uneven and could be difficult for young children or those with limited mobility.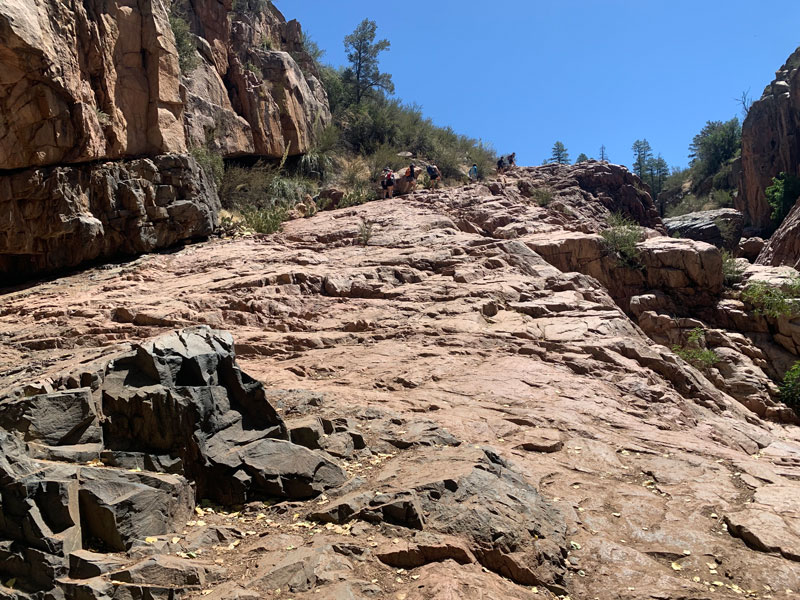 Eventually, Ellison Creek will come in from the right, and you'll see nice, small cascades. This is where you will have to rock hop across the river. If you're lucky, our trail mama, Heather, will be there to help you.
Or, if you just saw a huge group of youth heading for the falls and are imagining a giant party going on over there, then take your time and follow the river up just a little farther to a little swimming hole with a sketchy rope swing. Let's be honest, it can't even qualify as a true rope swing, although that didn't stop Heather from trying it.
You can also venture up the river a very short distance farther to enjoy some pretty cascades (and relative solitude). Don't be surprised if some other folks catch onto your plan and check it out, too. The kids loved it.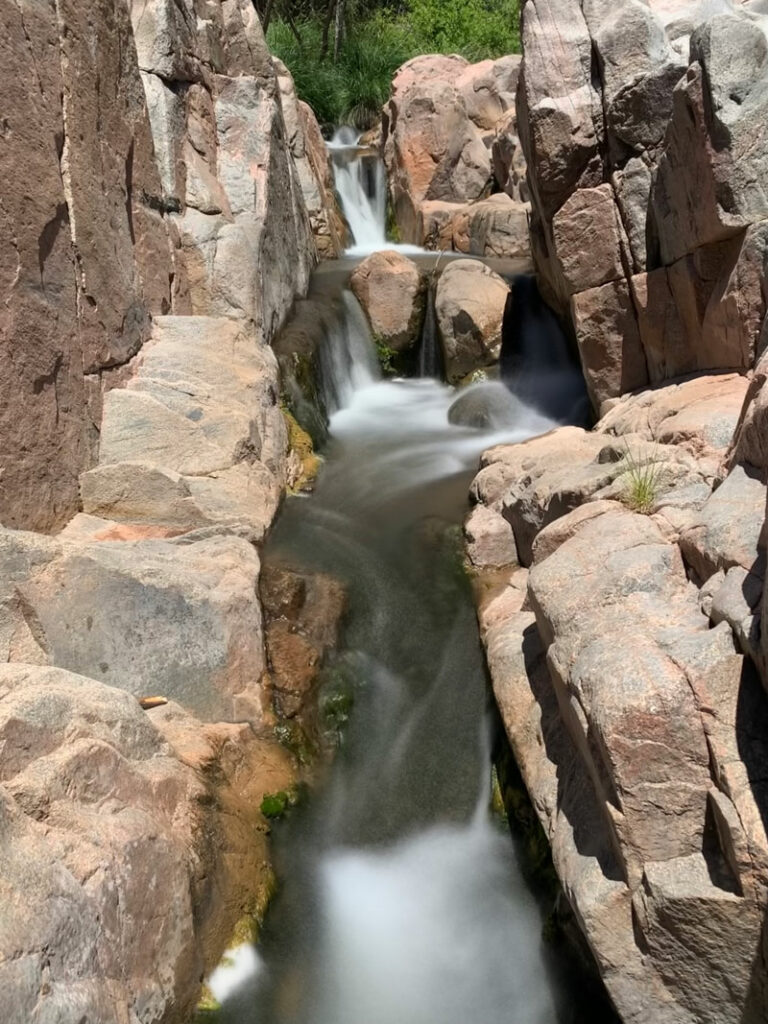 Water Wheel Falls
Once you see the party crew leaving, you can head up to the falls. You're already over half way there! You'll probably find out there's a new party crew arriving just in time, but it's all good. You're going to jump in that cold, refreshing water and be feeling fine in no time.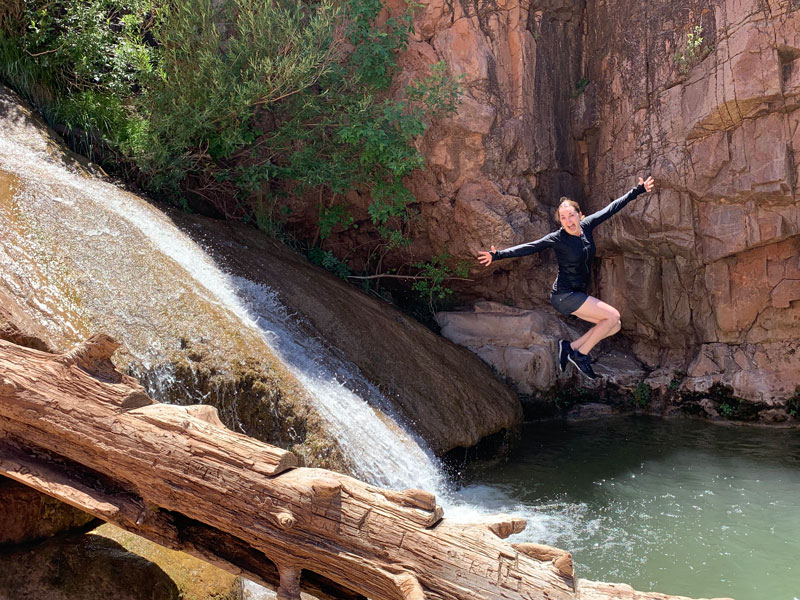 We have been known to carefully jump off the falls, but it takes a leap to make it into the deep water, and there are some submerged boulders, so exercise caution.
Just always be careful! No joke, we saw two women who had to be carried out after injuring their feet. One hobbled out with help from two others, and the other was on a stretcher. Be smart and take your time. It's more fun that way!
Other Recommended Hikes
For more summer fun, try the Bull Pen Swimming Hole near Camp Verde or a Salt River Float.
---
Map & Directions
Location Water Wheel, Tonto National Forest, Payson, Arizona
From Payson, head north to Houston Mesa Road and make a right (east). Follow this road for a little over 7 miles to the Water Wheel parking area.
Fees/Passes This parking lot requires a fee (currently $10) from April 1 until October 31 and can be paid in cash using one of the envelopes at the trailhead. Some people have used Tonto Passes, but I didn't see it listed anywhere as a valid pass, and it's also not listed on the back of the Tonto Pass or on the website.
Trailhead Facilities Pit toilets available.
Preview this Hike
---
Recommendations for you
Share this