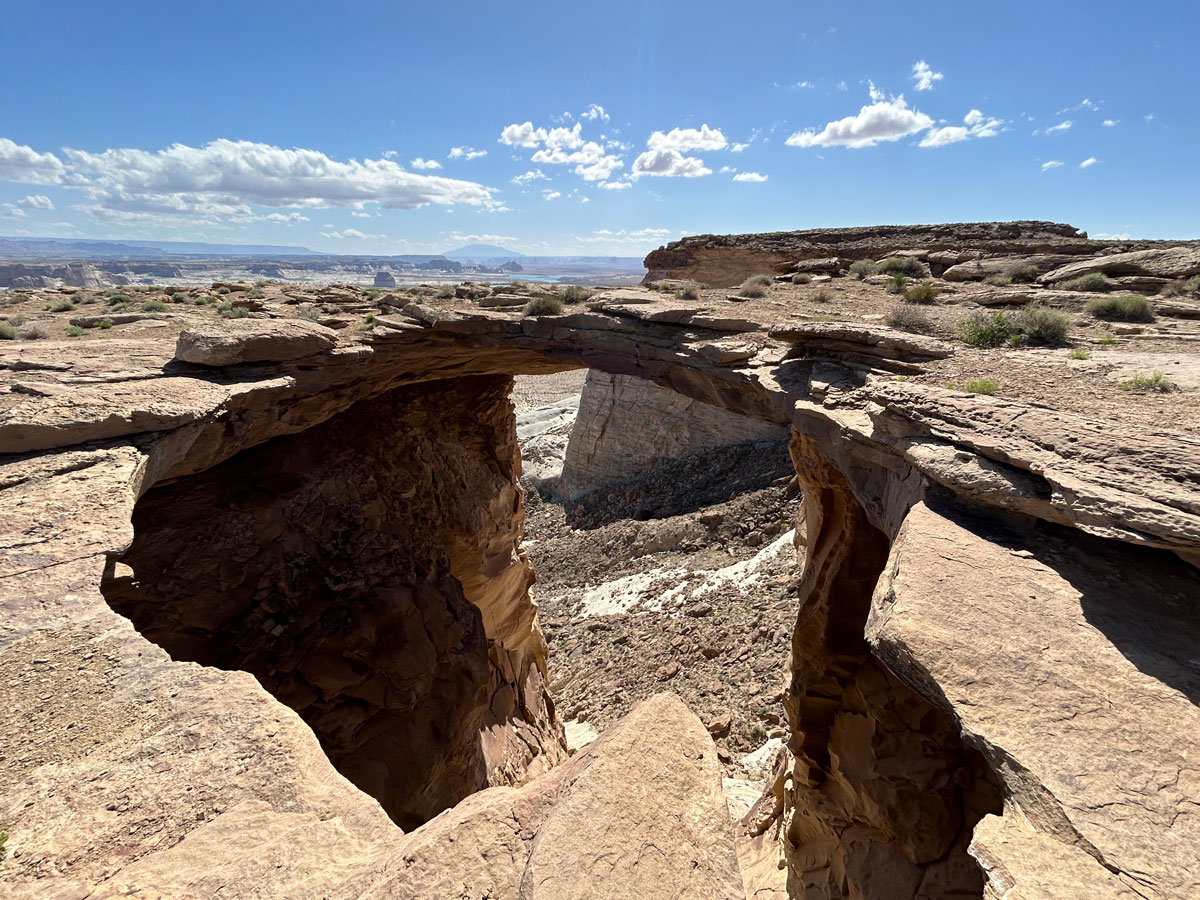 TRAIL STATS
Mileage: 2.1
Elevation gain: 257 feet
Time to complete: 1-2 hours
Stars: ★★★½
Nice trail, may be hard to follow in spots
The hike to Skylight Arch takes you out onto Stud Horse Point, a high promontory overlooking Wahweap and Lake Powell. This arch, which formed when rocks collapsed into the valley below and opened up a "skylight," is fun to walk on for a picture, but the bigger draw of this hike might be the expansive views all around you. The last mile and a half of the road to the trailhead gets pretty rough, so a 4WD high clearance vehicle is essential unless you don't mind walking it.
---
Trail Description
Look at the trail to Skylight Arch on a topographical map, and you'll see why I thought it was going to be an awesome hike. Essentially, you walk out onto a high "peninsula" called Stud Horse Point that overlooks Wahweap and Lake Powell in the distance. Awesome views? Sign me up!
Skylight Arch Trail
From the trailhead, you won't have to walk far before you'll begin to see stunning views on both sides. At any time, you can walk to the edge to take it all in.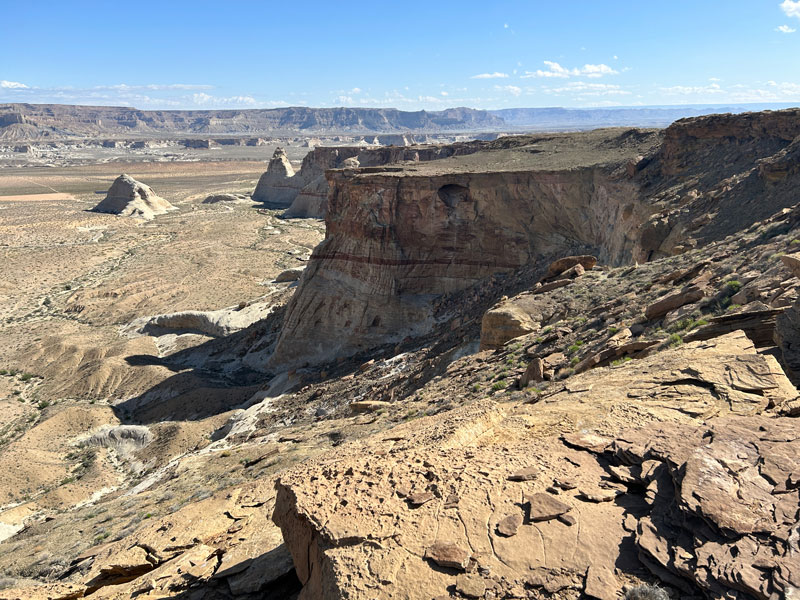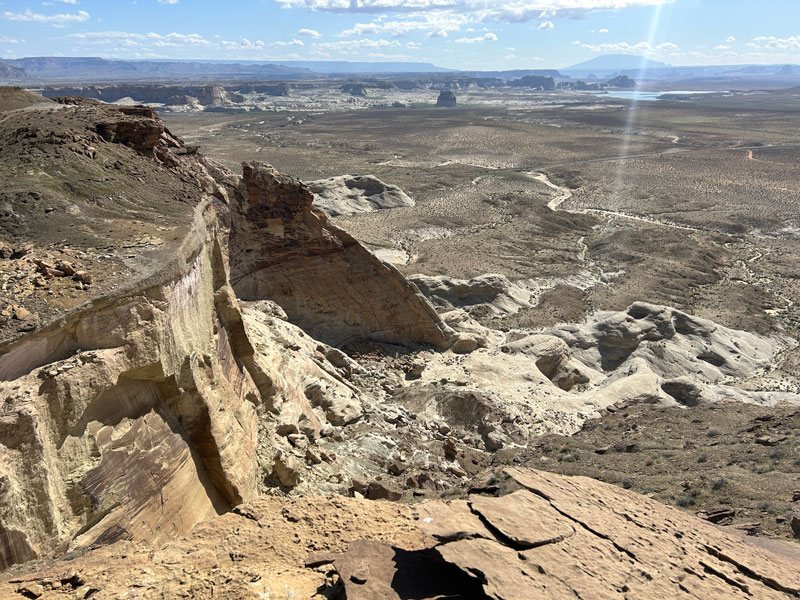 It's obvious there used to be a road that went all the way out to the end. The trail sometimes follows the road, but sometimes follows closer to the edge for a better quality hike. Watch for lines of rocks that help keep you on the trail. The hiking is relatively flat and easy, making it great for families.
As you approach the end, you might be tempted to think you'll be going off to the right to the very end of the farthest point you can see. All I can say is. . .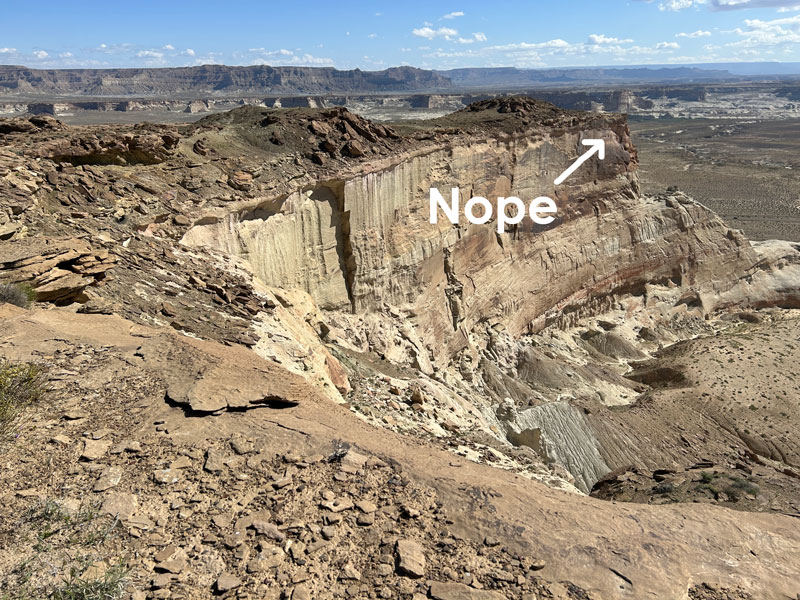 Skylight Arch
You'll curve slightly to the left before arriving at a giant hole in the ground which forms the skylight of Skylight Arch.
As you watch the first brave soul go and stand on the arch, be sure to tell them how crazy they are for standing on that rock with nothing but a void below. That'll make it more fun when the person on the arch informs you there's nothing below you either. Eek!
But maybe the fact that you didn't die from it will make you a little more brave to venture out onto the viewpoints you skipped on the way in.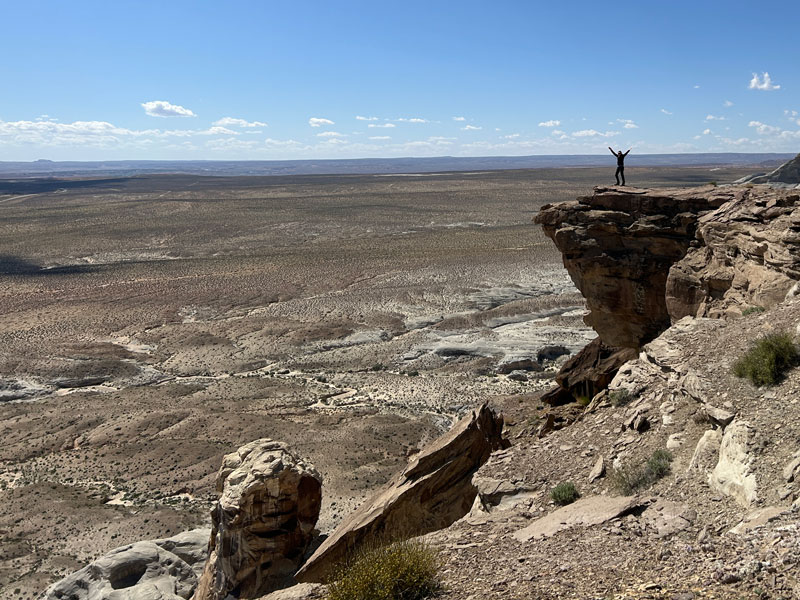 Worth it.
---
Map & Directions
Location Glen Canyon National Recreation Area, Page, Arizona
From Page, take Highway 89 north. Turn left on Ferry Swale Road. Keep left at the fork. Turn right onto Blue Pools Road and then right onto Stud Horse Point Road. GPS is the way to go on this one since all the crisscrossing dirt roads get confusing. Stud Horse Point Road is very rough, and you'll be glad to have a 4WD high clearance vehicle.
Fees/Passes None
Trailhead Facilities None
---