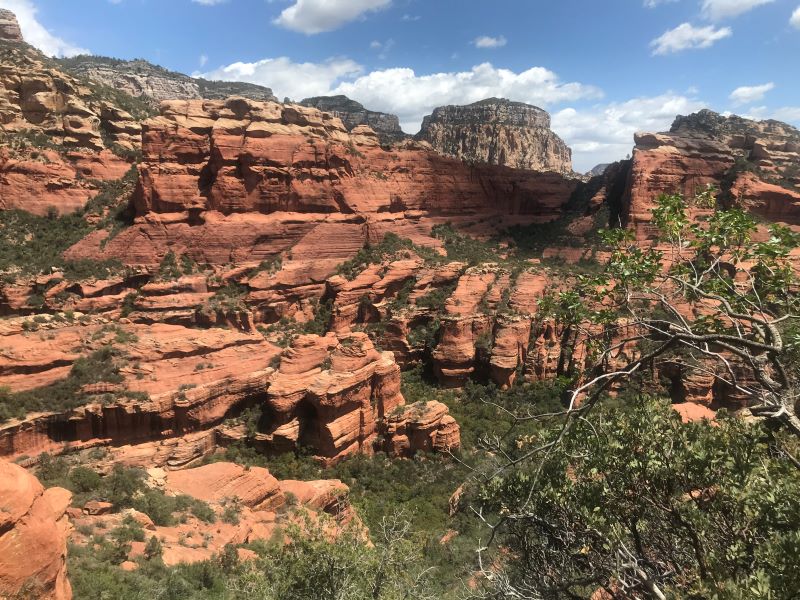 TRAIL STATS
Mileage: 5.9
Elevation gain: 900 feet
Time to complete: 5-6 hours
Stars: ★★★★
Route-finding, mild scrambling on approach
Slingshot Canyon, located in the heart of Boynton Canyon, has absolutely everything to love about a Sedona adventure. The approach and exit are pretty straightforward, and the rappels are pretty standard fare for Sedona, but the endless jaw-dropping views at every turn are the real showstopper here. As a bonus: this canyon is perfect for those of us that are beginners or are taking our kiddos along.
🪢 This is a technical canyon with 5 rappels up to 100 feet. You will need one 200-foot rope, or a 100-foot rope with a 100-foot pullcord, plus all the required safety equipment for rappelling and knowledge how to use it. This guide is not intended to provide instruction on how to descend a technical canyon safely.
---
Trail Description
Parking
The start of this beauty is the Boynton Canyon Trailhead. Get there early. As early as possible. Sunrise or earlier. And here's why: parking. Thanks to the now famous Sedona Subway Cave, Boynton Canyon Trail has became the freeway of Sedona trails. Get good parking, and hopefully get a decent shot of the cave, by showing up early. If you don't get a spot in the lot, you can park along the street, but I've seen this parking backed up for at least a mile. You don't want to add that walk to your hike. Just trust. And may the odds be with you.
Sedona Subway Cave
Boynton Canyon Trail is very well maintained, fairly flat, and super beautiful. You will hike in on this trail for about 2 miles before the turn off to the right, heading in the direction of the Sedona Subway. In about .4 miles, you'll be at the base of the Subway Cave. Take a second and climb up inside. It's pretty dang cool! You can get in line to get a picture taken there, (which I recommend if you've haven't been before—you just have to). From inside the cave, if you go around the cave to your right, there's some pretty interesting petroglyphs and ruins. It's a cool place to explore, but prepare yourself for the very real chance that there will be hoards of people.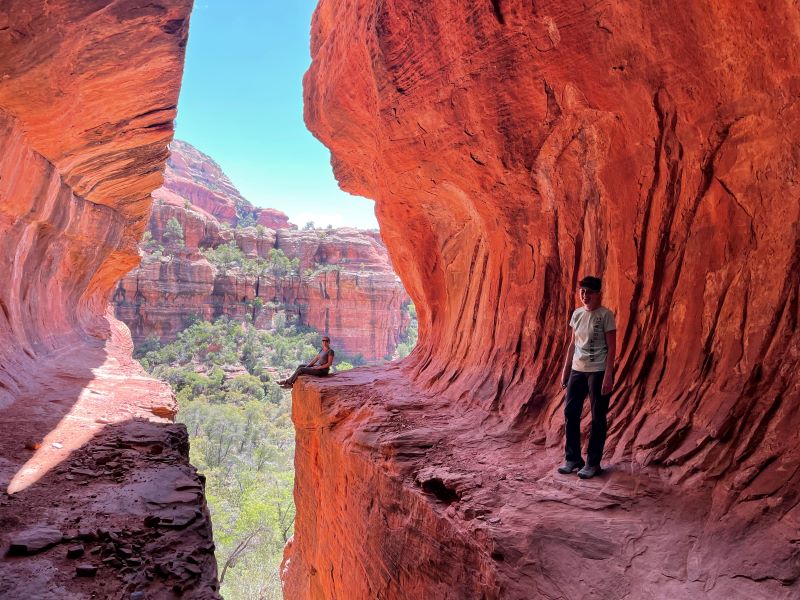 Approach
As you leave the cave (and the people) behind, there's a faint use trail that goes around the canyon wall to the right and away from the trail you took in. This is your trail to get to Slingshot. This use trail gets more defined all the time. Stick close to the canyon wall on your left as you make your way around and up.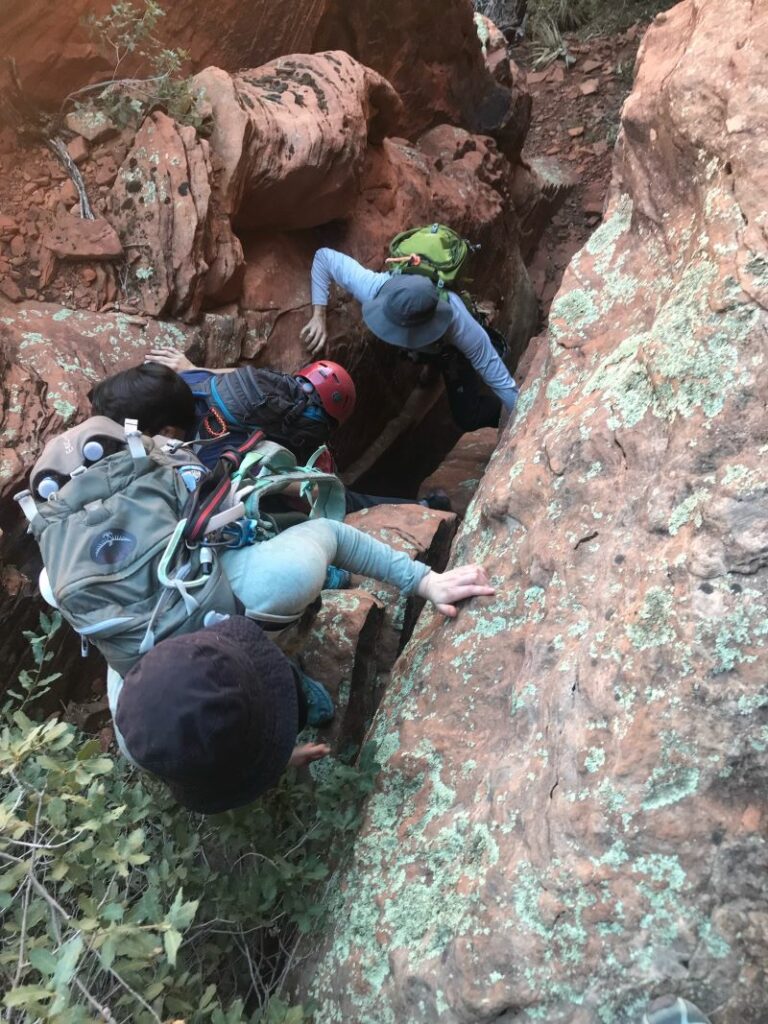 If the climbing ever seems more than class 3, look around for another option. On your way, keep an eye out for a hidden double cave on your left. It's worth checking out! (As a bonus, there's a solid chance you'll have this cave all to yourself.)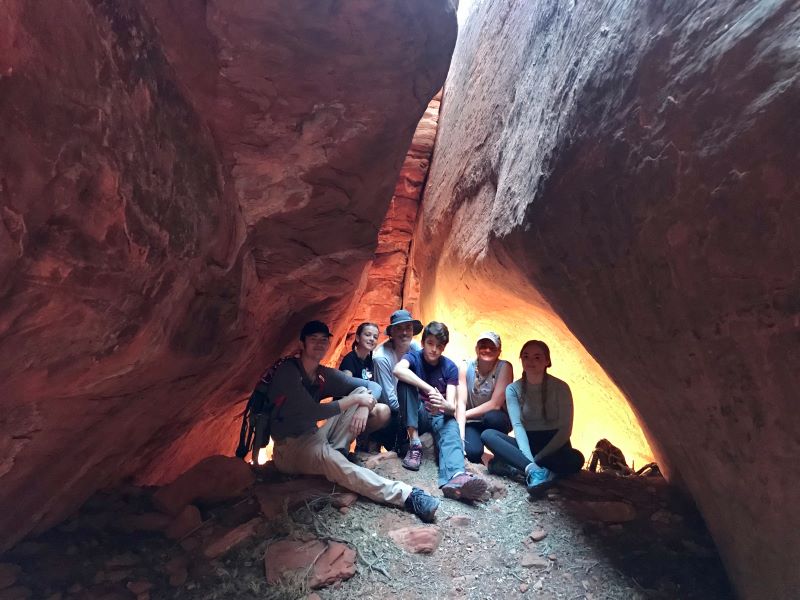 After a bit more work, you'll top out at a saddle and see a cairn, marking the beginning of Slingshot Canyon.
Rappel 1
After a fairly easy downclimb down a slickrock chute, (there's an anchor there for wet or icy conditions), you'll come to your first rappel. It is 75 feet anchored off of a tree left downcanyon. It is almost entirely free hanging, though the start is pretty sloped, making for an easy start.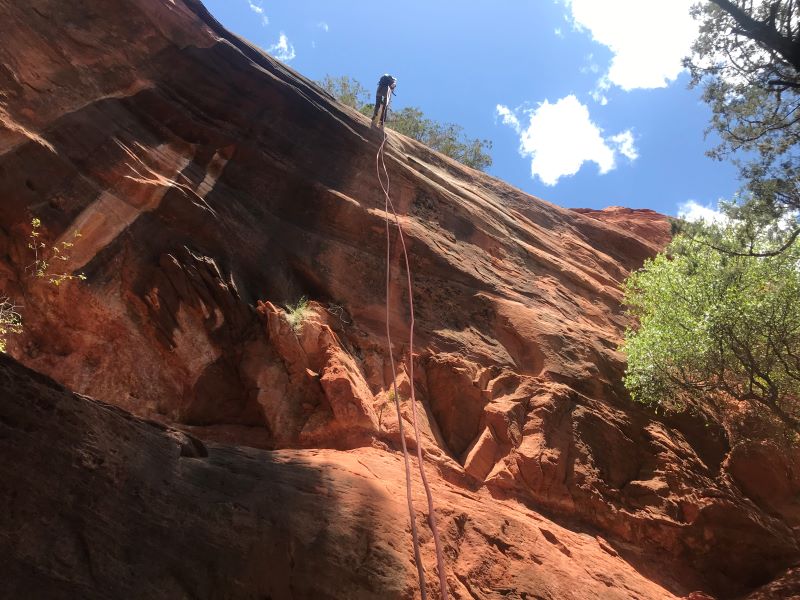 Rappel 2
Rap 2 is 25 feet off of a tree, and it is super duper sloped, making it possibly possible to downclimb in dry conditions. We've always played it safe and just set up the rap.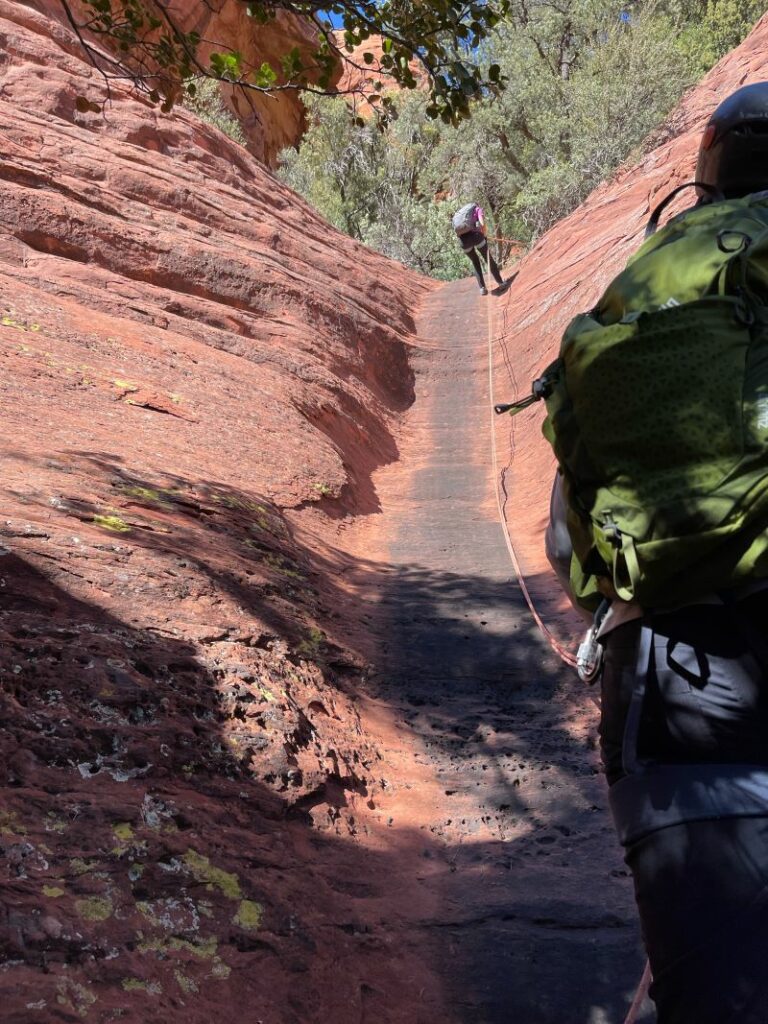 Rappel 3
The longest rappel in the canyon, Rappel 3 is right at 100 feet off of a tree RDC. It has a super sloped start before becoming a vertical wall, and is basically the easiest rappel you could ask for in any canyon anywhere.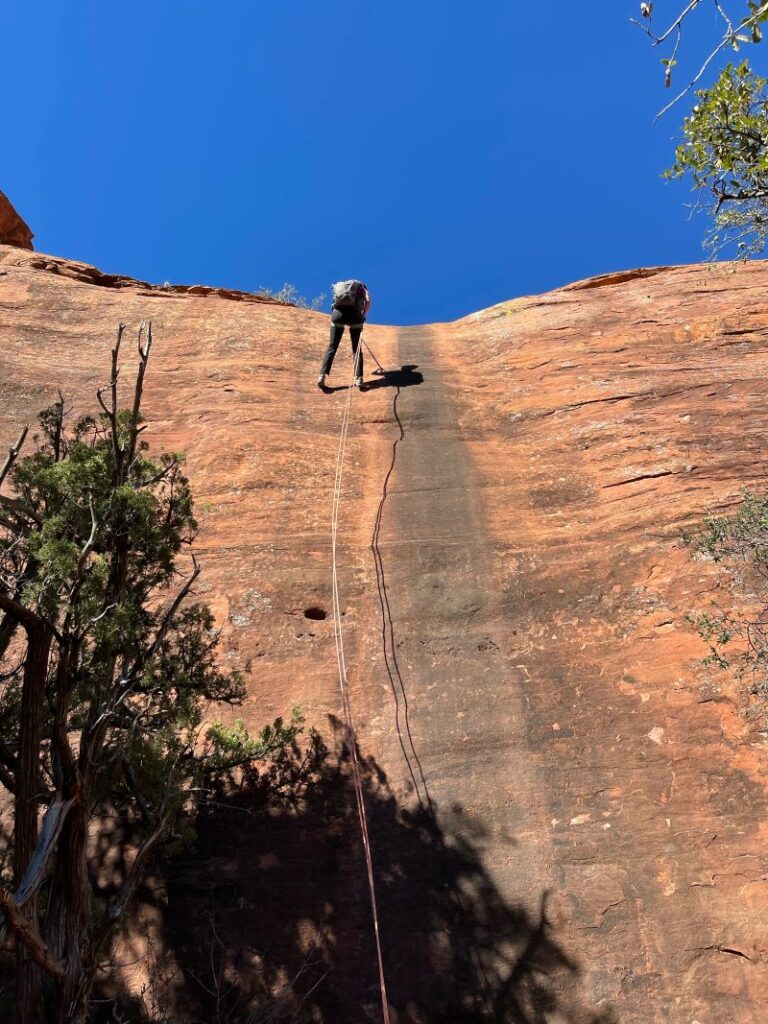 Rappel 4
Rappel 4 is a little bit special. In the best way. The money rappel of the canyon. But first things first. Take in that view for just a sec! Gorgeous. With a capital G.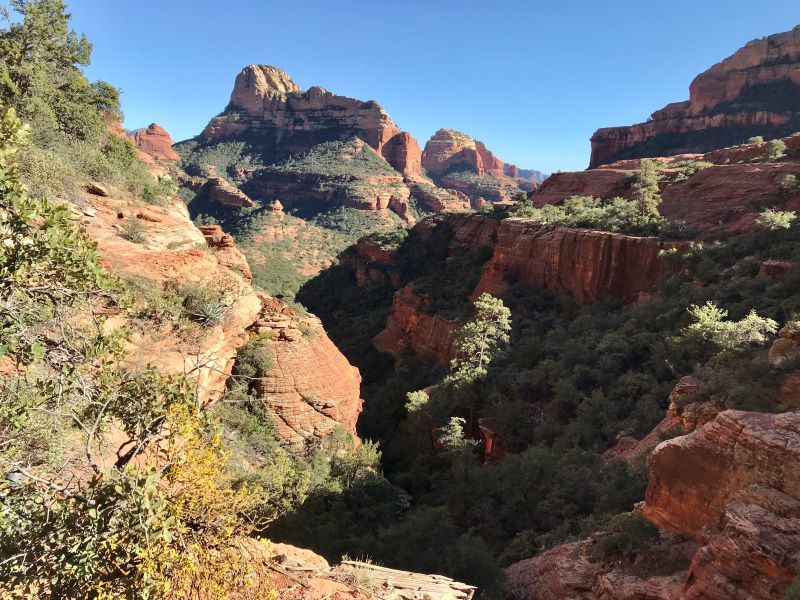 This awesome rappel is 80 feet anchored off of a tree LDC, and extremely undercut and overhanging, making it a fun and epic ride down! Have someone climb in that little alcove at the bottom and get all the pics of all the people coming down. It's a sweet shot of the rappel and the scenery!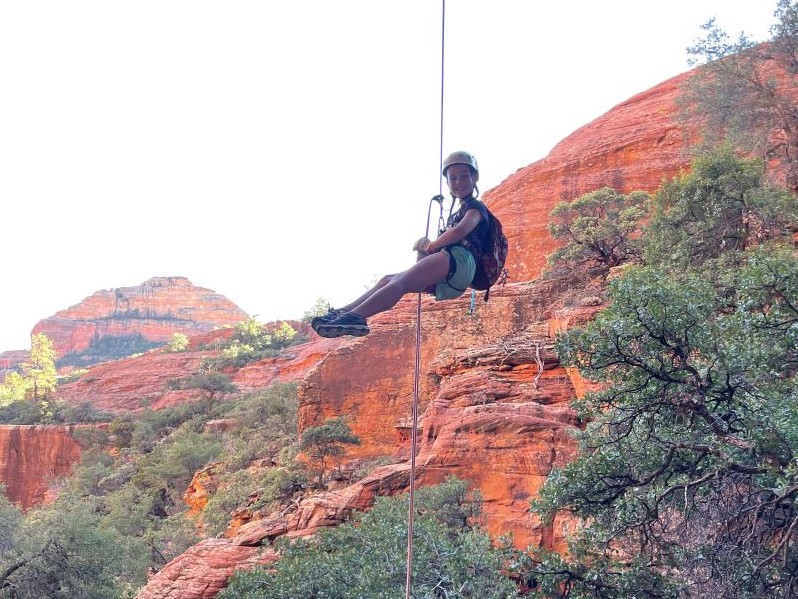 Rappel 5
This is the one with the trickiest start. It is just 25 feet from a tree DCR, and it's all the awkward. It's in a crack, it's overhanging, the anchor is low, it's just all the things. We found it easier to stay out and the the left of the crack, but the hip slide is a valid option as well.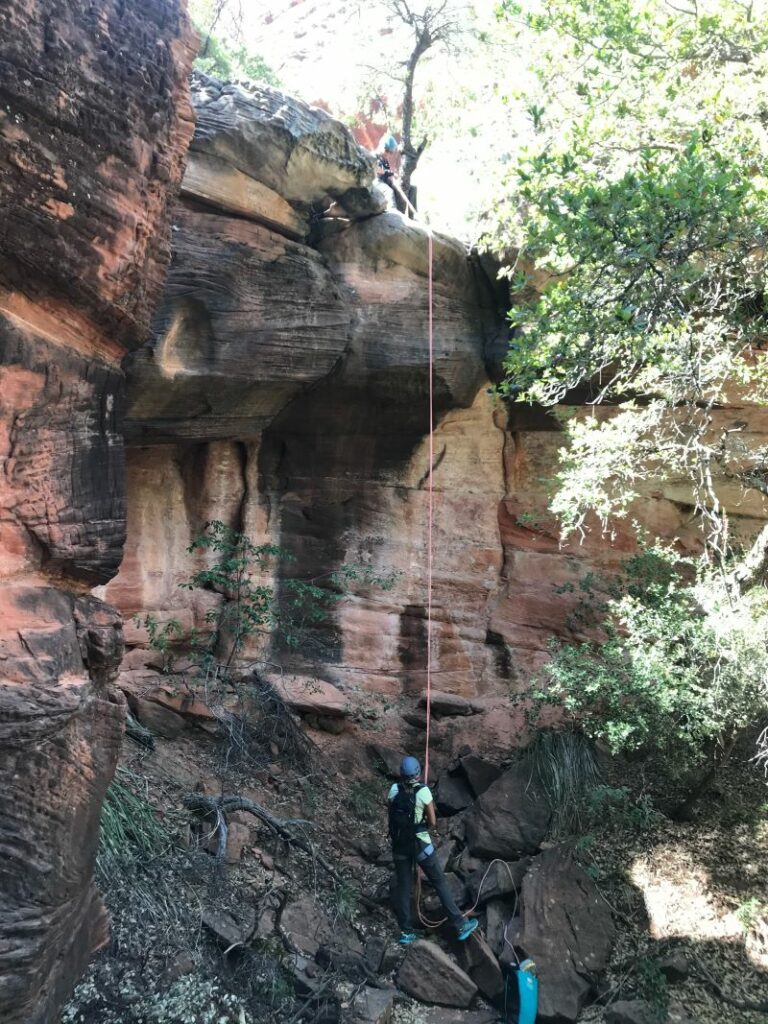 Exit
After the last rappel, continue to make your way left and down the drainage. There will be at least one downclimb of note, but nothing that will offer much resistance. Eventually, the drainage will intersect back with the trail you took to the Subway. Right on this trail will take you to the main Boynton Canyon Trail, which you will take back to your car that is *hopefully* in the parking lot, and not an extra mile down the road. (Fingers crossed.)
---
Map & Directions
Location Boynton Canyon Trailhead, Sedona
From West Sedona, take Dry Creek Road 4.5 miles to Boynton Canyon Road. Turn right on Boynton Canyon Road, and the trailhead will be on your right.
Fees/Passes Parking in the lot or on the road requires a Red Rocks day pass (available at the trailhead for $5), or an America The Beautiful National Parks Pass.
Trailhead Facilities Pit potties at the trailhead, no water available
---
Share this