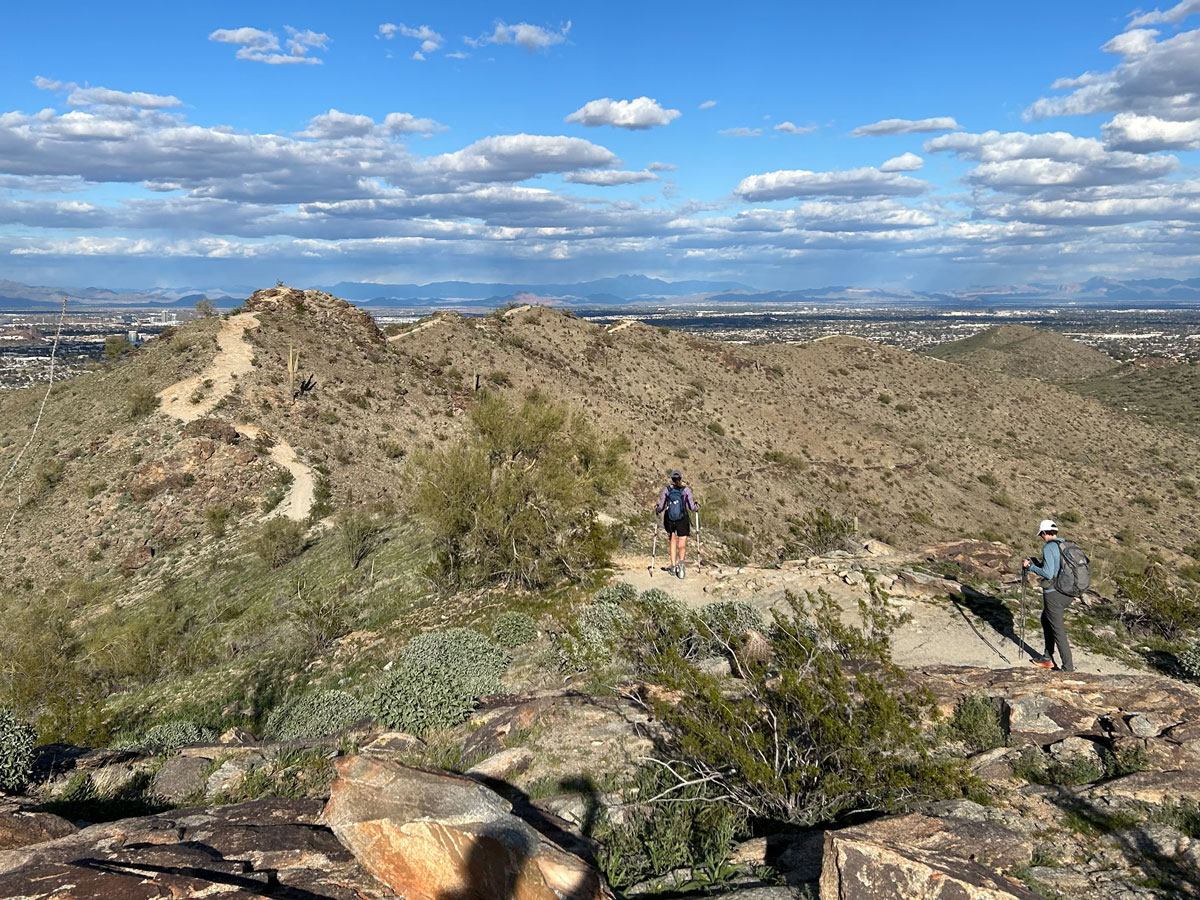 TRAIL STATS
Mileage: 15.8
Elevation gain: 3650 feet
Time to complete:
Stars: ★★★★
Long, a lot of elevation gain
South Mountain provides an unmistakable backdrop to the Phoenix skyline with its antennas that twinkle over the city at night. Enjoy panoramic city views interspersed with drops into the wild valleys of this urban mountain range along this hike of the South Mountain Ridgeline. The road, antennas, small structures, and bicycles will remind you this is not a wilderness setting, but viewing Phoenix and its surrounding mountains from this vantage point is not a bad way to spend a day.
---
Trail Description
South Mountain is one of the ranges near our home base that we love to hate. We love it because, well, we love ALL mountains. We hate it because it's generally not as impressive as other hiking areas near home. Still, the lure of being able to say we hiked the range from end to end was enough to get us there. And, surprisingly, it was actually pretty cool.
There isn't one "right" way to complete this hike. In fact, we missed a turn early on and just found other connecting trails. Even the start and end points are up for debate. We finished at Beverly Canyon Trailhead this time, but I think I might opt to take Midlife Crisis Trail next time and end at Pima Canyon Trailhead. Check the map for possible alternatives.
Pyramid/Bursera Trailhead
This trailhead is listed as Bursera Trailhead on Google Maps and Chandler Blvd and 19th Ave Trailhead on the Phoenix Parks and Recreation website. From the trailhead, take the Pyramid Trail a short distance before forking left onto the Bursera Trail.
Bursera Trail
This is the the most annoying part of the hike because you actually have to hike across a smaller ridgeline to get to the beginning of the main mountain range. Heather was so sad to be able to see our car still after hiking a few miles. I know, but the options for parking right at the start of the range are scarce. Think of it as a warmup.
If you're paying attention to your map, you may be able to get off the Bursera ridgeline early and cut over a little sooner, but we weren't paying attention. It's okay, it didn't add much. Once you drop off the small ridgeline, you cross a wide valley on your way over to the National Trail. In the spring, it might be covered in wildflowers.
National Trail
After intersecting with the National Trail, you'll begin heading up again onto the main ridgeline. Now you're getting somewhere!
There are several abandoned mines along this part of the trail, one of which you can crawl into a short distance.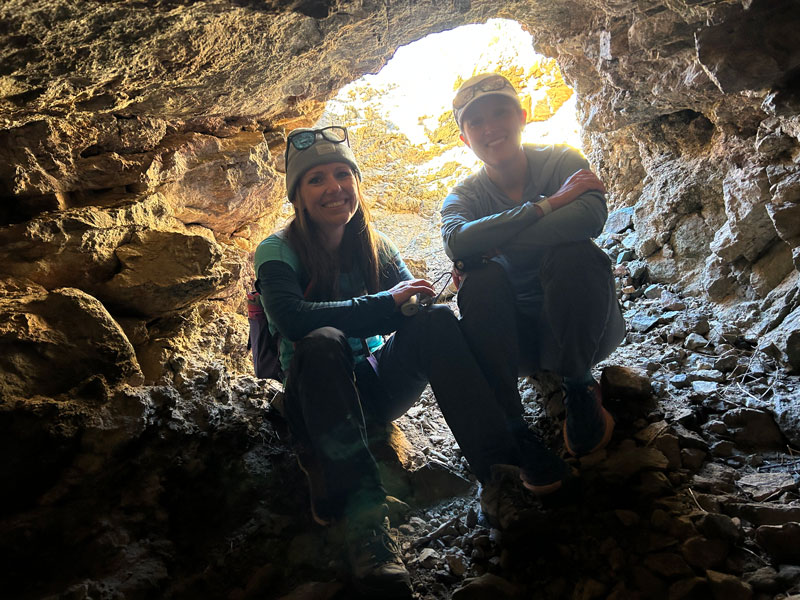 When you reach Telegraph Pass, you'll find a small structure that would be a great spot for lunch if there's not freezing cold wind blowing. Just sayin'.
The next part of the trail passes the TV antennas that South Mountain is famous for and has some of the coolest ridgeline views.
Soon the trail begins to run close to the summit road. As you pass by Buena Vista Lookout, you'll see lots of cars and people in jeans who got up there the easy way. Don't worry, you are hardcore. Own it. But if you need to Uber down, now's the time.
Fat Man's Pass
When you get to the Hidden Valley Trail, you have the option to stay on National Trail or take the Hidden Valley Trail through Fat Man's Pass. We opted to stay on National Trail, but we made a quick little diversion to Fat Man's Pass because it's cool.
Natural Tunnel
On the other end of Hidden Valley Trail is Natural Tunnel, which is also cool and worth a stop.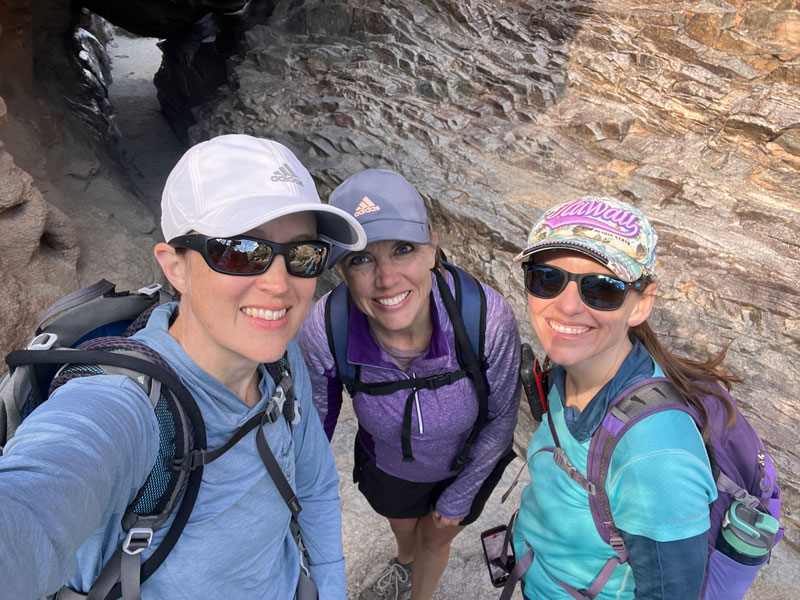 Ridgeline Trail
The next intersection is for Javelina Canyon Trail, which you will take to the left while National Trail continues to the right. After a short distance, fork right onto Ridgeline Trail for the final challenge.
Yeah, I know Javelina Canyon Trail looks so easy and relaxing, and I know you're excited to finish, but there's one last challenge, and it just might take everything you've got. Let out a scream if you have to. You can't say you've hiked ridgeline unless you do it, so buck up and get yourself moving up those hills!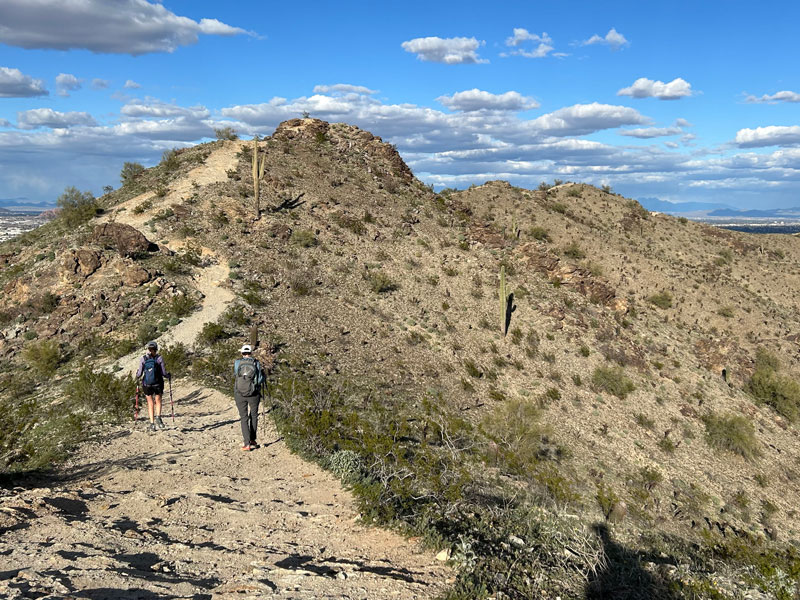 There's a lot of them. Like, more than you want. But when you finish them, you'll be dropped right back down to the parking lot and your car.
Ohhhhhh yeeeeeaaaaahhhhhh.
---
Map & Directions
Location South Mountain Park, Phoenix, Arizona
Beverly Canyon Trailhead Take I-10 to the Baseline exit and go west. Turn left on 46th street and follow it into the parking lot.
Pyramid/Bursera Trailhead Take Loop 202 (San Tan) to the 17th Ave exit and go north. Turn left on Chandler Blvd and turn right into the parking lot. Don't miss the turn!
Fees/Passes None
Trailhead Facilities None
Preview this Hike
---