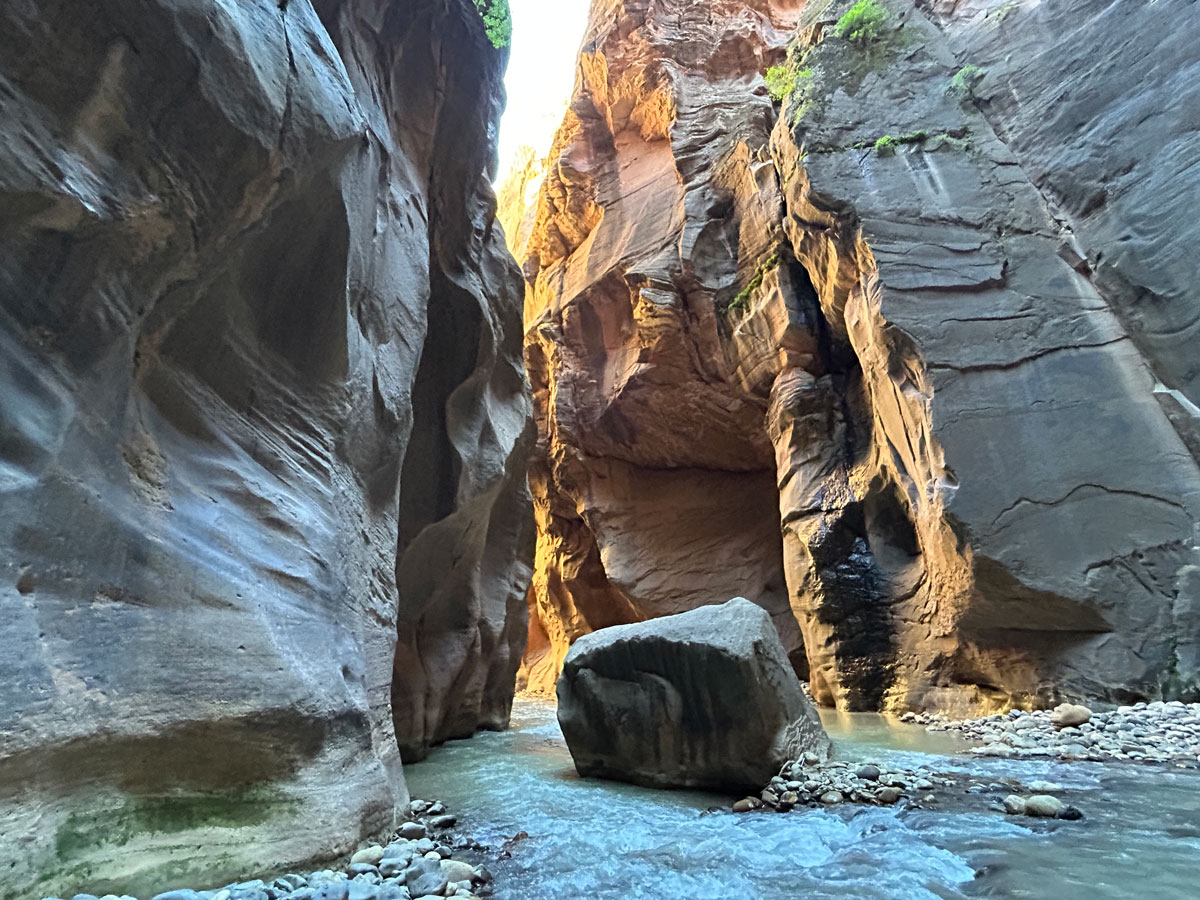 TRAIL STATS
Mileage: 16.6
Elevation gain: -718 feet
Time to complete: 1-2 days
Stars: ★★★★★
Frequent river crossings, uneven terrain, long
Follow the course of the Virgin River through a magnificent series of narrows to the Temple of Sinawava inside Zion National Park. Towering canyon walls close in high overhead as the sunlight sets the canyon aglow in a myriad of changing colors and glitters on the gushing waterfalls. Although some people complete this adventure in a single day, most people will find a backpacking trip more enjoyable. The river crossings are frequent and sometimes difficult, but the reward is mile after mile of raw, unspoiled beauty. Be prepared to swim!
---
Trail Description
If you've ever been to Zion National Park, you've undoubtedly gone to the last shuttle stop and experienced a taste of what the Virgin River narrows has to offer. Though beautiful and awe-inspiring in any dose, the narrows from the bottom up is always crowded and can leave you wanting more. For solitude, breathtaking beauty, and the total narrows experience, you need to hike it top down.
Shuttle
This is a one way hike that must be traveled from the top down since upstream travel to the campsites and beyond is prohibited.
There are two ways to get this done:
Self Shuttle If you're lucky enough to have access to two vehicles, you can park one at the main visitor center and take the other to the Chamberlain's Ranch Trailhead. Both vehicles will need an entrance pass for the park and a parking pass that you can get from the ranger when you pick up your permit.
Hired Shuttle Some private companies offer early morning shuttles to the trailhead. One such company is Red Rock Shuttle, but there could be others.
Chamberlain's Ranch Trailhead
The road to Chamberlain's Ranch Trailhead starts out very good. Once you turn left at the "T," you may see deep ruts from when some poor souls had to drive it after rain. Hopefully you're not the poor soul. Toward the very end, despite having several dry, hot days recently, there was still some mud that we didn't feel comfortable driving in with a 2wd vehicle. High clearance and 4×4 are best, but you can probably get most of the way there in a passenger vehicle if roads are dry (yes, we saw one parked before the muddy section).
Road K1800
Beyond the parking area, the road is evidently known as "Zion Narrows Trailhead" or road 1800, according to Google. It is a dirt road, and a sign says it's for authorized vehicles only, so you'll be on foot from here on out. Yeah, it hurts a little since it looks perfectly drivable.
The first river crossing is just yards from the parking area and is only about ankle deep. You won't have another crossing for a couple of miles, so it's up to you whether to put your neoprene socks on now or wait.
Bulloch's Cabin
After a few miles, you'll come to the ruins of Bulloch's Cabin on your left. This is how you know the road is about to end and the trail is about to begin! Woohoo!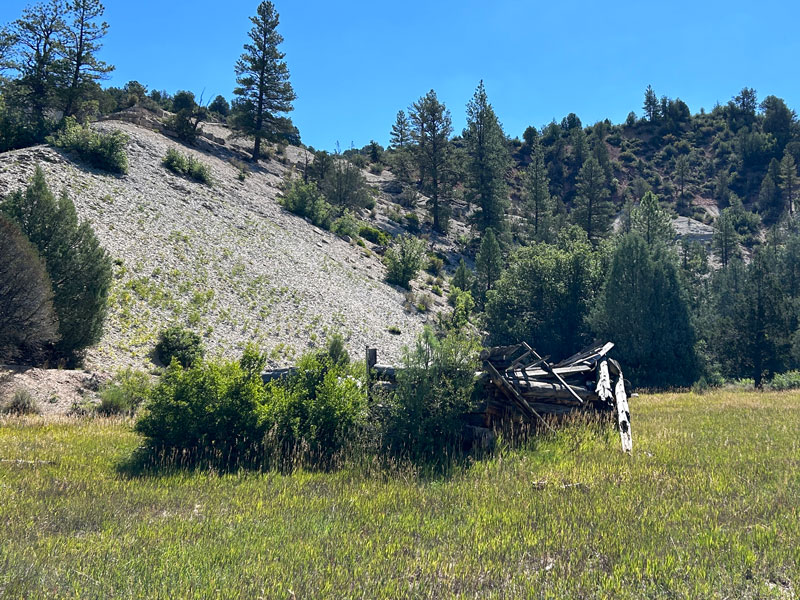 The trail soon finds its way to the river, and you'll spend the rest of the hike walking in it or along its banks.
North Fork Virgin River
As you begin following the river, the "trail" becomes whichever path seems best to you. You will see evidence of those who passed this way before you, but there doesn't seem to be an official route. Generally, you'll walk along the bank until you can't go any farther, then cross and walk down the other bank as far as you can, then cross again. Repeat, repeat, repeat. Sometimes you get lucky and have a decent stretch of dry ground, but you'll always soon return to the river.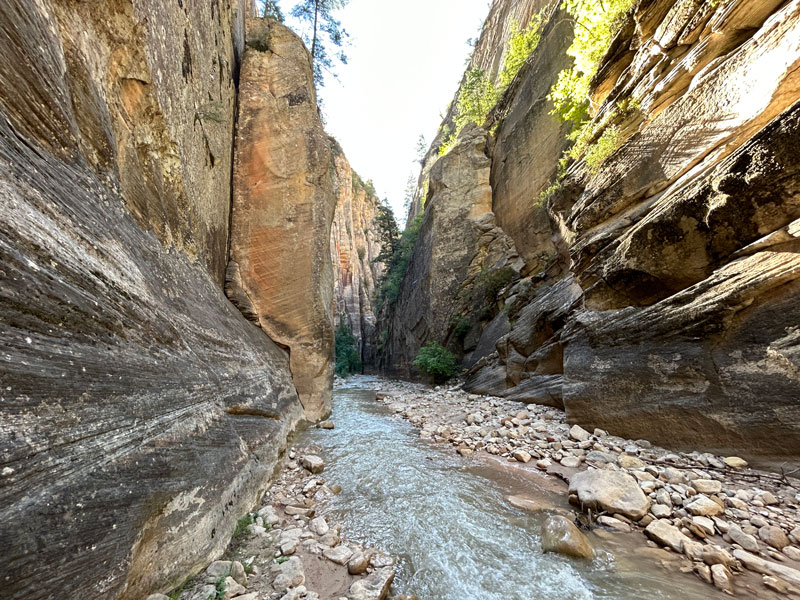 The canyon walls aren't as high in this section as they will be later in your hike, but they still get quite narrow in spots and give you a taste of what's to come.
Waterfall
About eight miles in, you'll come to the waterfall with a very creative name: "Waterfall." Do not panic! You do not have to hurl yourself off the edge into the river below because there's a cool bypass route to the left.
Do check it out before you go, though, because it can be a little tricky to see it from the bottom with all the driftwood in the way.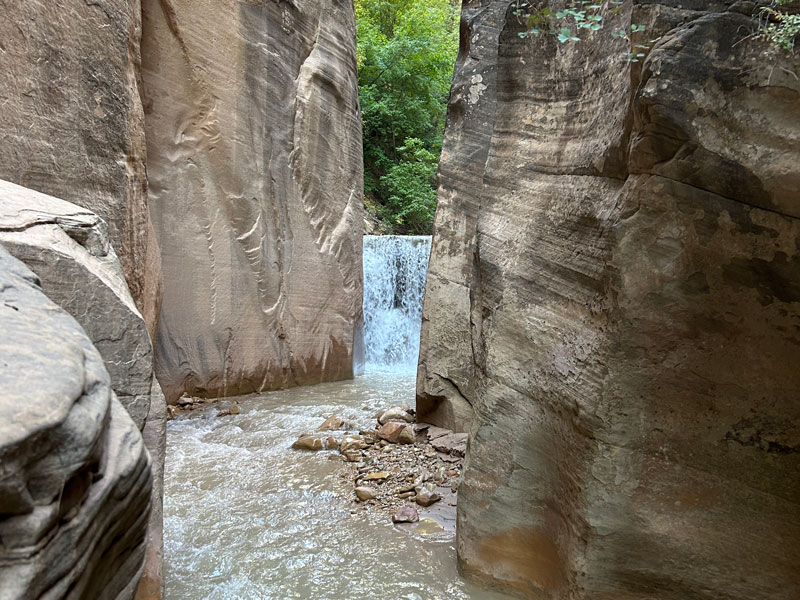 Beyond the waterfall, expect the water to be a bit deeper in spots, but still mostly knee deep. We only had one spot where we had to get in above our waists, but your results may vary.
Campsites
The first of the campsites are near the obvious junction with Deep Creek, but somehow we passed camps 1 & 2 without ever seeing them. I hope you are smarter than us and brought the map the ranger handed you.
As you continue, you'll come to each campsite in numerical order every 5-15 minutes or so. I would think they all have a sign, but we only ended up seeing about half of them. All are located on high ground and are accessed via a short path.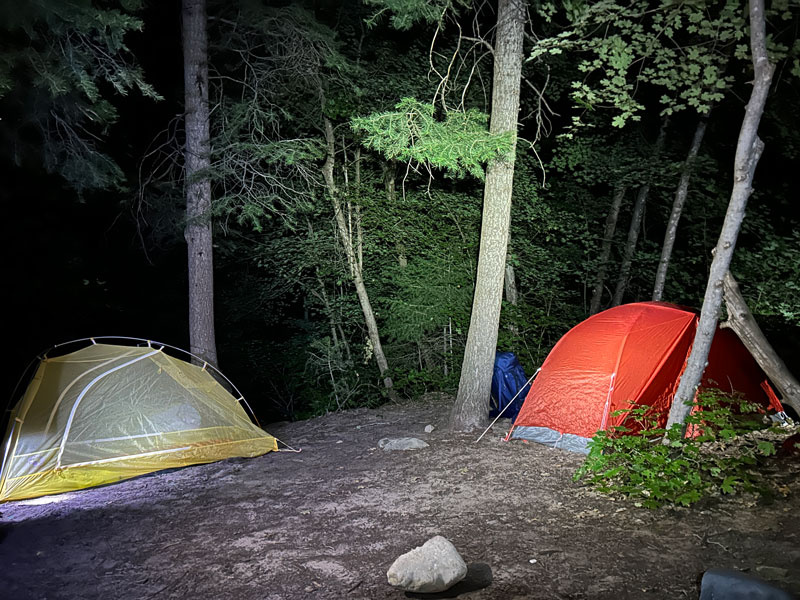 (More about camping later.)
Big Springs
At the end of the campsite section, you'll come to Big Springs. Don't waste your time looking for it or wondering if that little trickle of water is it. Trust me, you'll know it when you see it.
Hello paradise!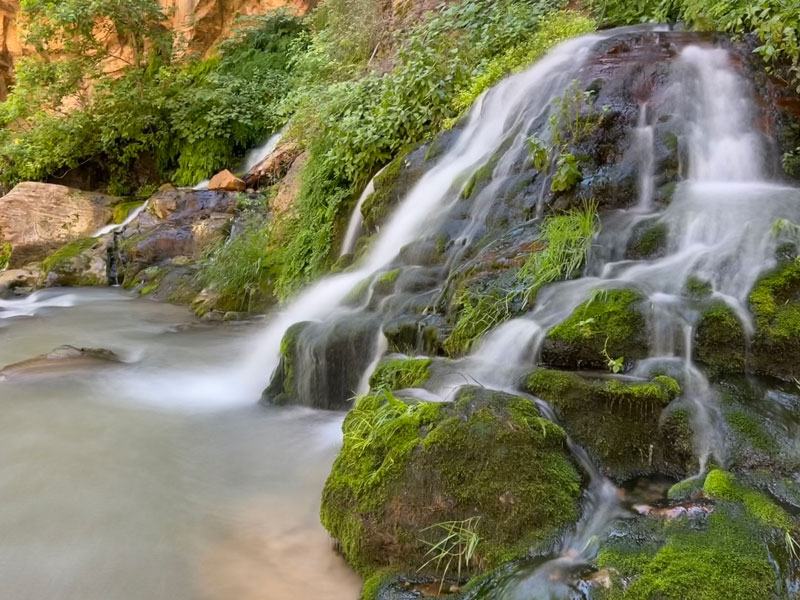 This is the only major spring on the hike, and it runs year round. However, we noticed several smaller seeps coming in from both sides of the canyon as we continued on.
Filter all the water you need here because the river can have cyanobacteria (blue-green algae), which is toxic to humans and can't be filtered out.
Lower Zion Narrows
Big Springs is the point where you'll start to see day hikers who have hiked up from the bottom to Big Springs. This is as far as day hikers are allowed to travel from the bottom without a permit.
At this point, you have passed several major tributaries, and the water flow is much higher than when you started. Expect waist deep, chest deep, and swimming sections in this area. At first, you won't want to get in, but sometimes it's honestly just easier to let the river take you away.
This is also one of the most spectacular sections of the hike. You'll be enveloped by towering canyon cliff walls that'll have you wanting to look up and stare even while the river rocks try to trip you up. Stop and soak it up!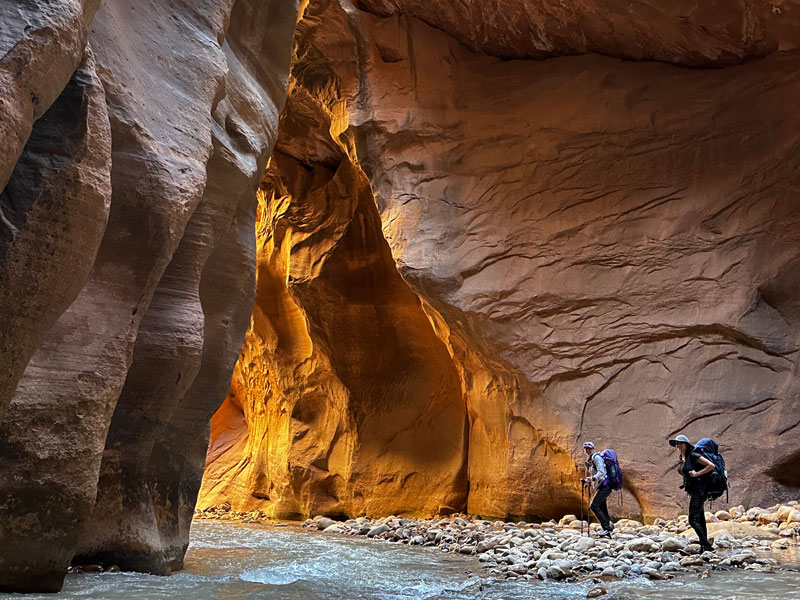 Orderville Gulch is the last major tributary on the way to Temple of Sinawava. To be honest, it looked pretty interesting, but we were running low on time and didn't want to spend time exploring it.
Mystery Falls
I think I was tired at this point because I have zero pictures of this pretty little waterfall. But the important part about it is that it means there is only a quarter mile left!
Riverside Walk
When the size of the crowd reaches its climax (i.e., Disneyland style at times), you've reached the Riverside Walk, and it's time to get out of the river for good.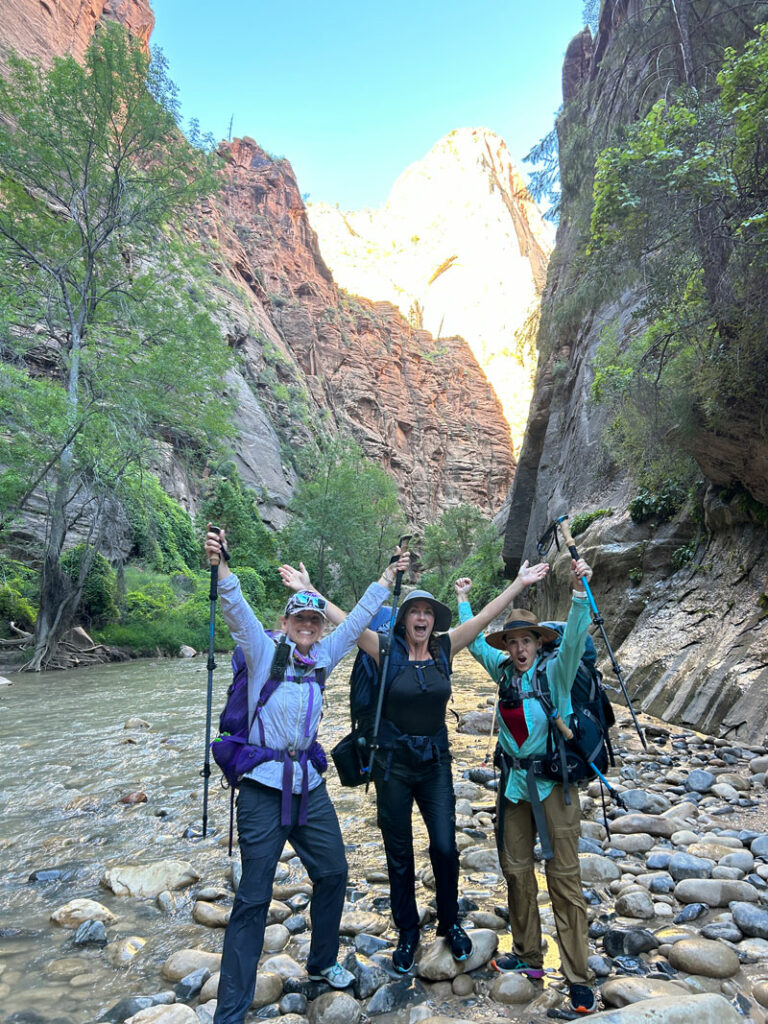 Climb up the small set of stairs and head down the paved path to the shuttle stop at the Temple of Sinawava.
Warning Be at the shuttle stop before the last shuttle leaves for the night. Check the schedule, as the last shuttle time varies from season to season.
Important Safety Notes
Water Filtering
The Virgin River and its tributaries are known to have cyanobacteria (blue-green algae), which can't be filtered out by any known camping filters and is toxic to humans. Your best bet is to carry enough water to get you to Big Springs. We brought 4 liters each. Filter any water you obtain from springs.
Water Flow
The flow of the Virgin River fluctuates throughout the year. During spring runoff and after major rain storms, it can exceed 150 cubic feet per second (cfs). When this happens, Zion National Park closes The Narrows, does not issue new permits, and rescinds any permits that have already been issued.
We hiked it at 60 cfs, which was higher than the normal flow of around 45 cfs in August. The higher the water, the more you should be prepared for deeper crossings. There will be at least a couple of swims no matter how high the flow is.
Check the flow of the Virgin River at the USGS website.
Flash Flood Risk
This area is prone to flash flooding. When the National Weather Service issues a Flash Flood Warning, Zion National Park closes The Narrows, does not issue new permits, and rescinds any permits that have already been issued.
Be sure to check the weather for Zion National Park (bottom) and Duck Creek (top) before leaving. If there is rain in the forecast, adjust your plans accordingly. If unexpected weather comes in, be prepared to wait it out on high ground. All of the campsites are located on high ground.
Getting a Camping Permit
If you are planning to backpack, then you must have a permit to spend the night in the canyon. Half of the campsites can be reserved online in advance, and half are available on a first come, first served basis. Obtain advance permits on the Zion Wilderness Reservations page on the Zion National Park website.
Campsite 1 max 4 people, online reservation
Campsite 2 max 4 people, walk-up permit
Campsite 3 max 6 people, online reservation
Campsite 4 max 2 people, walk-up permit
Campsite 5 max 6 people, online reservation
Campsite 6 max 12 people, walk-up permit
Campsite 7 max 6 people, online reservation
Campsite 8 max 6 people, walk-up permit
Campsite 9 max 6 people, online reservation
Campsite 10 max 6 people, walk-up permit
Campsite 11 max 4 people, walk-up permit
Campsite 12 max 12 people, online reservation
Note on choosing a campsite We reserved campsite #7, but when we went to pick up the permit, the ranger said there were other camps available. We almost switched to campsite 11 just because it was near Big Springs, but then we ended up deciding against it because the ranger told us the water was chest deep in that area. We figured it's better to camp before the water gets too deep to potentially get gear wet. Luckily, we didn't end up with any wet gear issues, but it's something to think about. It also took us much longer than anticipated to reach camp, so we were glad we didn't need to go an additional hour.
Get detailed information about the campsites on the Campsite Descriptions page on the Zion National Park website.
Recommended Gear
In addition to the typical backpacking gear, you might also find these items useful:
Shoes that drain They don't necessarily have to be water hiking shoes as long as they can let water out. I wore $20 water hiking shoes from Costco. One person in our group wore trail runners and noticed one was filling with sand and the other wasn't. She concluded that a hole in one of the shoes was letting sand out, so she cut a drain in the other to match. Buy draining shoes or make your own!
Neoprene socks These are really good at keeping sand and rocks out, and they give you some protection from the cold of the water.
Dry bags We packed our sleeping bags, tents, clothing, food, and electronics in dry bags, which we then packed into our backpacks. Not only did they keep our gear dry, but they also helped us float! Note that some dry bags are submersible and some are splash proof. I used submersible because I didn't want to risk wet (and heavy) gear.
Wet suit/dry suit We brought wet suits but didn't need them because the water temperature was around 70 and the swims were short, but we did it in August. Other times of the year might necessitate a wet suit or dry suit. Check with the ranger station for the latest water temperatures.
Hiking poles Because this hike has you crossing the river on wet, unstable rocks, poles can be extremely useful to help keep you upright.
---
Map & Directions
Location Zion National Park, Springdale, Utah
Zion Canyon Visitor Center You must pick up your permit the day before or the day of your hike at the main visitor center wilderness desk. Alternatively, you can pick it up at the Kolob Canyons Visitor Center, but why? When you set off on your adventure, you'll leave one vehicle here.
From the south, take Highway 9 to Springdale and pass through the South Entrance. The Zion Canyon Visitor Center is on the right after the entrance station. From the east, take Highway 9 from Mt Carmel Junction to the East Entrance. Continue on the winding road through the narrow historic tunnel until you reach the visitor center on the left.
Chamberlain's Ranch Trailhead Take highway 9 east through the historic tunnel out to North Fork Road and turn left. Follow this dirt road to the "T" and then turn left onto Hogs Heaven Road and follow it to Chamberlain's Ranch Trailhead (the road name is not labeled, but it does have a sign pointing to the trailhead).
Do not expect to Google "Chamberlain's Ranch Trailhead" to find this on Google Maps. It isn't marked on Google Maps, so follow our map below, or use the map you'll get at the ranger station.
Fees/Passes There is an entrance fee for Zion National Park, or you can use your America the Beautiful pass. In addition, a permit from Zion National Park is also required to hike The Narrows top down.
Trailhead Facilities Flushing toilets and water available at the Zion Canyon Visitor Center, smelly pit toilet available at the Chamberlain's Ranch Trailhead
Preview this Hike
---