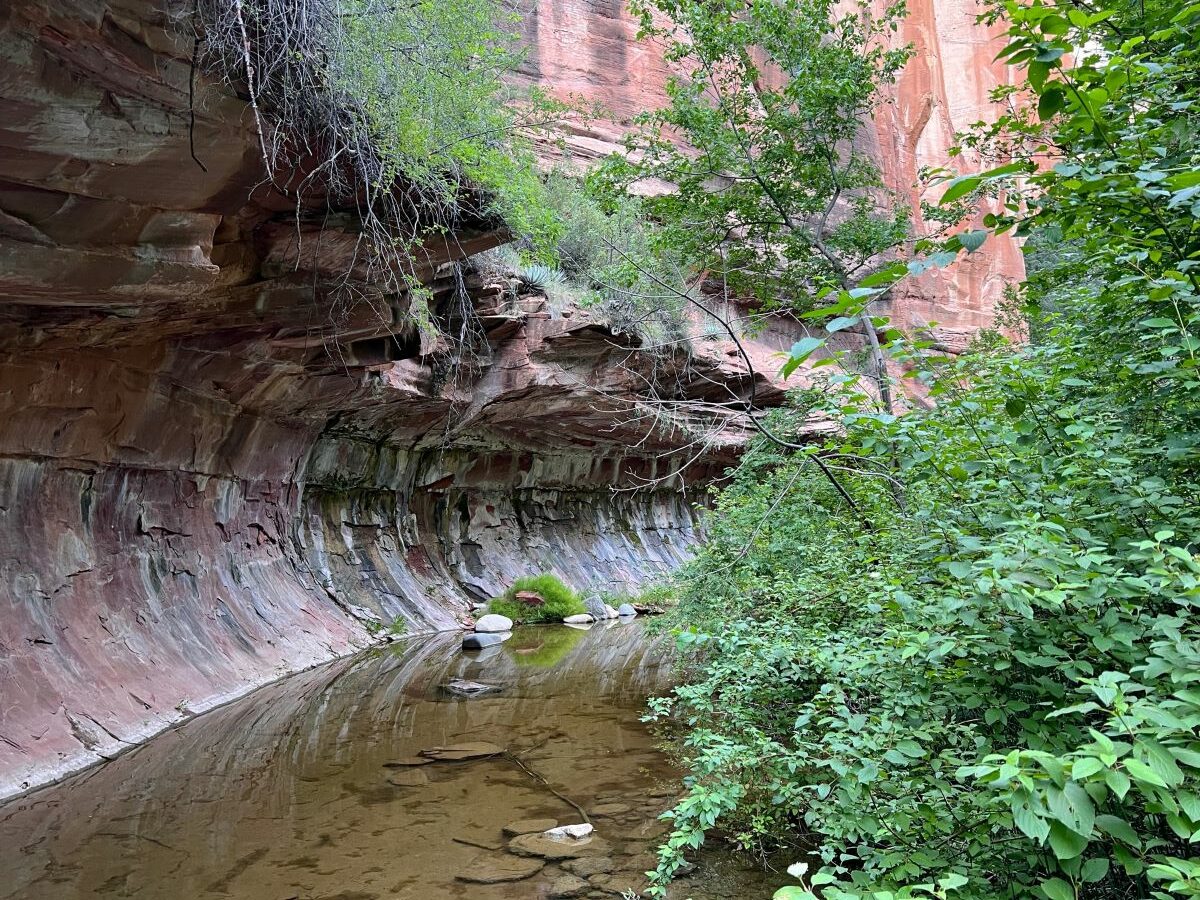 West Fork Trail Backpacking Route
TRAIL STATS
Mileage: 14.4
Elevation gain: 964 feet
Time to complete: 2 days
Stars: ★★★★★
Slippery rocks, bushwhacking, wading/swimming, boulder hopping
The West Fork of Oak Creek Canyon just outside of Sedona is one of the most popular hikes in the area and very well known for it's stunning beauty. But just three miles in, the crowds fade away, the adventure level steps up a few notches, and the canyon walls get even taller, narrower, and more beautiful as you make your way further back into the Red Rock- Secret Mountain Wilderness.
---
Trail Description
Gabby started school a few weeks before Jackson, and I was in desperate need of something to keep that teenage boy busy and off the video games for a few days, so I took the opportunity to plan a little backpacking trip. He invited a friend to come along, and the three of us headed out on a gorgeous (also very warm) August day. I had done West Fork a few times before, and I was vaguely aware that you could backpack it, but I hadn't looked into it too deeply. I did a bit of research the night before, and we packed up ready for whatever adventure lay ahead.
The Famous West Fork of Oak Creek
This is, for all the great reasons, one of the most popular trails in Sedona. It is just draw- droppingly gorgeous, it follows the most beautiful creek the entire hike, (there's 13 creek crossings with perfectly placed rocks to assist you), there's massive amounts of shade for those warm days, you walk through giant red cliff walls with lots of subway-like indentions and other amazing features, and it is almost completely flat, making it possible for even the most beginner trail blazer. So for all of those reasons, parking can be a huge issue, especially on weekends and during the busy months. Which is increasingly every month in Sedona.
Parking
The parking lot and trailhead are located at the Call Of The Canyon Day Use Area. This parking lot is open from 8 am to dusk every day. It's not uncommon for it to be full by 8:30. If you drive another half mile up the road, there is some parking along the road where you can walk in to the trailhead as well, but this road parking also fills up pretty quickly, and it can feel a little sketchy. So… plan accordingly. It is $11 to park in the lot, and $2/person to walk in. On the day we went, we had no trouble parking in the lot at 10:30 am, and even though it says day use only, we risked our biscuits and left our car overnight. We had zero issues with this, but your mileage may vary.
Maintained West Fork Trail
The first 3.5 miles of West Fork Trail, as I mentioned, are the dreamiest trail miles imaginable. Flat, easy, well-groomed, shaded, and gorgeous. And also quite busy. Don't be afraid to explore the creek areas for cool alcoves, small waterfalls, and rock slides. The creek and those famous Sedona canyon walls really are the shining stars of this hike. At almost exactly 3.5 miles in, you'll see a sign announcing the end of the maintained trail. From this point, you must hike at least another 3 miles along the creek before camping is permitted. Since we were planning to backpack in, we noted our mileage, had a quick snack, and carried on.
Rugged Backpacking Route
The end of the maintained trail also marks the end of dry feet, because right away, you are in a tight little subway section with shin deep water that you must wade through.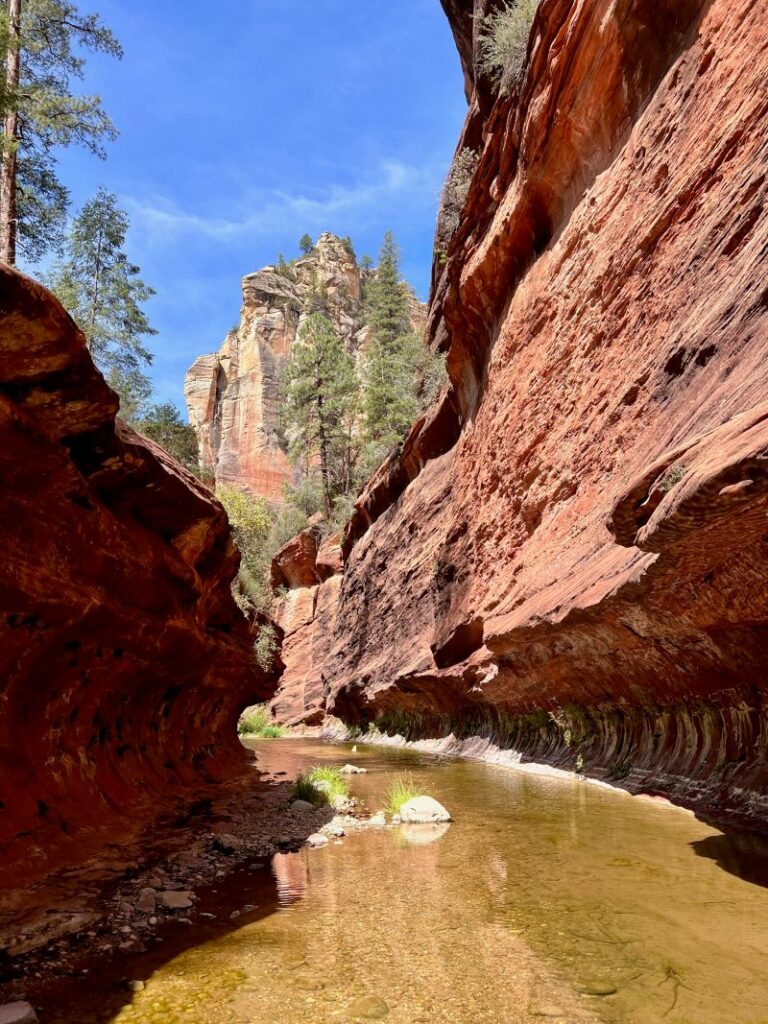 I will mention this with GREAT emphasis right away: the rock in this canyon, and I mean every single rock that is wet, is deadly slippery! Think: ice skating rink slippery. Even if its just flat river bed walking. Incredibly slippery. We all fell hard at least once. Me, a few more times than once. Make sure you have shoes with grippy tread. Poles were also extremely helpful for balance.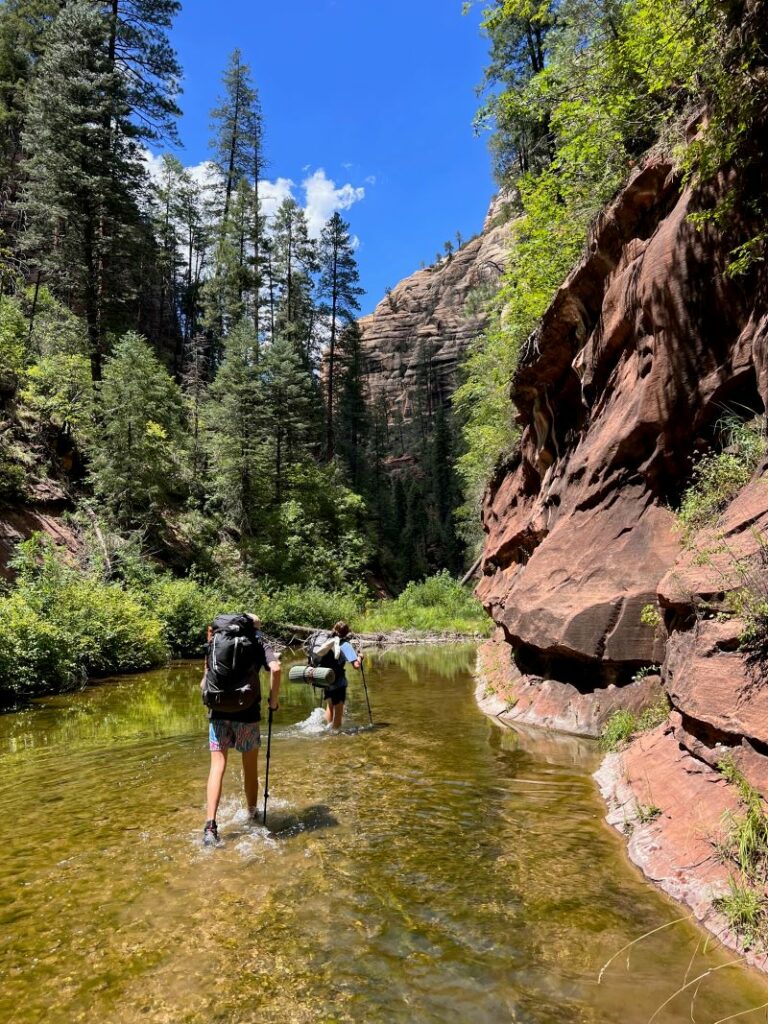 The Challenges
As smooth and lovely as the first few miles were, the back half of this hike was that challenging and rugged. There was nary a trail to be found anywhere. We found ourselves either walking/wading through water that was ankle to waist deep, or on the slippery edges bushwhacking though all manner of shrubbery. There were some flat spots, and some spots with massive boulders and logs to find your way over or around.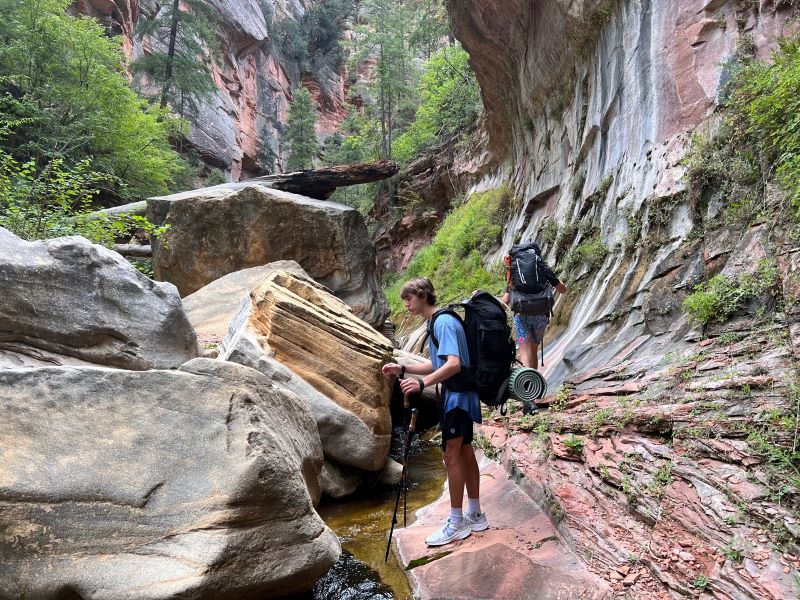 We were almost constantly in the water. There were a few spots (3 distinct ones that were memorable) where we had to navigate the tiniest and most slippery little ledges that were just barely under water where the consequences of a fall wouldn't be deadly, but would we would end up going for a swim with a full pack. For this reason, I will recommend putting everything in your pack in dry bags or trash bags. Just in case. There was a lot of slipping and sliding happening, and I was really worried I'd be sleeping in a wet bag that night. Also, because of all the water, I would recommend going on a warm day. Both days were a high of 90 for us, and we were comfortable with that.
The Reward
As the adventure level increased, so did the level of spectacular beauty. The canyon walls were taller, steeper, and narrower. There's so much green vegetation growing from all the ledges, and there's so many alcoves, cutouts, caves, and rock formations everywhere you look. Just when I thought West Fork couldn't get any more beautiful…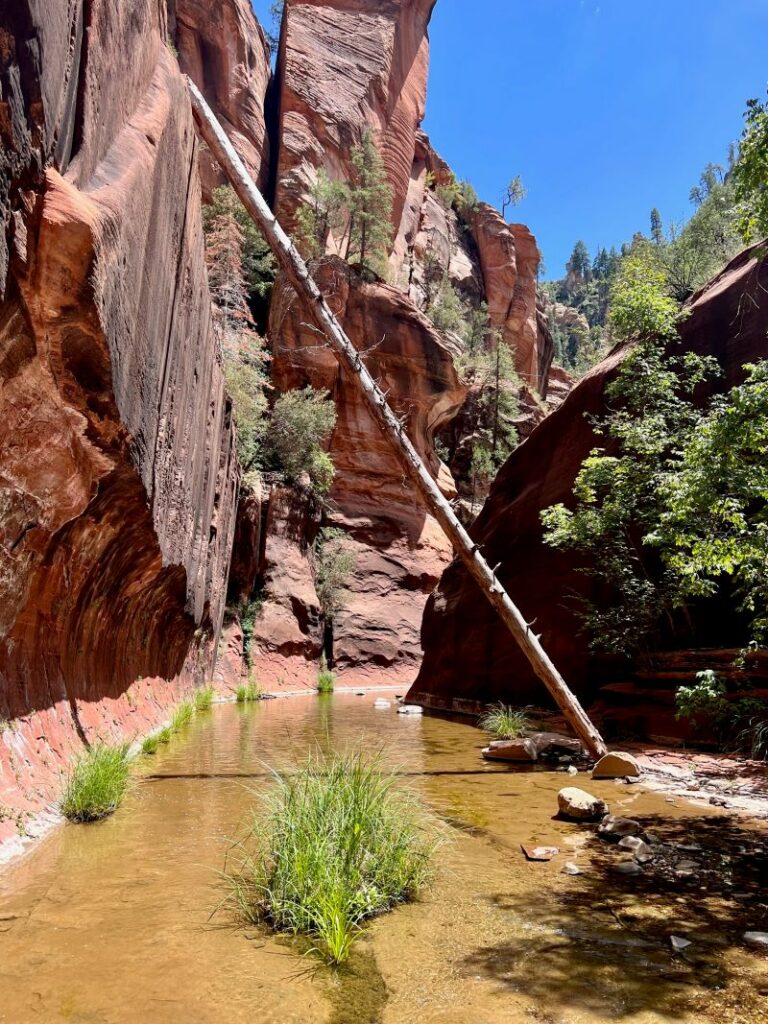 The best thing about it? Once we left the maintained trail, we didn't see another soul until we got back to the maintained trail the next day. There was a price to pay for the solitude, and we were more than happy to pay it.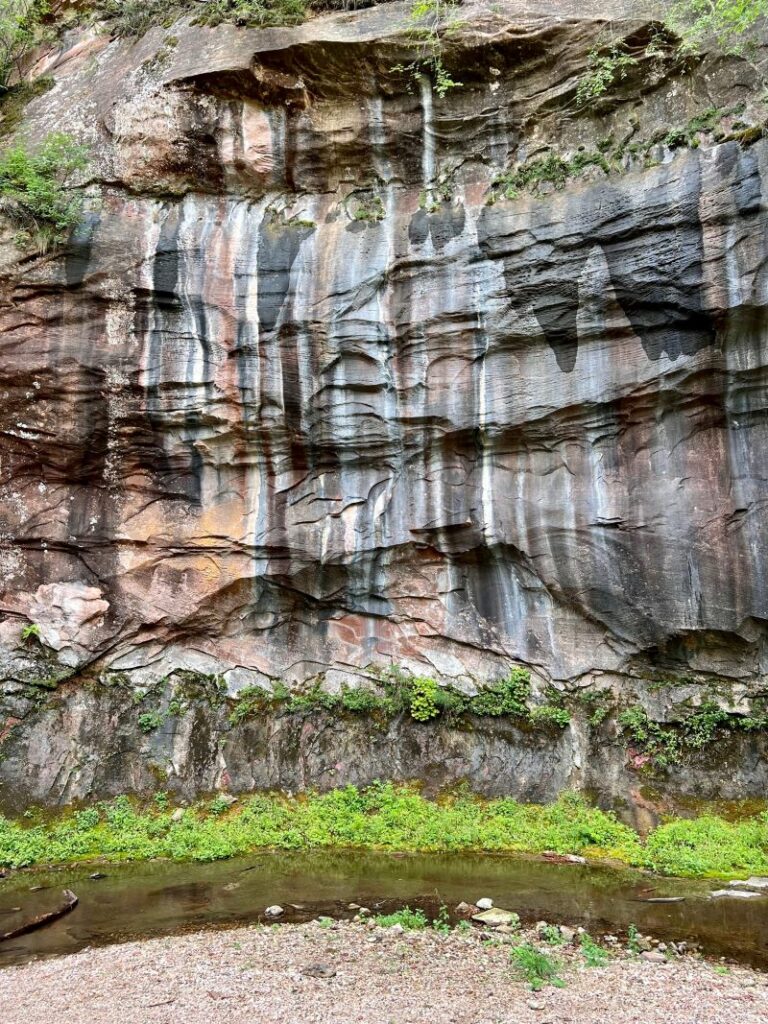 Camping on West Fork
Just after we hit the 3 mile mark past the end of the maintained trail, we saw a sign that said camping was permitted past that point.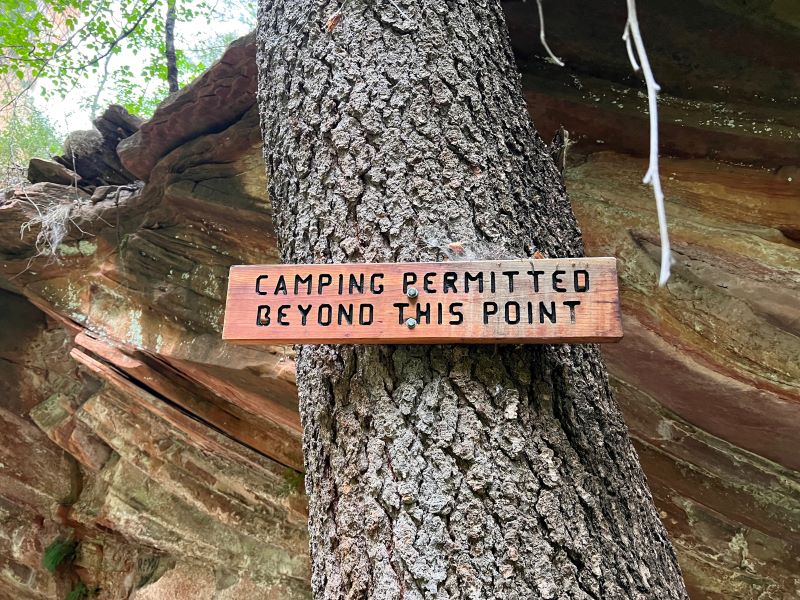 The boys wasted no time finding the very first possible campsite and declaring it home for the night. Luckily, it was a pretty sweet campsite under a little overhang with a fire ring in place and rock chairs built all around it. The one downside? Spiders. Just all the spiders. All daddy longlegs, so harmless, (or so I kept telling myself), but mildly disconcerting.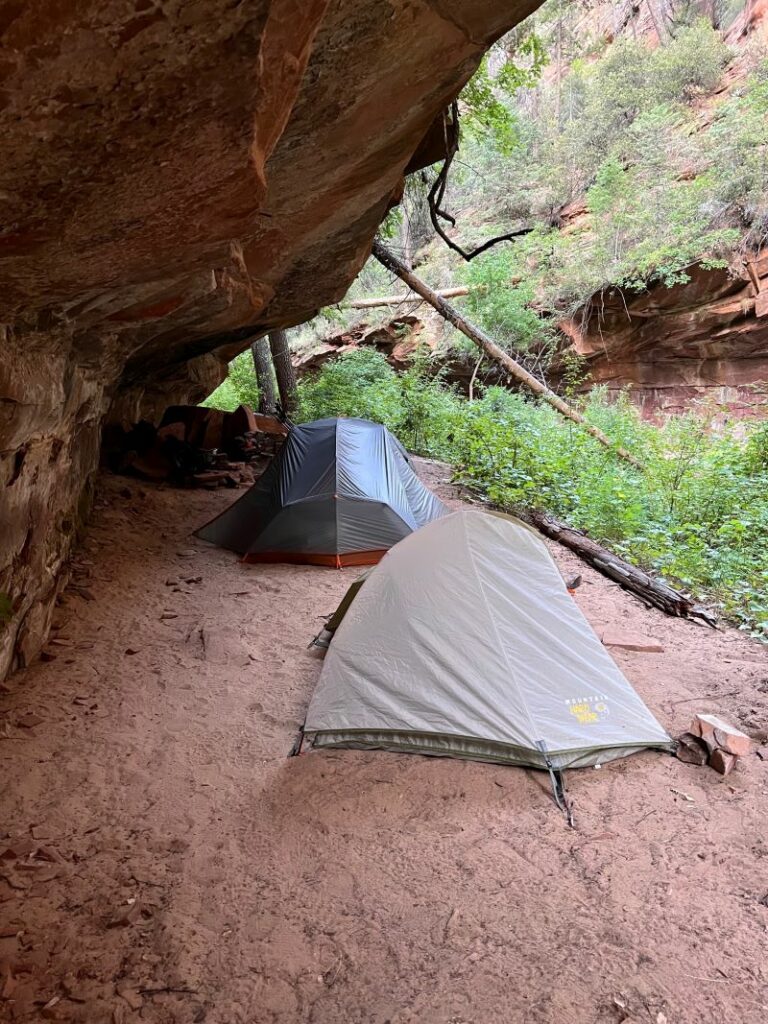 After setting up camp, we explored the creek and the ledge above us a little more. We found a few pretty cool caves, as well as a few more really awesome looking campsites. I'm sure this place is just full of all the secrets just waiting to be found. We were ready to have dinner and rest, though. Because we knew we had to wake up and do the entire thing in reverse the next morning.
Anyone who has been to West Fork Trail knows what a special place it is. But backpacking it took it to a whole new level. We loved it, and I'm excited to go do it again sometime. As soon as all my bruises and scrapes heal…
---
Map & Directions
Location Red Rock- Secret Mountain Wilderness, Coconino National Forest, Sedona, Arizona
Located about 10 miles north of downtown Sedona on Hwy 89A. The Call of the Canyon parking lot will be on your left as you head north. If it is full, you can continue another half mile up the road to where parking on the street starts and walk in.
Fees/Passes Parking in the lot is $11, walking in from road is $2/person
Trailhead Facilities Restrooms, no running water
---