TRAIL STATS
Mileage: 7.6
Elevation gain: 583 feet
Time to complete: 3-4 hours
Stars: ★★★★★
Good, mostly flat trail
Arnett Canyon, near Superior, Arizona, is a really beautiful and meandering hike with amazing views of Picketpost Mountain at any time of the year. But after a wet winter like the winter of 2023, it becomes truly magical with a gorgeous flowing creek, and an exceptional variety of wildflowers we have seen nowhere else. May through December, this hike might be a 3 star hike, but the wildflowers and the flowing creek make this one an enthusiastic 5 stars!
---
Trail Description
This Spring has been like nothing we have ever quite witnessed before. After so much winter rain, the wildflowers have been completely unreal. We have been hitting all the spots, searching them all out, taking all the pictures and admiring every single individual flower. (At least my kids think I have to see every one of them. And the amount of wildflower pics on my phone indicate they might be right.) SO when I heard Arnett was popping, we decided to make a trip.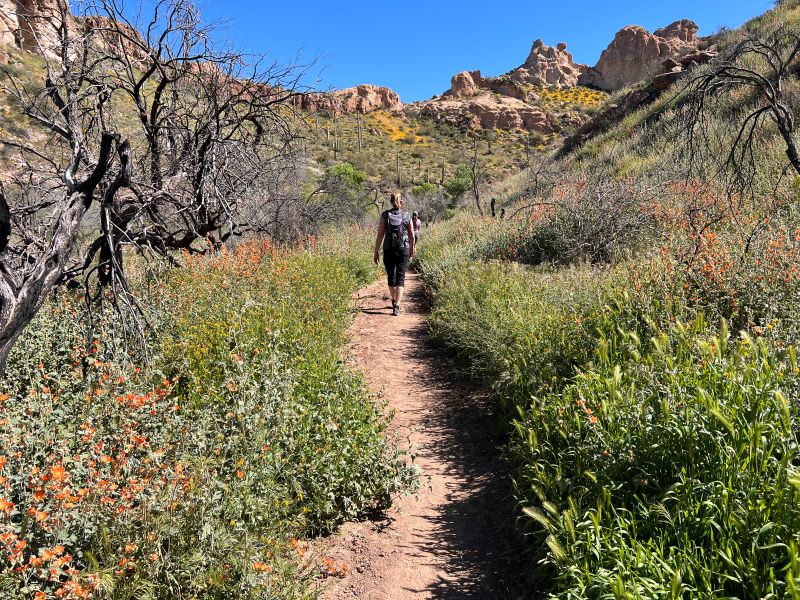 Arnett Canyon Starts at the Picketpost Trailhead. (Picketpost Mountain is such a rad hike, we rarely do anything else out here.) From the trailhead, the trail just gently meanders generally East. The first few miles are a trail around the north side of the mountain, leading to the creek. The first thing we notice: everything is so green. It's going to be a great hike.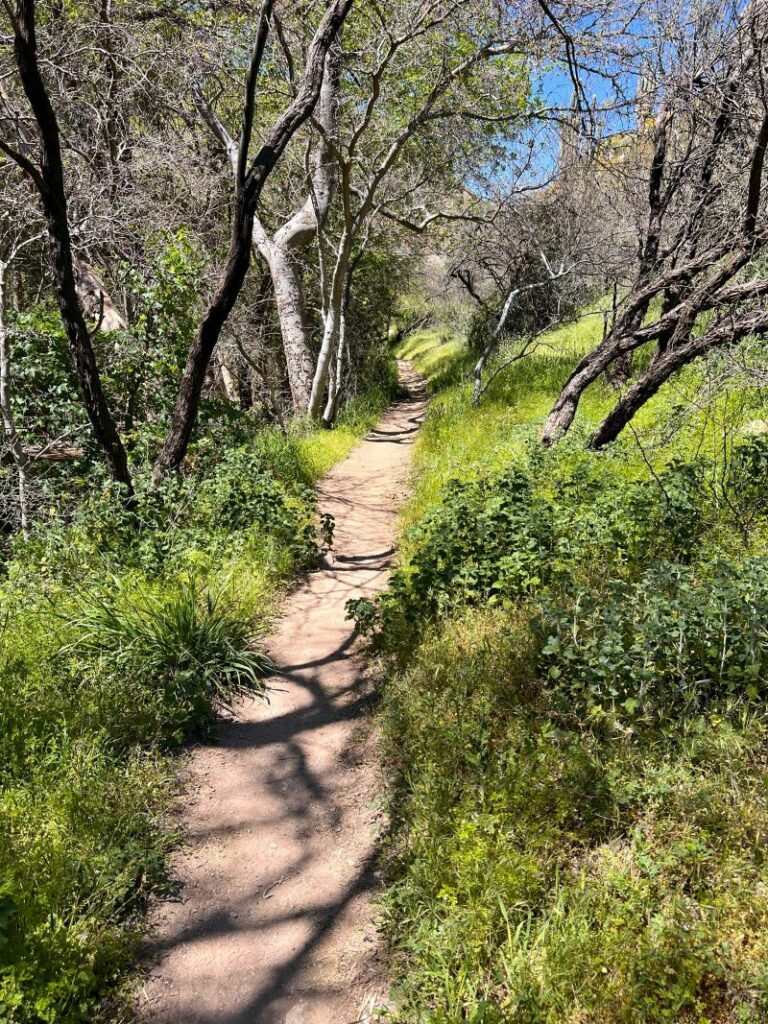 Wildflowers
The star of the show on the day we went was by far the FLOWERS. We saw so many wildflowers, in such massive abundance, and many varieties we had not seen anywhere else.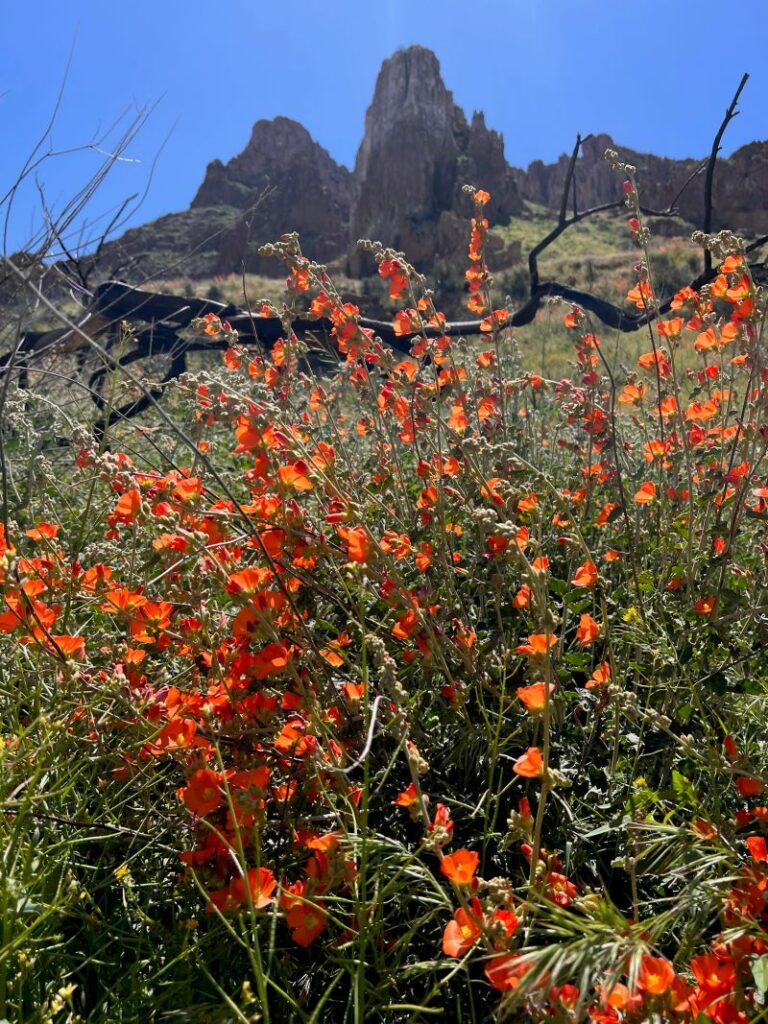 Most of them were right on the trail, though we did take a small detour up a knoll to a massive patch of poppies. We were absolutely awestruck! Well, Stacey and I were, and Heather and Cyndy were exceedingly patient as we endlessly fawned over them. What an incredible display! And why were we the only people out there enjoying them? For me, it was true love.
Arnett Creek
After about 2 miles, the trail begins to follow Arnett Creek. It was flowing and beautiful when we went in early April, but your experience may vary. The trail along the creek is so green and lush with massive volcanic canyon walls on either side of you, and massive cottonwood trees providing shade along the trail as you go. There were many easy to navigate creek crossings as we went.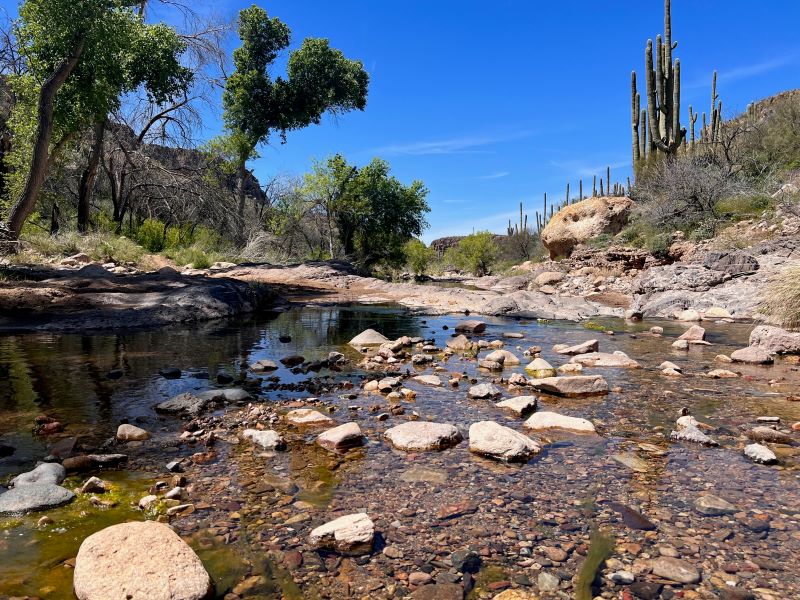 Turn Around Point
It was a pretty warm day when we went, so when the flowers stopped, and the creek stopped, and the shade stopped, we turned around and headed back— about 1/2 mile short of the intersection with the forest road that marks the end of the trail. We also explored up Telegraph Canyon for a few minutes, which you could continue on to make a loop all the way around Picketpost Mountain. However… the views don't come much better than Arnett Canyon.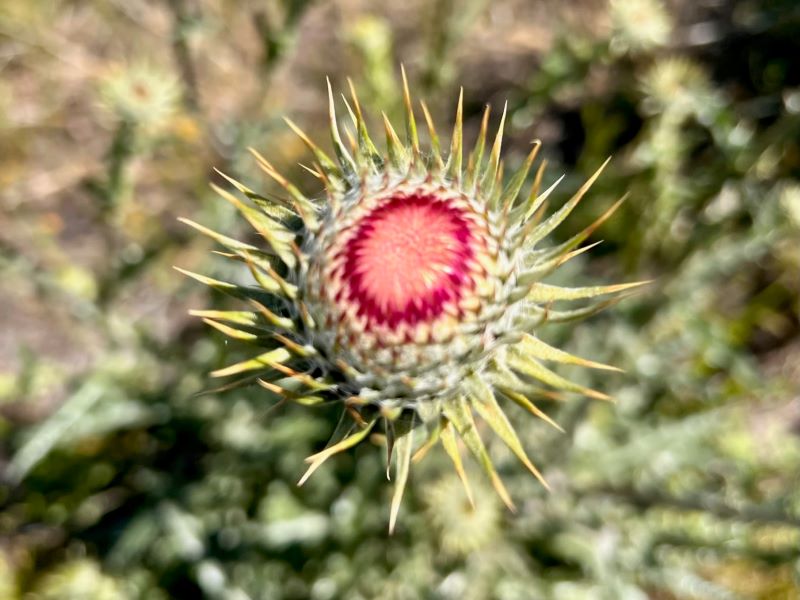 ---
Map & Directions
Location Picketpost Trailhead, Tonto National Forest, just west of Superior, Arizona
Take Hwy 60 east out of Phoenix to Picketpost Trailhead. It is 5 miles before Superior on your right.
Fees/Passes None
Trailhead Facilities Pit potties, no water
Preview this Hike
---